Qatar Holding To Bring Us Harrods Hotels
After purchasing London's most famous department store, Harrods, for £1.5 billion from Mohamed Al Fayed in May 2010, Qatar Holding has now announced its plans to expand the brand into a chain of luxury hotels. Preference will be given to developing hotels on sites that Qatar Holding already owns, which include Chelsea Barracks in London and Costa Smeralda on the Italian island of Sardinia. However, the group also plans to grow Harrods into a global brand. It has signed a memorandum of understanding with property developer Jerantas Sdn Bhd to build a Harrods Hotel in Kuala Lumpur – both companies will jointly invest RM2 billion (US$632 million) in the project – and other possible destinations include Paris, New York and China.
Internos Closes Its First Hotel Fund
After being granted a KAG licence to operate German 'Spezilfonds' by BAFin (the German Financial Supervisory Authority), pan-European real estate fund manager Internos has closed its first hotel fund with initial equity of €75 million from four German institutional investors and exchanged contracts on four hotels across Germany and the Netherlands, including a Lindner Hotel in Frankfurt and a Park Inn in Nuremberg. Internos also expects to raise additional equity for the fund, to achieve an AUM of €300 million, and acquire several more hotels which it is already in detailed negotiations for. Jochen Schaefer-Suren, the Internos Partner in charge of the group's Hotel and Leisure division, will manage the fund, along with Paul Muno and the rest of the Internos KAG team in Germany.
A Quartet Of Travelodges For London
Budget brand Travelodge is opening four new hotels in London this month, just ahead of the Olympic Games which are due to start on 27 July. The new hotels are in the suburbs of Balham, Enfield and Woolwich, and at the ExCeL conference facility in the city's docklands and, once open, they will increase Travelodge's portfolio in the UK capital to 54.
Tuscan Timbers Now Open
Private, US-based boutique resort and residence club developer Timbers Resorts has opened its first property in Italy. A former tenth-century castle, the haunt of Italian nobility, the Hotel Castello di Casole in Tuscany underwent a five-year renovation project after being purchased by Timbers in 2005. This week it became the 41-suite, five-star Hotel Castello di Casole – A Timbers Resorts Hotel & Residences.
A Valuable Conference Coming To London
As well as a flurry of falling leaves, autumn in London this year will also bring Henry Stewart's much anticipated conference on Hotel Values and Funding. The event is due to take place at Le Méridien Piccadilly on 20 September 2012 and will cover various topics including finance and re-finance for ownership – sources, terms and trends; bank appetite and policies now and over the medium term; and funding for development – from where and for what? As well as guest talks there will also be a panel session that will address the implications of current trends and undertake an industry-wide SWOT analysis. If this isn't enough to draw you in, come along and meet HVS London's very own director Tim Smith, who will be giving a talk called Hotel values in London – from 15 room leased or owner managed to branded trophies. Who's buying and what they are paying? To book a place at the conference or for more information on the programme and speakers, click here.
New Owner Heralds Expansion For Hoxton Hotel
The owner of the Hoxton Hotel in London, Enismore Capital, has plans to expand with two more hotels in the city and one in New York. The private equity group is looking for sites in regeneration areas in London in order to develop hotels of around 200 rooms each, based on the concept of the original Hoxton in Shoreditch. Enismore bought the hotel in May for around £65 million, which ended months of speculation linking Morgans Hotel Group to a bid for the property.
HVS Executive Search Needs You!
Dear readers, HVS Executive Search needs your expert insight and viewpoints for a new study on women in leadership and the contributors to the glass ceiling. It would be greatly appreciated if you could take time to complete an anonymous five-minute survey. Your answers will be analyzed and reported on an aggregate basis only. The results will be presented at the 2012 Cornell Hospitality Research Summit, as well as submitted for publication. Thank you in advance for helping us to understand this critical issue in the industry. Please complete the survey by June 19th. Click here to begin. For further details contact Juliette Boone, managing director of HVS Executive Search, North America, at jboone@hvs.com or Tatiana Veller, managing director of HVS Executive Search, Moscow at tveller@hvs.com.
Final Destination Of The QE2
Plans to convert the QE2 cruise ship into a luxury hotel in Dubai have been revived. The retired ship was purchased from Cunard by a Dubai-based investment company in June 2007 for US$100 million, and its original new home was to be a maritime-themed resort on the Palm Jumeirah development. However, these plans were scrapped in the aftermath of the global financial crisis. The iconic 44-year-old liner will now be permanently berthed at the cruise terminal in Port Rashid, where it arrived after undertaking its final voyage in 2008. After an 18-month conversion it will be transformed into a 300-room hotel.
Emaar Manages Two More In Dubai
Emaar Hospitality Group, a subsidiary of Emaar Properties, has taken over the management of two hotels in Dubai that were previously operated by South African group Tsogo Sun. The 197-room Al Manzil Hotel and the 186-room Qamardeen Hotel bring Emaar's management portfolio in Dubai up to seven hotels. Both hotels, which will keep their current names, are also owned by Emaar.
New Hiltons For Cairo And Alexandria
Hilton Worldwide has signed an agreement with Egyptian Touristic Resorts that will see it introduce two new hotels to Egypt. The 390-room Hilton Giza Pyramids is due to open just south of Cairo in 2016 and will become the group's sixth hotel in Egypt's capital city. The 195-room Hilton Alexandria King's Ranch Resort is scheduled to open at the end of 2013 at the King's Ranch mixed-use development, 40 km west of Alexandria, and will be Hilton's second hotel in Alexandria. Once both hotels are up and running, Hilton will operate a total of 20 properties in Egypt. "Hilton Worldwide has proudly served Egypt for over 50 years and today's announcement is testament to our commitment and confidence in the country," said Rudi Jagersbacher, Hilton's president for the Middle East and Africa region.
IHG's Algerian Adventure
InterContinental Hotels Group (IHG) is to make its debut in Algeria, North Africa. The 243-room Holiday Inn Algiers-Cheraga Tower is to be developed by Ramdane Group. The 25-storey hotel will be located in the west of Algiers and at 75 metres high it will become one of the tallest buildings in the city. IHG's director of development for France and North Africa, Brice Marguet, commented that once open the hotel will "provide much needed international standard midscale accommodation for international and local business travellers".
Gladen's Tidings
The news from Spain by Esther Gladen, Business & Market Intelligence Analyst, HVS Madrid. New three-star hotel in Madrid: Eco Hotels has added the three-star Via Lusitana in the city of Madrid to its portfolio. The hotel has 65 rooms. New opening in Barcelona: Hotenco celebrated the opening of its four-star superior Hotel Ofelias on 5 July. The hotel is not far from Plaça España and offers 44 rooms, a restaurant, a chill-out terrace and a pool on its top floor. Hotusa takes over four-star hotel in Zaragoza: Hotusa Eurostars has taken over the former Meliá Las Claras Boutique Hotel in Zaragoza. The four-star Eurostars Las Claras, which has 72 rooms, will be run under a lease agreement.
Absolute Share Price Performance Over the Past Week – 28 June-5 July 2012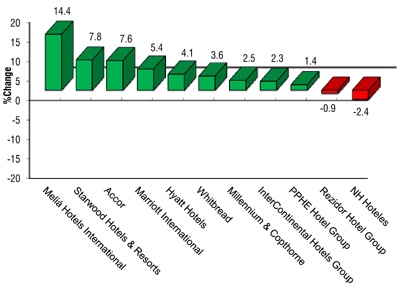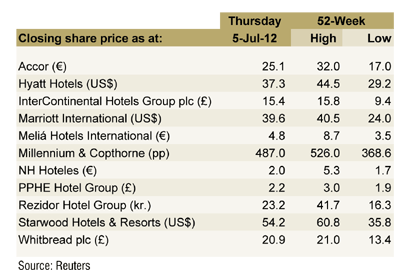 Meliá Hotels International – Meliá continued with a significant uptrend.
Millennium & Copthorne – The group was raised To "overweight" from "equalweight" By Morgan Stanley.
NH Hoteles – NH dipped 0.5% on low volume.
---
For the latest in the hospitality industry, please visit: http://www.hvs.com. You are also welcome to contact the following personnel.
| | |
| --- | --- |
| Russell Kett, Chairman – HVS London (@russellkett) | rkett@hvs.com |
| Charles Human, CEO – HVS London | chuman@hvshwe.com |
| Tim Smith, Director – HVS London | tsmith@hvs.com |
| Chris Martin, Director – HVS Hodges Ward Elliott | cmartin@hvshwe.com |
| Demetris Spanos, Managing Director – HVS Athens | dspanos@hvs.com |
| Hala Matar Choufany, Managing Director – HVS Dubai | hchoufany@hvs.com |
| Christopher Mumford, President, EMEA – HVS Executive Search (@ChrisMumford) | cmumford@hvs.com |
| Philip Bacon, Managing Director – HVS Madrid and Managing Director, EMEA & Asia – HVS Shared Ownership Services | pbacon@hvs.com |
| Louise Fury, Senior Editor and EMEA Hospitality Newsletter Author – HVS London | lfury@hvs.com |