More Ascott Apartments For London
There were seven wonders in the ancient world and soon there will be seven Ascott properties in London. Singapore-based serviced residence operator Ascott has bought the Cavendish London on Jermyn Street, in Mayfair, from Sir David and Sir Frederick Barclay for £158.8 million. Ascott is to take over the four-star, 230-room property, which the Barclay brothers purchased for £100 million in 2006, at the end of the year, and it plans to transform the hotel into the Ascott St James London serviced residences – the group's seventh property in the UK capital. Ascott's chief executive officer, Chong Kee Hiong, commented that the acquisition is in line with the group's strategy to "seek investment opportunities in key growth cities in Asia and Europe." "We see the potential to transform this property into one of the best luxury serviced residences in London," he said.
The Bells Ring For KSL Capital
US-based resort owner and operator KSL Capital Partners has acquired its first property in Europe. KSL has purchased the Belfry, a hotel and golf resort near the town of Sutton Coldfield in England's West Midlands region, from an affiliate of the Quinn Group for an undisclosed sum. The 550-acre resort was put on the market at the end of 2011 for £70 million. De Vere Group (which sold the property to the Quinn Group in 2005) has secured the management contract for the resort, which will remain open whilst KSL undertakes an extensive renovation of the 324-room hotel over the next few months. The resort was originally a manor house dating from the 12th Century, and its golf course is the only course in the world to have hosted the Ryder Cup four times.
Renaissance Number Five For Russia
Marriott International has signed a management agreement with Ojsc Tsum-Voronezh for a new hotel in Russia: the 220-room Voronezh Marriott Hotel, which is expected to open in 2015 as part of a mixed-use commercial, retail and residential development on Prospekt Revolyutsii in the city of Voronezh, in west Russia. Marriott currently operates 14 hotels in Russia, but this will be its first property in Voronezh. Marriott also opened its ninth hotel in Turkey this week. The 212-room Renaissance Istanbul Bosphorus Hotel is on the European side of the city's iconic Bosphorus River. The 20-storey hotel is the product of a franchise agreement with Polat Holding, signed in summer 2011, and it is the group's fifth Renaissance hotel in the country.
DoubleTree by Hilton Hops On A Ferry Across The Mersey
Hilton Worldwide has signed a franchise agreement with Municipal Annex Ltd which will result in the first DoubleTree by Hilton property for the city of Liverpool, northwest England. The DoubleTree by Hilton Liverpool is to be developed in the Municipal Annex, a Grade II-listed building that was constructed in 1865 and used to house the administrative headquarters of Liverpool City Council. The 87-room hotel is scheduled to open in summer 2013 and will be managed by Liverpool-based Sanguine Hospitality, which also operates the 151-room Hotel Indigo Liverpool.
Steigenberger Stops Over At Amsterdam Airport
Frankfurt-based Steigenberger Hotel Group plans to open its second property in the Netherlands, and its first in Amsterdam. The group currently has a presence in The Hague with the 253-room Steigenberger Kurhaus Hotel, and as of 1 September it is to take over the former Dorint Hotel Amsterdam-Airport, which will become the 440-room Steigenberger Airport Hotel Amsterdam. Commenting on the new signing, Matthias Heck, chief financial officer of Steigenberger, said that the hotel "represents a strategic expansion of our presence at important transportation hubs in Europe."
From Country Manor To Boutique Chic
A Grade II-listed 19th-century manor house in the UK is due to emerge from a £4 million restoration as a 50-room boutique hotel this October. Wood Norton Hall in the Vale of Evesham, in the English county of Worcestershire, last operated as a hotel in 2009, with 20 guest rooms, but had fallen into disrepair before it was acquired by a British investor at the beginning of the year. A further 30 rooms have been created at the property in the former stables and coach house. The building that once housed the estate's blacksmith is now the hotel's business centre. The hotel will be managed by Bespoke Hotels.
London Gets Ready To Host Hot.E
In six weeks' time, on 20 September 2012, the Hotel Investment Conference Europe (Hot.E) is due to start at the Park Plaza Riverbank in London. If you haven't booked your place yet, click here for more information or to get a ticket. The two-day event promises a wealth of interactive panel sessions and discussions, focused on investment in Europe's hotel industry. There will also be plenty of opportunities to network with industry experts. David Goodger, director of Tourism Economics, Europe (an Oxford Economics Company) will be speaking at the conference. David and his colleagues have been tracking the European debt crisis closely and, as part of his presentation, he will be sharing the current analysis of the impact of this crisis on major economies and implications for the hotel sector. David has been instrumental in developing the global model of tourism flows and spending which covers 185 origins and destinations. Also, if you are planning on coming to Hot.E, don't miss Charles Human, chief executive officer of HVS London and HVS Hodges Ward Elliott, who will be hosting one of four sessions called Connect with the Investors. Russell Kett, HVS London's chairman, and Sophie Perret, associate director with the London office, will also be speaking at the event.
A Right Royal Expansion For Golden Tulip
Golden Tulip has released its plans to expand its luxury five-star Royal Tulip brand in the Middle East and North Africa. Previous attempts by the brand to break into the MENA region haven't come to fruition, with plans for a Royal Tulip in Medina falling through and a signed project for Bahrain being put on hold after the Arab Spring. However, the Royal Tulip Amman in Jordan is set to open in October 2013 and more openings are expected to follow. The group aims to open ten Royal Tulip hotels in the region over the next four years. Golden Tulip already operates 44 hotels in the region under its three-star Tulip Inn and four-star Golden Tulip brands.
Good Half-Year Results For IHG
InterContinental Hotels Group (IHG) recorded an increase in revenue of 3%, to US$878 million, for the first six months of 2012 compared to the same period in 2011. Operating profit rose by 6% to reach US$286 million and the group's net debt fell from US$818 million to US$564 million. The group's hotels in Europe posted RevPAR and average rate increases of 1.9% and 1.0%, respectively. The AMEA (Asia, the Middle East and Africa) market witnessed strong performances in RevPAR with an increase of 7.9% on 2011, and average rate in the region rose by 2.2%. During the first half of the year, IHG signed 152 new hotels (22,104 rooms) and added 112 hotels (17,449 rooms) to its portfolio (a total of 50 hotels were removed from the group's system). "We continue to invest for growth, strengthening both our existing and our new brands, including EVEN Hotels and HUALUXE Hotels & Resorts. While the global economic environment remains uncertain, IHG continues to trade well and we are confident that our strategy will deliver high quality growth into the future," said Richard Solomons, IHG's chief executive.
Gladen's Tidings
The news from Spain by Esther Gladen, Business & Market Intelligence Analyst, HVS Madrid. Serhs expands in Barcelona: the four-star Hotel Rivoli Rambla is in the very centre of the city and has 126 rooms and meeting facilities for up to 120 people. Iberostar bets on urban vacations: after an alliance with Corbis Group, Iberostar is not only planning to incorporate new holiday resorts in typical beach locations, including Fuerteventura and Menorca, but also to open five hotels in refurbished historical buildings under the Palacios de España brand in Seville, Córdóba and Granada. A property attached to Las Casas de Judería in Seville and the Palacio de Vargas in Granada are the first hotels scheduled to open.
Absolute Share Price Performance Over the Past Week – 2-9 August 2012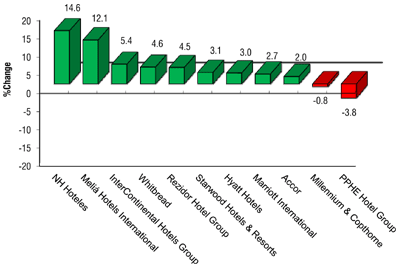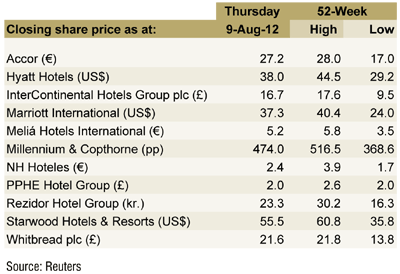 InterContinental Hotels Group (IHG) – Citigroup raised IHG's share price target from £17.45 to £19.45 and reiterated its "buy" rating.
NH Hoteles – NH hit a one-month high.
Meliá Hotels International – Meliá closed in top decile by P/E.
---
For the latest in the hospitality industry, please visit: http://www.hvs.com. You are also welcome to contact the following personnel.
| | |
| --- | --- |
| Russell Kett, Chairman – HVS London (@russellkett) | rkett@hvs.com |
| Charles Human, CEO – HVS London/HVS Hodges Ward Elliott | chuman@hvshwe.com |
| Tim Smith, Director – HVS London | tsmith@hvs.com |
| Chris Martin, Director – HVS Hodges Ward Elliott | cmartin@hvshwe.com |
| Demetris Spanos, Managing Director – HVS Athens | dspanos@hvs.com |
| Hala Matar Choufany, Managing Director – HVS Dubai | hchoufany@hvs.com |
| Christopher Mumford, President, EMEA – HVS Executive Search (@ChrisMumford) | cmumford@hvs.com |
| Philip Bacon, Managing Director – HVS Madrid and Managing Director, EMEA & Asia – HVS Shared Ownership Services | pbacon@hvs.com |
| Louise Fury, Senior Editor and EMEA Hospitality Newsletter Author – HVS London | lfury@hvs.com |