Featured in this HVS EMEA Hospitality Newsletter – Week Ending 31 August 2012
Accor Sells Two MGallery Properties
Accor has sold two MGallery hotels to Internos Real Investors for €44 million under a sale-and-variable leaseback agreement. The 207-room MGallery Hotel Mondial Am Dom in Colgone, Germany, was sold for €20.5 million and the 148-room MGallery Convent Hotel in Amsterdam, the Netherlands, had a price tag of €23.5 million. The deal also included a €12.4 million investment for a renovation programme, €7.3 million of which is to be provided by Internos. Accor will continue to operate both hotels under a 15-year commercial lease agreement.
167 B&B Hotels In France To Be Sold
ANF Immobilier is in talks to sell its B&B Hotels portfolio (167 hotels across France) to a consortium including Fonciére des Murs and La Français REM for €503.5 million. The transaction will consist initially of the sale of 160 properties, with the remaining seven hotels to be sold to the consortium at a later date. It is reported that the deal could be completed by November 2012. The 167 hotels are operated by budget brand B&B Hotels; in total, the group operates more than 190 hotels in France and a further 63 properties across Germany, Italy, Poland and Portugal.
Austria's First Ritz-Carlton
Ritz-Carlton has made its debut in Austria with the opening of the Ritz-Carlton Vienna, on the Schubertring in Vienna city centre. The 202-room hotel, which comprises four 19th-century palaces, is the group's ninth hotel in Europe and its 80th hotel overall.
A New Golden Tulip For Poland
Louvre Hotels Group has opened a new hotel in Poland. The Golden Tulip Miedzyzroje Residence, on the island of Wolin, just off Poland's northwest Baltic coast, is the group's second Golden Tulip property in the country and its 13th hotel in Poland overall. The 110-unit hotel is the product of a strategic partnership with Qualia Development. Matthieu Evrard, Louvre Hotels Group's chief development officer commented that the group "is delighted to see the first new-built project with Qualia opening only a few months after the Strategic Franchise Partnership Agreement [was] signed between the two groups". Louvre and Qualia have six other projects in the pipeline for Poland.
A Park Inn by Radisson For Dubai
Rezidor Hotel Group has announced a new property for Dubai. The Park Inn by Radisson Dubai Al Jadaf is scheduled to open in 2015 as part of a new mixed-use development containing two other hotels. The hotel has partnered with Abu Dhabi-based Aabar Investments to develop the 300-room hotel, which will be five kilometres from Dubai International Airport.
Sofitel Number Eight For Morocco
Accor has recently opened its first Sofitel hotel in Casablanca, Morocco. The Sofitel Casablanca Tour Blanche is the group's eighth Sofitel property in Morocco overall. The 24-storey hotel, which was designed by Belgian architect Patrick Guénard, is in the heart of the city's business district. It has 141 guest rooms and 30 suites. Accor's portfolio in Morocco now contains 38 hotels.
A Premier For Kuwait And Muscat
US-based Best Western International is to launch its luxury Premier brand in the Middle East by the end of the year. The 96-room Best Western Premier Mahboula in Kuwait and the 212-room Best Western Premier Muscat in Oman are both due to open in the fourth quarter of 2012. The group is also planning further expansion for the region; construction has started on two hotels in Iraq and Best Western plans to open nine new hotels in Saudi Arabia over the next two years. "The Middle East is a fast-growing market and Best Western never stops looking for opportunities to expand its portfolio," said Glenn de Souza, the group's vice president for international operations.
Accor's Half-Year Results
Accor has reported revenue of €2,717 million for the first six months of 2012, a like-for-like rise of 3.6% on the same period in 2011. Like-for-like EBITDAR increased by 3.4% in the first half of the year, to €826 million. The group achieved a net profit of €80 million, before the impact of sale of the Motel 6 chain to Blackstone. During the first half of the year, Accor opened 141 hotels (20,700 rooms), 25% of which are in Europe and 13% in Africa and the Middle East. Accor also launched its ibis megabrand programme and so far 661 hotels have been rebranded. The group's full-year EBIT target is between €510 million and €530 million.
Chief Emotional Officer: EQ Has Conquered The Corner Office
HVS Executive Search analysed over 420 top-performing CEOs from around the world to understand key competencies required to be an effective leader in the hospitality industry. Click here to read what they found.
Gladen's Tidings
The news from Spain by Esther Gladen, Business & Market Intelligence Analyst, HVS Madrid. Catalonia Hoteles opens Reina Victoria in Ronda: the former Husa Hotel Reina Victoria in Ronda, Málaga, has been refurbished and reopened under the flag of Catalonia Hoteles. More than €7 million was invested in the refurbishment of the hotel. The group has signed a lease agreement with the Unicaja Foundation and will operate the hotel for 30 years. Marbella beats record in guest nights: last July more than 380,000 guest nights were registered in Marbella, the highest ever since 1999.
Absolute Share Price Performance Over the Past Week – 23-30 August 2012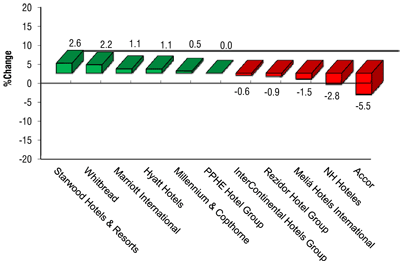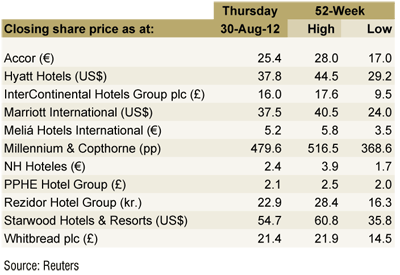 Meliá Hotels International – Meliá falls in four out of last five days.
NH Hoteles – NH Hoteles closes at 6.6% above VWP.
InterContinental Hotels Group – IHG drops 1.6% on high volatility.
---
For the latest in the hospitality industry, please visit: http://www.hvs.com. You are also welcome to contact the following personnel.
| | |
| --- | --- |
| Russell Kett, Chairman – HVS London (@russellkett) | rkett@hvs.com |
| Charles Human, CEO – HVS London/HVS Hodges Ward Elliott | chuman@hvshwe.com |
| Tim Smith, Director – HVS London | tsmith@hvs.com |
| Chris Martin, Director – HVS Hodges Ward Elliott | cmartin@hvshwe.com |
| Demetris Spanos, Managing Director – HVS Athens | dspanos@hvs.com |
| Hala Matar Choufany, Managing Director – HVS Dubai | hchoufany@hvs.com |
| Christopher Mumford, President, EMEA – HVS Executive Search (@ChrisMumford) | cmumford@hvs.com |
| Philip Bacon, Managing Director – HVS Madrid and Managing Director, EMEA & Asia – HVS Shared Ownership Services | pbacon@hvs.com |
| Louise Fury, Senior Editor and EMEA Hospitality Newsletter Author – HVS London | lfury@hvs.com |