Chill Out With Rezidor In Astana
Rezidor Hotel Group has signed an agreement for its second hotel in Astana, Kazakhstan. If you are going to plan a visit, don't forget to pack a pair of woolly gloves and a hat as Astana is currently the second coldest capital city in the world, after Ulaanbaatar in Mongolia, and it is the coldest place ever recorded in Kazakhstan. Rezidor's cool new offering, the Park Inn by Radisson Astana, is expected to open in the city centre in the first quarter of 2013. The 248-room hotel will be adjacent to its sister property, the 181-room Radisson Blu Hotel, Astana. Developer Incom Astana LLC owns both of Rezidor's Astana properties.
A Makeover For Mottram Hall
UK-based De Vere is to invest £6 million in an overhaul of one of its hotels in northwest England. The Mottram Hall Hotel, in the county of Cheshire, is to undergo a refurbishment of its guest rooms, golf clubhouse and food and beverage facilities. Additionally, Mottram Club, a new spa facility, is to open at the hotel next month. De Vere has owned the 131-room hotel since the 1970s. Part of the hotel's building, which is set in 270 acres of countryside, is a Grade II-listed, 18th-century Georgian manor house.
Hyatt Finds Its Place In Armenia
Chicago-based Hyatt Hotels Corporation announced this week that one of its affiliates has signed an agreement with Ginekar Ltd for the Hyatt Place Yerevan in Armenia, the third signing in Europe for its Hyatt Place brand, which it launched in 2006. The 96-room Hyatt Place Yerevan is expected to open in spring 2013 in Armenia's capital and will become Hyatt's first hotel in the country. "We are pleased to introduce the Hyatt Place brand to a city that is undergoing major commercial and development enhancements and transformations," said Peter Norman, senior vice president for acquisitions and development for Hyatt in Europe, Africa and the Middle East. "The opening of Hyatt Place Yerevan will mark a significant milestone for Hyatt as we begin to introduce the brand worldwide," he added. The group's two other hotels in development in Europe are the Hyatt Place Amsterdam, in the Netherlands, and the Hyatt Place Zürich Airport, in Switzerland.
HVS At The World Travel Market
This year's World Travel Market (WTM) is due to take place in less than three weeks. The four-day event will be held at ExCel London over 5-8 November. The 2012 programme plans to deliver unmissable expert advice and key industry knowledge from some of the industry's key figures. HVS London's chairman, Russell Kett, will be moderating a session at WTM on Tuesday 6 November at 11am. Russell's session is called What initiatives should hotel investors and owners be undertaking now to stay ahead of the game? and his panellists include Sir David Michels, president of the Institute of Hospitality and former CEO of Hilton; Laurence Geller CBE, chief executive officer of Strategic Hotels & Resorts; Patrick Fitzgibbon, senior vice president of development for Hilton Worldwide; and Arthur de Haast, chairman of Jones Lang LaSalle Hotels. With such lively hotel industry personalities as Michels and Geller to contend with, Fitzgibbon and de Haast will do well to get a word in edgeways! For more information on WTM visit www.wtmlondon.com.
Best Western Plus Chardon Management = A Hotel In Kent
Emerging renewed and refreshed from a £12 million refurbishment and redevelopment, the Coniston Hotel and Restaurant in the town of Sittingbourne, in Kent, southeast England, has reopened as the Best Western Plus Coniston Hotel and Restaurant. The 79-room hotel is being operated by Glasgow-based independent hotel management company Chardon Management. The hotel's building dates back to the late 1800s. It was originally a private residence and first opened as a hotel in the 1940s.
DIDIHC And DIRES Get Themselves A Garden In Muscat
Oman-based Dhofar International Development & Investment Holding Co. (DIDIHC) has got together with its subsidiary, Dhofar Investment & Real Estate Services (DIRES), to purchase a hotel in Muscat. DIDIHC and DIRES have signed a share sale and purchase agreement to acquire a 100% stake in Garden Hotel from owners Salim bin Mustahil al Maashani and Al Tamman Trading Establishment for OMR10 million (US$25.8 million). Garden Hotel is reported to be the owning company of the three-star, 153-room Tulip Inn Muscat. Under the terms of the agreement, DIDIHC will purchase 99.9% of the shares in Garden Hotel and DIRES will buy the remaining 0.1% share.
Wyndham Plans To Make A Grand Entrance In Bahrain
Wyndham Worldwide is to make its first appearance in Bahrain. This week, the group signed an agreement with Cooperation Investment House SPC to manage a hotel in Manama. The 260-room Wyndham Grand Manama is currently under development and is due to open by the end of 2013. The 14-storey hotel will be part of a 50-storey mixed-use development in the city's US2.5 billion, waterfront Bahrain Bay development.
Rotana To Say Marhaba To Mauritania
Abu Dhabi-based Rotana Hotel Management Corporation has signed a management contract with the Mauritanian Investment Group for a hotel near the city of Nouakchott in the republic of Mauritania, northwest Africa. The 230-room, beachfront hotel is scheduled to open at the end of 2014 in Mauritanian Investment Group's 650-hectare Ribat al Bahar mixed-use development, on the country's Atlantic coast. The hotel will be operated under Rotana's Rayhaan Hotels & Resorts by Rotana brand.
Accor Enjoys A Good Third Quarter
Accor achieved revenue of approximately €1.5 million for the third quarter of 2012, a like-for-like increase of 1.3% on the same period last year. Germany remained the group's highest performing market in Europe, with a like-for-like increase in revenue for the upscale & midscale segment of 4.1%, and 3.6% for the economy segment. Accor's hotels in London benefited from this summer's Olympic and Paralympic Games, with hotels reaching 100% occupancy during the Olympics. Third-quarter management and franchise fees rose by 12.9%, owing mainly to the group's rapid development, with 26,400 new rooms added during the first nine months of 2012, of which 87% are under management and franchise contracts. Accor has announced a full-year EBIT target for 2012 of €510 million to €530 million, with an overall increase in rooms of 35,000.
Gladen's Tidings
The news from Spain by Esther Gladen, Business & Market Intelligence Analyst, HVS Madrid. HM Hotels has purchased the Hotel Ambos Mundos in Playa de Palma: the 98-room property, which had previously been leased by the company, represented an interesting opportunity because of its proximity to the other two hotels HM hotels in Majorca. The now three-star hotel will be refurbished and upgraded to four stars during the winter season. Riu Hotels & Resorts has sold its Riu Playa Cala Millor to Protur Hotels: the four-star property has 242 rooms and offers a large range of resort facilities. Spain's First DoubleTree by Hilton: Hilton Worldwide's DoubleTree brand will make its debut in Spain at the end of this year. The 87-room DoubleTree by Hilton Hotel & Spa Emporda is due to open in the province of Girona in December.
Absolute Share Price Performance Over the Past Week – 11-18 October 2012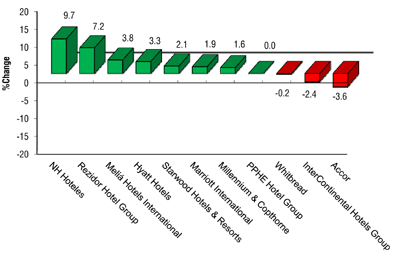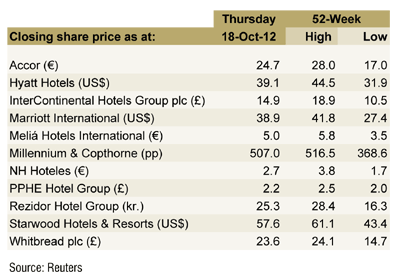 NH Hoteles – NH accelerates its rise, adding 3.2% in two days.
Meliá Hotels International – Meliá achieves its biggest trailing week gain for two months.
Accor – Accor's shares fell 3.2% after quarter-three sales.
---
For the latest in the hospitality industry, please visit: http://www.hvs.com. You are also welcome to contact the following personnel.
| | |
| --- | --- |
| Russell Kett, Chairman – HVS London (@russellkett) | rkett@hvs.com |
| Charles Human, CEO – HVS London/HVS Hodges Ward Elliott | chuman@hvshwe.com |
| Tim Smith, Director – HVS London | tsmith@hvs.com |
| Chris Martin, Director – HVS Hodges Ward Elliott | cmartin@hvshwe.com |
| Demetris Spanos, Managing Director – HVS Athens | dspanos@hvs.com |
| Hala Matar Choufany, Managing Director – HVS Dubai | hchoufany@hvs.com |
| Christopher Mumford, President, EMEA – HVS Executive Search (@ChrisMumford) | cmumford@hvs.com |
| Philip Bacon, Managing Director – HVS Madrid and Managing Director, EMEA & Asia – HVS Shared Ownership Services | pbacon@hvs.com |
| Louise Fury, Senior Editor and EMEA Hospitality Newsletter Author – HVS London | lfury@hvs.com |