Admiralty Arch Sold
Rafael Serrano, a Spanish investor, has purchased Admiralty Arch in London for almost £60 million and looks set to turn the London landmark into a luxury hotel. Mr Serrano recently built the 85-room Bulgari hotel in the city's upmarket Knightsbridge area, and he has reportedly acquired the Grade I-listed Admiralty Arch on a 125-year lease, under explicit conditions that it cannot be converted into apartments or a single house. The sale is part of a series of property disposals by the UK Government. The 100-year-old building, which comprises three arches, was commissioned by King Edward VII in memory of Queen Victoria, his mother. Most recently, the building was used as office space by the Cabinet Office.
Rezidor Cuts Loose Seven Leases
Rezidor Hotel Group has signed an agreement that will see it exit from seven lease contracts in France by the end of 2012. The properties in question are the Park Inn by Raddisson Arcachon, the Park Inn by Radisson Macon, the Park Inn by Radisson Orange, the Park Inn by Radisson Nancy, the Park Inn by Radisson Lyon Ouest, the Radisson Blu Hotel, Aix-Les-Bain and Les Logues du Park (an unbranded hotel). The hotels, which are all in secondary locations, comprise almost 700 rooms in total; Rezidor has commented that all seven hotels have proven consistently unprofitable for the group. As part of the deal, Rezidor has agreed to pay the hotels' owner, Hibernia France, €11.5 million. The removal of these leases from the group's operations is expected to positively affect Rezidor's EBITDA by approximately €2 million a year. Rezidor will also no longer have any responsibility for future capital expenditure at the hotels. The six branded properties will continue to operate under their existing brands and Rezidor will operate all of the hotels under management agreements. "This very important asset management deal is in line with our Route 2015 goal to lift Rezidor's EBITDA margin by six to eight percentage points by 2015. It is of fundamental importance to the group to further optimise our portfolio of leased hotels, secure more profitable income streams in the years ahead and reduce the leverage of the company," said Rezidor's deputy president and chief financial officer, Knut Kleiven.
Holiday Inn Moves Into Windsor
Holiday Inn has recently opened a new £10 million hotel in the UK. The Holiday Inn Express Windsor is being operated by Scotland-based independent hotel management company Chardon Management. The 58-room hotel is a ten-minute walk from the centre of the town of Windsor, in southern England.
Seventh Heaven For DoubleTree In London
Hilton Worldwide opened its seventh DoubleTree by Hilton hotel in London this week. The former Best Western Premier Mostyn Hotel, near Marble Arch in west London, underwent a full renovation in 2011 and has now reopened as the 121-room DoubleTree by Hilton London – Marble Arch. The hotel's Grade II-listed building was originally built in the early 1700s as a private residence for Lady Black, a lady in waiting at the court of King George III.
Fiesta Becomes Palladium
Spanish chain Fiesta Hotel Group has rebranded as Palladium Hotel Group. The group launched its Palladium Hotels & Resorts brand back in 2002 and it now has 15 hotels across South and Central America, the Caribbean and Spain. Palladium will now act as the umbrella brand for the group's eight other hotel brands. The group currently owns 48 properties in six countries, but it has ambitious expansion plans for both Europe and the Americas. Commenting on the rebrand, Juan José Calvo, Group Commercial Director, said, "As we continue to develop our global proposition, it is vital that we play on our strengths and Palladium offers an important set of standards such as high quality, service and added-value that we feel are fundamental to the organisation. This rebrand also helps with the positioning of our urban chain, Ayre, which has grown significantly over the last six years."
Hop Over To Heathrow For HOSPACE
This year's HOSPACE event is on its way! The one-day conference and exhibition, which is hosted by HOSPA (formerly BAHA) will take place on 22 November 2012 at the Sofitel hotel at Terminal 5, Heathrow Airport. The theme of HOSPACE 2012 is Taking the Investment Forward – Making the Most of the Investment in Your People and Business to Create Value. The event will feature an international line-up of inspirational experts – all icons in their own field – including HVS London's chairman, Russell Kett. Russell will be hosting a top-level finance panel discussion called Getting the wheels of Hotel Finance to turn again. Registration for HOSPACE 2012 is now open and is expected to sell out fast. To register for the event or for more information visit www.hospace.net.
Nine Golden Tulips In France And More On The Way
Louvre Hotels Group has opened its ninth Golden Tulip property in France, in line with its goal to open 50 hotels in France by 2015. The group's new offering is the Golden Tulip Mulhouse Basel, in the city of Mulhouse, eastern France, close to the Swiss and German borders. The hotel, which was formerly part of Accor's Mercure chain, underwent a renovation before opening under its new brand.
Shared Holiday Ownership Workshop In Scotland
Back in January, we reported that the HVS Madrid office would be sponsoring a series of Shared Holiday Ownership Workshops across Europe this year. After the success of the first two workshops earlier in the year in Istanbul and Vienna, the third instalment is due to take place on Tuesday 13 November, from 12:30pm, at the Macdonald Houstoun House Hotel, just west of Edinburgh, in Scotland. The half-day workshop is expected to be highly interactive with lots of audience participation. For more information and to register please contact amanda.white@rci.com.
A New Boutique Collection For The UK
A new boutique hotel company is to be launched in England. David Toulson-Burke, Ian Cross and Jonathan Baker, all former members of the management team at the 324-room Belfry golf hotel in the West Midlands region, have got together to form the House Collection. The first hotel in the collection will be the 21-room Poet's House in the city of Ely, east England, which is due to open in spring next year. A second hotel in the university town of Cambridge will follow. Finance for the venture is being provided by Cambridge-based Eastern Counties Finance.
A Rise In Profit And Revenue For Whitbread
Whitbread achieved total revenue of approximately £1 billion for the six months ending 30 August 2012, an increase of 14.2% on the same period in 2011. The group's overall underlying profit rose 10.6% to £1.9 billion and Whitbread Hotels and Restaurants' underlying profit increased by 8.5% to £1.8 million. Sales for Whitbread's Premier Inn brand grew by 12.9% and the brand opened 1,591 UK rooms, increasing its portfolio to 49,020 rooms. Andy Harrison, Whitbread's chief executive, said, "Premier Inn delivered a 2.4% growth in RevPAR during the first half, compared to a decline of 3.6% in the midscale and economy sector. As expected, the London hotel market is settling post Olympics and we wait for a clearer trend to emerge."
Starwood Increases Its Net Income
Starwood Hotels & Resorts reached a net income of US$170 million (US$0.87 per share) in the third quarter of 2012, a rise of 4.3% on the US$163 million (US$0.84 per share) recorded for the same period in 2011. Third-quarter management fees increased by 8.4% on 2011 and adjusted EBITDA was US$275 million. "We delivered another solid quarter of EBITDA and EPS growth led by continued gains in both room rates and occupancy. Global RevPAR grew nearly 5% in constant currency, despite a deceleration in the global economy. In fact occupancy rose in all regions and is now reaching or exceeding peak levels in many markets around the world," said Frits van Paasschen, Starwood's chief executive officer. "Looking ahead, our results will be driven by two things: first, the trajectory of the global recovery and whether it regains its momentum in 2013; and second, our ability to use our high-end, global brands to get more than our fair share of the long-term growth in global travel," he added. During the third quarter of 2012, Starwood signed 25 hotel management and franchise contracts (approximately 4,800 rooms) and opened 20 hotels and resorts (approximately 6,500 rooms).
Rezidor's Third-Quarter Results
Rezidor's third-quarter revenue was €683.1 million, an increase of 7% on the same period last year. Profit after tax was €4.4 million and EBITDA rose by almost 19% to €17.6 million. The group's like-for-like RevPAR increased by 5% on 2011, following strong growth in the Middle East and Africa (+13%) and Eastern Europe (+6.1%). Rezidor's president and chief executive officer, Kurt Ritter, said, "The RevPAR improvement resulted in higher revenues in the third quarter, 20% growth in fees from managed and franchised hotels, and an improved EBITDA margin of 0.7 percentage points. We signed 2,000 rooms, in line with our asset-light strategy and our pipeline remains strong and steady at 22,000 rooms."
Gladen's Tidings
The news from Spain by Esther Gladen, Business & Market Intelligence Analyst, HVS Madrid. High Tech announces the opening of a new hotel in Madrid: the 75-room Petit Palace Lealtad Plaza is close to Retiro Park. The total cost of the investment in the hotel for refurbishment was around €6 million. High Tech will run the property under a long-term lease agreement. A new Chic & Basic has opened in Barcelona: the three-star Chic & Basic Ramblas has 97 rooms. The company plans to open another property in Barcelona soon – the one-star Chic & Basic Zoo with 16 rooms. Refurbishment work is scheduled to start on this hotel in November.
Absolute Share Price Performance Over the Past Week – 18-25 October 2012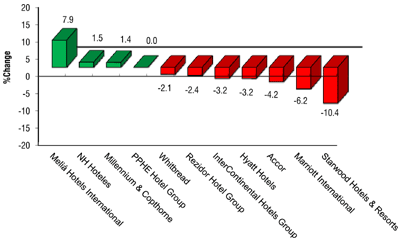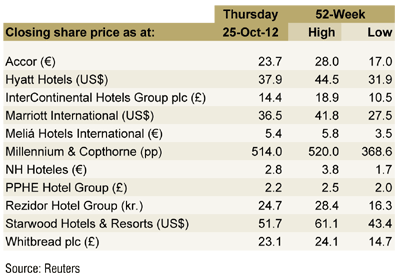 Meliá Hotels International – Meliá rose 4.6% in two days.
NH Hoteles – NH hit a ten-month high.
InterContinental Hotels Group (IHG) – IHG weakened 2.3% on low volume.
---
For the latest in the hospitality industry, please visit: http://www.hvs.com. You are also welcome to contact the following personnel.
| | |
| --- | --- |
| Russell Kett, Chairman – HVS London (@russellkett) | rkett@hvs.com |
| Charles Human, CEO – HVS London/HVS Hodges Ward Elliott | chuman@hvshwe.com |
| Tim Smith, Director – HVS London | tsmith@hvs.com |
| Chris Martin, Director – HVS Hodges Ward Elliott | cmartin@hvshwe.com |
| Demetris Spanos, Managing Director – HVS Athens | dspanos@hvs.com |
| Hala Matar Choufany, Managing Director – HVS Dubai | hchoufany@hvs.com |
| Christopher Mumford, President, EMEA – HVS Executive Search (@ChrisMumford) | cmumford@hvs.com |
| Philip Bacon, Managing Director – HVS Madrid and Managing Director, EMEA & Asia – HVS Shared Ownership Services | pbacon@hvs.com |
| Louise Fury, Senior Editor and EMEA Hospitality Newsletter Author – HVS London | lfury@hvs.com |