Five Park Inns By Radisson On The Market...
Hibernia France has put five Park Inn by Radisson hotels in France on the market: the Park Inn by Radisson Arcachon, the Park Inn by Radisson Macon, the Park Inn by Radisson Orange, the Park Inn by Radisson Nancy and the Park Inn by Radisson Lyon Ouest. Comprising around 500 rooms, the five hotels made the headlines recently when Rezidor Hotel Group announced that it was terminating its lease contract for the assets, along with two other properties in Aix-Les-Bain. The hotels are being offered freehold on an unencumbered basis. Rezidor will continue to operate the hotels as Park Inn by Radisson properties under management agreements.
…And One Park Inn by Radisson In The Making
Carrying on the Park Inn by Radisson theme, Rezidor Hotel Group is planning to open its third hotel under the brand in Hungary. The Park Inn by Radisson Zalakaros is expected to open during the first quarter of 2015 in Zalakaros, one of Hungary's smallest cities, which is famous for its thermal springs. The 236-room hotel will join the 138-room Park Inn by Radisson Budapest, which opens this month, and the 223-room Park Inn by Radisson Sávár. Proform owns all three of Rezidor's Park Inn by Radisson developments in Hungary. Rezidor now has 43 Park Inn by Radisson properties across Eastern Europe, either in operation or under development.
Hilton Hits New Heights In Switzerland…
Hilton Worldwide's Garden Inn brand made its first appearance in Switzerland this week with the opening of the 146-room Hilton Garden Inn Davos at 1,560 m above sea level in Davos, in eastern Switzerland, the highest city in Europe. Davos, home to one of Switzerland's biggest ski resorts, is the second European destination to welcome Hilton's mid-market Garden Inn brand, following the European debut of the 173-room Hilton Garden Inn Leiden, in the Netherlands, this August.
…And Goes Supersize In Poland
The city of Warsaw, in Poland, is to become the owner of Europe's biggest Hampton by Hilton hotel and the second-largest in the world. Hilton Worldwide has signed a management agreement with Austrian-based S+B Gruppe AB for a 300-room Hampton by Hilton hotel in the city centre. The 17-storey, new-build hotel will have a gross floor area of 12,500 m². Construction is due to start this month and the hotel is scheduled to open at the beginning of 2014. The new signing brings Hilton's Hampton portfolio in Poland up to six hotels, either open or in the pipeline. After making its debut in the Polish market four years ago, Hilton now has five hotels overall in operation in the country and ten in the pipeline.
Get On The Treadmill With Travelodge
Travelodge is getting ready to kick off its New Year fitness regime and start lifting those kettlebells. The UK-based hotel company has got together with low-cost fitness chain The Gym Group to develop ten hotels alongside fitness facilities in London and southeast England. This is not the first time the two companies have got together; they have previously opened joint developments in the UK in the town of Guildford in southern England, Portsmouth on the south coast and at Wembley and Waterloo in London. The pair are looking for standalone conversion or development opportunities or mixed-use schemes that they can occupy jointly. "It makes absolute sense for us to look for, and secure, sites together," said Paul Harvey, Travelodge's managing director of international development. "Given the space requirements of both companies, as well as our compatible business models, it really is the perfect fit: The Gym Group on the ground or lower ground floor and Travelodge on the floors above," he added.
Side By Side In Stuttgart
Berlin-based hotel owner and operator Foremost Hospitality has got together with developer and investor Kommunalprojekt PPP AG to develop two hotels in Stuttgart, Germany's sixth-largest city. A 156-room Holiday Inn Express and a 165-room Hampton by Hilton are to be developed in the same purpose-built building in the city centre, within walking distance of the main railway station. Construction is due to start in January 2014, and, once open, the hotels will become Foremost's 12th and 13th hotels in Germany.
Jurys Inn Gets A Makeover
UK mid-market chain Jurys Inn has announced that it is investing £25 million in upgrading its portfolio of 32 hotels across the UK, Ireland and the Czech Republic. More than 1,005 rooms have been updated so far, and the work is expected to carry on until the end of 2014. As well as refurbishing guest rooms and redesigning bar and restaurant areas, the group is also upgrading its IT systems.
Ex-HVSer @ IHG
HVS alumnus Philippe Bijaoui has been appointed as vice president of development for Europe at InterContinental Hotels Group (IHG). Philippe's career in hotel development and real estate spans more than 18 years. He has spent the past five years with Rezidor Hotel Group as vice president of business development for Southern and Eastern Europe, and he was previously at the helm of HVS's Madrid office. Commenting on the news, IHG's chief development officer for Europe, Robert Shepherd, said, "Europe is an important region for our business and there are significant growth opportunities – I'm delighted to have someone of Philippe's experience on board to help us capitalise them. Philippe will lead our talented team of developers who are working to boost scale throughout the region, particularly in the UK, Germany, Russia and CIS. We've had a successful 2012 to date, signing over 4,000 rooms throughout the region and there's still plenty of headroom to grow."
Hyatt's New Regency In Istanbul
Hyatt Hotels Corporation has announced this week that one of its affiliates has signed an agreement with Bosphorus Otelcilik ve Yatirim Ltd for the group's third hotel in Istanbul, Turkey. The Hyatt Regency Istanbul Ataköy is expected to open in January 2014 in the west of the city, near Atatürk International Airport and ten kilometres from Istanbul's historic Old Town. The 310-room hotel will join the 360-room Grand Hyatt Istanbul and the 90-room Park Hyatt Istanbul Maçka Palas.
Best Western Brings Olives To Bahrain
In the latest instalment of a series of Middle Eastern debuts (including the recently opened 132-room Best Western Orchid Hotel in Riyadh, Saudi Arabia), Best Western International has opened its first hotel in Bahrain: the 250-room Best Western Plus The Olive. "The Gulf region is one of the hottest hotel markets in the world today and Bahrain is a key part of this. I am confident that guests will enjoy the upscale splendours offered by this impressive new hotel," said Glenn de Souza, Best Western International's vice president for international operations in Asia and the Middle East.
A Tall Tale Of Marriott In Dubai
Marriott International has opened the tallest hotel in the world. The long-awaited, five-star JW Marriott Marquis Hotel in Dubai, UAE, has finally put out the welcome mat for its first guests. The 355-metre-tall building is only 26 metres shorter than the Empire State Building in New York. The hotel's 804 guest rooms and three restaurants underwent a soft opening this week. By the end of January 2013, all nine restaurants and five bars and lounges will be in operation and an official grand opening will take place in February.
Days Inn To Expand Into Saudi Arabia
Wyndham Hotel Group has signed an exclusive development agreement with Riyada International Hotels and Resorts for its economy Days Inn brand in Saudi Arabia. Under the agreement, ten Days Inn hotels are to be developed in the kingdom over the next seven years. Riyada isn't a stranger to Wydnham, however, as the Jeddah-based group is currently the master franchisee for Wyndham's Ramada brand in Saudi Arabia. "With Wyndham providing us with up to date global hospitality know-how, coupled with our local knowledge of the market, we have an unparalleled competitive edge in the country's hotel development sector," said Muhammad Al-Amir, founder and managing director of Riyada International Hotels and Resorts. Days Inn is Wyndham's biggest brand, with more than 1,830 hotels worldwide, including two hotels in Jordan and one in Bahrain.
Absolute Share Price Performance Over the Past Week – 8-15 November 2012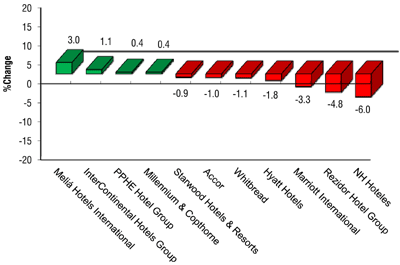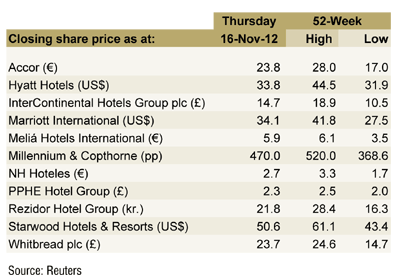 Meliá Hotels International – Meliá kept on rising this week: 6.1% in three days.
InterContinental Hotels Group (IHG) – IHG strengthened above its Moving Average Price.
NH Hoteles – NH dipped 0.7% on low volume.
---
For the latest in the hospitality industry, please visit: http://www.hvs.com. You are also welcome to contact the following personnel.
| | |
| --- | --- |
| Russell Kett, Chairman – HVS London (@russellkett) | rkett@hvs.com |
| Charles Human, CEO – HVS London/HVS Hodges Ward Elliott | chuman@hvshwe.com |
| Tim Smith, Director – HVS London | tsmith@hvs.com |
| Chris Martin, Director – HVS Hodges Ward Elliott | cmartin@hvshwe.com |
| Demetris Spanos, Managing Director – HVS Athens | dspanos@hvs.com |
| Hala Matar Choufany, Managing Director – HVS Dubai | hchoufany@hvs.com |
| Christopher Mumford, President, EMEA – HVS Executive Search (@ChrisMumford) | cmumford@hvs.com |
| Philip Bacon, Managing Director – HVS Madrid and Managing Director, EMEA & Asia – HVS Shared Ownership Services | pbacon@hvs.com |
| Louise Fury, Senior Editor and EMEA Hospitality Newsletter Author – HVS London | lfury@hvs.com |