A Tale Of Two Radisson Blus In The UK...
The Radisson Blu Hotel, Glasgow in Scotland has been purchased out of administration by Azure Properties for a reported £27.5 million. The 247-room hotel had been in administration since November 2011. The hotel, which underwent a complete rooms renovation in 2011, will continue to operate under the existing management agreement with Rezidor Hotel Group as a Radisson Blu property. Over in northwest England, the owner of the Radisson Blu Edwardian in Manchester, the Edwardian Group, has plans to expand the 263-room hotel. The group has purchased an old unused theatre adjacent to the property. The Theatre Royal opened in 1845 and has been used for many purposes over the years, such as a cinema, bingo hall and nightclub, before it was left empty. The Edwardian group is to work with Manchester City Council and English Heritage to restore the building and incorporate it into the hotel.
...And Four Radisson Blus In Europe
Rezidor Hotel Group plans to rebrand two existing hotels in Germany under its Radisson Blu brand. The 190-room Radisson Blu Hotel Dortmund, in the west of the country, is to become part of the family in January 2013, followed by the 235-room Radisson Blu Hotel Bremen, in northwest Germany, in June 2013. Both hotels, which are owned by Stockholm-based Pandox, will undergo an 18-month soft renovation to bring them in line with Radisson Blu standards. As well as adding to its pipeline, Rezidor has also opened two new flagship properties this week. In Russia, the 508-room Radisson Blu Resort & Congress Centre, Sochi has opened on the city's Black Sea coast ahead of the 2014 Winter Olympic Games. The Radisson Blu Hotel, Nantes is now welcoming guests in Nantes city centre, western France. The 142-room hotel is housed in the city's former Court of Justice, which dates from the mid 19th century.
Aloft Coming To Germany
Starwood Hotels & Resorts has signed two contracts with Munich-based real estate company Schörghuber Corporate Group to introduce its Aloft brand to Germany. The 184-room Aloft Munich is to be developed in Munich city centre and the new-build, 165-room Aloft Stuttgart will be part of Stuttgart's mixed-use MILANEO project in the city's European Quarter. Both hotels are owned and will be developed by Schörghuber Corporate Group and are expected to open in 2015. "The signings of Aloft Munich and Aloft Stuttgart underline Starwood's continued commitment to expanding our portfolio of mid-market brands in Germany and throughout Europe," said Bart Carnahan, Starwood's senior vice president of acquisitions and development for EMEA.
A First In France And Croatia
Hilton Worldwide is to debut two of its brands in France with a dual-branded property at the Val d'Europe business park, near Disneyland Paris. When they open in 2015, the 154-room Hilton Garden Inn Val d'Europe and the 96-room Hampton by Hilton Val d'Europe will be Hilton's first dual-branded property in France. Additionally, this is the first time the two brands have been developed in the same building in Europe. Hilton's DoubleTree brand made its first appearance in Croatia this week, with the opening of the DoubleTree by Hilton Zagreb. The 152-room hotel is part of Zagreb's Green Gold Shopping Centre, just two kilometres from the Old Town. The hotel is Hilton's second property in the country overall, alongside the 147-room Hilton Imperial Dubrovnik.
Marriott To Sizzle In Sisli
Marriott International has signed a management agreement with Bertugbey Insaat Turizm Ve Tekstil Ticaret for a new hotel in Istanbul. The Marriott Sisli Hotel, which is currently under construction, is expected to open at the end of 2013 on the European side of Istanbul, in the city's Sisli district. The 254-room hotel will be the second Marriott Hotels & Resorts property in the country and it will cover the top floors of a 35-storey tower. "Istanbul, with its wealth of culture and history, is one of the most sought after destinations in Europe and we are excited to add to our signature Marriott Hotels & Resorts portfolio here," said Amy McPherson, president and managing director of Marriott International in Europe. "The huge demand for Turkey as both a business and leisure destination means it will continue to be of significant strategic importance as we grow throughout Europe," she added. Marriott currently operates ten hotels across Turkey under six brands.
HVS Executive Search Needs You
HVS Executive Search needs your participation in a new study on the relationship between social media and an individual's interpersonal and communication skills. This research will give the industry a better understanding of the potential positive and negative consequences of social media use and the subsequent implications for a company's professional and business development initiatives. The online survey is anonymous and only takes ten minutes to complete. The aggregate results will be published in summer 2013. The findings are expected to help managers of all types with valuable learning, training and development programmes and initiatives. Please take time to help the industry learn about this critical topic and complete the survey by 7 December 2012. Click here to begin.
Malmaison and Hotel du Vin Reported To Be Trading Strongly
Although administrators have been appointed by its shareholder, MWB Group Holdings plc, Malmaison and Hotel du Vin have reported that this development has had no impact on their trading. Both subsidiary businesses are performing strongly with sales growing and profits ahead by 14% during the last four-month period on a like-for-like basis. A strategic review implemented at the beginning of the year has looked closely at where the companies can achieve growth; one example being the new Malmaison Dundee, in Scotland, which is on track for completion in July next year. Gary Davis, chief executive officer of Malmaison and Hotel du Vin, said, "The Malmaison and Hotel du Vin businesses have great brands and we continue to invest in the estate. We have a talented team who provide consistently high standards of service, as demonstrated by the excellent customer feedback we receive. Both businesses have performed well this year and we continue to see improvements in trading. Occupancy continues to improve with resilient room rates and recent management initiatives continue to deliver growth and margin improvements."
Amsterdam To Get A Second Park Inn
Rezidor Hotel Group has announced its second Park Inn by Radisson for Amsterdam in the Netherlands. The Park Inn by Radisson Amsterdam is due to open its doors in the fourth quarter of 2014. Located in west Amsterdam, the 478-room property is part of the redevelopment of the largest vacant office building in the city, and when it opens it will be the biggest hotel in the Park Inn portfolio in terms of meetings and conference facilities, with 4,000 m² of meeting space (including a 900 m² ballroom). Kurt Ritter, president and chief executive officer of Rezidor, said, "Amsterdam is Europe's third largest hotel market – very attractive for both business and leisure travellers – and a key development city for Rezidor." The Park Inn brand is due to make its debut in the city in January 2013 with the opening of the 150-room Park Inn by Radisson Amsterdam Airport Schiphol. More than 160 hotels are currently operating under the brand across the EMEA region.
Meliá Gets Innside Essen
Meliá Hotels International has announced that it is bringing its Innside by Meliá brand to the German city of Essen. A new hotel is to be developed in one of Essen's historic landmark buildings, OSRAM house, which was constructed in 1928 and designed to house the eponymous light bulb manufacturer. The building has lain vacant for several years now, but it will become home to the new 107-room hotel in 2015.
Gladen's Tidings
The news from Spain by Esther Gladen, Consulting & Valuation Analyst, HVS Madrid. The Innside by Melià brand also enters the Madrid market with two hotels: both properties are currently undergoing refurbishment, with an investment of approximately €80 million. The first to open at the beginning of 2013 will be the four-star Innside Melià Génova, in Palacio Alonso Martínez, with 65 rooms, a cafeteria, a lounge and an interior patio where breakfast will be served. It will be followed by the four-star Innside Madrid Luchana, in Palacio de Luchana, which will offer 44 rooms, a bar/cafeteria and a rooftop terrace. New development planned in Benidorm: the project, which is scheduled to be completed in spring 2015, includes a five-star hotel, a shopping centre and leisure facilities. Construction is due to start in January 2013. Asur Hoteles adds a hotel in Seville to its portfolio: the 26-room hotel is a few kilometres from the city centre. A new small luxury hotel planned for Menorca: The independent property, managed by a specialist Spanish management, company will have 22 rooms.
Absolute Share Price Performance Over the Past Week – 15-22 November 2012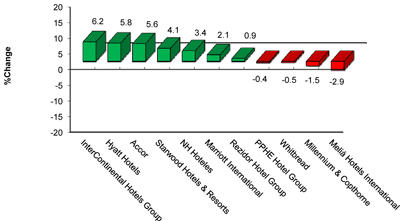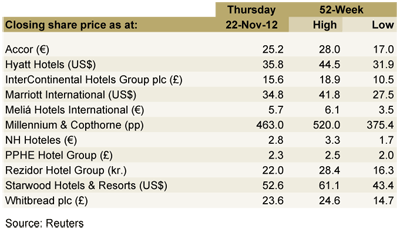 InterContinental Hotels Group – IHG announced on Wednesday that it has acquired 86,000 of its own ordinary shares for cancellation at an average price of 1639.8640 pence per ordinary share.
Hyatt Hotels – Hyatt raised to "buy" from "neutral" by MKM Partners.
Starwood Hotels & Resorts – Starwood started at "buy" by Jefferies.
---
For the latest in the hospitality industry, please visit: http://www.hvs.com. You are also welcome to contact the following personnel.
| | |
| --- | --- |
| Russell Kett, Chairman – HVS London (@russellkett) | rkett@hvs.com |
| Charles Human, CEO – HVS London/HVS Hodges Ward Elliott | chuman@hvshwe.com |
| Tim Smith, Director – HVS London | tsmith@hvs.com |
| Chris Martin, Director – HVS Hodges Ward Elliott | cmartin@hvshwe.com |
| Demetris Spanos, Managing Director – HVS Athens | dspanos@hvs.com |
| Hala Matar Choufany, Managing Director – HVS Dubai | hchoufany@hvs.com |
| Christopher Mumford, President, EMEA – HVS Executive Search (@ChrisMumford) | cmumford@hvs.com |
| Philip Bacon, Managing Director – HVS Madrid and Managing Director, EMEA & Asia – HVS Shared Ownership Services | pbacon@hvs.com |
| Louise Fury, Senior Editor and EMEA Hospitality Newsletter Author – HVS London | lfury@hvs.com |
| Lesley Parrott, Junior Editor and EMEA Hospitality Newsletter Author – HVS London | lparrott@hvs.com |