An Olympic Sale In London
Patron Capital has sold two hotels near the Olympic Park and Westfield shopping centre in Stratford, east London, to an unnamed Asian investor for £58 million. The 188-room Holiday Inn London Stratford City and the 162-unit Staybridge Suites Stratford City were put on the market in July 2012, not long after they opened. Cycas Hotel Partners and Patron Capital bought the properties at the beginning of 2011 when they were still under construction. Cycas Hospitality will continue to operate both hotels under a franchise agreement with InterContinental Hotels Group (IHG). Commenting on the sale, Josh Wyatt, investment director of hospitality at Patron, said, "This has been a very successful example of a complex, mixed-use development partnership amongst multiple partners including Westfield, Patron Captial, IHG and Cycas Hospitality. While we anticipated holding this investment for many years and continuing to participate in the successful regeneration of the area, we welcome the buyer's interest in furthering our efforts with the existing partners".
Bespoke Takes On The Park Inn Sheffield
London-based Bespoke Hotels has taken over the management of the Park Inn Sheffield, in northern England, and renamed it the Sheffield Metropolitan. Bespoke now plans to carry out a two-year refurbishment at the hotel. The 111-room hotel was bought out of administration near the end of last year for an undisclosed sum.
Hotel In County Kerry Sold
The 66-room Sheen Falls Lodge in the town of Kenmare in Country Kerry, Ireland, has reportedly been purchased by a UK-based luxury family hotel group for a sum in the region of €5 million and the sale is believed to be well advanced. The hotel is on 300 acres of land but only a portion of the grounds are included in the sale of the property. This transaction follows the sale of the Parknasilla Resort and Spa in Sneem, also in County Kerry, to overseas investors for around €10 million near the end of last year.
Lease To Franchise In Sweden
As part of its asset-light strategy, Rezidor Hotel Group has announced that the lease agreements for two hotels in Sweden are to be converted to franchise agreements. Ligula Hospitality Group is to purchase shares in Rezidor Hotel AB, which holds the lease agreements for the 231-room Park Inn by Radisson Malmö and the 178-room Park Inn by Radisson Stockholm Hammarby Sjöstad. Ligula will purchase the shares for a symbolic €1; while the net assets of the company are €0.9 million, the EBITDA losses forecast for the hotels for 2012 are a combined €0.8 million. Rezidor Hotel AB will operate the hotels under franchise agreements beginning in the first quarter of 2013.
Tune Expands To Scotland
Malaysian company Tune Group has expanded its portfolio of limited service hotels in the UK to five by opening its first property in Scotland. The seven storey, 179-room Tune Hotel Haymarket in Edinburgh is a short walk from the city's iconic castle and its main shopping area, Princess Street. "Edinburgh is an immensely important trade and tourism hub and we're excited to take part in and contribute to its continued success," said Mark Lankester, chief executive officer of Tune Hotels Group. Mr Lankester also commented that the group intend to grow further with more hotels on the way for the UK.
Henry Stewart On Hotel Operating Agreements
Henry Stewart is hosting a conference on Hotel Operating Agreements on 20 March 2013 at The Hatton conference venue in London. Some of the questions posed on the day will be: So where is the industry now? What happens next? What to do and what are others in the market doing? A host of frontline experts will take on these important questions and in talks, case studies and panels will provide the all-important answers. One of these experts will be HVS London's very own director of valuations, Tim Smith; additionally, HVS newsletter readers are being offered a 50% discount on the registration fee, which reduces the cost per delegate to £249.50 plus VAT. To book online by credit card please click here and insert discount code HVS50 when prompted to receive your 50% discount. If you would like to be invoiced please email dawnb@henrystewart.co.uk and provide the following information: full name(s), position(s) and email addresses of all delegates; title of conference; full company name and address for the invoice; name of the person making the booking if different from delegate(s); and please quote discount code HVS50 to receive your 50% discount.
Shanrgi-La On The Skyline Of London
Shangri-La Hotels and Resorts is to make its debut in the UK this March with the opening of a hotel in London in the tallest building in Europe, The Shard. The 202-room Shangri-La Hotel, at The Shard, London has been developed over floors 34-53 of the 310-metre-high tower. The Shard itself, which will also include office space, restaurants, residential apartments and viewing galleries, is due to open on 1 February.
Starwood To Start Up In Kazakhstan And Rixos Opens Number Three
Starwood Hotels & Resorts has signed an agreement with Akcept Contraction LLP, part of construction firm Center Group, for its first hotel in Kazakhstan. The 177-room Sheraton Aktobe is scheduled to open later this year in the city of Aktobe, in western Kazakhstan. "Reaching out to new frontiers is a focus of our expansion strategy and Sheraton Aktobe marks a significant milestone in our continued growth throughout Eastern Europe," said Roeland Vos, Starwood's president. Also this week, Turkish group Rixos opened hotel number three in Kazakhstan: the 200-room Rixos Lake Borovoe, which overlooks Lake Shuchie in Borovoe National Park, northern Kazakhstan.
Boutique Chic Coming To Margate
A derelict Victorian building in the seaside resort of Margate, in southeast England, is currently undergoing a transformation, from which it will emerge this summer as the 20-room Sands Hotel. Created by hotel real estate specialist Conrad Bigham and former City investment professional Nick Conington, the hotel will also include a bar and restaurant with sea views.
Moves At The Top
Travelodge has appointed Brian Wallace as chairman with immediate effect. Mr Wallace, an accountant, has previously worked for Schlumberger, Ladbrokes and Hilton, amongst others. It was also announced this week that Olivier Harnisch is to take up the post of executive vice president and chief operating officer at Rezidor Hotel Group, following Wolfgang Neumann's transition to president and chief executive officer. Mr Harnisch is currently vice president for northern and central Europe at Hilton Worldwide.
A New Novotel For Saudi Arabia
Accor has signed a management contract with Ahmed Saleh Kaki Sons Ltd for its third Novotel property in Saudi Arabia and its first in the city of Jeddah. The Novotel Jeddah is currently under construction and is due to open by the end of the year. The group also has one other Novotel in the pipeline for the country: the Novotel Jizan Cornich, which is scheduled to open in 2015. "We are rapidly growing our network in the Kingdom of Saudi Arabia, which is a key market for us. We just recently signed two new contracts for Sofitel and Suite Novotel in Riyadh, and now have a pipeline totalling eight projects under construction in the Kingdom," said Christophe Landais, managing director of Accor Middle East.
Dubai Resort Reopens
Le Méridien Mina Seyahi Beach Resort & Marina in Dubai reopened this week after being closed for almost a year to undergo an extensive refurbishment. The resort, which has its own private beach, is comprised of two hotels: the Westin Dubai and Le Méridien Mina Seyahi. All of the resort's 220 guest rooms, its public areas and the food and beverage areas were given an overhaul.
Gladen's Tidings
The news from Spain by Esther Gladen, Consulting & Valuation Analyst, HVS Madrid. H10 plans to open two more hotels in Barcelona in 2013: the 80-room Urquinanona Plaza and the 58-room Port Vell, which are both four-star properties. Palma de Mallorca will have a new five-star hotel in April: the Boutique Hotel Calatrava is located in a 19th-century building and will boast 16 rooms including several suites of 60 m² each, a spa, a bar/cafeteria and terraces.
Absolute Share Price Performance Over the Past Week – 3-10 January 2013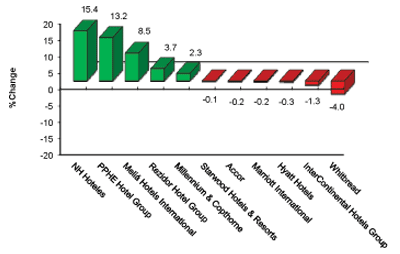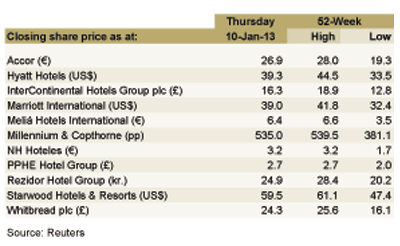 NH Hoteles – NH hit a fourteen-month high on firm volume.
Meliá Hotels International – Meliá added 2.5% on low volume.
Rezidor Hotel Group – Rezidor rose 0.8% on low volume.
---
For the latest in the hospitality industry, please visit: http://www.hvs.com. You are also welcome to contact the following personnel.
| | |
| --- | --- |
| Russell Kett, Chairman – HVS London (@russellkett) | rkett@hvs.com |
| Charles Human, CEO – HVS London/HVS Hodges Ward Elliott | chuman@hvshwe.com |
| Tim Smith, Director – HVS London | tsmith@hvs.com |
| Chris Martin, Director – HVS Hodges Ward Elliott | cmartin@hvshwe.com |
| Demetris Spanos, Managing Director – HVS Athens | dspanos@hvs.com |
| Hala Matar Choufany, Managing Director – HVS Dubai | hchoufany@hvs.com |
| Christopher Mumford, President, EMEA – HVS Executive Search (@ChrisMumford) | cmumford@hvs.com |
| Philip Bacon, Managing Director – HVS Madrid and Managing Director, EMEA & Asia – HVS Shared Ownership Services | pbacon@hvs.com |
| Louise Fury, Senior Editor and EMEA Hospitality Newsletter Author – HVS London | lfury@hvs.com |