A Hotel For The O2
The owners of London's O2 arena, US-based Anschutz Entertainment Group, has reportedly agreed to sell a portion of land near the arena to a joint venture between Queensgate Investments Fund 1 and undisclosed investors, which plan to develop a 425-room hotel, a conference centre and 100 residential properties on the site, for an investment of US$450 million. Construction is due to start in the next couple of months and is expected to finish in 2015. It is rumoured that the hotel will be operated by privately owned, UK-based Arora Hotels Ltd.
A Best Western Bought And A Paragon For Sale
The UK Holiday Group Ltd has bought the Best Western George Hotel in the town of Swaffham in Norfolk, East England, out of administration for an undisclosed sum. The 29-room hotel, a 16th-century coaching inn, was previously owned by Arlington Place Hotels Ltd, which once ran four best Western Hotels in Norfolk, before administrators were appointed. "We are delighted to welcome the George to our growing hotel portfolio, and our investment plans will safeguard its future for many years to come," said Paul Bennett, managing director of The UK Holiday Group. Over in England's Midlands region, the Paragon Hotel, in the city of Birmingham, has been put on the market for £6 million, after its former operator, the Dhillon Group, fell into administration in September 2012. The 250-room hotel is housed within a six-storey, Grade II-listed building.
Garden Inn To Go From Five To Twelve In Turkey
Hilton Worldwide has announced a major expansion in Turkey for its Hilton Garden Inn brand with the signing of seven new hotels in the country (more than 1,100 rooms). Three of the new properties will be developed in Istanbul: the 200-room Hilton Garden Inn Istanbul Kasimpasa, which is the product of a management agreement with Ofton Insaat Turizm ve Yatirim Sanayi Ticaret Anonim Sirketi Kasimpasa and due to open at the beginning of 2014; the 148-room Hilton Garden Inn Istanbul Umraniy, which will be managed by franchisee Can Park AVM Isletmecilik Turizm ve Taahhut AS, and is also expected to open in early 2014; and the 160-room Hilton Garden Inn Istanbul Esenyurt, which is due to open in early 2015 under a management agreement with Semerkand Yapi AS. Turkey's capital will be home to the ten-storey, 162-room Hilton Garden Inn Ankara Gimat, which will open under a franchise agreement with Ozcelik Imaj Tan Adi Ortakligi at the start of 2014. The 17-storey, 180-room Hilton Garden Inn Bursa is to open in Turkey's fourth-largest city in 2014 as part of a mixed-use development operated by Guleser Tekstil Sanayi ve Ticaret Ltd Sirketi. The remaining additions will mark Hilton's debut in two markets: the 172-room Hilton Garden Inn Trabzon, which is due to open in summer 2015 under a management agreement with Tunalar Otomotiv Turizm Ticaret Ltd Sirketi, and the 120-room Hilton Garden Inn Erzincan, which will open this summer under a management agreement with Reysas Turizm Yatirimlati ve Ticaret Ltd Sti. Hilton currently has five Garden Inn hotels in operation in Turkey.
More Choice For The UK
Choice Hotels International has entered into a strategic agreement with UK regional hotel operator Akkeron Hotels Group that will increase its portfolio in the UK by nine hotels (611 rooms), operating under franchise agreements. The new additions to the Choice family will increase its portfolio in the UK by almost 25%. Five Akkeron properties in Bristol, Bury St. Edmonds, Colchester, Peterborough and Kings Lynn will be rebranded under Choice's Quality brand and four hotels in Winchester, Darlington, Ringwood and Stevenage will become part of the Clarion Collection brand. "The agreement initially will focus on rebranding nine hotels with the opportunity to discuss rebranding further Akkeron hotels in the future," said Duncan Berry, UK chief executive officer of Choice Hotels Europe.
Luxury Living In Liverpool
Wirral-based developer Middle England Development (MED) is planning to open the 51-unit Richmond aparthotel in the northwest city of Liverpool, UK, in March 2013. The group has created a new company, Richmond Luxury Living, to operate the property. The Richmond is being developed in the Grade II-listed former Merseyrail building, in the city centre, which MED purchased for £1.8 million in June 2012.
IHG Raises The Barr
InterContinental Hotels Group (IHG) has promoted its current chief executive for Greater China, Keith Barr, to Chief Commercial Officer, with responsibility for IHG's global sales, marketing and brand functions. Mr Barr, who joined IHG in 2000 as vice president of sales and revenue and has held a number of roles since, will take up his new position on 1 June 2013. Kenneth Macpherson, currently general manager of Diageo, has been appointed as Mr Barr's replacement in China. "Keith's operation expertise and considerable experience in brand management and revenue generation make him the ideal person for this new role," said Richard Solomons, IHG's chief executive. "I'm delighted that Kenneth Macpherson will be joining IHG. Kenneth speaks Mandarin and has a background in sales, marketing, strategy, business development and operations. As such, Kenneth will bring to IHG a unique blend of Chinese and international business experience," he added.
Travelodge To Cause A Stir In Scotland
Travelodge has signed a deal for a hotel in Stirling, central Scotland. The hotel is expected to open near the end of 2014 as part of a wider mixed-use development in the city centre. Planning permission was lodged in November for the scheme, which comprises the redevelopment of the former Rainbow Slides Leisure Centre and, as well as the hotel, will include the construction of ground-floor retail space and student accommodation.
Macdonalds Serves Wales
UK-based privately owned hotel operator Macdonald Hotels & Resorts has made its way back to Wales by signing a management agreement for the four-star Dragon Hotel in Swansea city centre. The 106-room hotel, which is owned by development company London and Devonshire Trust, recently underwent a £3.5 million refurbishment. There are no plans at present to change the name of the hotel to incorporate the Macdonald brand. Macdonald Hotels & Resorts previously owned the Macdonald Holland House Hotel in the Welsh capital, Cardiff, in the southeast of the country, before it was sold in 2006.
Dubai: Anantara Lands On The Palm And Mövenpick Opens Number Five
Thailand-based luxury chain Anantara Hotels, Resorts & Spas plans to make its debut in Dubai with a property on the crescent of the emirate's man-made Palm Jumeirah development. The Anantara Dubai Palm Jumeirah Resort & Spa is due to open in September 2013. The 293-room resort, which will have its own private beach and three natural lagoons, is owned by Dubai-based holding company Seven Tides. Also in Dubai this week, Mövenpick Hotels & Resorts opened its fifth property in the emirate. The Mövenpick Hotel Apartments The Square are part of a mixed-use complex in the Deira area of Dubai city. The 180-room property is owned by Town Square Investment LLC and is the group's second hotel in Deira.
Millennium Ushers In A New Brand For The Middle East
Millennium & Copthorne has announced that it is bringing a new brand to the Middle East to cater to long-stay guests in the region. The first of the new brand, the 198-unit Millennium Executive Apartments Abu Dhabi, will make its debut in the UAE by the end of the first quarter of 2013. Another 150-room property is expected to open in Dubai Marina before the end of the year, and the group plans to expand with more than ten Millennium Executive Apartments in the region within the next three years. "We're executing final agreements in Jeddah for one Millennium Executive Apartments tower. We're also looking at Riyadh, Doha, Dubai Creek, Kuwait, Istanbul and Madinah," said Ramsay Rankoussi from Millennium & Copthorne Middle East and Africa.
A Dusting Of Thai Hospitality To Cover Nairobi
Thai hospitality group Dusit International has signed a management agreement with Cape Hotels for its first property in Nairobi, Kenya. The dusitD2 Nairobi is slated to open in the third quarter of 2013 in the 14 Riverside mixed-use development. Once open, the hotel will become Dusit's second property in Africa, alongside the 449-room Dusit Thani LakeView Cairo in Egypt. "In concert with our international expansion plans, we aim to solidify our presence in Africa and explore opportunities in locations such as Masai Mara, Mombasa, Dar es Salaam and Kampala," commented Dusit's managing director and chief operating officer, Chanin Donavanik.
2012 Trading Update for PPHE
PPHE Hotel Group recorded an increase in revenue of 19% for year-end 2012, owing primarily to a strong performance by the group's London hotels and the acquisition of 100% ownership of three of the group's hotels in the Netherlands. PPHE's RevPAR rose by 9.4% to €101, driven by a 9.8% increase in average rate to €130. Occupancy remained flat at 77.4%, compared to 77.7% for 2011.
Gladen's Tidings
The news from Spain by Esther Gladen, Consultant & Valuation Analyst, HVS Madrid. A new ibis Budget opens in Madrid: the leased property is in Las Ventas, in the centre of Madrid and offers 100 rooms.
Absolute Share Price Performance Over the Past Week – 17-24 January 2013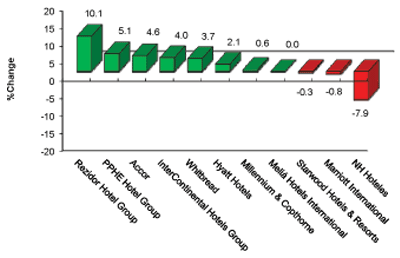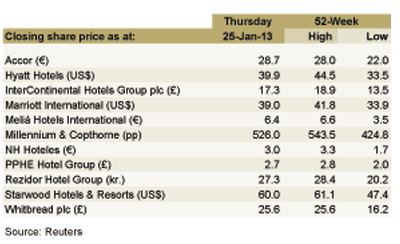 Rezidor Hotel Group – Rezidor raised to "outperform" from "underperform" by Exane BNP Paribas.
Accor – Barclays raised Accor's target price to €32 from €30.
InterContinental Hotels Group (IHG) – IHG achieved its biggest trailing week gain for six months.
---
For the latest in the hospitality industry, please visit: http://www.hvs.com. You are also welcome to contact the following personnel.
| | |
| --- | --- |
| Russell Kett, Chairman – HVS London (@russellkett) | rkett@hvs.com |
| Charles Human, CEO – HVS London/HVS Hodges Ward Elliott | chuman@hvshwe.com |
| Tim Smith, Director – HVS London | tsmith@hvs.com |
| Chris Martin, Director – HVS Hodges Ward Elliott | cmartin@hvshwe.com |
| Demetris Spanos, Managing Director – HVS Athens | dspanos@hvs.com |
| Hala Matar Choufany, Managing Director – HVS Dubai | hchoufany@hvs.com |
| Christopher Mumford, President, EMEA – HVS Executive Search (@ChrisMumford) | cmumford@hvs.com |
| Philip Bacon, Managing Director – HVS Madrid and Managing Director, EMEA & Asia – HVS Shared Ownership Services | pbacon@hvs.com |
| Louise Fury, Senior Editor and EMEA Hospitality Newsletter Author – HVS London | lfury@hvs.com |