Featured in this HVS EMEA Hospitality Newsletter – Week Ending 1 February 2013
Travelodge To Reach Twelve In Manchester…
Associated Property Investors is developing a £20 million mixed-use development in Manchester, northwest England, which will include a 157-room Travelodge hotel, the group's 12th hotel in the city. Construction recently started at the site, at Piccadilly Gardens in the city centre, and is expected to finish in December 2013. The development will also include retail and restaurant space.
…And Invest In Its Portfolio
UK chain Travelodge has announced that it plans to invest £223 million in the brand in 2013. The group plans to carry out a £57 million refurbishment of its 528 hotels and £141.5 million will be spent developing 14 new hotels, adding 1,742 rooms to the group's portfolio. Two of the new hotels will be in Spain (Barcelona and Valencia), four will be in London and the remainder in other cities and towns in the UK. The investment will also be used for marketing, a new revenue management system and website, and maintenance.
A Dab Of Cologne For Adagio
Charging ahead with its expansion in Europe, Accor's Adagio Aparthotels brand is opening a new property in Cologne this month. The Adagio Köln City will have 115 studios and apartments. This will be Accor's first Adagio property in Cologne, Germany's fourth-largest city, and its third in the country overall (the group currently operates one in Berlin and one in Munich).
Want To Know More About Hotel Operating Agreements?
Then Henry Stewart has an event just for you. The Latest Thinking on Operating Agreements is a one-day conference taking place on 21 March at the Radisson Blu Portman Hotel in London. There will be a wealth of speakers, including HVS London's very own director of valuations, Tim Smith. You can catch Tim in the afternoon, when he will be speaking about where leases work best and the investment values they create. For more information visit www.henrystewartconferences.com. HVS EMEA newsletter readers are being offered a 50% discount on the registration fee, which reduces the cost per delegate to £249.50 plus VAT. To book online by credit card please click here and insert discount code HVS50 when prompted to receive your 50% discount. If you would like to be invoiced please email dawnb@henrystewart.co.uk and provide the following information: full name(s), position(s) and email addresses of all delegates; title of conference; full company name and address for the invoice; name of the person making the booking if different from delegate(s); and please quote discount code HVS50 to receive your 50% discount.
Sheraton And Le Méridien Go Forth And Multiply Into 2013
Starwood Hotels & Resorts has announced record-breaking growth for its Sheraton brand over the next 12 months with the opening of 30 new hotels. Half of the new properties will be in China but the expansion also includes four hotels in the Middle East and Africa, including the fourth Sheraton for Saudi Arabia, the brand's debut in Tajikistan and two new hotels in Turkey in Adana and Bursa. "Our Portfolio is stronger than ever following our highly successful brand-wide revitalisation and mulitbillion dollar investment to enhance the Sheraton brand over the past several years," said Hoyt Harper, global brand leader for Sheraton Hotels & Resorts. The group also released plans to open nine new Le Méridien properties in 2013, including the Le Méridien Cairo Airport in Egypt, which is expected to open in September 2013.
Steigenberger Brings A Touch Of Magic To Egypt
Steigenberger Hotels and Resorts is to open a new hotel at its resort complex on the Red Sea in Hurghada, Egypt. The Steigenberger Aqua Magic is due to open by the end of the year as part of the Steigenberger Al Dau Resort, which currently comprises the 388-room Steigenberger Al Dau Beach Hotel. The five-star, family hotel will have 668 rooms and will also include its own water park and a golf course. Once open, it will become Steigenberger's fourth hotel in Egypt.
Gladen's Tidings
The news from Spain by Esther Gladen, Consulting & Valuation Analyst, HVS Madrid. A new AC by Marriott: the group is adding a hotel in San Cugat, in the Province of Barcelona, to its portfolio. The four-star, 152-room property will open this month. New Travelodges planned: the 250-room Travelodge Barcelona Poblenou will be located in the city's 22@ district. The investment in the project is reported to be €29 million. The 98-room Travelodge Madrid Alcalá is scheduled to open in May 2013 after an investment of around €8 million. Hotel Itaca opened in Málaga: the new-build, three-star property has 25 rooms, a bar, a terrace and a swimming pool. Hipotels plans to open a new hotel in Playa de Palma, Mallorca: The new-build, 380-room hotel is expected to open in 2015. The four-star property will offer conference space and a spa, amongst other facilities.
Absolute Share Price Performance Over the Past Week – 24-31 January 2013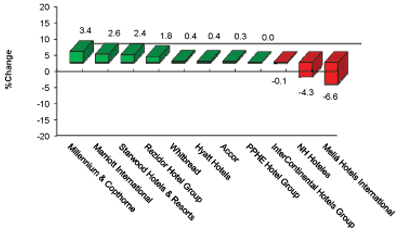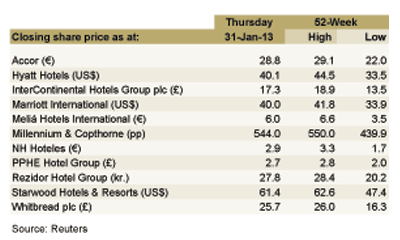 Rezidor Hotel Group – Rezidor raised to "outperform" from "underperform" by Exane BNP Paribas.
InterContinental Hotels Group (IHG) – IHG fell 0.6% in weak trading.
Meliá Hotels International – Meliá dropped 5.8% on high volatility.
---
For the latest in the hospitality industry, please visit: http://www.hvs.com. You are also welcome to contact the following personnel.
| | |
| --- | --- |
| Russell Kett, Chairman – HVS London (@russellkett) | rkett@hvs.com |
| Charles Human, CEO – HVS London/HVS Hodges Ward Elliott | chuman@hvshwe.com |
| Tim Smith, Director – HVS London | tsmith@hvs.com |
| Chris Martin, Director – HVS Hodges Ward Elliott | cmartin@hvshwe.com |
| Demetris Spanos, Managing Director – HVS Athens | dspanos@hvs.com |
| Hala Matar Choufany, Managing Director – HVS Dubai | hchoufany@hvs.com |
| Christopher Mumford, President, EMEA – HVS Executive Search (@ChrisMumford) | cmumford@hvs.com |
| Philip Bacon, Managing Director – HVS Madrid and Managing Director, EMEA & Asia – HVS Shared Ownership Services | pbacon@hvs.com |
| Louise Fury, Senior Editor and EMEA Hospitality Newsletter Author – HVS London | lfury@hvs.com |