ADIA Buys 42 Marriott Hotels
According to The Times, Abu Dhabi Investment Authority is set to acquire 42 Marriott hotels across the UK controlled by the Royal Bank of Scotland for £640 million. The portfolio was acquired for around £1.2 billion in 2007, by a consortium of Quinlan Private and Israeli investors Blenheim Property Group and Delek Global Real Estate, but fell into receivership almost two years ago. Marriott International's long-term operating agreement for the hotels is said to be unaffected by the sale.
Capital Gets Principal
Continuing its expansion in the hotel sector, US-based Starwood Capital Group has purchased hotel and conference venue group Principal Hayley for a reported £360 million. The deal comprises Principal Hayley's portfolio of 23 city centre hotels and dedicated conference and training centres in the UK and France (almost 4,000 guest rooms and more than 500 meeting rooms). "This transaction marks an exciting investment in the European hotels and conferences sector and provides a great management platform for us to expand further in Europe," said Barry Sternlicht, Starwood Capital's chairman and chief executive officer.
Fattal Acquires Queens Moat
In line with its expansion plans, Israeli group Fattal Hotels, along with a group of international investors, has signed a binding agreement to acquire Queens Moat Houses (Germany) Holding GmbH for an estimated €265 million. Queens Moat currently consists of 20 hotels in Germany (3,600 rooms) – 15 Holiday Inns, Four Best Western hotels and one Queens Hotel. "The hotels complement our existing Leonardo chain of hotels perfectly," said David Fattal, chief executive of Fattal Hotels and Leonardo Hotels. "We still want to continue to grow and are negotiating further projects in major cities in Europe," he added. The transaction brings Fattal's portfolio up to 85 hotels (more than 16,000 rooms), 54 of which are in Europe (8,449 rooms).
Two New Hotels For Internos
Real estate fund manager Internos has recently acquired two new hotels on behalf of the Internos Hotel Real Estate Fund for €37 million. The 208-room ibis Munich City West, in Germany, and the 197-room ibis City Centre The Hague, in the Netherlands, represent the fifth and sixth hotels Internos has purchased for the fund. The hotels were bought in separate transactions under long leases by Accor. The seller of the ibis in Munich was undisclosed but the hotel in The Hauge was sold by Aprirose Real Estate Investment."These latest acquisitions together with continued historical low interest rates secured very attractive returns as well as enhanced diversification; thus reducing the portfolio's risk profile further whilst simultaneously enhancing the quality of returns," commented fund manager Jochen Schäfer-Suren. "Due to the continued support of our seed investors and new investors we have raised additional equity that allows us to acquire over €100 million worth of further hotels. Therefore we are actively looking for more hotels to acquire for the remainder of 2013," he added.
A Sale In Barcelona And A Four Seasons For Madrid
Hamburg-based Union Investment Real Estate has purchased the 186-room Barceló Raval in Barcelona from Barceló Hotels and Resorts for €37 million for its open-ended real estate fund, Unilmmo: Europa. The five-year-old property is to be leased to Barceló on a 20-year lease with an option to extend. Also in Spain, Four Seasons Hotels and Resorts is to make its first appearance in the country with a hotel in Madrid. The 215-room Four Seasons Hotel Madrid is to be developed across several historic buildings which make up the Canalejas complex, within walking distance of the city centre. The complex, which is to undergo repairs and restoration, will also house Four Seasons residences, a shopping centre and a 500-space car park. Construction is scheduled to begin at the end of 2013. Privately owned Spanish industrial group Grupo Villar Mir is investing €500 million in the project through its subsidiaries, Immobiliaria Espacio and Grupo OHL.
Changes At Meininger
German company Meininger Hotel Group is to become a 100% subsidiary of Holidaybreak with the sale of its remaining shares (26%) to the northwest England-based travel group for an undisclosed sum. Holidaybreak purchased a 50% stake in Meininger in November 2010 and in April 2012 it acquired a further 24%. The deal will result in a change in management at Meininger: Navneet Bali will be the group's new chief executive officer and will also take over Sascha Gechter's role of head of development and finance. Eric van Dijk is to become chief operating officer, taking over from Nizar Rokbani as head of sales and operations. The transaction is expected to close in April 2013.
Holiday Inn Sold
Strauss & Partner Development, a subsidiary of Austria-based construction firm PORR Group, has sold a 217-room Holiday Inn hotel under construction at the O2 World arena in Berlin, Germany, to the VLAEKH pension fund for an undisclosed sum. The eight-storey hotel, in the city's Friedrichshain district, is expected to open in the second quarter of 2014 and will be operated by Tristar Hotel & Management GmbH under a franchise agreement with InterContinental Hotels Group. As well as the hotel, the site will also include around 21,550 m² of office space and 1,600 m² of retail facilities. The total investment in the development is rumoured to be €70 million.
Interstate Makes It To The UK
US-based Interstate Hotels & Resorts is to enter the UK market with the acquisition of the management division of Sanguine Hospitality, a Liverpool-based hospitality development and ownership company. The deal will see Interstate take over the management of nine existing hotels (the DoubleTree by Hilton Chester, the DoubleTree by Hilton Bristol, the Hampton by Hilton Birmingham, the Holiday Inn Express Hoylake, the Hotel Indigo Birmingham, the Hotel Indigo Liverpool, the Hotel Indigo Newcastle, the Days Inn Liverpool and the Days Hotel Chester North) and five properties currently under development (the Hampton by Hilton Sheffield, the Hilton Ageas Bowl Southampton, the Hampton by Hilton Exeter, the DoubleTree by Hilton Liverpool and the Holiday Inn Express Birmingham), becoming the first US third-party management firm in the UK with a significant portfolio and a fully staffed team in the country. Interstate will manage the properties (more than 1,900 rooms) under long-term contracts. The acquisition has increased Interstate's portfolio in Europe to 51 hotels.
Holiday Inn Takes The Express Train To Russia
InterContinental Hotels Group (IHG) has signed a multiple development franchise agreement with Regional Hotel Chain, taking its Holiday Inn Express brand to Russia for the first time. A total of 15 new Holiday Inn Express properties are to be developed across the country by 2019, adding 2,250 rooms to IHG's portfolio in Russia. Chelyabinsk and Voronezh will be home to the first two hotels from the agreement – the Holiday Inn Express Voronezh-Kirova is expected to open during the second half of 2015 and the Holiday Inn Express Chelyabinsk-Central Station is due to open in summer 2015. IHG currently operates 13 hotels in Russia (3,894 rooms).
Marriott Launches A New Brand
After being in development for almost two years, Marriott International's new economy, three-star brand, Moxy Hotels, is set to launch in Europe. Over the next ten years, Marriott plans to open 150 franchised Moxy Hotels in Germany, Austria, the UK, Ireland, Belgium, Italy, the Netherlands, Denmark, Finland, Norway and Sweden. The brand's debut will be in Milan, Italy, in early 2014. Inter Hospitality, part of the property division of furniture giant IKEA Group, will be the initial developer and owner of the first Moxy Hotels and Norwegian hotel management and development company Nordic Hospitality has been selected to be the first franchisee to operate the brand.
Hilton On The Nile
Hilton Worldwide has announced its sixth hotel for Egypt. The 257-room Hilton Cairo Nile Maadi is expected to open at the beginning of 2016 in Cairo, with views of the River Nile. The 23-storey development is owned by Saudi Egyptian Real Estate Development.
It's All About Turkey
US brand Nikki Beach Hotels & Resorts has announced its first property for Turkey: the Nikki Beach Resort & Spa Bodrum, which is scheduled to open in the holiday resort of Bodrum, southwest Turkey, in 2014 with 57 suites and villas. Additionally, Abu Dhabi-based Rotana has signed an agreement with Turkish group Dap-Yapi that will see it make its debut in Turkey by taking on the management of two hotels in Istanbul: the 188-room Tango Arjaan by Rotana and the 222-room Burgu Arjaan by Rotana, which are both expected to open in the first quarter of 2015. Lastly, the chic French budget chain Mama Shelter is opening its first hotel outside of France this month. The 81-room Mama Shelter Istanbul is due to open on 15 March in the city's Beyoglu district. Additonally, the 154-room Mama Shelter Lyon is scheduled to open in France on 20 March, bringing the group's portfolio up to four.
Rosewood Returns To London
After an £85 million renovation, the Chancery Court Hotel, London is to become the Rosewood London. Rosewood Hotels & Resorts is to take on the management of the 306-room Grade II-listed Edwardian property in October 2013. The deal marks Rosewood's return to the UK capital; it previously managed the Lanesborough hotel before it was rebranded under Starwood Hotels & Resorts' St. Regis flag.
A New Radisson Blu For Russia
Rezidor Hotel Group has announced its second hotel for Sheremetyevo Airport in Moscow, Russia. The 379-room Radisson Blu Sheremetyevo Airport Hotel, Moscow is due to open in the second quarter of 2014 and will join the existing 297-room Park Inn by Radisson Sheremetyevo Airport Moscow. The new Radisson Blu is owned by Norwegian investment company Wenaasgruppen, which already owns nine hotels in Russia operated by Rezidor (4,000 rooms).
Three New DoubleTrees For The UK
Hilton Worldwide announced that it has signed agreements to launch three new DoubleTree by Hilton properties in the UK. As a result of a franchise agreement with Focus Hotels Management, the former Jarvis Hotel in Bristol, southwest England, is to emerge from a multimillion-pound renovation this spring as the 201-room DoubleTree by Hilton Bristol City Centre. West Register Hotels has signed a franchise deal with Hilton that will see the former Point Hotel in Edinburgh, Scotland, converted to the 139-room DoubleTree by Hilton Edinburgh City Centre; the hotel will be rebranded this summer following a renovation. Lastly, the Nottingham Gateway Hotel, in north central England, is to be franchised to Exceptional Hotels & Resorts. The 106-room hotel is to open in late 2013 as the DoubleTree by Hilton Nottingham Gateway.
A First In Germany For Meliá and Marriott
Spanish group Meliá Hotels International has recently announced plans to open its first hotel in the German city of Leipzig, east central Germany. The former Kosmoshaus club, which dates from 1853, is to be converted into a 153-room Innside by Meliá hotel. The hotel, which is expected to open at the end of 2015, is to be developed by KSW GmbH. Additionally, Marriott International's Autograph Collection is to make its debut in Germany later this year with the reopening of the 87-room Hotel am Steinplatz in Berlin after an extensive renovation. The 106-year-old building first opened as a hotel in 1913 and is currently owned by DG Steinplatz 4 GmbH.
Steigenberger In Berlin And Brussels
Steigenberger Hotels and Resorts announced its third InterCityHotel for the Berlin region. The 412-room, eight-storey InterCityHotel Berlin Hauptbahnhof is due to open this autumn. CA Immo is developing and investing in the project, which, as the largest InterCityHotel to be constructed so far, will become a flagship property for the brand. Steigenberger also recently made its entry in the Belgian market with a hotel in Brussels: the 269-room Steigenberger Grandhotel Brussels, previously the Conrad Brussels, which can be found on avenue Louise.
HVS's Thomas Mielke Promoted To Director
Hospitality executive search specialist HVS Executive Search has announced that Thomas Mielke has been promoted to director. London-based Mielke has been with HVS since 2008 and is on the company's Partnership Track programme, working towards becoming a fully fledged partner within the Europe, Middle East and Africa region. Speaking on the promotion, Chris Mumford, president of the EMEA region for HVS Executive Search said, "This is a well deserved promotion for Thomas. He is increasingly becoming a trusted advisor on human capital issues to clients in the hotel and hospitality real estate sectors throughout Europe and the Middle East. Thomas also deserves recognition for the support, leadership and counsel he provides to the HVS Executive Search teams in London, Moscow and Johannesburg. It is a pleasure to work with such a professional and I wish Thomas every continued success."
Goings On In The Middle East
Hilton Worldwide has signed a management agreement with Hamad Abdulaziz Almousa Trading Group for a new hotel in Saudi Arabia. Construction has already started on the 158-room DoubleTree by Hilton Al Khobar Corniche and it is expected to open at the end of 2014. Hilton currently operates six hotels in Saudi Arabia and has 17 in the pipeline. Also in the Middle East this week, Golden Tulip signed a management contract for its fourth hotel in Lebanon. The Golden Tulip Jiyeh Marina Resort is under construction at the mixed-use Jiyeh Marina development and is due to open in May 2013. A total of around US$38 million is being invested in the 152-room hotel. Additionally, Accor officially opened the Pullman Deira City Centre in Dubai. The 317-room hotel recently underwent a complete renovation, carried out by its owner, Majid Al Futtaim Properties.
Here's Looking At Sofitel
Accor's Sofitel brand has opened its first hotel in Casablanca, Morocco. Designed by Belgian architect, Patrick Génard, the 141-room Sofitel Casablanca Tour Blanche is located in the city's business district.
Absolute Share Price Performance Over the Past Week – 28 February-7 March 2013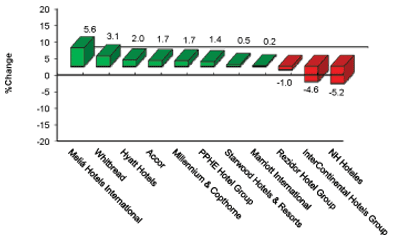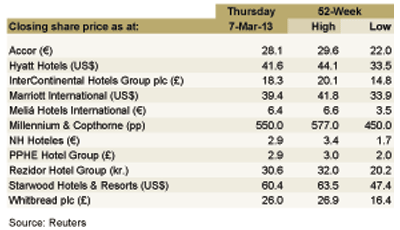 Meliá Hotels International – Meliá rises 2.8% on high volatility.
Whitbread – Whitbread rises 1.1% on high volatility.
Millennium & Copthorne – JPMorgan Cazenove downgrades Millennium & Copthorne to "neutral" from "overweight".
---
For the latest in the hospitality industry, please visit: http://www.hvs.com. You are also welcome to contact the following personnel.
| | |
| --- | --- |
| Russell Kett, Chairman – HVS London (@russellkett) | rkett@hvs.com |
| Charles Human, CEO – HVS London/HVS Hodges Ward Elliott | chuman@hvshwe.com |
| Tim Smith, Director – HVS London | tsmith@hvs.com |
| Chris Martin, Director – HVS Hodges Ward Elliott | cmartin@hvshwe.com |
| Demetris Spanos, Managing Director – HVS Athens | dspanos@hvs.com |
| Hala Matar Choufany, Managing Director – HVS Dubai | hchoufany@hvs.com |
| Christopher Mumford, President, EMEA – HVS Executive Search (@ChrisMumford) | cmumford@hvs.com |
| Philip Bacon, Managing Director – HVS Madrid and Managing Director, EMEA & Asia – HVS Shared Ownership Services | pbacon@hvs.com |
| Arlett Oehmichen, Director – HVS London | aoehmichen@hvs.com |
| Sophie Perret, Director – HVS London | sperret@hvs.com |
| Louise Fury, Senior Editor and EMEA Hospitality Newsletter Author – HVS London | lfury@hvs.com |