JW Marriott Coming To Italy
Marriott International has ordered a gondola taxi and is getting ready to set sail for Venice. The group has signed a management agreement with an affiliate of Aareal Bank AG that will see its luxury JW Marriott brand make its debut in Italy with a hotel on the man-made island of Sacca Sessola, in the Venetian lagoon. The 266-room JW Marriott Venice Resort & Spa is due to open in 2014. Created in 1860, Sacca Sessola has been used for a variety of purposes, including fuel storage and as a hospital. In 2000, the 40-acre island, one of the largest in the Venetian lagoon, was sold to a multinational company and subsequently converted into a private tourism complex. Marriott currently operates 20 hotels across Italy under five brands.
One&Only On Its Way To Europe
Bahamas-based Kerzner International Holdings Ltd has signed an agreement with Triangle Investment and Development Ltd, acting as representative for the State Oil Company of Azerbaijan, for the first One&Only resort in Europe. A 150-room One&Only resort is to be developed across 60 acres in Kumbor, Montenegro. The mixed-use development will also include One&Only residences, a marina and other sport and retail facilities.
Hyatt To Debut On Majorca
In 2015, Hyatt will be making its first appearance on the Spanish island of Majorca. The group has signed a management agreement with Spanish real estate company Cap Vermell Hotel Proyectos y Promociones for the Park Hyatt Majorca. The 142-room hotel is to be constructed in the style of a traditional Majorcan hilltop village, adjacent to an international standard 18-hole golf course. The hotel will be part of a 61-acre mixed-use development with residential space and leisure facilities, which is owned and being developed by Grupo Cap Vermell.
Novotel Number One For Bulgaria
French group Accor will be making its debut in Bulgaria later this month with the opening of the 178-room Novotel Sofia in Bulgaria's capital. The hotel will be part of an office complex; the first two levels will comprise the hotel's main facilities, the next six storeys will include 7,500 m² of Class A office space and the hotel's guest rooms will be spread over the top seven levels. Accor's partner in this venture is Bulgarian investment company, MHQ.
Luxury Collection To Add Another In Athens
Starwood Hotels & Resorts is reportedly set to sign a deal with Lampsa Hellenic Hotels to include the King George Hotel in Athens, Greece, within its Luxury Collection brand. The hotel is expected to open later this year as the King George, A Luxury Collection Hotel, Athens. The hotel, which first opened in 1936, has 78 rooms and 24 suites. It will become the eighth Luxury Collection property in Greece – overall, Starwood currently operates ten hotels in the country.
Five-Star Hotel For Bristol
Trevor Osborne Property Group has bought the Guildhall, a historic building in the city of Bristol, southwest England, from the city council and intends to transform the property into a £10 million, luxury five-star hotel. Award-winning architects Feilden Clegg Bradley Studios are putting together the design, and plans are expected to be considered by the council later this year. The building previously housed the county court but has lain empty for the past two years.
Fairmont's First Time In Turkey
In a joint venture with Geneva-based Viatrans – Meydanbey, Fairmont Hotels & Resorts plans to develop the Fairmont Quasar Istanbul, in Turkey, which will include a 210-room Fairmont hotel, Fairmont branded residences, Quasar branded residences and office space. The development is part of the Quasar Istanbul mixed-use project in Istanbul's Sisli disctrict and is expected to open in 2016 as Fairmont's first property in Turkey.
A Busy Week For Hilton
Hilton Worldwide has signed a management agreement with Doha-based La Jolla for its first Waldorf Astoria hotel in Qatar. The 250-room Waldorf Astoria Doha West Bay is scheduled to open by 2016 and will become Hilton's fourth Waldorf Astoria in the Middle East. The group currently operates the 46-suite Qasr Al Sharq, A Waldorf Astoria Hotel in Jeddah, Saudi Arabia, and has two hotels in the pipeline due to open in Jerusalem and Ras Al Khaimah in August 2013 and January 2014, respectively. The 42-storey hotel will also include 80 serviced apartments. Hilton also celebrated the grand opening of the Waldorf Astoria Berlin in Germany this week, bringing the brand's portfolio in Europe up to four – number five, the Waldorf Astoria Amsterdam, is due to open in February 2014. Additionally, it is rumoured that Hilton is planning a US$1 billion Hilton hotel for Amman, Jordan. Singapore-based Onix Investments and Koni Konsultants, along with Jordan-based Koni Group of Orlando, are reportedly co-developing the 475-room property.
Cristal Takes A Shine To Baghdad
Abu Dhabi-based luxury hospitality company Cristal Group has signed a management agreement for the Ishtar Hotel in Baghdad, Iraq. Now named the Cristal Grand Ishtar Hotel, the five-star 307-room property is the first internationally operated hotel in Baghdad for more than 20 years. "We see it as the beginning, and we look forward to being part of Iraq's growth and development," said Cristal Group's chief executive officer and president, Peter Blackburn. The 20-storey property first opened in 1982.
Santorini On Marjan Island
Bin Majid Group plans to open its fourth hotel in Ras Al Khaimah, UAE, by the end of the year. The 265-room Santorini Hotel is being constructed on Marjan Island, the first man-made island development in the emirate. Bin Majid currently operates five hotels overall across the UAE. "This new development is part of our goal to expand the brand in the region," said Dr Ali Kasapbashi, the group's general manager.
Ritz-Carlton Reaches Nine In The Middle East And Rotana Arrives In Bahrain
Ritz-Carlton has opened its first property in Abu Dhabi, and its ninth in the Middle East overall. The Ritz-Carlton Abu Dhabi, Grand Canal is a Venetian-style waterfront resort. Comprising 447 guest rooms and 85 one- and two-bedroom villas, the hotel is spread over ten buildings on 57 acres of grounds. Another debut this week was hotel management company Rotana's first hotel in Bahrain. The 128-unit Majestic Arjaan by Rotana is on the island of Muharraq, a few minutes away from Manama. Rotana now operates 11 hotels under its Arjaan Hotel Apartments by Rotana brand across the Middle East.
Starwood Stops By The Mall
Starwood Hotels & Resorts has opened its 14th hotel in Dubai: the Sheraton Dubai Mall of the Emriates Hotel, which is directly connected to the adjacent mall. The 491-room hotel is owned by Majid Al Futtaim Properties, which now owns nine hotels in the UAE, all directly linked to the group's shopping malls.
Absolute Share Price Performance Over the Past Week – 7-14 March 2013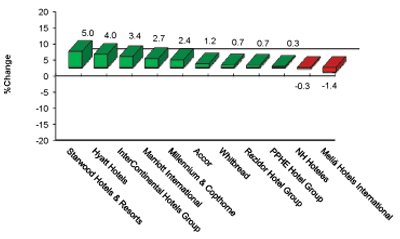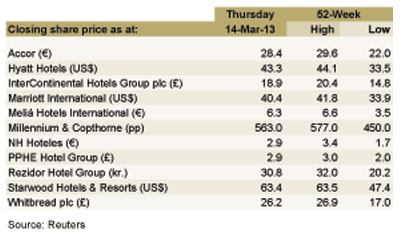 Accor – UBS upgrades Accor to "buy" on profit potential.
NH Hoteles – NH falls in four days out of the last five.
Meliá Hotels International – Meliá falls 1.3% from a 14-day high.
---
For the latest in the hospitality industry, please visit: http://www.hvs.com. You are also welcome to contact the following personnel.
| | |
| --- | --- |
| Russell Kett, Chairman – HVS London (@russellkett) | rkett@hvs.com |
| Charles Human, CEO – HVS London/HVS Hodges Ward Elliott | chuman@hvshwe.com |
| Chris Martin, Director – HVS Hodges Ward Elliott | cmartin@hvshwe.com |
| Christopher Mumford, President, EMEA – HVS Executive Search (@ChrisMumford) | cmumford@hvs.com |
| Tim Smith, Director – HVS London | tsmith@hvs.com |
| Arlett Oehmichen, Director – HVS London | aoehmichen@hvs.com |
| Sophie Perret, Director – HVS London | sperret@hvs.com |
| Demetris Spanos, Managing Director – HVS Athens | dspanos@hvs.com |
| Hala Matar Choufany, Managing Director – HVS Dubai | hchoufany@hvs.com |
| Louise Fury, Senior Editor and EMEA Hospitality Newsletter Author – HVS London | lfury@hvs.com |