KSL Buys Malmaison And Hotel Du Vin
Malmaison and Hotel du Vin have been purchased by an affiliate of US-based private equity firm KSL for an estimated £200 million. The two brands, which were unaffected by the administration of their parent group MWB last autumn, comprise 27 hotels across the UK. Malmaison and Hotel du Vin's new owners are planning to keep the current management in place and intend to look at opportunities to expand the brands in the UK and abroad. "With an exceedingly loyal following, we believe each brand has tremendous potential for further growth and expansion," said Richard Weissmann, a partner at KSL. This isn't KSL's first foray into the UK, as it acquired the Belfry golf resort last year for more than £60 million.
A Fifth DoubleTree For Turkey And Hilton Leeds The Way
Hilton Worldwide increased its DoubleTree portfolio in Turkey up to five properties this week with the opening of the DoubleTree by Hilton Istanbul – Avcilar. The 231-room hotel is in the Avcilar business district, in the European side of the city, with views of the Marmara Sea and Kucukcekmece Lake. Additionally, Hilton has entered into a conditional agreement with GB Group for a new property in the city of Leeds, north England. Construction of the 14-storey Hilton hotel is to start this summer, near the Leeds Arena in the city centre, and the hotel could open by summer 2015. A total of £32 million is to be invested in the development.
Holiday Inn Number Seven To Open Up In Frankfurt
InterContinental Hotels Group (IHG) plans to open its seventh Holiday Inn property in Frankfurt, Germany. The site was acquired by Union Investment for its open-ended real estate fund, Unilmno: Deutschland, and Austrian firm UBM Realitatentwicklung is developing the 249-room Holiday Inn Frankfurt Hauptbahnhof. Construction is due to start this autumn and will finish at the beginning of 2015. Once open, the property will be one of the first Holiday Inns in the country to have the brand's "Open Lobby" concept, which includes all of the hotels' open spaces, such as bar, restaurant and lounge, for example, into one open space. IHG currently operates 57 Holiday Inn or Holiday Inn Express properties in Germany, and more than 3,400 worldwide.
Accor Wants More Luxury
At this year's ITB Berlin travel trade show, Accor announced its plans to expand its operations in the luxury/upscale sector. The group currently runs 300 hotels in the segment but aims to grow this figure to 400 by 2015. At present, 42% of Accor's luxury/upscale properties are in Asia Pacific, with 35% in key European cities. The focus will now be on emerging markets, including those in Latin America, the Middle East and Asia Pacific. Additionally, Accor signed a franchise agreement this week for an ibis Styles property in the London borough of Enfield. The 54-room hotel is due to open by the end of 2013.
Liverpool's Littlewoods Legacy To Become A Hotel
Planning permission for a £19 million hotel development in Liverpool, northwest England, has been approved. Capital & Centric Plc plans to convert the former Littlewoods Pools buildings into a mixed-use development containing a 104-room hotel, 50,000 ft² of business units and 50,000 ft² of office space. The iconic buildings, off Edge Lane, date from 1938 but have lain empty for the past ten years. Renovation work is expected to start this summer. "At one time these buildings were host to thousands of people, all processing data for the Littlewoods Pools business…we want to bring that energy and life back to this part of Liverpool," said Tim Heatley, co-founder of Capital & Centric Plc.
It's A Barrel Of Laughs At The New Travelodge
Travelodge has opened the UK's first hotel above a comedy club. A total of £11 million was invested in the 131-room Bethnal Green Travelodge, in east London, which sits above stand-up comedian Lee Hurst's Backyard Comedy Club. Travelodge also announced this week that it intends to open a further 145 Travelodge hotels in the UK capital. Also in east London, planning permission has been granted for an 84-room hotel in Newham on the site of a former police station. Western Investment submitted the plans, which also include food and beverage outlets, residential flats, community spaces and a car park.
HVS Hodges Ward Elliott Are Moving!
On Monday 25 March, HVS Hodges Ward Elliott (HVS HWE) are moving from their current home and joining the rest of the HVS London team at their offices on Chandos Street. Click here to see HVS HWE's new contact details.
The Sweetest Hotel In The Land For One Night Only
Picture the cottage from Hansel and Gretel…on a much larger scale and without the scary witch…and you might have some idea of what Tate & Lyle sugar company created in London this week. To showcase its new range, Taste Experience Sugar, the group created the world's first hotel made from cake! A team of 14 bakers worked tirelessly to bake and create three floors and eight rooms of edible loveliness, including vanilla sponge cushions, macaroon-clad walls, fudge windowsills and a rug made of 1,081 meringues hand-stitched together. Sadly, the hotel was open for one night only and every last crumb has now been consumed.
A Premier Quartet For Scotland
Whitbread's Premier Inn brand is to open four new hotels in Scotland, bringing its portfolio in the country up to almost 400 guest rooms. Construction is set to start soon on the 180-room, six-storey Premier Inn Glasgow, Pacific Quay hotel and restaurant, which is due to open in 2014, just in time for the Commonwealth Games in Glasgow. The city of Perth will gain an 83-room Premier Inn and restaurant, a 65-room hotel and restaurant will be developed in St Andrews and, lastly, Sterling will be home to a 60-room hotel.
Take It Easy In Johannesburg
March 2013 is the month that Africa gets its very first easyHotel. A result of an exclusive franchise agreement between Lonrho Plc and easyGroup, the 60-room easyHotel Johannesburg CBD, De Korte Street is due to open by the end of the month at the heart of Johannesburg's business district in South Africa.
Strong Rises In RevPAR At Rezidor
Rezidor Hotel Group has announced that its RevPAR is growing strongly so far in 2013. Like-for-like RevPAR increased by 9.8% and 8.1% in January and February, respectively, driven by increases in demand in most markets across the EMEA region. "The economic climate is still fragile and uncertain," said Wolfgang Neumann, the group's president and chief executive officer. "The underlining trend has continued into March, but the month will be negatively impacted by the timing of Easter. We will continue to carefully monitor the development during the remainder of the year," he added.
Absolute Share Price Performance Over the Past Week – 14-21 March 2013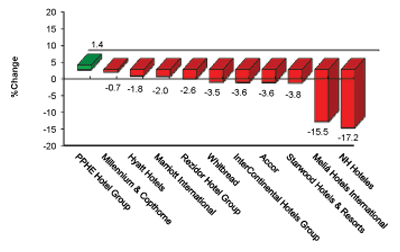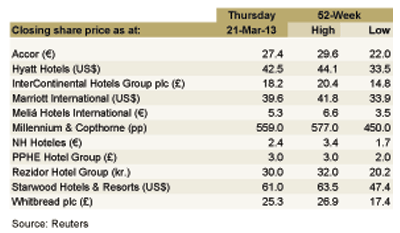 Accor – Accor was cut to "hold" from "buy" by Societe Generale.
Meliá Hotels International – Meliá fell more than 10% on high volume.
NH Hoteles – NH continued a significant downtrend.
---
For the latest in the hospitality industry, please visit: http://www.hvs.com. You are also welcome to contact the following personnel.
| | |
| --- | --- |
| Russell Kett, Chairman – HVS London (@russellkett) | rkett@hvs.com |
| Charles Human, CEO – HVS London/HVS Hodges Ward Elliott | chuman@hvshwe.com |
| Chris Martin, Director – HVS Hodges Ward Elliott | cmartin@hvshwe.com |
| Christopher Mumford, President, EMEA – HVS Executive Search (@ChrisMumford) | cmumford@hvs.com |
| Tim Smith, Director – HVS London | tsmith@hvs.com |
| Arlett Oehmichen, Director – HVS London | aoehmichen@hvs.com |
| Sophie Perret, Director – HVS London | sperret@hvs.com |
| Demetris Spanos, Managing Director – HVS Athens | dspanos@hvs.com |
| Hala Matar Choufany, Managing Director – HVS Dubai | hchoufany@hvs.com |
| Louise Fury, Senior Editor and EMEA Hospitality Newsletter Author – HVS London | lfury@hvs.com |