Jonathan Nehmer + Associates (JN+A) and HVS Design, leading hospitality Architecture, Interior Design, and Project Management firms, are pleased to announce that they have completed Architecture and Interior Design services for the conversion of an existing hotel into an Aloft hotel in Tucson, Arizona.
Formerly a Four Points by Sheraton Hotel, the Aloft Tucson is seven floors with 154 guestrooms and approximately 1,700 square feet of meeting space. JN+A and HVS Design created the Aloft by reorganizing the public areas to house the brand's signature w xyzSM bar, re:fuel by AloftSM, and re:mixSM lounge. The team created the aloft brand defining elements such as the Aloft canopy and a new "backyard" courtyard/pool space on the top of the existing basement parking garage.
"We are extremely proud to be a part of this milestone for the Aloft brand," said Jonathan C. Nehmer, AIA, ISHC, president of JN+A and managing principal for HVS Design. "This project stands as a shining example of how a unique design can be transformed from an existing older hotel."
All the guestrooms in the hotel were reconfigured to meet Aloft standards. The challenge was to interpret the unique characteristics of the Aloft room into a more "typical" hotel guestroom bay. JN+A and HVS Design worked closely with Starwood's design and development team to develop a design to incorporates the features and feel of the Aloft.
The Aloft Tucson is owned by Starwood Hotels & Resorts.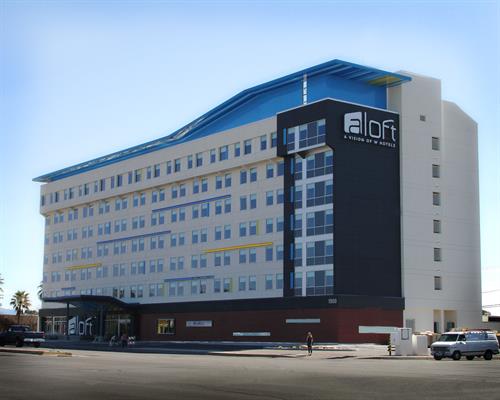 About JN+A and HVS Design
Jonathan Nehmer + Associates, Inc. (JN+A) and HVS Design are leading Architecture, Interior Design, and Construction Project Management firms. Based in Rockville, Maryland, JN+A and HVS Design specialize in design for the hospitality industry. The firms' portfolio of hotel and resort destinations includes projects throughout the United States and many international locations, including Asia, Europe, the Caribbean, Australia, South America, Mexico, and Canada. The experienced staff of licensed Architects, Interior Designers, and Owner's Representatives coordinates the entire design and construction process from concept to completion for new build, renovation, repositioning, and historic restoration projects. For more information, visit the company's website, www.nehmer.com or www.hvsdesignservices.com.
Editor's Note: Photos are available upon request.
###