Landmark Sale In London
Constellation Hotels, a subsidiary of Qatar Holding, part of Qatar Investment Authority, has purchased the 57-year leasehold interest in the InterContinental London Park Lane from InterContinental Hotels Group (IHG) for £301.5 million. The transaction, which is expected to be completed in the second quarter of 2013, was carried out on a sale-and-manage-back basis, with IHG signing a 30-year management agreement for the 447-room hotel with three ten-year extension rights to IHG.
HVS Hodges Ward Elliott Advises On The Sale Of Five Belgian Hotels To CTF Development
HVS Hodges Ward Elliott is pleased to announce that acting on behalf of BRE Europe Hotel Holding and Alliance Hôtellerie, it has successfully arranged the sale of shares in the owning companies of five Belgian hotels to CTF Development. The properties are the 201-room Mercure Brussels Center Louise, 105-room Mercure Liège Centre, 101-room Mercure Leuven Center, 87-room Alliance Hotel Brussels Airport and 79-room Alliance Hotel Brussels Expo. All five hotels will be fully renovated and rebranded under the pentahotels brand, taking the total number of pentahotels in Europe to 24. Frankfurt-based CTF Development is owned by the Cheng family in Hong Kong.
Oaktree Picks Up Half A Hilton
OCM Wembley Holdings, a fund managed by asset management firm Oaktree Capital Management, has purchased a 50% stake in the four-star Hilton London Wembley Hotel from London-based Quintain Estates & Development for £30.1 million. The 361-room hotel, which opened in July 2012 adjacent to the UK's famous football venue, Wembley Stadium, is part of Quintain's mixed-use regeneration scheme for the Wembley area, in northwest London. Quintain was advised on the sale by Internos Global Investors.
Marriott's Manchester Victoria & Albert Gets A New Owner
A private international buyer has acquired the freehold interest in the Marriott Victoria & Albert Hotel in the city of Manchester, northwest England, from the administrators of Dania Properties Manchester for an undisclosed sum. The 148-room hotel, which started life as a warehouse in 1844, was put on the market with a price tag of £15 million to £20 million. The property is operating under a lease contract with Marriott International. The hotel's new owner intends to invest capital in the Grade II-listed property, near to the ITV television studios, in order to maintain its four-star status.
Cannock Invests In A Slice Of Dundee
In partnership with recently formed hotel investment and development company Hetherley Developments, Birmingham-based Cannock Investments has bought the Holiday Inn Express Dundee in the port of Dundee, east Scotland, from David Chubb and Alan Brown at PricewaterhouseCoopers, the joint administrators of Saltire Leisure Ltd, for a sum rumoured to be just under £4 million. Saltire was part of Glasgow-based property investment and development company City Site Estates, which fell into receivership in April 2012. The freehold interest in the 95-room, purpose-built hotel was put on the market last year for around £4.4 million.
Invesco Closes Its Second Hotel Fund
Invesco Real Estate has closed its second hotel fund with around €200 million of equity. As at the end of February 2013, the fund had assets under management of around €280 million and eight assets in Austria, Germany and the Netherlands. "The current assets plus the additional equity we have raised will allow us to grow the fund to circa €400 million with leverage," said Simon Redman, Managing Director – Client Portfolio Management, Europe.
Bouwinvest Buys Rotterdam Novotel Development
Multi Vastgoed has agreed to sell the Novotel development at the Forum Rotterdam mixed-use project in Rotterdam city centre, the Netherlands, to Bouwinvest, which is purchasing the property on behalf of its Dutch institutional hotel fund. No financial details have been released but Bouwinvest has signed a new lease agreement with Accor.
Accor Brings Style To Blackpool And Gives Liverpool Its First Adagio
Accor has signed a franchise agreement with Blackpool Central Hotel Ltd for the ibis Styles Blackpool in the seaside resort of Blackpool, north England. The 90-room hotel, previously a Travelodge, has been rebranded and is being operated by Focus Hotels Management. Additionally, Accor's Adagio aparthotels brand recently made its debut in the UK with the opening of the Adagio Liverpool. The 126-unit property is part of the £26 million redevelopment of the Grade II-listed former Lewis's department store building in the city centre.
Boutique Summit Back For 2013
Do you want to discover what makes the boutique hotel sector tick and learn from the experts at Europe's only b2b boutique hotel conference? If the answer is a resounding yes, then book yourself a place at the 2013 Boutique Hotel Summit! Taking place at The Montcalm in London on 22-23 May 2013, you will have the chance to visit three boutique hotels in the UK's capital, network with fellow delegates at a cocktail reception and come away with new knowledge after listening to informative speeches and case studies. HVS London's chairman Russell Kett will be one of the experts at the conference. On 23 May, Russell will be moderating a panel called Meet The Leaders, discussing the future of the industry. Russell will be joined by Robin Sheppard, chairman at Bespoke Hotels; Gerard Greene, chief executive officer of Yotel; and Peter Taylor, chairman at The Townhouse Collection. For more information or to book a place, visit www.boutiquehotelsummit.com.
A Sea View For Turkey's Sixth DoubleTree And Hotel Number Three For Iraq
Hilton Worldwide has opened its sixth DoubleTree hotel in Turkey and its first overall in the coastal resort town of Kusadasi, in the southwest of the country. The newly built DoubleTree by Hilton Kusadasi has 87 guest rooms and overlooks Kusadasi Bay and the Aegean Sea. Hilton also signed a management agreement with Kurdonia Company for Tourism & Hospitality Ltd for the 223-room DoubleTree by Hilton Sulaymaniyah, its third signing for a property in Iraq's semi-autonomous Kurdistan region. The new build, 173-room hotel will be developed along side 56 serviced apartments and is expected to open in early 2015 near to Sulaymaniyah International Airport. Already in the pipeline, the DoubleTree Suites by Hilton Erbil is scheduled to open before the end of the year and the Hilton Erbil Hotel & Spa is due to be completed in 2016.
Starwood Taking Its W Brand To Israel
It was reported this week that Starwood Hotels & Resorts has signed a contract with RFR Holdings Ltd to develop the first W hotel in Israel. The plot of land, owned by RFR, in the Old City of Jaffa southwest of Tel Aviv, has planning permission for residential and hotel use. The plot already contains an existing four-storey building dating from 1879. This building will be converted and will form part of the125-room W Tel Aviv. A further six-floor building will be constructed that will also contain 38 residential apartments and a restaurant alongside the hotel. Construction is expected to start in spring 2015.
Muscat Gets A Second Crowne Plaza
InterContinental Hotels Group (IHG) has signed an agreement with the Omani Government's tourism development company, Omran, for its second Crowne Plaza hotel in Muscat and its fourth in Oman overall. The 296-room Crowne Plaza Oman Convention and Exhibition Centre, Muscat will be part of Omran's mixed-use Oman Convention and Exhibition Centre project, due to be completed in 2016. The hotel will have extensive meeting and event facilities. IHG currently has four hotels in operation in Oman and, including the new Crowne Plaza, a further four in the pipeline.
Le Méridien To Get A Makeover In MEA
Starwood Hotels & Resorts has announced that along with its hotels' owners it plans to invest more than US$200 million in a comprehensive renovation of 13 Le Méridien hotels and resorts in the Middle East and Africa over the next three years. "Since acquiring Le Méridien in 2005, Starwood and its hotel ownership groups have made a tremendous effort to enhance and create a consistent portfolio around the Word," said Brian Povinelli, global brand leader for Le Méridien and Westin.
A New Hilton For Alexandria
The 158-room Hilton Alexandria Corniche opened this week as Hilton Worldwide's second Hilton Hotels & Resorts property in Alexandria, Egypt's second-largest city. Overlooking the Mediterranean Sea, the hotel comes with its own private beach. Hilton now operates 19 hotels across Egypt (18 Hilton properties and one Conrad).
Protea Number Four In Uganda
South African-based Protea Hotels signed an agreement that will see it open its fourth hotel in Uganda, in east Africa. Construction was due to start on the 80-room hotel in the town of Hoima, in western Uganda, at the end of 2012 and is expected to take two years to complete.
Absolute Share Price Performance Over the Past Week – 28 March-4 April 2013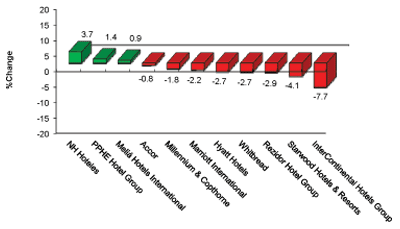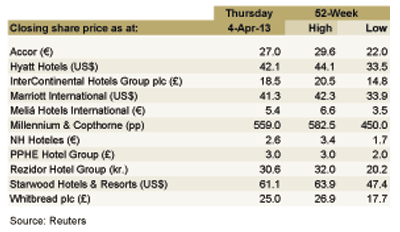 Accor – Morgan Stanley raises Accor's target to €31 from €28.
NH Hoteles – NH keeps rising: up 14.6% in four days.
Meliá Hotels International – Meliá rises on thin volume.
---
For the latest in the hospitality industry, please visit: http://www.hvs.com. You are also welcome to contact the following personnel.
| | |
| --- | --- |
| Russell Kett, Chairman – HVS London (@russellkett) | rkett@hvs.com |
| Charles Human, CEO – HVS London/HVS Hodges Ward Elliott | chuman@hvshwe.com |
| Chris Martin, Director – HVS Hodges Ward Elliott | cmartin@hvshwe.com |
| Christopher Mumford, President, EMEA – HVS Executive Search (@ChrisMumford) | cmumford@hvs.com |
| Tim Smith, Director – HVS London | tsmith@hvs.com |
| Arlett Oehmichen, Director – HVS London | aoehmichen@hvs.com |
| Sophie Perret, Director – HVS London | sperret@hvs.com |
| Demetris Spanos, Managing Director – HVS Athens | dspanos@hvs.com |
| Hala Matar Choufany, Managing Director – HVS Dubai | hchoufany@hvs.com |
| Louise Fury, Senior Editor and EMEA Hospitality Newsletter Author – HVS London | lfury@hvs.com |