Catch Some Zzzs In Glasgow
Z Hotels has acquired a building in Glasgow, Scotland, from the trustees for the firm of the Hampton Court Hotel for a rumoured £1 million – the property was on the market for offers of more than £700,000. The London-based budget hotel group, founded by former Thistle Hotels' chief operating officer, Bev King, plans to develop a 100- to 120-room hotel in the five-storey building, which, until four years ago, was home to the Old Printworks public house. The new hotel, the first Z Hotel in Scotland, is expected to open in 2014.
Rezidor To Park In Turkey For The First Time
Rezidor Hotel Group's Park Inn brand is to make its debut in Turkey. An existing office building in Istanbul is to be converted into the Park Inn Istanbul Ataturk Airport, which is expected to open in the first quarter of 2014. The 144-room hotel, five kilometres from Ataturk International Airport, will be Rezidor's fifth hotel in the city overall.
AC by Marriott Rocks Into Nice And Barcelona
Marriott's joint venture with AC Hotels has expanded its AC Hotels by Marriott portfolio across Europe to 82 properties by opening two new hotels this week. The AC Hotel Nice has just emerged from an extensive renovation to open with 143 rooms in the resort of Nice, southeast France. Overlooking the Mediterranean Sea, the hotel is France's second AC Hotel by Marriott. The AC Hotel Sant Cugat in Barcelona has become the Catalonian capital's seventh AC Hotel by Marriott. The 152-room hotel is in the Sant Joan business area in the suburb of Sant Cugat del Valles. "Nice and Sant Cugat del Valles are popular destinations for both business and leisure travellers and fit perfectly with the brand's associated modern comfort and urban style," said Amy McPherson, Marriott's president and managing director for Europe.
Danish Deal In London
The freehold interest in the Travelodge London Farringdon has been purchased by CBRE Global Investors, on behalf of one of its clients, from a private Danish investor for a price reported to be above £20 million, which represents a yield of 5.5%, rising to 6.1% in 2014. The 219-room hotel, near to King's Cross station, is currently let to Travelodge, with 26 years remaining on the lease and an option to extend. Other Travelodge news this week includes the opening of the group's fifth hotel for London's Heathrow area: the 128-room Travelodge London Hounslow, which cost £9.4 million to develop.
Ooh La Lyon
After being treated to a ten-month makeover, the 80-room Carlton Lyon hotel in the French city of Lyon, a UNESCO World Heritage Site, has reopened as Accor's flagship MGallery in France. The hotel's Haussmann building was constructed in 1894, and it has been operated as a hotel since 1925.
New Hostel's No Joke
The city of Liverpool, in northwest England, has been chosen to host the first property of a new boutique hostel chain, Hoax. The product of a partnership between BridgePoint Ventures and Starboard Hotels, the chain's first venture will be a 282-bed hostel in a converted tea warehouse, which has lain empty for several years, near to Liverpool's famous Cavern Club, a regular haunt of the Beatles. The hostel is due to open in July. Paul Callingham, managing director of Starboard Hotels, commented that the group expects to invest more than £100 million in expanding the chain to other UK cities, such as London, Bristol and Glasgow, and across Europe.
Autograph Collection Signs Up For The UK
Marriott's Autograph Collection, is to make its first appearance in the UK this year, bringing two five-star boutique hotels into its portfolio of upscale independent properties: the 74-room Threadneedles hotel in London's Square Mile, which is housed in a Grade II-listed former Victorian banking hall, and the 65-room Glasshouse in Edinburgh, a short walk from Edinburgh Castle. The Glasshouse is due to join the collection in June after a refurbishment.
Suite New Opening For Ascott In Paris
Singapore-based Ascott Ltd recently launched Citadines Suites in Paris. The first property under the new brand, designed to complement the group's other boutique Parisian serviced residences, Citadines Prestige and Citadines Apart'hotel, is the Citadines Suites Louvre Paris. The seven-storey building, which dates from 1908, underwent a nine-month €5.9 million renovation and now houses 51 apartment suites.
Goodbye and Good Luck
Roeland Vos, Starwood Hotels & Resorts' president for Europe, the Middle East and Africa, will be leaving his position on 1 June 2013. Mr Vos joined the company in 1982. He was appointed to his current role in 2001, and during his tenure Starwood has grown from 127 properties in the EMEA region to 243 across 60 countries, with a further 64 hotels in the pipeline. Mr Vos is to be succeeded by Michael Wale, who began his career with Starwood as a graduate trainee 35 years ago in 1978. "We are grateful to Roeland for his many outstanding contributions to Starwood during his more than 30 years with the company," said Frits van Paasschen, Starwood's president and chief executive officer. Commenting on Mr Vos's replacement, he added, "With his combination of strategic vision, management experience, relationships with associates and customers, and a global sensibility, Michael is perfectly positioned to oversee Starwood's continued growth".
GHM Expands Its Portfolio In The Middle East
General Hotel Management Ltd (GHM) has signed a management contract with the Sharjah Investment and Development Authority for a hotel in Sharjah, UAE. The 54-room Al Bait Sharjah is expected to open at the beginning of 2015. The hotel complex will also include residential houses and an open-air marketplace. "We're blurring the lines between the destination and the accommodation…," said Hans Jenni, GHM's president. Singapore-based GHM currently operates one hotel in the Middle East, the 158-room Chedi Muscat in Oman, and also has another hotel for Sharjah in the pipeline.
Radisson Blu To Dock At Port Harcourt
Rezidor Hotel Group has announced a new hotel for Nigeria. The Radisson Blu Hotel Port Harcourt Olympia is being developed by Cenpropsaroten Hotel Management Ltd and is due to open in the first quarter of 2016. The city of Port Harcourt is the capital of one of Nigeria's richest states, Rivers State. The 206-room hotel will be located in the south of the city, opposite the Port Harcourt Club 1928 golf course. It brings Rezidor's portfolio in Nigeria up to 1,100 rooms in operation or under development.
A Hilton For Harare
It was reported this week that Hilton Worldwide is to develop a US$ multimillion hotel in Harare, Zimbabwe. The 275-room, five-star hotel will be part of a 12-storey mixed-use development, owned by Stream Walk Arcade, that will also include office space, retail units and a 1,000-space car park. Hilton currently has 15 hotels across 11 countries in Africa, but this is its first development in Zimbabwe.
Absolute Share Price Performance Over the Past Week – 4-11 April 2013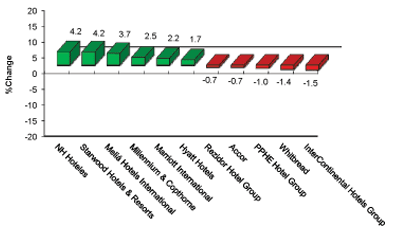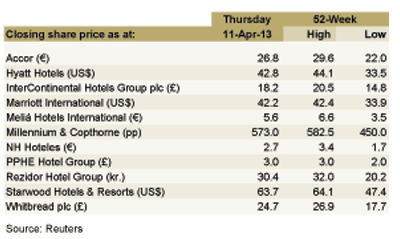 Starwood Hotels & Resorts – Macquarie gave Starwood an "outperform" rating and a share price target of US$73.
Meliá Hotels International – Meliá increased on high volume.
Hyatt – Macquarie gave Hyatt a "neutral rating and a share price target of US$46.
---
For the latest in the hospitality industry, please visit: http://www.hvs.com. You are also welcome to contact the following personnel.
| | |
| --- | --- |
| Russell Kett, Chairman – HVS London (@russellkett) | rkett@hvs.com |
| Charles Human, CEO – HVS London/HVS Hodges Ward Elliott | chuman@hvshwe.com |
| Chris Martin, Director – HVS Hodges Ward Elliott | cmartin@hvshwe.com |
| Christopher Mumford, President, EMEA – HVS Executive Search (@ChrisMumford) | cmumford@hvs.com |
| Tim Smith, Director – HVS London | tsmith@hvs.com |
| Arlett Oehmichen, Director – HVS London | aoehmichen@hvs.com |
| Sophie Perret, Director – HVS London | sperret@hvs.com |
| Demetris Spanos, Managing Director – HVS Athens | dspanos@hvs.com |
| Hala Matar Choufany, Managing Director – HVS Dubai | hchoufany@hvs.com |
| Louise Fury, Senior Editor and EMEA Hospitality Newsletter Author – HVS London | lfury@hvs.com |