Denis Hennequin Leaves Accor
Accor has announced that during a board meeting on 23 April its board of directors unanimously voted to terminate Denis Hennequin's post of chief executive officer with immediate effect. Philippe Citerne, non-executive chairman of the board of directors commented, "On behalf of the board, I would like to pay tribute to Denis Hennequin's new and creative perspective on the hospitality business and for the quality of our exchanges during his mandate as chairman and chief executive officer." A transition executive team has now been installed and Yann Caillère, previously president and chief operating officer, has been appointed as temporary chief executive officer.
PPHE And The Art Of Buying In Berlin
Through one of its subsidiaries, Netherlands-based PPHE Group has acquired the freehold interest in two hotels in Berlin, Germany, from an undisclosed seller for €17.5 million, net of VAT. The group has already managed the 109-room art'otel Berlin Mitte and the 133-room art'otel Berlin Kudamm for several years now and the sale brings its portfolio of owned hotels in the city to five. PPHE's president and chief executive officer, Boris Ivesha, commented that the deal "highlights our commitment to our presence in gateway cities in Europe". Upon completion of the transaction, the seller has agreed to pay PPHE €2 million, which will be used to renovate the hotels.
Dublin Hotel Looking For A New Owner
A top Dublin hotel in Ireland has been put on the market with a guide price of between €30 million and €35 million following a sustained pick up in the city's hotel business. The 195-room Trinity Capital Hotel, overlooking Trinity College, is currently owned by O'Dwyer brothers Liam and Des, who also own pub group, Toji Holdings. The four-star hotel, constructed on the site of an old fire station, opened in 2000. The property also has planning permission to extend with an additional 52 rooms in an adjacent building, which is under separate ownership.
New Hotel Fund Launched
Hamburg-based fund manager Union Investment Real Estate (UIRE) has launched a new European hotel fund with a target volume of €250 million (of which up to 40% will be debt) and a ten-year maturity. The UII Hotel Nr. 1 fund is aimed at institutional investors and is focused on new and innovative budget and midscale assets with long leases in mainly Germany (at least 60%) and also France, Belgium, the Netherlands, Luxembourg, Austria, the UK and Poland. "Branded budget and midscale hotels are experiencing significant growth," said UIRE board member, Frank Billand. "The sector has shown itself to be particularly crisis-resistant and provides stable returns and strong inflation protection thanks to long-term leases," he added.
Bye Bye BBC, Hello Hotel
The British Broadcasting Corporation (BBC) and UK-based developer Stanhope plc have teamed up to turn the BBC's former television centre in White City, London, into a mixed-use development containing a hotel and apartments and neighbouring office space. The BBC sold the 14-acre multi-building site to Stanhope last year for £200 million. Planning application for the project is currently being prepared.
Courtyard By Marriott To Reach Seven In Russia
Marriott International has signed an agreement to open its first hotel in the city of Ulyanovsk in Russia. The 135-room Courtyard by Marriott Ulyanovsk is due to open in 2015 and will be operated under a management agreement with LLC New City. On the Volga River, 890 km southeast of Moscow, Ulyanovsk is the birthplace of Vladimir Lenin and an industry and commerce hub. Marriott currently operates six Courtyard by Marriott properties across Russia, in Moscow, St Petersburg, Kazan and Irkutsk.
Shades Of Indigo For Italy And Brighton
InterContinental Hotels Group (IHG) plans to bring its Hotel Indigo brand to Italy. The St George Hotel at the heart of Rome, on Via Giulia, is to be converted into the Hotel Indigo Rome-St George. The 64-room hotel is expected to open during the first quarter of 2014 and will be operated under a franchise agreement with Hotel Invest Italiana SRL. Additionally, IHG's boutique brand will also be making its first appearance in the seaside town of Brighton, in the UK. The 94-room Hotel Indigo Brighton – New England Quarter is due to open at the beginning of 2014 and will operate under a franchise agreement with Fourshore Ltd. The brand made its debut in Europe in 2009, and IHG now has 11 Indigos across the region with a further 13 in the pipeline.
Aloft And Pullman Coming To Liverpool
Starwood Hotels & Resorts plans to launch its Aloft brand in Liverpool. The Grade II-listed former Royal Insurance building, in the city centre, is being renovated and will house the Aloft Liverpool, due to open next year. BDL Management will operate the 116-room property. It was also reported this week that Accor's Pullman brand will run the £26 million, 200-room hotel being built as part of the Exhibition Centre Liverpool, at the city's Kings Dock. Branded Hotel Management will operate the seven-storey hotel. Subject to planning permission, construction is due to start this October and the hotel is expected to open in spring 2015.
Holiday Inn Making Express Progress In Heidelberg
Nine months after the first foundation stone was laid, Berlin-based hotel owner and operator Foremost Hospitality celebrated the topping out of the Kurfürsten Hof building in Heidelberg, Germany, this week. By February next year, the building will be home to Foremost Hospitality's eighth hotel, the 152-room Holiday Inn Express Heidelberg City Centre.
DoubleTree Number Three For Riyadh
Hilton Worldwide is to open its third DoubleTree by Hilton property in Riyadh, Saudi Arabia, in mid 2015. The 309-room hotel will be co-owned by Abdullah Abdul Aziz Al Rajhi & Sons and will include leisure facilities and speciality dining outlets as well as meeting space. "As the fastest growing hospitality company in KSA, I am delighted to see the strident and determined pace of progress we are making in such a key Middle East market," said Rudi Jagersbacher, Hilton Worldwide's president for the Middle East and Africa.
It's All About Crowne Plaza
InterContinental Hotels Group (IHG) has opened its first Crowne Plaza hotel in the city of Medina, Saudi Arabia: the 506-room Crowne Plaza Madinah, which, close to Masjid Nabawi, is the group's fourth Crowne Plaza in the country overall. IHG currently operated 23 hotels across Saudi Arabia (5,600 rooms). Carrying on with the Crowne Plaza theme, this week IHG also opened its fourth hotel under the brand in Oman: the 213-room Crowne Plaza Duqm in the port of Duqm on Oman's southern coast.
Tsogo Sun Invests In Nigeria And Mozambique
Tsogo Sun has announced that it plans to purchase a 75% stake in the Southern Sun Ikoyi in Lagos, Nigeria for US$70 million. The South African-based group has managed the 195-room hotel since it opened in 2009. Additionally, Tsogo also plans to invest US$30 million in refurbishing the 158-room Southern Sun Maputo in Mozambique's capital. The work includes a renovation of all of the existing guest rooms and the addition of a further 110 rooms.
Viceroy On Cape Verde
Los Angeles-based Viceroy Hotel Group recently confirmed rumours that it plans to open a hotel in Cape Verde, a group of islands off the coast of West Africa. The 150-room Viceroy Cape Verde is expected to open in 2017 on Santiago Island. The hotel will be part of a beachfront resort covering 12 km² and will have 150 guest rooms. The hotel is currently in the early stages of planning, but the resort will also include a full service residential component, Sambala Village, which is due to open later this year.
Rezidor's First-Quarter Results
Rezidor Hotel Group achieved a like-for-like increase in revenue of 0.4% for the first quarter of 2013, to €207.1 million. Like-for-like RevPAR grew by 5.7% on the same period in 2012. The group's EBITDA fell by 5.0% to -€2.8 million. "The Middle East and Eastern Europe were the best performing regions whereas the Nordics and the rest of Western Europe noted marginal increases," said Wolfgang Neumann, Rezidor's president and chief executive officer. "The company's main focus remains on improving profitability both in absolute terms and relative to the industry," he added. Rezidor opened around 1,000 rooms during the first three months of 2013 and added around 1,100 rooms to its pipeline.
A Rise In Gross Revenue For Accor
Accor reported a first-quarter revenue for its hotel business of €1.2 million, a fall of 2.0% on the same period in 2012. The group's gross revenue rose by 6.4% to €2.6 billion, on account of expansion in emerging markets. Occupancy for Accor's upscale and midscale hotels increased by 1.1% to 57.6%, but average rate and RevPAR fell like-for-like by 1.2% and 0.7%, respectively. Economy hotels saw a drop in occupancy of 1.3% to 61.8% and a like-for-like fall in average rate and RevPAR of 0.2% and 2.3%, respectively. However, owing to its expansion the group recorded a strong 18.2% growth in management and franchise fees. Accor opened 4,682 rooms during the first quarter of 2013, 85% of which were under asset-light structures.
Absolute Share Price Performance Over the Past Week – 18-25 April 2013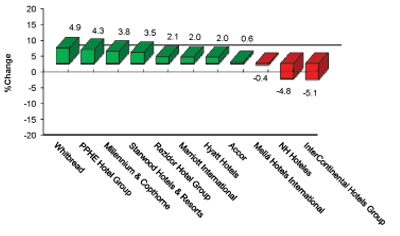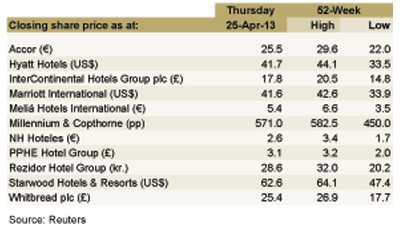 Accor – Accor was cut to "neutral" from "outperform" by Exane BNP Parabis.
InterContinental Hotels Group (IHG) – IHG was cut to "equalweight" from "overweight" by Barclays.
Meliá Hotels International – Meliá increased on weak volume.
---
For the latest in the hospitality industry, please visit: http://www.hvs.com. You are also welcome to contact the following personnel.
| | |
| --- | --- |
| Russell Kett, Chairman – HVS London (@russellkett) | rkett@hvs.com |
| Charles Human, CEO – HVS London/HVS Hodges Ward Elliott | chuman@hvshwe.com |
| Chris Martin, Director – HVS Hodges Ward Elliott | cmartin@hvshwe.com |
| Christopher Mumford, President, EMEA – HVS Executive Search (@ChrisMumford) | cmumford@hvs.com |
| Tim Smith, Director – HVS London | tsmith@hvs.com |
| Arlett Oehmichen, Director – HVS London | aoehmichen@hvs.com |
| Sophie Perret, Director – HVS London | sperret@hvs.com |
| Demetris Spanos, Managing Director – HVS Athens | dspanos@hvs.com |
| Hala Matar Choufany, Managing Director – HVS Dubai | hchoufany@hvs.com |
| Louise Fury, Senior Editor and EMEA Hospitality Newsletter Author – HVS London | lfury@hvs.com |