Marriott And Hilton Add New Destinations In Russia
As part of its plan to grow its portfolio in Russia and the CIS by 50% by 2015, Marriott International is to make its debut in the Russian city of Novosibirsk. The group has signed a management agreement with CJSC Globus for the 175-room Marriott Novosibirsk Hotel, which is due to open in 2014 on Lenin Square, opposite Novosibirsk's opera house. Marriott now has a pipeline of nine properties in Russia expected to open during the next three years. Also is Russia, Hilton Worldwide opened its fourth hotel in the country this week in the southwestern city of Krasnodar: the new-build, 165-room Hilton Garden Inn Krasnodar, which marks Hilton's debut in Krasnodar and is the first internationally branded property in the city. By the end of 2013, Hilton plans to have doubled its portfolio in Russia to eight properties.
Kingdom Refinances The Savoy
Kingdom Holding Company has completed the refinancing of the 125-year-old Savoy, one of London's iconic hotels. Kingdom purchased the 268-room hotel in 2005 in a 50/50 joint venture with its partner Prestonfield Ltd, with financing provided by the Bank of Scotland. The Savoy then underwent an extensive renovation from 2008 to 2010 and is now operated by Fairmont Hotels & Resorts. Commenting on the news, Prince Alwaleed bin Talal, Kingdom's chairman, said, "We are now proud to announce that we and our partners at Prestonfield, Bank of Scotland and Fairmont have firmly re-established the Savoy's leading market position, and we welcome our new lenders from Crédit Agricole CIB and DekaBank to share in the future of this legendary hotel."
Riu Plaza On Its Way To Berlin
After launching its city hotel brand, Riu Plaza, in 2010, Majorca-based Riu Hotels & Resorts plans to bring the chain to Europe for the first time. The 357-room Riu Plaza Berlin in Germany is expected to open at the end of 2013/beginning of 2014 on Kurfürstendamm, one of Berlin's most well-known avenues. The group currently operates two hotels under the urban brand, in Mexico and Panama. However, 2015 will see Riu Plaza make its debut in the USA with the Riu Plaza New York Times Square.
Two London Hotels Rebranded
London Syon Park, one of Hilton Worldwide's two Waldorf Astoria properties in the UK, has been rebranded as a Hilton Hotels & Resorts property, leaving four Waldorf Astoria hotels in operation in Europe and one in the pipeline. Hilton has operated the now named Hilton Syon Park, in west London, since it opened in March 2011. The 137-room hotel, which stands at the edge of the 200-acre Syon House estate, home of the Duke of Northumberland, was developed by The Ability Group for £70 million and is one of seven hotels across the UK and Europe owned by the UK-based group. Other rebrands in the UK capital this week include the St Ermin's hotel. It previously operated as part of Accor's MGallery chain but has now joined Marriott International's Autograph Collection. The 331-room hotel is the third UK property to join the collection – Marriott announced the brand's debut in the UK with Threadneedles, in London, and the Glasshouse, in Edinburgh, earlier this month. St Ermin's has a lengthy history in the city; starting life as a Victorian apartment block, it was converted into a hotel in 1899.
InterCityHotel Lands In Leipzig
Steigenberger Hotels and Resorts is set to double its presence in the German city of Leipzig this month. The 166-room InterCityHotel Leipzig is due to open later in the month on Tröndlinring, the city's inner ring road. Once open, it will become the group's second hotel in the Saxony city, joining the 177-room Steigenberger Grandhotel Handelshof.
Crowne Plaza Comes To Newcastle And Edinburgh
InterContinental Hotels Group (IHG) has signed a management agreement for a new hotel in the city of Newcastle, northeast England. The 215-room Crowne Plaza Newcastle – Stephenson Quarter will be developed as part of a ten-acre regeneration scheme, which is expected to become a thriving new business district. IHG currently operates seven hotels in and around Newcastle, but this will be its first Crowne Plaza in the city. IHG also opened its first Crowne Plaza in Scotland's capital, Edinburgh, this week. The 198-room Crowne Plaza Edinburgh – The Roxburghe is housed in a Category A-Listed building in the city centre. It is the group's seventh hotel in the city overall.
New Hostel Generates Interest In Barcelona
Generator Hostels has opened its first property in Spain in the Catalan capital, Barcelona. At 70,000 ft² with 154 rooms (726 beds), the Generator Barcelona is one of the group's biggest hostels to date. For those not on a budget, the property also comprises penthouse level hotel rooms with balconies overlooking the city's famous Sagrada Familia. The hostel was created in a former office building originally constructed in the 1960s. Generator is a fitting name for the building's new identity, as it was once the headquarters of Spain's national gas and electricity company! Generator now operates eight city centre hostels across Europe (5,200 beds overall). However, more are on the way with a hostel opening in Paris in 2014 and at least five more properties in cities across Europe and the USA in the pipeline to open in the next couple of years.
Bristol Bags A DoubleTree 
Previously a Jarvis hotel, after a comprehensive £5 million five-year renovation, the DoubleTree by Hilton Bristol City Centre has opened in the port of Bristol, southwest England, as Hilton Worldwide's 19th DoubleTree property in the UK. The 201-room hotel is owned by Focus Hotels Management and is being operated under a franchise license agreement with a subsidiary of Hilton. This is Focus's second DoubleTree hotel; the group also operates the DoubleTree by Hilton London – Heathrow Airport, which opened in July 2012.
From Hospital To Hotel
A former 18th-century hospital in the port of Marseille, southeast France, has recently emerged from a three-year transformation as the InterContinental Marseille – Hotel Dieu. The 187-room hotel is the product of a consortium including investors, AXA Real Estate; developers, Altarea Cogedim; and the property's operator, InterContinental Hotels Group (IHG). The Marseille Hôtel-Dieu hospital was built on the site of a previous hospital dating from the Middle Ages, and the five-star hotel showcases elements of the site's long history, such as an 18th-century bronzesmith's oven and fragments of a Roman mosaic, which were unveiled during archaeological excavations of the site in 2008 and 2009. "Our will was to establish a dialogue between the past and the future of the site linked to the city of Marseille, and to restore to the Hôtel-Dieu its original nobility," said Pierre Vaquier, chief executive officer of AXA. IHG now operates three hotels in Marseille (two under its Holiday Inn Express brand).
Summit About Boutique Hotels In London
This year's Boutique Hotel Summit is set to kick off at The Montcalm in London on Wednesday 22 May. The two-day event features a packed schedule including hotel tours, a cocktail reception, a breakfast networking opportunity and a host of well-known speakers. HVS, also a sponsor of the conference, will be represented by HVS London's chairman, Russell Kett, who will be moderating a panel called Meet the Leaders. Russell's panellists include HVS alumnus Gerard Greene, now chief executive officer of Yotel. With less than three weeks to go, now is the time to book your place. Visit www.boutiquehotelsummit.com for more information.
A Watery Tale From Kuwait
Dubai-based Jumeirah Group has opened its first hotel in Kuwait. The Messilah Beach Hotel opened in the country nearly 40 years ago and earlier this month it became the Jumeirah Messilah Beach Hotel and Spa. On the beachfront close to Kuwait city, the development has 408 guest rooms, 80 residential suites and 12 villas. The hotel's name comes from the old Kuwaiti word Massiyalah, which roughly means 'where waters merge and flow into the sea'. The hotel's design incorporates this aqua theme, with water flowing from the central lobby and the building, merging with streams, channels and fountains in the property's grounds. The hotel was designed by US-based architects Skidmore, Owings and Merrill and is owned by Al Aziziah.
Saadiyat Rotana Back On Track
Rotana has announced that its delayed luxury five-star resort on Saadiyat Island is now due to open in 2015. The Saadiyat Rotana Resort is being developed on a nine-kilometre stretch of beachfront on the island, which is 500 metres off the coast of Abu Dhabi. As well as 354 guest rooms, the resort will also include 13 private beach villas. Saadiyat Island, which is currently under development, is expected to house a further four resorts under the Park Hyatt, Shangri-La, St. Regis and Monte-Carlo brands.
Fancy A Holiday Inn Qatar?
InterContinental Hotels Group (IHG) has reportedly got together with Trans Orient Establishment to bring its Holiday Inn brand to Qatar. The new-build hotel is to be located adjacent to IHG's Crowne Plaza Doha, two kilometres from Doha International Airport.
A Rosy Tint Descends On Abu Dhabi
Rosewood Hotels & Resorts has made its debut in the UAE this week with the opening of the 34-storey, 189-room Rosewood Abu Dhabi on Sowwah Square, in Abu Dhabi's new central business district, which is being developed by Mubadala Real Estate & Infrastructure as an urban hub for the emirate. "The opening of Rosewood Abu Dhabi is a spectacular addition to our existing Middle East hotels and a significant milestone for us as we continue our global expansion," said Rosewood's president, Radha Arora.
A Rise In Revenue And A Soar In Sales For Whitbread
Whitbread achieved an increase in total revenue of 14.2% for the financial year to 28 February 2013, to approximately £2 billion, and group like-for-like sales grew by 3.7%. Whitbread's Premier Inn chain reached revenue of £8.5 billion, a rise of 13.1% on 2011/12. Premier Inn sales also rose by 13.1%. RevPAR for the chain grew by 1.7%. UK regional RevPAR increased like-for-like by 1.9% and London RevPAR achieved a like-for-like growth of 1.1%. Whitbread also announced that it plans to grow Premier Inn by 45% to around 75,000 rooms in 2018. The London market remains a key focus for the group, with the city accounting for around half of the planned pipeline; thus, Whitbread expects its share of London rooms to rise from 6% to around 13% by the end of 2018.
Starwood Reports A First-Quarter Increase In Net Income
During the first quarter of 2013, Starwood Hotels & Resorts reached an EBITDA of US$315 million. Net income for the first three months of the year increased by 66.4% on the same period in 2012, from US$128 million (US$0.65 per share) to US$213 million (US$1.09 per share). RevPAR for the group's hotels in Europe fell by 0.4% in actual dollars but rose by 6.0% for Africa and the Middle East. "Tight supply is driving higher room rates in North America, and our footprint continues to expand in the growing economies," said Frits van Paasschen, Starwood's chief executive officer. Starwood signed 26 management and franchise contracts during the quarter (representing approximately 6,200 rooms) and opened 18 hotels and resorts (approximately 4,000 rooms).
Absolute Share Price Performance Over the Past Week – 24 April-2 May 2013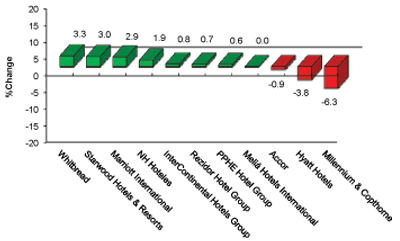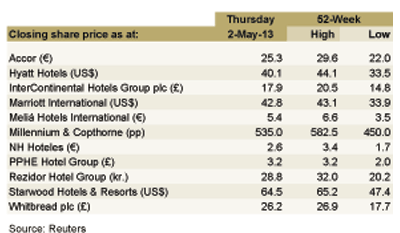 NH Hoteles – Natixis cut NH's share price target to €2.70.
InterContinental Hotels Group (IHG) – Numis upgraded IHG to "add".
Meliá Hotels International – Meliá climbed 4.4% on weak volume during the past week.
---
For the latest in the hospitality industry, please visit: http://www.hvs.com. You are also welcome to contact the following personnel.
| | |
| --- | --- |
| Russell Kett, Chairman – HVS London (@russellkett) | rkett@hvs.com |
| Charles Human, CEO – HVS London/HVS Hodges Ward Elliott | chuman@hvshwe.com |
| Chris Martin, Director – HVS Hodges Ward Elliott | cmartin@hvshwe.com |
| Christopher Mumford, President, EMEA – HVS Executive Search (@ChrisMumford) | cmumford@hvs.com |
| Tim Smith, Director – HVS London | tsmith@hvs.com |
| Arlett Oehmichen, Director – HVS London | aoehmichen@hvs.com |
| Sophie Perret, Director – HVS London | sperret@hvs.com |
| Demetris Spanos, Managing Director – HVS Athens | dspanos@hvs.com |
| Hala Matar Choufany, Managing Director – HVS Dubai | hchoufany@hvs.com |
| Louise Fury, Senior Editor and EMEA Hospitality Newsletter Author – HVS London | lfury@hvs.com |