Radisson Blu Sale In Sweden
Swedish real estate firm Fastighets AB Balder has purchased the recently opened Radisson Blu Riverside, Gothenburg, in Sweden, from construction company Skanska for SKr420 million (€48.9 million). The 265-room hotel is operated by Winn Hotel Group.
A New Owner For Ashford Castle
After being put on the market in October last year, the five-star Ashford Castle resort, near the village of Cong in west Ireland, has been snapped up by Red Carnation Hotels for €20 million. The resort was placed into receivership 18 months ago by its former owner, businessman Gerry Barrett. The historic 784-year-old castle has 83 guest rooms and six suites, set in 365 acres of grounds. It first opened as a hotel in 1939. Before the resort was put up for sale, a plan was developed to add 13 extra penthouse guest rooms and 30 lodges and extend the existing golf course from nine holes to 18. It has not been confirmed yet whether the new owners will proceed with the extension work. The sale brings Red Carnation's portfolio of four- and five-star family owned and run boutique hotels in the UK, Ireland, Switzerland, the USA and Africa to 15.
Birmingham's Paragon Given A New Lease Of Life
Iraqi investor Namir El Alakbi has bought the Paragon Hotel in Birmingham, UK, from administrators for around £6 million. The 250-room hotel, which was previously owned by the Dhillon Group, went into administration six months ago. Its new owner now plans to refurbish the Grade-II listed property. The building was founded by philanthropist, Lord Rowton, in 1903 to provide migrant workers with decent living conditions. The property fell into disrepair in the 1960s before it was bought by hoteliers in 1993 and converted to its current use.
Cairn Takes The Ferry In Scotland
Northeast England-based Cairn Hotel Group has acquired the freehold of the Queensferry Hotel, in the village of North Queensferry, east central Scotland, from London-based holding company Mountain Capital for an undisclosed sum. Cairn, which will operate the property, intends to rebrand the three-star hotel under a major brand, from Hilton Worldwide or InterContinental Hotels Group (IHG), after carrying out a one-year £3 million refurbishment, which is expected to upgrade its positioning to four stars. Cairn is also reportedly investigating the possibility of reviving planning consent for a 100-room extension to the property. The 77-room hotel was previously operated by Delight Hotels. Additionally, following a £31.5 million refinancing deal with HSBC, Cairn has set aside £6.5 million to refurbish and rebrand four of its UK hotels as part of an agreement with IHG. The 120-room Station Hotel Aberdeen, in Scotland, and the 145-room Bellhouse Hotel in Buckinghamshire are to become Crowne Plaza properties. The 62-room Chasley Hotel Wakefield, in north England, is to be transformed into a Holiday Inn Express and the 75-room Royal British Hotel in Scotland's capital, Edinburgh, will emerge from its renovation as a Hotel Indigo. Cairn will still own and manage the hotels.
MGallery Number Two For Venice
Accor's MGallery Collection has opened its second property in Venice, Italy. The 118-room LaGare Hotel Venezia MGallery Collection is housed in a former 14th-century glass factory on the Island of Murano, in the Venetian Lagoon. It joins its sister property in the city, the 96-room Hotel Papadopoli Venezia – MGallery Collection. The brand now has some 50 hotels across five continents, and is expected to have more than 100 locations in its portfolio by 2015.
A Pig In Bath…
The parent company of the Pig Hotel brand, Home Grown Hotels, has completed the acquisition of the Hunstrete House Hotel, near the city of Bath in southwest England, from von Essen founder, Andrew Davis, for £5 million. The 25-room 18th-century Georgian manor house will now be renovated and will become Pig Hotel's third property when it reopens as the 30-room Pig near Bath before the end of 2013.
…And A Hog Haven In Devon
A new property has opened in Devon, southwest England, but to qualify for a stay you need to have spines. After being overrun with injured hedgehogs every winter, Anni Nicholls, who runs North Devon Hedgehog Rescue, has opened the county's first hedgehog hotel! Anni has converted her garage into accommodation for 24 hogs, who can receive food and shelter over the winter before they are released back into the wild. No doubt funding for this venture has come from a hedge fund…
A New Holiday Inn Express For Turkey
InterContinental Hotels Group's (IHG) Holiday Inn Express brand is picking up speed as it makes its way to the city of Manisa, in western Turkey, where it will open the Holiday Inn Express Manisa – West in early 2014. IHG has signed a franchise agreement with Procons Turizm for the 102-room property, which will be managed by T&T Consulting. IHG currently has 16 hotels in Turkey, of which half operate under Holiday Inn brands.
A Designer Hotel For Rotterdam
Rotterdam, in the Netherlands, revealed a new addition to its harbour skyline this week with the opening of the 215-room Mainport hotel. A member of Design Hotels, the property, in the Leuvehaven district, has become the consortium's first hotel in the city.
Hilton Islington To Get A Makeover
One of Hilton Worldwide's hotels in London is to get bigger and better. The Hilton London Islington, next to the Business Design Centre, is to undergo a £5.2 million guest room refurbishment. The work will be completed in June 2013 and will increase the hotel's rooms stock from 184 to 191. The project also includes a new executive lounge. Hilton currently has several refurbishment projects in progress across its London properties. "This investment highlights our ongoing dedication to meet and surpass guests' expectations," said Oded Lifschitz, Hilton's UK area vice president.
Staybridge Suites Goes To Saudi Arabia…
InterContinental Hotels Group's (IHG) Staybridge Suites brand is to make its first appearance in Saudi Arabia. The group has signed an agreement with Dyafah Al Mutahida LLC for the Staybridge Suites Hira Street in Jeddah. The 200-room extended stay property will be part of Dyafah Al Mutahida's mixed-use project, seven kilometres from King Abdulaziz Airport, which will also include retail outlets, healthcare facilities and a multipurpose hall. The hotel will be developed on a 14,700 m² plot. IHG currently operates 22 hotels (some 5,111 rooms) in Saudi Arabia, making it the largest international hotel operator in this market.
…Then A Swiss-Belhotel for Riyadh…
Swiss-Belhotel has signed an agreement with Abdullah Al Jumaiah Group for a hotel in Riyadh, Saudi Arabia. The 126-room Swiss-Belhotel Riyadh is due to open in September 2014, one kilometre from Riyadh's King Abdullah Financial City district. This is the group's second signing in Saudi Arabia – the previously announced Swiss-Belhotel Olaya Riyadh was originally expected to open this year, but has been delayed, reportedly on account of a dispute over ownership.
…And One&Only Is On Its Way To Obhur…
Bahamas-based developer and operator Kerzner International Holdings Ltd has got together with Al Khozama Management Company and Saudi Oger to bring Saudi Arabia its first One&Only resort. The 95,000 m² resort is to be developed on the beachfront in the bay of Obhur, about 30 km north of Jeddah, and will have 150 guest rooms, suites and villas; a residential component; extensive meeting space; and leisure and retail facilities.
…With More Makarim For Mecca
Makarim Hospitality Group has signed an operation and management agreement with Shorofat Alsafwa Company for a new property in Mecca, bringing the group's portfolio of hotels in the Saudi Arabian city up to five (1,400 rooms). The four-star, 104-room Makarim Al Shorofat Hotel is currently under construction and expected to open in the third quarter of 2013.
Citymax On The Move
Retail conglomerate the Landmark Group has announced that it plans to expand its Citymax hotel portfolio with a further ten to 15 properties over the next four to five years. The group currently operates three hotels in the UAE (in Dubai and Sharjah). Some of the new hotels will be in the UAE, but the venture will also see the group move into new markets, such as Saudi Arabia, Bahrain and Qatar. "Currently we're operating at 90%-plus occupancy. That's given us the confidence of expanding and looking for more opportunities in the GCC region," said Praveen Bhatnager, the chief executive officer of Landmark's hospitality division.
Absolute Share Price Performance Over the Past Week – 16-23 May 2013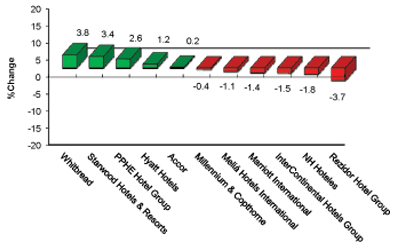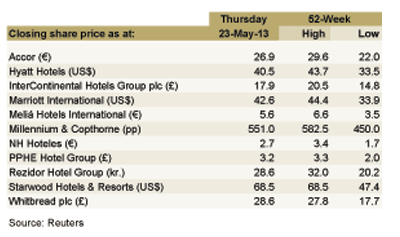 InterContinental Hotels Group (IHG) – IHG dropped on high volatility.
Meliá Hotels International – Meliá decreased on average volume.
Whitbread – Whitbread increased 1.3% on high volume.
---
For the latest in the hospitality industry, please visit: http://www.hvs.com. You are also welcome to contact the following personnel.
| | |
| --- | --- |
| Russell Kett, Chairman – HVS London (@russellkett) | rkett@hvs.com |
| Charles Human, CEO – HVS London/HVS Hodges Ward Elliott | chuman@hvshwe.com |
| Chris Martin, Director – HVS Hodges Ward Elliott | cmartin@hvshwe.com |
| Christopher Mumford, President, EMEA – HVS Executive Search (@ChrisMumford) | cmumford@hvs.com |
| Tim Smith, Director – HVS London | tsmith@hvs.com |
| Arlett Oehmichen, Director – HVS London | aoehmichen@hvs.com |
| Sophie Perret, Director – HVS London | sperret@hvs.com |
| Demetris Spanos, Managing Director – HVS Athens | dspanos@hvs.com |
| Hala Matar Choufany, Managing Director – HVS Dubai | hchoufany@hvs.com |
| Louise Fury, Senior Editor and EMEA Hospitality Newsletter Author – HVS London | lfury@hvs.com |