Outrigger Buys A Resort In Mauritius
Outrigger Hotels and Resorts has purchased the Mövenpick Resort and Spa Mauritius from Dubai-based Kingdom Hotel Investments for an undisclosed sum. The 181-room resort, on the southwest coast of Mauritius in Africa, closed this week to undergo a six-month renovation. It is due to open by the end of the year as the Outrigger Mauritius Resort and Spa. Hawaii-based Outrigger currently has 45 properties (almost 11,000 rooms) in operation or under development. The Mauritius resort is the group's first property in the Indian Ocean.
New Owners For The Grand Hotel Heiligendamm
The Grand Hotel Heiligendamm in the Baltic coast resort of Heiligendamm, northern Germany, has been sold by administrators to investors Palladio AG and De & De Holding GmbH for €29.5 million. The buyers reportedly intend to operate the hotel themselves as a five-star property. De & De Holding owns 90% of the 181-room hotel, and Palladio holds the remaining 10%. The hotel, which went into insolvency a year ago, was previously operated by Kempinski.
Wyndham Signs A Super Deal In Turkey
Wyndham Worldwide's Super 8 brand is to make its debut in Turkey. The group has signed an exclusive development agreement with Ilbak Turizm Isletmeleri ve Yatirim for 20 Super 8 hotels in the country over the next ten years. It will be the fourth Wyndham brand to enter the Turkish market since 2007. "We firmly believe that there will be strong demand for the Super 8 product with its clean, contemporary design and affordable pricing," said Ilbak's chairman, Mustafa Ilbak. "We are already evaluating potential sites for the first hotel which we anticipate will open in Istanbul in 2014," he added.
Interstate Steps Into Spring With Seven New Hotels
US-based hotel management company Interstate Hotels & Resorts has expanded its European portfolio by more than 1,200 rooms this spring with the opening of seven new properties. The 120-room Hampton by Hilton Exeter Airport, in southwest England, has become the group's tenth hotel in the UK. The Netherlands got four new hotels: the 181-room Hampton by Hilton Amsterdam Schiphol Airport, the 127-room Holiday Inn Express Arnhem, the 214-room Holiday Inn Express Rotterdam-Central Station and the 254-room Hampton by Hilton Amsterdam Arena Boulevard, bringing Interstate's portfolio in the country to nine properties. The 136-room Four Points by Sheraton Kecskemét Hotel and Conference Center, in central Hungary, marked Four Points by Sheraton's debut in the country and it is also the first Interstate-managed hotel in Hungary. Lastly, the 187-room Marker opened in Dublin as Interstate's first hotel in Ireland.
Yevervan's Golden Tulip Achieves Royal Status
This week, Louvre Hotels Group rebranded the Golden Tulip Yerevan in Armenia to its five-star Royal Tulip brand, after an extensive refurbishment. The 104-room Royal Tulip Grand Hotel Yerevan has become the group's 12th Royal Tulip property worldwide.
Three More Slices Of Turkish Delight For Hilton
Hilton Worldwide has added three hotels to its development pipeline in Turkey. The group signed a franchise agreement with ASF Otelcilik ve Turizm Isl. Tic. Ltd Sti For the 200-room Hilton Antakya, in southern Turkey, which is scheduled to open at the beginning of 2014. The Hilton Garden Inn Corlu is expected to open in early 2015 in the city of Corlu, northwestern Turkey; the 129-room hotel is a product of a franchise agreement with Santeks Iplik ve Brode AS. The Hampton by Hilton Istanbul Zeytinburnu is the result of a management agreement with Behcetogullari Otomotiv Ticaret Ltd Sti. The 164-room property is due to open in early 2016 in the Zeytinburnu district in the European side of Istanbul.
Manchester Radisson Blu Gets A Makeover
A £10 million two-year refurbishment has begun this week at the Radisson Blu Hotel Manchester Airport in northwest England. The 360-room property, which opened in 1998, is the only hotel with a direct link to Manchester Airport. The renovation will be carried out in three stages and will include doubling the size of the all-day-dining restaurant. "The level of detail in the design and thought processes behind the food and drink concept will create a real destination for our guests and the airport community," said Richard Moore, Carlson Rezidor's area vice president for the UK and Ireland.
Want To Know More About Finance For Hotel Investment And Development…
…Then Henry Stewart has just the event for you: Finance for Hotel Investment and Development in the UK and Continental Europe. Additionally, we are pleased to announce that HVS London director Arlett Oehmichen will be speaking at the briefing, which takes place on Wednesday 11 September at Le Méridien, Piccadilly in London. Conference organisers, Henry Stewart, are offering a 50% discount on the full registration fee to HVS contacts, which reduces the cost per delegate to £249.50 plus VAT. For the detailed conference programme click here. To book online by credit card please go to www.etouches.com and insert the discount code HVS50 when prompted to receive your 50% discount. If you would like to be invoiced please email dawnb@henrystewart.co.uk and provide the following information: full name(s), position(s) and email addresses of all delegates, the title of the conference, full company name and address for the invoice, the name of the person making the booking if different from delegate(s), and don't forget to quote the discount code HVS50 to receive your 50% discount.
Foremost Forges On In Nuremberg
Construction has started on Foremost Hospitality's first double hotel project. Around €19 million is being invested in an 80-room Hampton by Hilton and a 124-room Holiday Inn Express in Nuremberg, Germany. The hotels are being developed in the same building, adjacent to Nuremberg's main railway station.
A Rotana For Salalah Beach
Rotana has announced that it is to manage a new resort in Oman. The Salalah Rotana Resort, owned by Orascom Hotels and Developments, is currently under development in the coastal town of Salalah and due to open in December 2013. The resort will have 399 guest rooms and suites and 45 villas. The Rotana property will be the first internationally branded hotel to open in Muriya Tourism Development's seven-hotel Salalah Beach development. Muriya is a joint venture between Egypt-based Orascom and Omani tourism investment' development and management company Omran.
A Glorious Expansion
Dubai-based Gloria Hotels & Resorts, which was founded in 2010, has announced that it plans to expand in the Middle East and North Africa region with six new hotels over the next two years. The group currently operates two properties in Dubai. Five of the new additions have been announced and are the Al Fayroz Al Massi Gloria Hotel Al Madina, in Saudi Arabia; the Gloria Sports City Hotel in Abu Dhabi, due to open in November 2014; the Gloria Ghala Hotel Muscat in Oman, which is currently under construction and will be completed in 2015; and the Al Rehab Gloria Hotel and the Al Maadi Gloria, both in Egypt and due to open next year.
IHG's Fourth Holiday Inn Riyadh
InterContinental Hotels Group (IHG) has opened its fourth Holiday Inn hotel in Saudi Arabia's capital, Riyadh. The eight-storey, 290-room Holiday Inn Riyadh Medan is in the city's Olaya business district. IHG opened its first hotel in Saudi Arabia in 1975 and it has a further seven hotels in the pipeline for the country scheduled to open by 2018.
A Grand Rebrand For Hilton In Abu Dhabi
Hilton Worldwide has signed a deal for a new hotel in Abu Dhabi, UAE. The Abu Dhabi Al Maqta, near to Abu Dhabi International Airport at the heart of Abu Dhabi's Capital business district, is to be rebranded as the Hilton Abu Dhabi Capital Grand this summer. The 281-room hotel, which was previously managed by Rocco Forte Hotels when it opened in 2011, is owned by Al Farida Investment Company. "Hilton Hotels & Resorts is one of the longest serving international hotel brands in UAE and our proud heritage has served us well in Abu Dhabi since 1973," said Rob Palleschi, global head of Hilton Hotels & Resorts.
Renaissance Comes To Cairo
Marriott International has opened its first Renaissance hotel in Cairo and its second in Egypt overall. The 333-room Renaissance Cairo Mirage City Hotel is close to Cairo International Airport in the city's New Cairo business district. It joins its sister property on the Sinai Peninsular, the 348-room Renaissance Sharm El Sheikh Golden View Beach Resort.
Absolute Share Price Performance Over the Past Week – 23-30 May 2013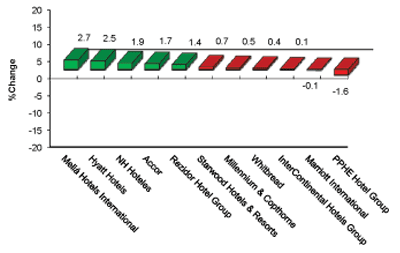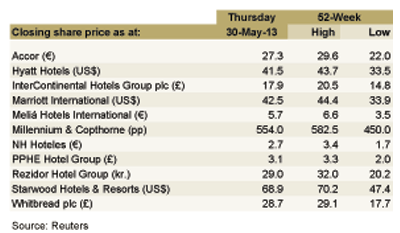 NH Hoteles – NH hit a two-month high.
Meliá Hotels International – Meliá climbed 5% on weak volume.
InterContinental Hotels Group (IHG) – IHG dropped 2.6% on below average volume.
---
For the latest in the hospitality industry, please visit: http://www.hvs.com. You are also welcome to contact the following personnel.