Peninsula Hotels Parks Up In A Corner Of London…
Hong Kong-based Peninsula Hotels has signed a non-binding agreement to buy a 50% stake in 1-5 Grosvenor Place, a 1960s office block at Hyde Park Corner in London, from real estate investment firm Derwent London for £132.5 million. Peninsula will then set up a joint venture with the building's freeholder, Grosvenor, in order to transform the property into a luxury hotel and residential complex.
…And Wanda Wanders In To Tower Over Nine Elms
Wanda Hotels & Resorts, the hospitality subsidiary of Chinese property conglomerate Dalian Wanda Group, plans to extend the group's chain of luxury hotels outside of China, starting in London. Wanda is to invest £700 million in developing a twin-tower project including a 160-room hotel and 63,000 m² of luxury apartments in the city's Nine Elms district, near Battersea, south of the River Thames. Wanda reportedly acquired the site from Irish developer, Green Property. The 607 ft, 60-storey City Tower housing the residential apartments will become London's tallest entirely residential block, and the tallest residential building in Europe, when it is completed in around four years time. The smaller 45-storey River Tower will include more residences and the five-star hotel. London is just the first stop on Wanda's list, however, as later this year it plans to announce a project in New York, and in the coming decade the group aims to build hotels in eight to ten major cities worldwide.
Ivanhoe Invests In An Italian Villa
Ivanhoe Italia LLC, a subsidiary of Singapore-based Ivanhoe Capital Corporation, has purchased the Villa Tre Ville hotel in Positano, on Italy's Amalfi coast, for an undisclosed sum. The 15-suite hotel is located on a five-acre oceanfront site, which also includes four houses. The estate was owned by opera and film director, Franco Zeffirelli, for 35 years until he sold it in 2007 to Italian hotelier, Giovanni Russo, who then opened it as a hotel in July 2010.
Grey Street Hotel To Get An Upgrade
Malhotra Group has bought the freehold of the Grey Street Hotel in Newcastle, northeast England, from administrators, BDO, for an undisclosed sum. The 49-room hotel, which fell into administration at the end of 2012, was on the market with a guide price of £3.75 million. The transaction also included rental income from bar and restaurant owner, The Living Room, which leases a part of the hotel's Grade-II listed Georgian building. Malhotra now plans to invest several million pounds in the boutique property. This will be the leisure group's third hotel and its second on Grey Street; as well as restaurants and pubs, its portfolio currently includes the 57-room New Northumbria Hotel, and after purchasing other buildings on Grey Street, the Cloth Market and Mosley Street last year for £5 million, it plans to break ground soon on a five-star hotel and leisure complex.
Swissôtel On The Road To Baku
Swissôtel Hotels & Resorts has announced its debut appearance in Azerbaijan. The group's first hotel in the country, the Swissôtel Baku, is currently under construction and due to open in 2015. The 149-room hotel will be part of a two-tower mixed-use complex in Azerbaijan's capital. The hotel will be in the taller tower (160 metres high), which will also house 45 furnished apartments and 80 Swissôtel residences. The other tower will contain retail, food and beverage and entertainment outlets. The scheme is owned and being developed by construction company Arya Insaat.
Urban Villa To Venture Into The Olympic Park
Real estate investment firm BridgePoint Ventures is backing a joint venture between Starboard Hotels and Union Hanover to buy a 275,000 ft² site at the £1.3 billion International Quarter development in the Olympic Park, East London. The site is currently owned by property firm Lend Lease and UK Government-owned London & Continental Railways, and could reportedly fetch between £10 million and £15 million. The joint venture is interested in securing the site for its Urban Villa aparthotel brand. Sites in Aldgate, on the edge of the Square Mile, Aberdeen and Portsmouth have already been secured for the chain, of which BridgePoint Ventures is a funding partner.
Chief Changes At One&Only
Mark DeCocinis has been appointed as One&Only Resorts' new president and chief operating officer, as of 1 August 2013. Mr DeCocinis started his career in hospitality more than 25 years ago with The Ritz-Carlton Hotel Company. Before joining One&Only, he held the post of executive vice president with Shangri-La International Hotel Management. "I am thrilled to have Mark join One&Only Resorts at this exciting time of growth for the company," said Alan Leibman, chief executive officer of Kerzner International.
Waterloo Sunsets For PPHE
PPHE Hotel Group has completed the acquisition of a 1.09 acre site in London from Mapeley Acquisition Co (Hercules) Ltd, which is now in receivership, for £23.5 million. The site, near Waterloo railway station, is occupied by a nine-storey office block, currently home to Natural England, which are due to move out in September. PPHE are considering the possibility of developing a new hotel on all or part of the site.
US Chain Serves Up An Ace For London
US chain, Ace Hotel, is bringing its quirky budget brand to the UK. The former 264-room Crowne Plaza Shorditch in London, which was purchased by Starwood Capital in April 2012 for £70 million, is currently undergoing an extensive refurbishment, from which it will emerge this September as the 265-room Ace Hotel London. Ace Hotel was launched in 1999 and it now has four hotels in operation across the US and one in the pipeline for Los Angeles. The style and furnishing of each property is designed to reflect its location.
Two Citadines For Jeddah
The Ascott Limited has signed management agreements with Abdul Samad Al Qurashi Group for two new properties in Saudi Arabia, bringing its Citadines brand to the Middle East for the first time. The opening of the 166-unit Citadines Tahlia Jeddah and the 136-unit Citadines Al Salamah Jeddah in the first quarter of 2014 will also mark the group's debut in the city of Jeddah. The new properties will increase Ascott's portfolio in the region to nine hotels across five countries (more than 1,500 serviced apartment units).
Warwick's Winter Valley Opens In Jordan
Warwick International Hotels has opened its fourth property in the Middle East: the Winter Valley Warwick Resort & Spa, which is on the shores of the Dead Sea in Jordan. The group now has two hotels and resorts in operation in Jordan and two in Lebanon; worldwide, its has a portfolio of 54 hotels (more than 7,000 rooms) across four continents. Additionally, Warwick has also recently signed a management agreement with Damas Real Estate for the four-star, 357-room Warwick Hotel Dubai, which is due to open by the end of 2013 along with the Warwick Stone 55 Beirut.
JA Brings Some Enchanted Evenings To The Seychelles
Dubai-based JA Resorts & Hotels is to open its first hotel outside of the emirate this summer. Owned by Enchanted Ventures, the ten-villa Enchanted Island Resort will open on 1 August on a private five-acre island in the Seychelles, Africa. Part of a National Marine Park, the resort will be a 15-minute boat ride from the Seychelles' main island, Mahè.
The First Vida Opens In Dubai
After announcing the launch of its new Vida brand back in May, this week Emaar Hospitality Group opened its first ever Vida property as the former Qamardeen Hotel in Dubai surfaced from its conversion as the 156-room Vida Downtown Dubai. Emaar has said that Vida, which means "life" in Spanish, is aimed at "the new generation of business executives, entrepreneurs and leisure travellers."
Whitebread: Sales Soar In First-Quarter 2013
Whitbread has reported an increase in like-for-like group sales of 3.1% for the first quarter of 2013. Premier Inn sales increased by 12.7% for the first three months of the year. Premier Inn sales in London rose by 19.9% as Whitbread increased its number of rooms in the UK capital by 20.6% year-on-year. Total RevPAR for the Premier Inn chain in London decreased by 1.8%, to £74.34, compared to a fall of 3.8% for its competitive set. Regional UK sales for Premier Inn increased by 11.0%, and total regional RevPAR rose by 1.3%, to £38.50. Premier Inn opened a total of 794 rooms during the first quarter, and the group plans to open around 4,000 rooms for the full-year 2013.
Absolute Share Price Performance Over the Past Week – 13-20 June 2013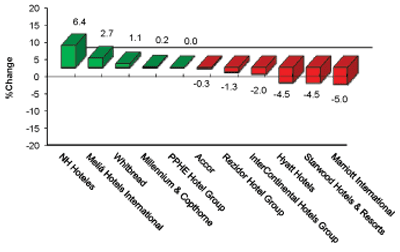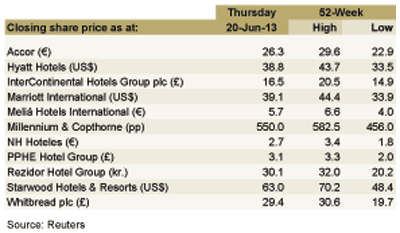 NH Hoteles – NH has its biggest trailing week gain for two months.
Meliá Hotels International – Meliá lifts 2.4% on thin volume.
Whitbread – Jefferies raised Whitbread's target price to 2700p from 2300p and gave the company a "hold" rating.
---
For the latest in the hospitality industry, please visit: http://www.hvs.com. You are also welcome to contact the following personnel.