Investor Travels To Woolwich For A New Hotel
London-based estate owner, Powis Street Estates Ltd, has sold a Travelodge hotel in Woolwich, southeast London, to an overseas investor for £8 million, representing an initial yield of 6.75%. Although the 120-room Travelodge London Woolwich Hotel was purchased on a freehold basis, Powis has retained a long-lease interest in the building's ground floor retail outlets; the buyer will have an option to buy these in when they are let. The hotel, which opened in summer 2012, will continue to operate under a 25-year lease with Travelodge.
Two Openings In Paris And The Lights To (Temporarily) Go Out In the Plaza Athénéé
Marriott International has signed a franchise agreement with WB Ambassador SAS which will see it open its 12th hotel in Paris and its fourth Marriott property in the French capital. As of 1 July 2013, the 86-year-old historic Ambassador Hotel, on the right bank of the River Seine in Paris's ninth arrondissement, will operate as the 298-room Paris Marriott Opera Ambassador Hotel. Also in the city of lights this week, Starwood Hotels & Resorts has reopened the Prince de Galles, a Luxury Collection Hotel, Paris. As part of Starwood's US$200 million investment in the brand, the 159-room hotel had closed to undergo an extensive two-year renovation, which has restored the property's original Art Deco features. Additionally, the 191-room Hotel Plaza Athénéé, which reaches the grand old age of 100 this year, is to close on 1 October for a renovation and extension. The hotel's owners have acquired several adjacent townhouses and these will be used to add six more guest rooms, eight suites, a ballroom and two event spaces. The hotel is due to reopen in May 2014.
Three New Holiday Inns Across The UK…
InterContinental Hotels Group has announced three new Holiday Inn hotels for the UK. The 98-room Holiday Inn Huntingdon – Racecourse, in the market town of Huntingdon in the east of England, is due to open in the third quarter of 2013, under a franchise agreement with HP Hotels Ltd. The Holiday Inn – Watford Junction, in Watford, 17 miles northwest of central London, is the product of a franchise agreement with Nine Hospitality Ltd, and this hotel is expected to open in 2014. The Holiday Inn Glasgow Green is also slated to open next year, in Scotland's largest city, Glasgow. "These signings will help meet the demand for quality midscale accommodation for national and international travellers whilst building national scale in a priority market for us," said Richard Arman, IHG's development director for the UK and Ireland.
…And One For Spain
IHG has also signed a franchise agreement with Madrid-based hotel operator Gestion T3 Hotels for a new Holiday Inn hotel in Spain. The Holiday Inn Madrid – Las Tablas will be a conversion from an existing hotel. Renovation of the existing property is currently underway and the 133-room Holiday Inn is expected to open at the beginning of the third quarter of 2013 in Madrid's Las Tablas business district. Gestion T3 currently operates four other IHG hotels in Spain. "After a very positive experience in Madrid, Valencia, Alicante and Elche, we are pleased to add another franchise contract with IHG and look forward to develop[ing] future projects together," said Ton Lodder, owner of Gestion T3 Hotels. IHG now has 30 Holiday Inn or Holiday Inn Express hotels across Spain.
Hilton Gets Itself A Slice Of Dundee Cake
Hilton Worldwide has opened its first hotel in Dundee, east central Scotland. After a £1 million refurbishment, the former Landmark hotel has become the DoubleTree by Hilton Dundee. The 92-room hotel, which is housed in what was once a family home dating from 1870, is being operated by Redefine BDL Hotels. "The hotel was recently named Dundee Hotel of the Year at the 2013 Scottish Hotel Awards and we are delighted to be bringing it under the DoubleTree by Hilton brand at a time when Scotland is gearing up for a huge year of tourism with its hosting of the 2014 Commonwealth Games and Ryder Cup," said Simon Vincent, Hilton's president for the EMEA region.
New Champion For The Chief Executive Role At easyHotel
Sir Stelios Haji-Ioannou has appointed Simon Champion as the budget hotel group's new chief executive. Mr Champion previously worked as managing director for equity research at Deutsche Bank. "I have asked Simon to take the lead role in developing the next phase of easyHotel strategy – in particular taking on franchisees in new markets as well as advising me on further direct investments, such as our highly successful Old Street Hotel in London," said Sir Stelios. easyHotel currently has 19 hotels across London, Edinburgh, Johannesburg and Dubai.
Jannah Heads East To The Mangroves
Abu Dhabi's Tourism Development & Investment Company (TDIC) has chosen UAE-based Jannah Hotels and Resorts to manage the newest addition to its mixed-use Eastern Mangroves development, on Abu Dhabi's waterfront. The 88-unit Eastern Mangroves Suites is due to open in the third quarter of 2013. The high-end serviced suites will join the 50-apartment Eastern Mangroves Residences, the Eastern Mangroves Promenade (due to open soon) and the 222-room Eastern Mangroves Hotel & Spa by Anantara.
A Trio Of Starwoods For Saudi Arabia
Starwood Hotels & Resorts has signed an agreement with Jabal Omar Development Company for three new hotels in Mecca, Saudi Arabia: the 532-room Sheraton Makkah Hotel, the 513-room Westin Makkah Hotel and the 451-room Four Points by Sheraton Makkah Hotel. Once open in 2015 the hotels will add 1,496 rooms to Jabal Omar's mixed-use urban redevelopment scheme in the city, a 230,000 m² project comprised of 38 high-rise buildings; with 26 hotels, it is one of the largest hotel developments worldwide. Starwood currently operates ten hotels in Saudi Arabia, and it now has eight properties due to open in the country over the next three years.
Park Inn By Radisson On Its Way To Rwanda
Rezidor Hotel Group has announced its second hotel for Rwanda, Central Africa. The Park Inn by Radisson Kigali, which is owned by Hotel Vision Ltd, is due to open in Kigali city centre in the third quarter of 2014. The group's first hotel in the country, the 292-room Radisson Blu Hotel & Convention Centre Kigali, is scheduled to open in Rwanda's capital a few months earlier in the second quarter of 2014. "Africa is a key development market for our group, and our African portfolio now comprises 50 hotels with a total of 11,000 rooms in operation and under development across 21 countries," said Rezidor's president and chief executive officer, Wolfgang Neumann.
Nairobi's Premier New Opening
Best Western International has recently made its first appearance in Kenya, East Africa, with the opening of the Best Western Premier Nairobi, its 11th hotel in Africa. The 96-room hotel, owned by Kamcan Properties Ltd, is in Hurlingham, one of Nairobi's main commercial districts. The hotel reportedly cost US$12.5 million to develop. It was constructed on a site that previously housed the Kwality Hotel.
Absolute Share Price Performance Over the Past Week – 20-27 June 2013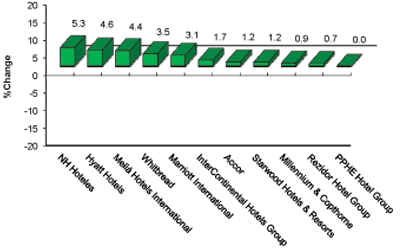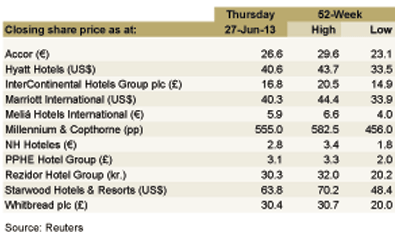 NH Hoteles – Natixis cut NH's share price target to €2.50.
Meliá Hotels International – Morgan Stanley gave Meliá an "overweight" recommendation.
Millennium & Copthorne – Millennium was cut to "equalweight" from "overweight" by Morgan Stanley.
---
For the latest in the hospitality industry, please visit: http://www.hvs.com. You are also welcome to contact the following personnel.