Park Plaza Lands At Luton
PPHE Hotel Group has plans to develop a Park Plaza hotel at London's Luton Airport. One of the group's subsidiaries, Club Luton Hotel Holding, has signed a conditional agreement to take on a 150-year lease on a site at the airport from London Luton Airport Operations Ltd. Planning permission for a hotel development has already been obtained for the 2.57 acre site. PPHE currently has six Park Plaza hotels operating in London. Additionally, as well as the Luton Airport Park Plaza, the group has two other developments for the UK's capital in its pipeline: a recently purchased site in west London, which has planning permission for a mixed-use development, and the 350-room, 18-storey art'otel London Hoxton, which is currently under development.
Four Club Med Resorts Sold In France
Paris-based insurance company Assur du Crédit Mutuel has acquired four Club Med resorts in France for €280 million from real estate investment trust Gecina, which is trying to concentrate its portfolio on mainly office space. The four resorts are the 256-room Club Med Val d'Isére, the 340-room Club Med La Plagne 2100 and the 284-room Club Med Peisey-Villandry, all located on the slopes of the French Alps, and the 435-room Club Med Opio en Provence on France's south coast.
Wyndham Tucks Into More Turkey
This week, Wyndham Worldwide has opened its second Wyndham-branded hotel in Turkey and its eighth hotel in the country overall: the new-build, 307-room Wyndham Istanbul Petek, which is owned by Kilicbey Turizm Isletmeleri Insaat Sanayi ve Ticaret Anonim Sirketi. The 21-storey property is on the city's European side, in the Bagcilar district, four kilometres from Ataturk International Airport. "We look forward to working with our partners on opportunities to add more quality hotels here in the years ahead," said Rui Barros, Wyndham Hotel Group's senior vice president and managing director for the EMEA region.
Whitbread Launches A New Brand
UK-based group Whitbread has unveiled its new city centre budget brand, hub by Premier Inn. The rooms of the new brand will measure 11.4 m², around half the size of the average Premier Inn room (21.4 m²). The hotels, which will be developed in central locations across the UK's main cities, will also contain innovative space-saving devices, such as foldaway desks and under-bed luggage storage. London will welcome the first hub by Premier Inn in autumn next year, with a 167-room hotel confirmed for St Martin's Lane. Four more hotels are already planned for the capital – a 179-room hotel on Goodge Street, a 119-room property on Great Tower Street and a 185-room hub by Premier Inn for Spitalfields are all due to open in early 2015, and a 408-room property is scheduled to open in King's Cross at the beginning of 2016. By 2018, Whitbread plans to have developed 40 hub by Premier Inn hotels across the country. The hotels will cost 25% less to build and operate than a typical central London Premier Inn. "We have ambitious growth milestones, but in order to keep continuing that success we need to keep innovating," said Andy Harrison, Whitbread's chief executive, on the group's ambitions for the future. HVS London's chairman, Russell Kett, commented in the Financial Times on the brand extension capabilities of Premier Inn by suggesting, "One possibility is to look at the other end of the hotel spectrum by adding a Premier Inn brand offering serviced apartments or extended stay". He must have had next week's Serviced Apartments Summit on his mind – it's not too late to book. HVS readers can get a 10% discount off the delegate rate. Visit www.servicedapartmentsummit.com.
Millennium To Make Its Debut In Jeddah…
Millennium and Copthorne has signed an agreement with family owned real estate company Al Sharif Mansour Bin Saleh Abu Rayash for its first hotel in Jeddah, Saudi Arabia. The Millennium Jeddah is due to open by 2017, on the city's 30 km coastal road, the Jeddah Corniche, with 325 guest rooms, serviced apartments and branded residences. Millennium currently has 14 hotels in operation across the Middle East region (in Jordan, Iraq, Kuwait, Qatar, the United Arab Emirates and Oman) and it has more than 5,000 rooms in the pipeline for Saudi Arabia.
…And Le Méridien Announces Its First Performance In Riyadh
Also in Saudi Arabia this week, Starwood Hotels & Resorts revealed that its Le Méridien brand is to make its debut appearance in Riyadh. The group has signed an agreement with Al Jazeerah Al Oula Real Estate, which is building the 15-storey Le Méridien Riyadh on King Abdullah Road. The 231-room hotel is expected to open in September 2014. Starwood currently operates ten hotels in Saudi Arabia, and now has a further nine properties under development.
New Brand In Dubai
Emaar Properties, of The Address Hotels + Resorts fame, and Dubai-based developers, Meraas Holding, have got together to launch a budget hotel chain in the emirate, catering to cost-conscious visitors to Dubai. The pair will develop Dubai Inn properties in several locations across Dubai city. Commenting on the news, Emaar's chairman, Mohamed Alabbar, said, "By creating a robust pipeline of affordable hotels under the Dubai Inn brand, we plan to attract more visitors to our city from the fast-growing markets in the Asia-Pacific, Africa, Europe and the wider Middle East." This isn't the first time Emaar and Meraas have united – the duo is also developing a 2,700 acre mixed-use project near downtown Dubai, the Dubai Hills Estate.
Anantara Reaches Four In Abu Dhabi
Thai hospitality group Anantara Hotels, Resorts & Spas has opened its fourth hotel in Abu Dhabi and its second on Sir Bani Yas Island, the largest natural island in the UAE and a wildlife reserve since 1971. The 30-villa Anantara Sir Bani Yas Island Al Yamm Villa Resort is on the beachfront of the island's east coast, just off the coast of Abu Dhabi's mainland. The resort was developed by Tourism Development & Investment Company. The group's first property to open on the island was the 64-room Desert Island Resort & Spa by Anantara, and the Anantara properties are currently the only hotels on the island; however, the group's presence will soon increase to three hotels, with the 30-unit Anantara Sir Bani Yas Siland Al Sahel Villa Resort due to open at the end of 2013.
Investors Pick Up Two Plots On The Palm
Dubai-based real estate developer Nakheel has just sold two more plots on its man-made Palm Jumeirah development. A GCC investor acquired a plot on the crescent, west of the Atlantis resort, for AED556 million (US$151 million), and on the eastern crescent of the palm-tree shaped island an Emirati investor picked up a plot for AED139 million (US$37.8 million). "Palm Jumeirah is already among the most sought-after areas in Dubai, and is unmatched in terms of location, and comparative value in terms of service fees," said a spokesperson for Nakheel. "We expect that demand to increase further as more and more attractions come on stream," they added.
Absolute Share Price Performance Over the Past Week – 27 June-4 July 2013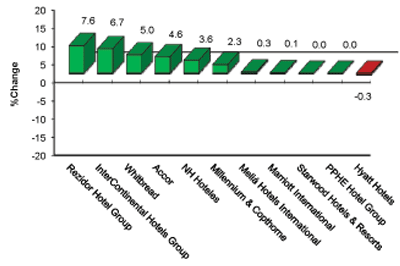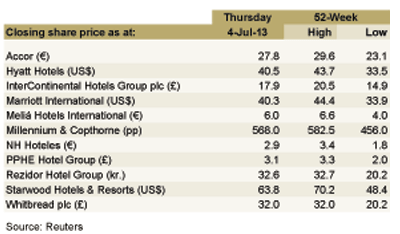 InterContinental Hotels Group (IHG) – IHG raised to "buy" from "hold" by Deutsche Bank.
Accor – Deutsche Bank upgraded Accor to "hold" from "sell" and raised its target price to €25.5 from €23.2.
Meliá Hotels International – Meliá lifted 3.3% on average volume.
---
For the latest in the hospitality industry, please visit: http://www.hvs.com. You are also welcome to contact the following personnel.