Olympic Hotels Sold For The Second Time This Year
Singapore-based hotel investment company M&L Hospitality Group has purchased the 188-room Holiday Inn London Stratford City and the 162-unit Staybridge Suites Stratford City, in London's Queen Elizabeth Olympic Park, from an Asian investor for an undisclosed sum – the group's first investment in the UK. The hotels were bought by the unnamed investor for £58 million from Patron Capital at the beginning of the year. M&L now owns 12 hotels across Asia, Australia, New Zealand and the UK.
Hoxton Hops Over To Amsterdam
It was reported this week that Ennismore Capital, owner of the Hoxton Hotel in London, has agreed terms to purchase the freehold of the Rembrandt Classic Hotel in Amsterdam from Hotusa Hotels for €25 million. Ennismore is expected to spend a further €5 million converting the 111-room hotel, which is housed over five historic townhouses on the Herengracht canal, into the Hoxton Amsterdam. Ennismore is also already hard at work expanding the brand in its home city. The group bought a former BT office building last year for almost £30 million which is expected to open as the Hoxton Holborn in May 2014 after undergoing a £15 million refurbishment.
OTI Now Has A Turkish Trio
Antalya-based group OTI Holding has completed the purchase of two hotels in Turkey for €53.6 million from Is Gayrimenkul Yatirim Ortakligi AS, bringing its portfolio of owned properties up to three. The two new hotels are the 356-room Seven Seas near the town of Manavgat on Turkey's Mediterranean coast – six kilometres from OTI's 426-room property in Side, the Otium Edo Club Side – and the 256-room Kemer Imperial near the village Göynük, in Turkey's Kemer district, also on the Mediterranean cost.
Park Inn Expansion Picks Up Across EMEA
Rezidor Hotel Group announced the development of three new Park Inn by Radisson hotels across the EMEA region this week. Increasing its presence in Germany, the group teamed up with one of its franchise partners, Provent, for the Park Inn by Radisson Hotel Göttingen. The 114-room hotel, in the city of Göttingen in central Germany, is due to open later this year. Over in Kazakhstan, the Park Inn by Radisson Almaty Airport is scheduled to open in the fourth quarter of 2014. This 133-room property will become Rezidor's third hotel in the country, alongside the existing 181-room Radisson Blu Hotel Astana and the 248-room Park Inn by Radisson Astana, which is due to open adjacent to the Radisson Blu hotel sometime this year. In Nigeria, Rezidor got together with 1st Impression Group for the 150-room Park Inn by Radisson Abuja Kaura, which is expected to open in Nigeria's capital in the first quarter of 2015. Rezidor now has eight hotels in operation or under development in Nigeria.
Wyndham Gives Beirut A Ramada Plaza And Turkey Gets Two Wyndhams
Wyndham Worldwide recently opened the Ramada Plaza Beirut Raouche. The 144-room, 18-storey hotel overlooks the Mediterranean Sea and is Wyndham's second hotel in Lebanon's capital. Additonally, the group also signed franchise agreements with Özdilek Otel Turizm Isletmeciligi Ve Ticaret Ltd Sirketi for two new hotels in Turkey this week – the Crowne Plaza Izmir, in the port of Izmir in Western Turkey, has been rebranded and opened as the 219-room Wyndham Izmir Özdilek at the beginning of this month. The 20-storey property, which overlooks Izmir Bay, is the first Wyndham-branded hotel to open in Turkey outside of Istanbul. The Wyndham Istanbul Levent is currently under construction on the European side of Istanbul, in the Levent district. It will become Turkey's fourth Wyndham hotel when it opens in 2014.
DoubleTree Number Four For Spain
Hilton Worldwide has signed a franchise agreement with A. Hotels SA for its fourth DoubleTree by Hilton in Spain. The 116-room Alexandra Barcelona Hotel is to be converted to DoubleTree standards and will reopen at the beginning of 2014 as the Alexandra Barcelona – A DoubleTree by Hilton. The hotel, which will continue to be managed by family-owned hotel management group, Diagonal Hotels, will be Hilton's third hotel in the Catalan capital.
Want To Be Where Europe's Hotel Lenders and Investors Meet?
Then get yourself down to this year's Hotel Investment Conference Europe (Hot.E). The conference will take place on 24-25 September at the InterContinental London Park Lane, and registration is already up by nearly 50% on 2012. HVS London will be at Hot.E – Sophie Perret, director with the London office, will be chairing a discussion on France, Benelux and Switzerland. Hot.E sessions primarily focus on two things – the capital markets (debt and equity) and where the investment opportunities in Europe are today. For more information and to register to attend, visit www.europehotelconference.com.
Maritim Goes For A Dip In Mecklenburg
Maritim Hotels signed a management contract for a hotel in the Mecklenburg Lake District in northern Germany. As of the beginning of August, the former Hotel Hafendorf Rheinsberg, in the resort of Hafendorf Rheinsberg, is now operating as the Maritim Hafenhotel Rheinsberg. The 176-room property, which has its own private beach, is Maritim's 38th hotel in Germany.
Hard Rock To Start A Party In Ibiza
Hard Rock International has had a presence in Europe for 40 years and now has 32 Hard Rock Cafes here, but so far Europe has been lacking a Hard Rock hotel. Not for long though! This week the group announced that its first hotel in Europe is to be developed on the Spanish island of Ibiza. Once it has agreed a license agreement with Hard Rock, Spanish hotel owner and operator Palladium Hotel Group will take two of its hotels in the resort of Playa d'en Bossa, the 288-room Fiesta Club Don Toni and the 320-room Fiesta Hotel Don Toni, and turn them into the Hard Rock Hotel Ibiza, connecting the adjacent buildings via a central lobby. The Hard Rock Hotel Ibiza, which is expected to have more than 480 rooms, is scheduled to be ready by May 2014.
Gulf Hotels Group To Open A Hotel In Dubai
Bahrain-based Gulf Hotels Group has purchased a plot of land on Dubai Creek and has plans to construct a 240-room hotel on the site. This would mark the group's entry to the Dubai market. Gulf currently has two hotels in Bahrain and one on the African island of Zanzibar. The group plans to invest around BD50 million (US$131 million) in the project and hopes to open the five-star hotel within the next four years.
The Westcliff And Mr Smith To Join Four Seasons
Four Seasons Hotels and Resorts has signed a management agreement for its first property in South Africa. The 117-room Westcliff Hotel in Johannesburg, which was sold by Orient-Express in 2012 to a joint venture consisting of Dubai-based Albwardy Investment and Singapore-based Hotels Properties Ltd, closed last month for renovation and will reopen in the second quarter of 2014 as the Four Seasons Hotel Westcliff Johannesburg. Four Seasons also announced this week that the global search for its new president and chief executive officer is now over – Allen Smith will take up the position on 23 September. Smith previously worked at Prudential Real Estate Investors, which he joined in 1987 and has served as chief executive officer since 2008.
More Best Western For West Africa
Best Western International has added three new properties to its West African portfolio. In Nigeria, Best Western opened the 104-room Best Western Plus Ajuji Hotel, its first hotel in the capital, Abuja, and the 46-room Best Western Starfire Hotel in Lagos, on the country's southwest coast, which is its third hotel in Nigeria's most populous city. The 56-room Best Western Plus Atlantic Hotel opened as the group's second hotel in Ghana and its first in Takoradi, the smaller half of the twin city of Sekondi-Takoradi. Best Western also has another five hotels in the pipeline for the region, and aims to eventually have more than 1,300 rooms across West Africa.
Good First-Half Results For IHG
InterContinental Hotels Group (IHG) recorded a 7% rise in total revenue for the first half of 2013, from around US$8.7 billion to US$9.3 billion. Operating profit increased by 20% from US$2.8 billion to US$3.3 billion. The group's global RevPAR increased by 3.7% on the same period in 2012, and average rate grew by 1.9%. Although average rate for IHG's hotels in Europe fell by 0.5%, RevPAR for the region grew by 0.4%, with strong growth in key markets such as the UK, Germany and France with RevPAR rises of 1.6%, 1.1% and 4.0%, respectively. During the first six months of 2013, IHG opened 108 hotels (15,000 rooms) and signed a further 216 hotels (32,000 rooms).
Rises In RevPAR, Occupancy And Rate At Millennium & Copthorne
Millennium & Copthorne reported a fall in revenue and operating profit of 1.3% and 24.1%, respectively, for the first half of 2013, to £3.6 billion and £45 million. Millennium commented that this fall was due a combination of factors affecting the markets it operates in, such as subdued trends in Asia, and its refurbishment programme, which resulted in a net of 181,000 room nights removed from its inventory for the first half of the year. However, the group reported that European trading is steady and total RevPAR grew by 4.1% to £67.27, owing to increases of almost 1.0% and 3.0% in occupancy and average rate, respectively.
Strong Increase In Second-Quarter Net Income For Hyatt
For the second quarter of 2013, Hyatt Hotels achieved a strong rise in net income of 65% from US$39 million (US$0.24 per share) to US$112 million (US$0.70 per share). Adjusted EBITDA was US$212 million, an increase of 17.8% on the second quarter of 2012. "Our second quarter of 2013 reflected ongoing positive trends in transient demand at US hotels and strong average daily rate progression," said Hyatt's president and chief executive officer, Mark Hoplamazian. "Looking ahead, we remain focused on improving performance at existing hotels and expanding in new and attractive markets," he added.
Absolute Share Price Performance Over the Past Week – 1-8 August 2013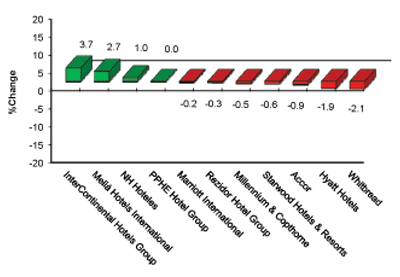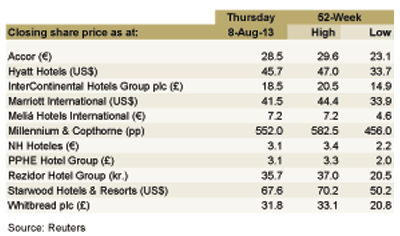 InterContinental Hotels Group (IHG) – Numis raised IHG to add.
NH Hoteles – NH rose 1.3% on weak volume.
Meliá Hotels International – Meliá hit a two-year high on average volume.
---
For the latest in the hospitality industry, please visit: http://www.hvs.com. You are also welcome to contact the following personnel.