Holiday Inn Express In Leeds Sold
Cannock Investments and Hetherley Developments have purchased the Holiday Inn Express Leeds City Centre Armouries, in the north England city of Leeds, from BDL Ventures for an undisclosed sum. The 130-room hotel will continue to operate under the Holiday Inn Express brand, but Chardon Management will take on the running of the purpose-built property, which is next to the Royal Armouries Museum at Clarence Dock, a short walk from the city centre.
Mercure Makes It A Trio In Catalonia
Accor's Mercure brand has opened three new hotels in Spain over the last couple of months and has another due to come online in autumn. The 102-room Mercure Augusta Barcelona Vallès and the 78-room Mercure Alberta Barcelona have become the brand's first hotels in Spain's autonomous Catalonia region, in the northeast of the country. The 94-room Mercure Atenea Ventura is busy preparing to accept its first guests this October on the Catalonian Costa Daurada, bringing Mercure's portfolio in the region up to three. In central Spain, the 58-room Mercure Cigarral El Bosque recently became the brand's first hotel in the city of Toledo.
Admiralty Arch Project Gets The Go-Ahead
After purchasing the leasehold of the iconic Admiralty Arch building near Trafalgar Square in London in October 2012 for £60 million, Prime Investors Capital has finally been granted planning permission by Westminster Council to transform the property into a 100-room, five-star hotel with residences and a private members' club. The renovation of the 100-year-old Grade II-listed building is now due to start next year and the hotel could be ready as soon as 2016.
Steigenberger Getting Ready To Open In Braunschweig
Just 16 months after the start of construction, the Steigenberger Parkhotel Braunschweig, with 116 guest rooms and 17 suites, is getting ready to open its doors on 26 August in the northwest German city of Braunschweig. A total of €28 million was invested in the hotel, which was developed by Hannover-based Bauwo Grundstücksgesellschaft mbH. The hotel, the first Steigenberger-branded property in Braunschweig, will be operated by Arcona Hotels & Resorts.
Europe's Hotel Lenders And Investors Are Meeting This September – See You There!
Autumn's on its way and along with a flurry of falling leaves it will also bring this year's Hotel Investment Conference Europe (Hot.E). Taking place at the InterContinental London Park Lane on 24-25 September, Hot.E is the place to be and it's filling up fast – registration is already up by more than 50% on last year. Focusing on the capital markets (debt and equity), the programme includes the Money Hall and Country Hall session tracks, which will each feature seven title-specific sessions over the two-day event. Sophie Perret, a director at HVS London, will be chairing a Country Hall session on France, Benelux and Switzerland. For more information and to register (before fees increase) visit www.europehotelconference.com.
Aloft To Make Its Debut In Ukraine
Starwood Hotels & Resorts is bringing its Aloft brand to Ukraine for the first time. The 320-room Aloft Kiev is due to open in 2015 in Kiev's central business district. Once completed, the hotel will be Starwood's first property in Kiev but its third in Ukraine overall: the group currently operates a 164-room Four Points by Sheraton hotel in the city of Zaporozhye, on the Dnieper River, in southeastern Ukraine, and the 112-room Hotel Bristol in the Black Sea port of Odessa is due to become part of Starwood's Luxury Collection in 2014.
New Aparthotel For Liverpool
A former department store in Liverpool city centre, northwest England, is on the cusp of a new lease of life. Property developer Gethar Ventures has applied for planning permission to transform the upper floors in the Church Street side of the building that once housed George Henry Lees into a 105-unit aparthotel with a restaurant on the top floor. Gethar plans to invest £15 million in the project. The Birmingham-based company is currently in the process of buying the leasehold in the upper floors of the building from its current owner, Grosvenor Developments, for an undisclosed sum. George Henry Lees operated in Liverpool for 155 years until it shut its doors for the last time in May 2008. The ground floor of the site is currently occupied by several retail outlets.
New Hotel For Rotana Resort in Abu Dhabi
Rotana's seafront resort in Abu Dhabi, Beach Rotana – Abu Dhabi, is to be expanded with the addition of a new hotel at the complex. The 300-room hotel is currently under construction and is expected to be ready by 2016. The existing hotel, with 600 rooms, suites and apartments, is currently undergoing a refurbishment, which will also be completed in 2016.
Albwardy Investments Acquires Two Developments In Addis Ababa
Dubai-based holding company Albwardy Investments has acquired two hotel developments in Addis Ababa, Ethiopia, for US$25 million. The two hotels are currently under construction at the junction of Africa Avenue and Jomo Kenyatta Street on Meskel Square. Albwardy reportedly plans to invest a further US$50 million in the seven- and six-storey buildings, and it is rumoured that it intends to merge them into a five-star Hyatt hotel. Albwardy recently purchased the 117-room Westcliff Hotel (to become the Four Seasons Hotel Westcliff Johannesburg in 2014) in Johannesburg, South Africa, as a joint venture with Singapore-based Hotels Properties Ltd.
Minor Moving Into Mozambique
Bangkok-based Minor Hotel Group and Dubai-based firm Rani Investment have formed a long-term strategic partnership. Rani owns high-end resorts across Africa, and the two groups have formed a joint-venture company for ownership of the Indigo Bay Resort & Spa in Mozambique. The 44-villa resort, on Bazaruto Island, 30 km off the east coast of Mozambique, is to be managed by Minor and is expected to be rebranded before the end of the year as the Anantara Bazaruto Island Resort & Spa. This is Minor's first property in the East African country, and it brings Minor's portfolio of properties across Asia, Australasia, the Middle East and Africa to 94. Minor and Rani are planning further joint developments across Africa, taking on more conversions and new-build developments.
JW Marriott In Tripoli To Reopen
It was reported this week that Marriott International plans to reopen its JW Marriott hotel in Libya. The 370-room JW Marriott Hotel Tripoli was forced to close just a few weeks after it opened in February 2011, after political unrest led to a civil war in the country. The 34-storey hotel has been undergoing extensive repair work and is expected to reopen in 2014.
Absolute Share Price Performance Over the Past Week – 15-22 August 2013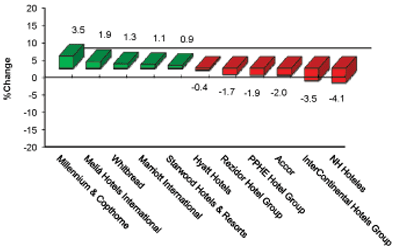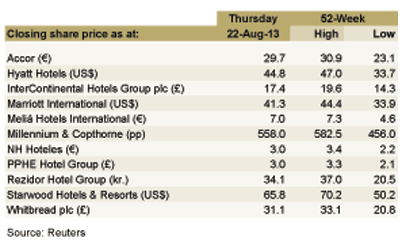 Meliá Hotels International – Meliá increased on average volume.
Whitbread – Whitbread rose 1.6% on high volatility.
NH Hoteles – NH decreased on high volume.
---
For the latest in the hospitality industry, please visit: http://www.hvs.com. You are also welcome to contact the following personnel.