Henderson Buys A Travelodge In King's Cross
Henderson Global Investors has acquired the freehold of the London Travelodge King's Cross Royal Scot Hotel for £54.1 million, a yield of 5.48%. The 408-room hotel, in London's city centre, is scheduled to undergo renovation in 2014, as part of Travelodge's £57 million investment in refreshing its 528 hotels.
Most Of The Metropolitan by COMO Sold
An unnamed UK-based investor has purchased a site in London that includes part of the Metropolitan by COMO hotel from London-based Canada Life Investments, the asset management arm of Canadian insurance company Canada Life. The freehold sale, reported to be in excess of the £40 million asking price, includes 102 of the hotel's 144 guest rooms, nine of the property's 19 serviced apartments, a Nobu restaurant (the first Nobu restaurant to open in Europe), the Met Bar and the Colony Club Casino. The 46-year-old property, near Park Lane and Hyde Park, previously operated as the Londonderry Hotel before it was rebranded in 1997 after an extensive refurbishment.
Hand Picked Hotels Picks Up A New Manor
UK group Hand Picked Hotels has bought a Grade I-listed manor house hotel from entrepreneur Simon Lowe for just under the £15 million asking price. The 58-room Fawsley Hall, in the village of Fawsley, in England's East Midlands region, can trace its history all the way back to the 7th century, when it started life as a royal manor. The sale brings Hand Picked Hotels' portfolio of privately owned country house hotels across the British Isles to 20.
Three Proposed Premier Inns Sold
The sales of three Premier Inn developments in the UK have recently completed. In London, two developments were sold on a forward commitment basis: Standard Life Investment sold a proposed 250-room Premier Inn at the Goodman's Fields mixed-use development in Aldgate (due to open in 2015) for £39 million, a net initial yield of 5.50%, and CBRE Global Investors sold a 90-room Premier Inn in the pipeline for Dalston, in northeast London, for £9 million, a net initial yield of 5.45%. Lastly, in Winchester, a 101-room Premier Inn under development was acquired by AXA Real Estate from Reef Estates in a forward funding sale for £9.2 million, a net initial yield of 5.45%.
Cowell Group Acquires Hilton's Garden Inn Luton
An overseas investor with the Cowell Group has recently acquired the Hilton Garden Inn Luton North, near London's Luton Airport, from a guide price of £8.5 million. The leasehold purchase represents a net initial yield of 10.10%. The 157-room, three-storey hotel open in 2008 as Hilton Worldwide's first Garden Inn property in the UK.
Sheraton Signed Up For Samsun…
Starwood Hotels & Resorts is expanding its presence in Turkey with its first hotel in the Black Sea port of Samsun, on Turkey's north coast. The group has signed an agreement with Tanriverdi Mensucat Sanayii AS for the Sheraton Samsun Hotel, which is expected to open at the end of 2014 with 200 rooms and 20 suites. With 29 storeys, the new-build hotel will be the tallest building in Samsun; it will also be the city's largest hotel and its first internationally branded five-star property. Starwood currently has 11 hotels either in operation or in development across Turkey, seven of which are under its Sheraton brand.
…And Due To Debut In Dohuk
Starwood already has three hotels in the pipeline for Iraq, all due to open in Erbil in 2015, and this week the group added hotel number four to that list. Starwood has signed an agreement with Mase Co LLC for the Sheraton Dohuk Hotel. The 202-room new-build hotel is due to open at the beginning of 2014 in the city of Dohuk, in northern Iraq, near the border with Turkey. The hotel will become the first Starwood property in Iraq for 20 years.
Finland Gets Its First Hotel Indigo…
InterContinental Hotels Group (IHG) has signed a franchise agreement with International Restel Hotel Ltd for its first Hotel Indigo in Finland. An existing building in Helsinki will be transformed into the 120-room Hotel Indigo Helsinki – Boulevard, which will open in 2015 as the first Indigo in the Nordics. IHG currently has eight hotels across Finland, all of which are operated by International Restel Hotel Ltd.
…And The World's Biggest Holiday Inn On Its Way To Mecca
This week, IHG also signed an agreement with Makkah Real Estate Company that will see it open the world's biggest Holiday Inn in 2016. The 1,238-room Holiday Inn Makkah is to be developed across two high-rise towers in the Al Aziziyah district of Mecca in Saudi Arabia.
Accor Appoints A New Chairman And CEO
Sébastien Bazin has been named as Accor's new chairman and chief executive officer. Sébastien comes to Accor from Colony Capital, which he joined in 1997. He takes over the chief executive role from Yann Caillére, who is now leaving the company after seven years at the helm. Accor also announced its results for the first six months of 2013 this week. The group achieved a like-for-like rise in revenue of 1.8% to €2,694 million. Operating profit fell like-for-like by 14.7% during the first half of 2013, but net profit was €34 million compared to a net loss of €532 million over the same period in 2012. Accor opened 77 hotels (9,940 rooms) during the first six months of the year, 51% of which were in Europe. The group has set a full-year EBIT target of €510-€530 million.
Absolute Share Price Performance Over the Past Week – 22-29 August 2013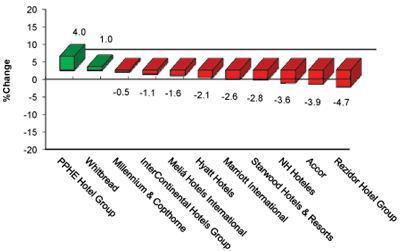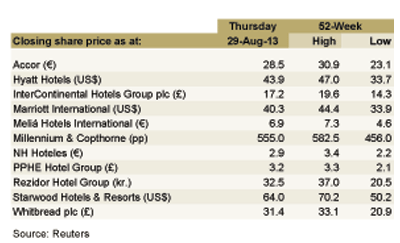 Accor – Citigoup upgraded Accor to "neutral" from "sell".
PPHE Hotel Group – The group said this week that strong demand for rooms at its London hotels helped offset tough conditions in Europe and boosted half-year revenue.
Whitbread – Whitbread lifted 2.3% on below-average volume.
---
For the latest in the hospitality industry, please visit: http://www.hvs.com. You are also welcome to contact the following personnel.