A New Owner For The Fota Island Resort
The sale of the Fota Island Resort in Cork, Ireland, has now completed for an estimated €20 million. Ireland's National Asset Management Agency (NAMA) has sold the 500 acre resort, next to Fota Wildlife Park, to Chinese investors and hoteliers, the Kang family, and the handover is expected to take place on 27 September. The resort, which includes a 131-room hotel, self-catering lodges and golf courses, was taken over by NAMA in 2010, when its previous owner, the Fleming Group, fell into receivership. The new owners plan to upgrade and refurbish the resort.
INTERNOS Completes An Acquisition In Vienna
INTERNOS Global Investors has acquired the Hilton Vienna Danube in Austria, for almost €52 million from Immofinanz Group. INTERNOS has purchased the 367-room hotel for its Hotel Real Estate Fund, and it is the seventh property it has acquired for the fund over the last 12 months. The four-star hotel, on the riverfront in Austria's capital, will continue to be operated by Hilton Worldwide under a long lease. "This latest acquisition, together with continued historically low interest rates, secured against very attractive returns and enhanced diversification, further reduce the porfolio's risk profile…and thus simultaneously enhanced the quality of the returns," said fund manager Jochen Schäfer-Suren from INTERNOS.
Hotel Eden On Its Way To Becoming Part Of The Dorchester Collection
It was reported this week that The Dorchester Collection is in negotiations to purchase the 121-room Hotel Eden in Rome, Italy, from Starman UK Services Co. for a rumoured €105 million. The deal could be finalised mid September, making the Eden, which is currently operated by Starwood, the collection's second hotel in Italy, alongside the 401-room Principe di Savoia in Milan. Once in the hands of its new owner, the hotel is expected to be extensively renovated and rebranded.
A Crowne Plaza For Lyon And A Holiday Inn For Diyarbakir
InterContinental Hotels Group (IHG) announced two new properties this week. In France, the group signed a franchise agreement with Societe des Cinq Soeurs Pochettino for its second hotel in the city of Lyon. An existing hotel in the city is to be rebranded as the 164-room Crowne Plaza Lyon – Cité Internationale and will open at the beginning of 2014. In Turkey, IHG signed a franchise agreement with BED Turzim Company for its 16th hotel in the country and its first in the city of Diyarbakir, in Turkey's southeastern Anatolia region. An existing building in the city is to be converted into the Holiday Inn Diyarbakir – City Centre. The 161-room hotel is scheduled to open in 2015.
Accor To Expand In Moscow With 700 Rooms
Accor has signed a long-term management agreement with Russian real estate group Patero Development that will see it open three hotels in a mixed-use complex adjacent to Kievsky Railway Station in Moscow. The 200-room Novotel Kievskaya, the 350-room ibis Kievskaya and the 150-unit Adagio Kievskaya are all expected to open at the end of 2015. Accor and Patero already have another such complex under construction in Moscow on Bakhrushina Street which will include a 153-room Mercure, a 190-room ibis and a 94-unit Adagio, all due to open at the end of the year.
Dolce Discovers Portugal
Dolce Hotels and Resorts has signed a management agreement with Discovery Portugal Real Estate Fund for a resort in southwest Portugal. CampoReal, just north of Lisbon in the Torres Vedras district, is now the 151-room Dolce CampoReal Lisbon, becoming Dolce's seventh hotel in Europe. The resort also has an 18-hole golf course, a spa and an equestrian centre.
YTL To Take On A Spa Hotel In Bath
YTL Hotels plans to open a hotel in the spa city of Bath, a UNESCO World Heritage Site, in southwest England. Three Grade III-listed buildings in the city are currently undergoing redevelopment and by spring 2014 they will have been transformed into the Gainsborough Bath Spa. The 99-room hotel will be the only hotel in the UK that has access to natural thermal waters. The hotel is YTL's second project in the UK. The group made its debut in the country with its group of private residences, Bray Cottages, in the village of Bray, southeast England.
Wyndham Takes A TRYP To The UAE
Wyndham Hotel Group has signed a management agreement with Omega I, a subsidiary of British-owned, Dubai-based development firm The First Group, for its first TRYP by Wyndham hotel in the Middle East. Construction has already started on the TRYP by Wyndham Dubai and it is expected to open in the emirate's Al Barsha South business district near the end of 2016. With 672 guest rooms, it will be the brand's largest hotel worldwide.
YOTEL On Its Way To Saudi Arabia
IFA Hotel Investments (IFA HI), the majority owner of pod-style hotel chain YOTEL, has signed an exclusive joint venture agreement with Jeddah-based Capitas Group International to bring YOTEL to Saudi Arabia. The agreement will see IFA HI invest in YOTEL properties developed by Capitas across the kingdom. As they come online, the hotels will be asset managed by IFA HI and operated by YOTEL. The first step the joint venture plans to take is to identify suitable locations for the brand in Jeddah, Riyadh, Mecca and Medina.
Israel's First Hotel Indigo Twinkles In Tel Aviv…
IHG has bought its Hotel Indigo brand to Israel for the first time. The Hotel Indigo Tel Aviv – Diamond District has opened in the city's Diamond Exchange District. The 91-room hotel has been designed with diamonds in mind, with many features inspired by the world's best loved gem. IHG now has six hotels in Tel Aviv overall and eight in Israel.
…And Staybridge Suites Arrives In Lebanon
IHG's Staybridge Suites brand has made its debut in Lebanon with the opening of the Staybridge Suites Beirut. The 121-unit property, within walking distance of the city's seafront promenade, is the group's seventh hotel in Lebanon overall. "This is the third Staybridge Suites hotel that we have opened in the Middle East and, based on the success of its sister properties, we are confident of its success in Beirut," said Pascal Gauvin, IHG's chief operating officer for the Middle East, India and Africa.
Muscat Gets A Grand Millennium
Millennium & Copthorne Hotels has signed an agreement with Shaza Muscat Co. for its second property in Oman. The group will manage and operate the Muscat Grand Millennium Hotel, which is due to open in Oman's capital by the end of 2014. A total of OMR28 million (US$72.5 million) is to be invested in the project, which will be Oman's first Sharia-compliant five-star property. The hotel is expected to have around 324 rooms.
Centara To Make Its Debut In Africa
Thailand-based Centara Hotels & Resorts has signed a management agreement with Yencomad Construction Plc for its first hotel in Africa. The Centara Grand Addis Ababa is currently under construction in Ethiopia's capital, in northeast Africa, and is due to open in December 2017 with at least 300 rooms. "We firmly believe that our track record as both an owner and management company places us in a very advantageous position for expansion in Africa, where there is enormous potential," commented Chris Bailey, Centara's senior vice president of sales and marketing.
Absolute Share Price Performance Over the Past Week – 29 August-5 September 2013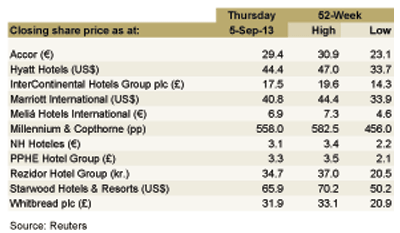 Accor – USB upgraded Accor to "buy".
NH Hoteles – NH rose on low volume.
InterContinental Hotels Group (IHG) – UBS upgraded IHG to "buy".
---
For the latest in the hospitality industry, please visit: http://www.hvs.com. You are also welcome to contact the following personnel.