Starwood Capital Selling Its Paris Concorde
It was reported in the French press this week that US-based private equity group Blackstone has agreed to purchase the Concorde Opéra Paris from global investment firm Starwood Capital for approximately €150 million. The 266-room hotel is the only asset remaining from a portfolio of luxury properties purchased by Starwood when it acquired Société Du Louvre in 2005. It was also reported this week that Blackstone-owned Hilton Worldwide has filed for an initial public offering of up to US$1 billion. The number of shares to be offered has not yet been revealed but Blackstone will retain a majority in the company.
A Novotel For Amsterdam Schiphol Airport
Amsterdam-based investment, development and management company The Vincent Hotel Group (TVHG) has recently acquired a plot of land near Amsterdam Schiphol Airport in Holland from Municipality of Haarlemmermeer (Schiphol) for an undisclosed sum. Via its partner, EFD Investment Partners Inc, TVHG intends to transform the site into a Novotel. Construction has already started on the 314-room Novotel Schiphol, and it is due to open in spring 2014. This is the ninth hotel conversion the group has undertaken in the country – it has previously created hotels for the Holiday Inn Express and Hampton by Hilton brands.
Louvre's Expansion To Bring Alpine Style To Its Tulip Inn Brand
Louvre Hotels Group has signed a strategic partnership agreement with German construction company ARCUS Baurrichtung GmbH and Austrian-based firm Redserve that will result in the construction of 26 new hotels across Germany, Austria and Switzerland by 2020 (with approximately three to five hotels opening each year). The hotels will mainly come under Louvre's three-star Tulip Inn brand. However, a sub-brand called Tulip Inn Alp Style will also be created, intended to capture the ambience and style of Alpine chalets. The first hotel under the partnership will open in northern Munich, Germany, during the fourth quarter of 2014.
Aberdeen Gets Scotland's First Village Urban Resort
UK-based De Vere Group has purchased a long-leasehold development site in the Scottish city of Aberdeen from Drum Property Group in order to develop its first Village Urban Resort in the country. The 148-room resort is scheduled to open in November 2014 in the Prime Four Business Park. De Vere currently has 25 Village Urban Resorts in operation across England and Wales. The resorts comprise a hotel with extensive spa, fitness and meeting and event facilities.
Hilton Heads To Georgia…
Hilton Worldwide has announced the development of two hotels in Georgia. The group will make its debut in the country with the Hilton Batumi, the product of a management agreement with Tourinvest Ltd. The 247-room hotel is expected to open in summer 2014 in the Black Sea port of Batumi. The hotel will share its site with a casino, health club and retail outlet, to which it will be linked directly via a walkway. Hilton's second hotel in Georgia will be in the capital, Tbilisi. The result of a management agreement with LTD Chavchavadze 64a, the 14-storey, 165-room Hilton Garden Inn Tbilisi Chavchavadze is scheduled to open in the city's financial district in 2016.
…And Hampton By Hilton Rocks Up In Russia
Hilton's Hampton by Hilton brand has made its first appearance in Russia with the opening of the 12-storey, 148-room Hampton by Hilton Voronezh in the city of Voronezh, in the west of the country. The hotel is Hilton's 21st Hampton property in Europe and its fifth hotel in Russia overall. It won't be Russia's only Hampton for long though as the brand will open two more hotels by the end of the year in Vologograd and Samara.
St. Regis Announced For Istanbul And Renaissance Opens In Izmir
Starwood Hotels & Resorts has signed an agreement with Turkish retail and investment company Demsa Group to bring Turkey its first St. Regis property. Overlooking Maçka Park and the Bosphorus, the newly built, 118-room St. Regis Istanbul is due to open during the first half of next year on the European side of Istanbul, in the city's Nisantasi neighbourhood. Also in Turkey this week, Marriott International opened its first Renaissance hotel in the country, increasing its Turkish portfolio to ten properties overall. The 110-room Renaissance Izmir is close to the seafront and city centre in Turkey's third-largest city, Izmir, in the country's western Aegean region.
Park Inn By Radisson On Its Way To St Petersburg And Manama
Carlson Rezdidor Hotel Group has announced the development of two new Park Inn by Radisson properties this week: the 200-room Park Inn by Radisson Pulkovo Airport is due to open in the first quarter of 2014 adjacent to Terminal 3 at Pulkovo Airport in St Petersburg, Russia, bringing Rezidor's Russian portfolio up to 42 hotels in operation or under development, and the 207-room Park Inn by Radisson Hotel Bahrain is expected to open near the waterfront in Manama, Bahrain, in the fourth quarter of 2015, as Rezidor's second hotel in the kingdom.
Scandic Expands With A New Brand
Scandic Hotels is in the process of launching a new sister chain called HTL. The streamlined concept is aimed at the new generation of digital and tech-savvy travellers and the group plans to have 20 HTL properties in operation across the major Nordic cities within five years. A total of SEK1 billion (US$157 million) is to be invested in the venture, and the chain will be run as a separate company to Scandic with its own board and chief executive officer, Joachim Högefjord. Two locations have already been sourced in Stockholm – A 275-room HTL, owned by AxFast, is scheduled to open on Kugsgatan in May 2014 and a second HTL is currently being constructed on Upplandsgatan, in partnership with AB Folkets Hus i Stockholm.
Generator Gets On A Gondola In Venice
Hostel group Generator has opened its first property in Italy in the north Italian city of Venice. The 36-room Generator Venice is housed in an old grain warehouse on the island of Guidecca. Generator's eighth property overall, it has become the first hostel to open within the Venetian archipelago.
Conrad Debuts In Dubai
After five years of construction, the 555-room Conrad Dubai has opened as the first of its brand in the UAE. The 58-storey hotel is the second Conrad in the MENA region, alongside the 617-room Conrad Cairo, in Egypt. However, the Hilton brand plans to make this duo a trio in 2015 with the opening of a Conrad hotel in Mecca, Saudi Arabia.
A Second Sofitel For Saudi Arabia
Accor's Sofitel brand is to make its second appearance in Saudi Arabia. The group has signed a management agreement with Al Tamiuz Hotels & Resorts for the Sofitel Jeddah. The 189-room hotel is expected to open next year on the city's Corniche, joining its sister property in Al Khobar. Saudi Arabia will get Sofitel number three in 2015, when a flagship property is scheduled to open in Riyadh.
Millennium Hotel Number Two For Kuwait
Millennium & Copthorne Hotels has signed a management agreement with Gulf Real Estate Development House Company KSC for its second property in Kuwait. The Millennium Hotel and Convention Centre Kuwait will have 307 rooms and is to be located in the Salmiya area of Kuwait City.
Anantara Opens On The Palm
Thailand-based luxury chain Anantara Hotels, Resorts & Spas has made its debut in Dubai this week with the opening of the 293-room Anantara Dubai Palm Jumeirah Resort & Spa on the emirate's man-made Palm Jumeirah development. On the Palm's eastern crescent, the resort, which is owned by Dubai-based holding company Seven Tides, has become the group's fifth hotel in the Middle East, alongside four Anantara properties in Abu Dhabi.
Swiss Hospitality Lands In Nigeria
Swiss International Hotels and Resorts has signed agreements for two hotels in Nigeria, West Africa, in Lagos and Port Harcourt. The Swiss International Westown-Lagos and the Swiss International Mabisel-Port Harcourt are both due to open on 1 October 2013 (with a combined 202 rooms) and will mark the group's entry into the West African market. The group currently has a number of other properties in the pipeline for the country. "Nigeria is a focus country for our business development," said Swiss International's chief executive officer and managing director, Henri Kennedie.
A Second Centara For Mauritius
In December 2013, a year after it made its debut on the island, Thailand-based Centara Hotels & Resorts plans to open its second property on Mauritius. The Centara Grand Azuri Resort & Spa Mauritius is part of the 400-acre, mixed-use Azuri complex on the island's northeast coast. As well the resort's hotel, Centara will also manage luxury residences at the complex under its five-star Centara Grand Residence & Suites brand.
Ethiopia Gets Its First Radisson Blu
Rezidor Hotel Group has made its debut in Ethiopia with the opening of the Radisson Blu Hotel, Addis Ababa. The 204-room hotel is at the heart of Ethiopia's capital, adjacent to United Nations Conference Centre. A total of more than ETB500 million (US$26 million) was invested in the development, which is the third internationally branded property to open in Ethiopia.
Absolute Share Price Performance Over the Past Week – 12-19 September 2013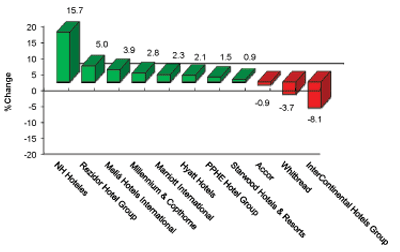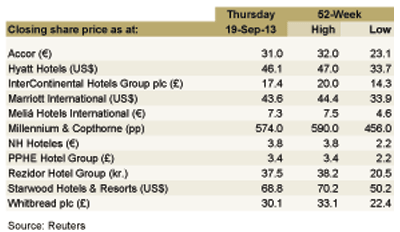 NH Hoteles – NH continues a significant uptrend.
Rezidor Hotel Group – Rezidor increased 8.0% on high volume.
Meliá Hotels International – Meliá climbed 4.4%.
---
For the latest in the hospitality industry, please visit: http://www.hvs.com. You are also welcome to contact the following personnel.