Featured in this HVS EMEA Hospitality Newsletter – Week Ending 27 September 2013
Interstate Buys Chardon Management
US-based Interstate Hotels & Resorts has purchased independent management company Chardon Management for an undisclosed sum. The deal sees Interstate take on the management of Glasgow-based Chardon's 32 hotels (3,414 rooms) across the UK, five of which operate under independent brands, whilst the rest are run as Holiday Inn Express, Holiday Inn, Hotel Indigo, Best Western, Choice or ibis Styles hotels. Interstate's UK portfolio has now grown to 47 hotels (either in operation or in the group's development pipeline). This is Interstate's second foray into the UK market this year following its acquisition of the management division of Liverpool-based hospitality development and ownership company Sanguine Hospitality in March.
Permak Picks Up A Venetian Island
Istanbul-based conglomerate Permak Group has purchased San Clemente Island in Venice, Italy. The sale of the 62,000 m² island includes the 205-room San Clemente Palace Resort. The five-star resort, at the heart of the Venetian Lagoon, is now closed as Permak is set to embark on a €25 million restoration of the hotel, whose buildings' date back to the mid 19th century, and add new leisure facilities, such a spa. According to Permak's deputy chairman, Emir Uya, the hotel is expected to reopen in 2014 and it will be operated by an international hotel chain.
IHG Expands Its London Portfolio…
InterContinental Hotels Group (IHG) has announced three new hotels for London this week. First came the InterContinental London The O2, the third of its brand in the city, which is scheduled to open in 2015, adjacent to the O2 arena on the Greenwich Peninsula. The 452-room hotel will be operated under a franchise agreement with Meridian Hotel Operations Ltd and will be managed by Arora Hotels. IHG then signed a franchise agreement with Cannon Corporate UK Ltd for the Crowne Plaza London – Albert Embankment, which will overlook the River Thames. The new-build hotel is expected to open in spring 2015 with more than 130 rooms. Last came the 75-room Holiday Inn Express London – Ealing; also due to open in spring 2015, in west London, this hotel is a product of a franchise agreement with Chart Forte Court (West Ealing) Ltd. IHG now has more than 50 hotels in and around London.
…And More Holiday Inns For England And Scotland
IHG has signed a franchise agreement with Chardon Trading for the Holiday Inn Express Edinburgh Airport in Scotland. When this 95-room hotel opens next spring, it will become the sixth hotel in the city to operate under a Holiday Inn brand. In the market town of Darlington, in northeast England, a franchise agreement with Dominvs Living Ltd resulted in the Holiday Inn Darlington North A1M, Jct. 59. This 80-room hotel is also scheduled to open in June next year and will be the town's second Holiday Inn.
Qbic On Its Way To London
Six years after it opened its pilot property in Amsterdam, the Netherlands, Qbic Hotels (part of Maastricht-based La Bergère Group) is bringing its creatively designed but budget-priced modular hotel concept to the UK's capital. The 171-room Qbic Hotel London City is due to open next month in the city's Spitalfields area. The group is planning further expansion of the brand and is on the lookout for empty office buildings ripe for conversion in regional cities such as Birmingham, Manchester and Glasgow. More Qbic hotels are also planned for London and mainland Europe.
Crowne Plaza Number Four For Dubai
IHG has signed an agreement with TAJ RP International Ltd, part of Bahrain-based RP Group of Companies, that will see it open its fourth Crowne Plaza in Dubai. The 280-room Crowne Plaza Dubai Marina is to be developed on a 3,037 m² site adjacent to Dubai Marina Mall. "As a brand that focuses on the needs of both the business and [the] leisure traveller, the up-and-coming Dubai Marina area is a fantastic urban location for this project," said Pascal Gauvin, IHG's chief operating officer for India, the Middle East and Africa. When it opens in 2016 the hotel will be the tenth Crowne Plaza overall in the United Arab Emirates.
Hakkasan Moving Into The Hotel Business
Hakkasan, a restaurant and nightclub group based in London, is set to launch itself into the hotel market. The group is planning to open a luxury resort on Dubai's man-made Palm Jumeirah development. Hakkasan, owned by Abu Dhabi-based investment company Tasameem, started with a Cantonese restaurant in the UK's capital; it expanded with several food and beverage concepts and now has outlets in India, the Middle East, the USA and the UK. The group's beachfront resort in Dubai will be located on the Palm's crescent and is to be developed by Hakkasan affiliate HKK Hospitality. "As we move forward with our plans for expansion, this project serves as a strategic step towards developing our brand across the globe," commented Neil Moffitt, chief executive officer of HKK Hospitality.
Nigeria To Get A Second Hilton
Hilton Worldwide plans to open its second Hilton Hotels & Resorts property in Nigeria, West Africa. The group has signed an agreement with Transcorp Hotels Ltd, its partner of 26 years in the country, for the 200-room Transcorp Hilton Lagos. The new-build hotel will be constructed in Lagos's Ikoyi district and is expected to open in mid 2016, joining its sister hotel in Abuja.
More Kempinskis For Africa
After making its first appearance in Kenya this year, Kempinski Hotels plans to continue its African expansion next year by opening five new properties on the continent. The 244-room Royal Maxim Palace Kempinski will become the luxury group's second hotel in Cairo and its third in Egypt overall early in 2014; the 269-room Kempinski Hotel Gold Coast City will open at the beginning of next year in Accra as Kempinski's first hotel in Ghana; and the 450-room Kempinski Hotel Oyala will mark its debut in Equatorial Guinea. Additionally, the group has put plans in motion to open its first hotels in Rwanda and the Democratic Republic of Congo by the end of 2014. "We will continue our development strategy throughout the continent over the next few years, partnering with key players in Africa to secure the best locations for our luxury properties," said Kempinski's chief executive officer, Reto Wittwer, at a recent press conference.
Absolute Share Price Performance Over the Past Week – 19-26 September 2013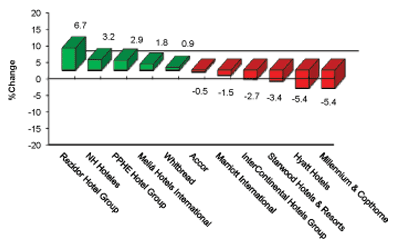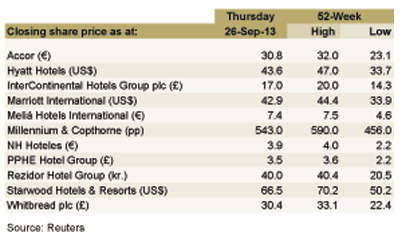 Millennium & Copthorne – Cut to "underperform" from "neutral" by Exane BNP Paribas.
Rezidor Hotel Group – Rebounded after hitting a low for the day.
NH Hoteles – Rose 1.2% on high volatility.
---
For the latest in the hospitality industry, please visit: http://www.hvs.com. You are also welcome to contact the following personnel.