Motel One Top Of The Sales
Union Investment has purchased its first hotel for its new fund, Hotel No. 1, which was set up this April. The group acquired the 469-room Motel One München-Deutsches Museum, in the south German city of Munich, for an undisclosed sum. Union Investment has commented that over the medium term the fund is expected to reach €250 million. The Munich property wasn't the only Motel One to gain a new owner this week: two hotels under construction have changed hands. LaSalle Investment Management struck a £25.5 million acquisition and funding deal for a 330-room hotel under construction near to Piccadilly Station in Manchester, northwest England. The hotel is expected to be completed by April 2015 and will be leased to Munich-based Motel One for 25 years. Additionally, Württemberg Property purchased a 533-room development at Vienna Central Station in Austria from development firm ECE for an undisclosed sum. Due to open in 2015, this hotel will also operate under a 25-year lease with Motel One.
Transactions In London
Other recent transactions include the purchase of the Grand Plaza Serviced Apartments in London. Residential Land sold the 198-unit property to the Malaysian Federal Land Development Authority for £98 million, and Royal London Asset Management has bought the 184-room Premier Inn London City Monument for an undisclosed sum. This 184-room hotel is currently being developed by Beltane Asset Management; it is expected to open later this year and will operate under a 35-year lease with Whitbread.
Wyndham Expands Its Alliance With Grand City Hotels And Gives Turkey Its First Ramada Encore
Wyndham Hotel Group has extended the strategic partnership agreement it signed with German hotel management company Grand City Hotels in February this year by a further 17 hotels, bringing the partnership's portfolio up to 60 hotels (7,500 rooms) across Germany, Belgium, the Netherlands and Austria. The 17 hotels signed this week will add more than 2,300 Wyndham-branded rooms across Germany and Austria, including a Wyndham Grand for Salzburg, marking Wyndham Hotels and Resorts' debut in Austria. Wyndham has also opened its first Ramada Encore property for Turkey. The first of 30 Ramada Encores to be developed in the country over the next decade, as part of an exclusive agreement with Turkish group, Ever Turizm Insaat Pazarlama Ticaret AS, the 168-room Ramada Encore Izmir is now in operation just seven miles from Izmir city centre, in western Turkey.
Autograph Collection Enters Ireland And DoubleTree Doubles Its Portfolio In Dublin
Marriott International's Autograph Collection made its first appearance in Ireland when the Powerscourt Hotel, near the village of Enniskerry in County Wicklow, became part of the Collection's family of independent hotels this week. Brehon Capital Partners and Midwest Holding purchased the former Ritz-Carlton property earlier this year in March. The 200-room hotel is operated by US-based Interstate Hotels & Resorts and is Autograph's 16th hotel in Europe. Hilton Worldwide opened its second DoubleTree property in Dublin this week. Following its purchase by Blackstone Group in November last year, the 501-room Burlington Hotel has been rebranded as the DoubleTree by Hilton Dublin – Burlington Road. A €16 million renovation of the hotel is underway in order to bring it in line with DoubleTree standards.
EDITION Makes Its Mark On The London Scene
After an extensive renovation and a redesign by award-winning hotelier, entrepreneur and real estate developer Ian Schrager, the former Berners Hotel in London's up-market Fitzrovia is now busy trading as the London EDITION after recently reopening in the UK capital with 173 rooms, three restaurants and bars, a private dining room and a state-of-the art fitness centre. Edition is Marriott's new luxury lifestyle brand and the London property is the second property to open worldwide.
A New InterCityHotel Opens In Berlin
Steigenberger Hotel Group now has a trio of InterCityHotels in Berlin, Germany. The 412-room InterCityHotel Berlin Hauptbahnhof opened opposite Berlin Central Station at the beginning of October in the city's Europa City district. A total of €53 million was invested in the eight-storey hotel. Steigenberger's chief executive officer, Puneet Chhatwal, commented that the hotel, "strongly underlines our commitment to Berlin as well as setting a new yardstick by assuming a pioneering role in the upper mid-range segment."
A New Brand For London's Horseguards Hotel
Just over three months since Guoman Hotels (the London subsidiary of Singapore-based GuocoLeisure Ltd) rebranded as glh, the group has announced the launch of its new luxury brand, Clermont. A total of £2.1 billion is to be invested in the development of three Clermont properties, £30 million of which will go towards the renovation of glh's Royal Horseguards Hotel in London, which will emerge from its transformation in 2014 as the Clermont London. The other two Clermonts will be in Singapore and Kuala Lumpur. The five-star Horseguards hotel, on the north bank of the River Thames near the Houses of Parliament, will take on its third brand in five years, after operating under glh's Thistle brand until 2009 and then sporting the Guoman name.
Construction Starts On Foremost Hospitality's First Double Hotel Project
Foremost Hospitality's dual hotel project in Nuremberg, Germany, is well underway after the foundation stone was laid mid September, heralding the start of construction. By autumn 2014, the site will house a brand new 124-room Holiday Inn Express and an 80-room Hampton by Hilton, and the hotels will fling open their doors to the world and welcome their first guests. A total of around €20 million is being invested in this project by real estate investor and developer GBI AG.
Wyndham Sows The Seeds For A Hawthorn In Dubai
Wyndham Hotel Group announced this week that it is introducing its extended stay Hawthorn Suites by Wyndham brand to the Middle East. The group has signed an agreement with R Hotels for the 188-room Hawthorn Suites by Wyndham Dubai, which will be part of the waterfront Jumeirah Beach Residence development in the emirate of Dubai. "We are seeing increased demand for hotel products which allow guests to maintain their routines with a home away from home," commented Rui Barros, Wyndham's senior vice president and managing director for Europe, the Middle East and Africa. "Hawthorn Suites by Wyndham caters perfectly to this audience, while also providing the additional space and flexibility required by many families travelling to Dubai from across the Gulf," he continued.
An Oásis Opens On Sal Island
Oásis Atlântico Hotels & Resorts has recently opened its fourth property in Cape Verde, off the coast of West Africa. The 338-room Atlântico Salinas Sea Resort, at the resort of Santa Maria on Sal Island, is the group's first five-star property on the archipelago. Oásis invested €30 million in the project.
Warwick To Widen Its Network In Sub-Saharan Africa
In order to expand the Warwick International brand throughout Sub-Saharan Africa, Warwick International Hotels Group and its African affiliation partner Recreation Africa Group have got together to form a joint venture company called Warwick International Hotels Africa Ltd, which will be based in South Africa. Commenting on the joint venture, Warwick's director of group development, Jean-Francois Garnier said, "Recreation Africa Group has the contacts and knows the issues of doing business on the continent. Together, through Warwick International Hotels Africa Ltd, we will build a network of hotels under management contracts to meet a considerably growing demand in terms of high-level hotels in Africa." Warwick currently has more than 50 four- and five-star hotels across five continents, including five affiliate hotels in Africa.
Mangalis To Bring New Brands To Africa
Mangalis Management Group, the management arm of Barcelona-based Inaugure Hospitality Group, has launched four new brands and intends to invest €315 million in developing 15 new hotels under these brands across 13 countries in Africa. Seen and Seen+ are the group's budget brands and Noom Hotels and Noom Résidences will operate in the upper midscale segment. In addition to its 15 hotel developments on the continent, Mangalis also announced that it will add a further 25 properties to its African portfolio by 2017 via management contracts.
Absolute Share Price Performance Over the Past Week – 26 September-3 October 2013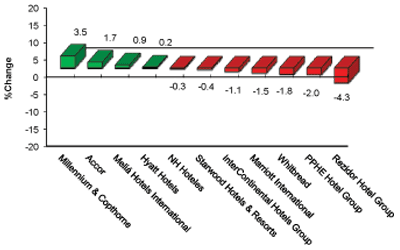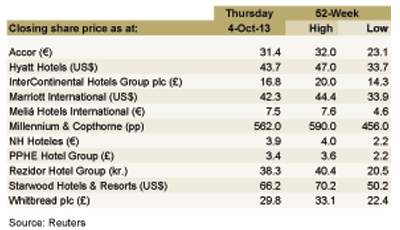 Accor – Natixis gave a "buy" rating and raised the price target to €37 from €32.
Meliá Hotels International – Hit a year-high for the tenth time in three months.
Starwood Hotels & Resorts – JP Morgan reaffirmed its "overweight" rating and raised the price target to US$78.
---
For the latest in the hospitality industry, please visit: http://www.hvs.com. You are also welcome to contact the following personnel.