Union Investment Acquires The Angelo Hotel In Munich
Frankfurt-based Union Investment has bought the angelo Hotel Munich Westpark in Munich, southeast Germany, for its Unilnstitutional German Real Estate Fund, marking the fund's first hotel investment. The group purchased the six- storey, 207-room hotel from UBM Realitätenentwicklung (Austria) for an undisclosed sum, rumoured to be close to €50 million.
Pestana Picks Up The Hotel Arena In Barcelona
Portuguese tourism and leisure company Pestana Group recently purchased the four-star Hotel Arena in Barcelona, Spain, for a reported €15 million. The 84-room, city centre hotel has been rebranded as the Pestana Arena Barcelona, becoming the group's first hotel in Spain and the 15th destination in its portfolio.
IHG Signs Its Sixth Multi-Development Agreement In Germany
InterContinental Hotels Group (IHG) has got together with Bierwirth & Kluth Hotelmanagement GmbH to form a multi-development franchise agreement that will result in the creation of five new IHG hotels across Germany. The five hotels will operate under IHG's Hotel Indigo, Crowne Plaza, Holiday Inn and Holiday Inn Express brands. The first signing under the agreement is the 297-room Holiday Inn Hamburg – City Nord, a new-build hotel due to open in the third quarter of 2016 in Hamburg, northwest Germany. The agreement is the sixth such multiple development agreement IHG has signed for Germany. The group currently has 61 hotels in operation across Germany, but aims to double this figure by 2020.
A Second Cityhotel For Vienna
Vienna-based Falkensteiner Michaeler Tourism Group (FMTG) recently opened its 14th property in Austria. The 195-room Falkensteiner Hotel Wien Margareten in Vienna is FMTG's second hotel in the city to open as part of its Cityhotel collection. The group's hotel management division, Falkensteiner Hotels & Residences, currently operates a total of 34 hotels and residences across six European countries.
A Triple Helping Of Hampton In Poland…
Hilton Worldwide announced the opening of its third Hampton by Hilton hotel in Poland this week. The 116-room Hampton Gdansk Airport is 200 m from Lech Walesa Airport in the Baltic Sea port of Gdansk, on Poland's north coast. After making its debut in the country in 2007, Hilton currently has eight hotels overall in Poland under four different brands.
…And A DoubleTree Debut In Portugal
Hilton's DoubleTree brand has made its debut in Portugal: the former Fontana Park Hotel in Portugal's capital has opened as the DoubleTree by Hilton Lisbon – Fontana Park. The 139-room hotel, in Lisbon's Saldanha area, has increased Hilton's Portuguese portfolio to three properties across three brands.
A New Generator In The Middle Of Berlin
London-based hostel group Generator is celebrating its third opening this year with the launch of the Generator Berlin Mitte – the group's second property in Berlin, Germany, and its eighth hostel overall. The hostel is housed in a converted 1920s building, which provided a unique feature for the property; the discovery of a heart-shaped window frame in the original building during construction led to the creation of the world's first hostel honeymoon suite! Generator now has a presence in seven European cities.
More Than A Lick Of Paint For The Lanesborough
The Lanesborough, one of London's iconic five-star hotels, is to shut its doors for nine months at the end of the year to undergo its first major renovation since it opened 22 years ago. The hotel's site housed a hospital from the mid 1700s until the 1970s, when the premises were left vacant. Rosewood Hotels & Resorts brought the building back to life as a hotel in 1991, and the property is now managed by Starwood Hotels & Resorts' St. Regis brand. Photographer and designer Alberto Pinto finished the designs for the renovated hotel shortly before he sadly passed away in 2012; his enhancements to the hotel's guest rooms and public areas will become his last work.
Two New Hotels For Saudi Arabia And Radisson Blu Reopens In Kuwait
Carlson Rezidor Hotel Group has announced the development of two new hotels in Saudi Arabia. The 142-room Radisson Blu Hotel, Jeddah Al Salamah is scheduled to open first in the second quarter of 2015 in Jeddah, on western Saudi Arabia's Red Sea coast, followed by the 170-room Park Inn by Radisson Riyadh, which is expected to open during the first quarter of 2016 on Al Asha Street in Riyadh, the country's capital and largest city. Rezidor operates six hotels (more than 1,200 rooms) across Saudi Arabia, and now has a further nine (1,700 rooms) under development. Additional Rezidor news this week includes the reopening of the Radisson Blu Hotel Kuwait. The first Radisson Blu hotel to open outside of Scandinavia, the 191-room property recently emerged, transformed structurally and decoratively, from a three-year KWD15 million (US$52.9 million) renovation.
It's All About ME Says Dubai
Meliá Hotels International is to open its first ME hotel in the Middle East. The ME by Meliá Dubai is to be part of the 23-storey, mixed-use Opus building, currently being developed in the emirate by Dubai-based real estate company Omniyat and designed by award-winning architect Zaha Hadid. The 100-room hotel is expected to open in 2016, and will cover 250,000 ft² of the 95-metre-high building.
Hyatt Continues To Expand In Africa
Hyatt Hotels Corporation is to bring three new hotels to Africa. An affiliate of the group signed a management agreement with Lacoste & Cie SA for the Hyatt Dakar in Senegal. The 140-room hotel is scheduled to open in Senegal's capital in 2016 as Hyatt's first property in the West African country. Over in Tanzania, a Hyatt affiliate signed a management agreement with ASB Holdings Ltd for two hotels, which will bring the group's portfolio in the country up to three. The Park Hyatt Zanzibar is expected to open before the end of January 2014 on the island of Zanzibar. The 72-room hotel is being developed in Stone City, a UNESCO World Heritage site in the island's capital, Zanzibar City. The 144-room Hyatt Regency Arusha, which is being constructed on a 29-acre site in the city of Arusha, northern Tanzania, is due to open in 2016. Hyatt currently operates six hotels across Africa.
Tsogo Brings More Sun To South Africa
Tsogo Sun is to rename its budget Formula 1 chain as SUN1. The group acquired the remaining 53% share in the chain from Accor in spring 2012 and now wants to make it instantly recognisable as part of the Tsogo Sun family. In addition to a new brand name, the 21 hotels (1,530 rooms) across South Africa will also benefit from a ZAR135 million (US$13.5 million) upgrade and renovation. Another of Tsogo Sun's hotels in South Africa is being given a refurbishment. A total of ZAR60 million (US$6 million) is being invested in the Palazzo, Montecasino in Johannesburg. All of the hotel's 246 guest rooms are to be refreshed and a new meeting and function venue will be constructed. The work started at the end of September and is likely to be finished during the first half of 2014.
Absolute Share Price Performance Over the Past Week – 3-10 October 2013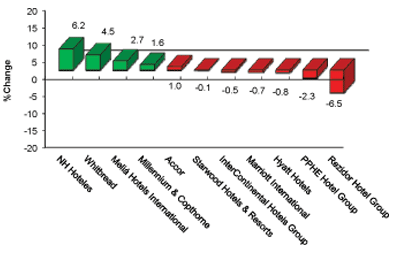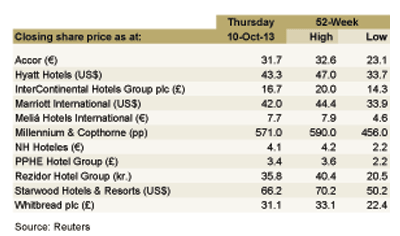 Whitbread – Citigroup upgraded to "buy" from "neutral" and raised target price to 3,570p from 2,900p.
NH Hoteles – Hit a two-year high on firm volume.
Accor – Citigroup upgraded to "buy" from "neutral".
---
For the latest in the hospitality industry, please visit: http://www.hvs.com. You are also welcome to contact the following personnel.