Invesco Real Estate Purchases Amsterdam's Park Hotel
Invesco Real Estate (IRE) has purchased the 189-room Park Hotel in Amsterdam city centre, the Netherlands, from Grand City Hotels & Resorts for an undisclosed sum. The four-star hotel was acquired for the group's second dedicated hotel fund on a sale-and-leaseback basis; Grand City will continue to operate the property under its current name. "The transaction fits the existing fund strategy well with its focus on fundamentals, being a quality mid-market hotel, good investment lot size, strategic location and stable income, as well as providing diversification to the portfolio in terms of market and brand," said Erik Jacobs, associate director with IRE and an HVS alumnus. "We believe the timing was optimal to acquire such a high quality asset at the low-end of the trading cycle, in a strong marketplace," he added.
Sandman's Second Hotel In The UK
Sandman Hotel Group has acquired the Ramada Plaza London Gatwick for a price reported to be well in excess of the £4.9 million guide price. The Canadian group now plans to refurbish the 151-room hotel, just three miles from Gatwick Airport, and it will become part of the Sandman Signature brand. The hotel has become Sandman's second property in the UK; the group purchased the former Newcastle Brewery site in northeast England two years ago and transformed it into the 170-room Sandman Signature Hotel Newcastle.
More Sales
A hotel has changes hands in the west German city of Düsseldorf: TMW Pramerica, a subsidiary of Pramerica Real Estate Investors, has reportedly sold the 201-room Meliá Düsseldorf for more than €35 million. The hotel is rumoured to have been purchased by a buyer from a group of open-ended funds/Spezialfonds. Additionally, two months after it sold the 16-storey, 198-room Hotel Hvide Hus in the Danish seaside town of Køge, Helnan International Hotels has reportedly sold the Helnan Aarslev Hotel in Aarhus, Denmark's second largest city, in a bid to improve its finances.
Rosewood Returns To London
After undergoing an £85 million renovation, the former Renaissance Chancery Court hotel in London has reopened as the 306-room Rosewood London, marking Rosewood Hotels & Resorts return to the UK capital (the Dallas-based luxury hotel group previously managed London's Lanesborough hotel before it was rebranded under Starwood Hotels & Resorts' St. Regis flag). The hotel's Grade II-listed building is almost a century old and was once the headquarters of Pearl Assurance Company.
You Say Goodbye And I Say Hello
As Scandic's current chief executive officer, Anders Ehrling is set to move on to pastures new, the Stockholm based-group is getting ready to say "welcome back" to former chief exec. Frank Fiskers. Frank previously held the role from 2007 to 2010 and will be returning to Scandic from his recent stint as chief exec. for the Swedish Cooperative Union (KF). Anders will be taking up the chief exec. position at Braathens Aviation. Commenting on the news, Scandic's chairman, Vagn Sörenson, said, "Anders Ehrling has done a great job over the last couple of years and now Frank Fiskers will drive the business forward."
Pullman Sets Up House In Brussels Railway Station
Accor's Pullman brand opened its first hotel in Belgium this week. The 237-room Pullman Brussels Midi was constructed at the heart of Brussels' Gare du Midi railway station and it is the brand's 80th Pullman property to open its doors. It certainly won't be the last, however; Christophe Vanswieten, chief operating officer at Pullman Europe, commented that the hotel "reflects Pullman's drive to set up emblematic upscale hotels in the world's prime tourist destinations and capital cities." He added, "We still see potential for growth in Europe in capitals like Amsterdam and Istanbul as well as in secondary cities through which we will strengthen our networks in some countries, for example the United Kingdom."
Steigenberger Docks In Bremen
Steigenberger Hotels and Resorts has made its debut in the port of Bremen, in northwest Germany. The 137-room Steigenberger Hotel Bremen has been designed to reflect its surroundings, along the banks of the Weser River – with textures and features traditionally found at dockyards mixed with chic, modern furniture. All of the hotel's guest rooms have views of the river.
Institute Of Hospitality To Bring A Wealth Of Hotel Expertise To The World Travel Market
The Institute of Hospitality has organised two outstanding hotel seminars for this year's World Travel Market, which is due to take place on 4-7 November 2013 at London's Excel venue. On Tuesday 5 November The HR Challenge in Emerging Markets seminar will focus on the breathtaking speed of hotel development in growing markets and how this means well-trained managers are increasingly in demand. There are three speakers already confirmed for the event: Professor Peter A Jones MBE FIH, an international hospitality educator; Roshan R Perera FIH, general manager at Union Resorts Ltd/Union Resorts & Spas (Pvt) Ltd, Sri Lanka; and Peter Ducker FIH, chief executive of the Institute of Hospitality. On Wednesday 6 November is the Investment & Finance panel, which will investigate strategies that investors and owners can use now to stay ahead of the game. Sir David Michels FIH, president of the Institute of Hospitality, will be speaking at this session, drawing on his more than 40 years of experience in the industry. Joining Sir David are Arthur de Haast FIH, chairman of Hotels and Hospitality; Russell Kett FIH, chairman of HVS London, who will moderate the session; and Peter Ducker FIH. For more information visit www.wtmlondon.com.
Algeria To Get A Radisson Blu
Carlson Rezidor Hotel Group is to make its first appearance in Algeria, North Africa. The group has signed an agreement for the Radisson Blu Hotel, Algiers Hydra, which is expected to open during the first quarter of 2015 in the commune of Hydra, an area of the Algerian capital that houses many foreign embassies and government ministries. The foundations have already been laid for the 138-room hotel.
Whitbread Reports A Strong Rise In Sales
Whitbread recorded a total increase in sales of 12.4% for the 24 weeks to 15 August 2013. Over the same period, the group's Premier Inn hotel chain grew sales by 12.1%, achieving an overall rise in RevPAR of 2.3% and an increase in room nights sold of 10.7%, to 7.2 million. A particularly strong performance was registered by the group's London hotels, with a rise in sales of 16.1% and RevPAR growth of 3.1%. Growth was also seen in the UK regions, however, with a 10.4% increase in sales and a 2.5% jump in RevPAR. So far this year, Whitbread has added 1,270 new rooms (11 hotels) to its portfolio. "We are on track with our annual plan and our ambitious five-year growth milestones," said Andy Harrison, Whitbread's chief executive.
Accor Releases Its Third-Quarter Results
Accor reported a 2.0% fall in revenue from its hotel business for the third quarter of 2013, from €1.438 million in 2012 to €1.410 million, although on a like-for-like basis, revenue rose by 3.8%. The group reported that some of the factors influencing its third-quarter revenue results are expansion, which added revenue, and changes in the scope of consolidation and the highly negative €54 million currency effect, mainly due to a decline in the Australian dollar, Brazillian real and British pound against the euro, both of which caused a fall in revenue. During the third quarter of 2013, Accor opened 4,160 rooms (36 hotels) and this figure for the first nine months of the year is 14,100 rooms, 82% of which were under asset-light structures and 52% were in emerging markets. Accor has confirmed its full-year EBIT target of €510-€530 million.
Absolute Share Price Performance Over the Past Week – 10-17 October 2013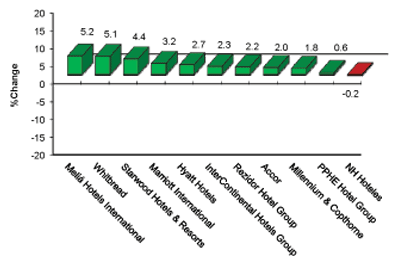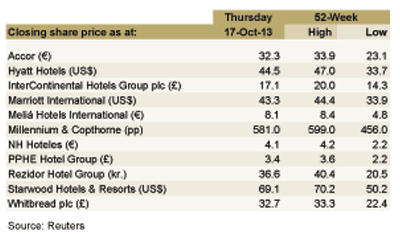 Hyatt Hotels – Upgraded to "buy" from "neutral" by ISI Group and given a share price target of US$50.
Whitbread – Share price rose by 96p as Citigroup lifted its recommendations on the stocks.
Starwood Hotels & Resorts – Goldman Sachs maintained its "neutral" rating.
---
For the latest in the hospitality industry, please visit: http://www.hvs.com. You are also welcome to contact the following personnel.