Featured in this HVS EMEA Hospitality Newsletter – Week Ending 25 October 2013
Rezidor Assembles Two New Hotels In Moscow
Carlson Rezidor Hotel Group has announced plans to open two new-build properties in Moscow, Russia. The 400-room Radisson Congress Hotel Moscow (which will also comprise a 13,123 ft² conference centre) and the 600-room Park Inn by Radisson Hotel Moscow will be constructed adjacent to each other on the grounds of the All-Russian Exhibition Centre. Both hotels are expected to open in 2016 and are being developed by LLC Renaissance of VVC. "These signings bring our portfolio in greater Moscow to 11 hotels with 3,700 rooms in operation and under development," said Rezidor's president and chief executive officer, Wolfgang M Neumann. "The Radisson Congress Hotel will have the largest conference facilities of any internationally branded hotel in Moscow," he added.
First Came Clermont, Now Amba Arrives
Just weeks after glh broke the news that the 282-room Royal Horseguards Hotel in London will be the first property to fly the flag of its new five-star Clermont brand, this week the group released details about its newly created four-star brand, Amba. Glh will first launch Amba in the UK by rebranding its other four hotels in London – £70 million is to be invested in extensive refurbishments of the hotels at Marble Arch, Tower Bridge, Charing Cross and Buckingham Palace Road, which will be the first Amba to open in June 2014. Initially, 30 cities in the UK are earmarked for Amba properties, but glh intends to expand the brand across Europe (with 2,099 rooms by 2015), the USA and China.
IHG Signs Three For Russia And The CIS
InterContinental Hotels Group (IHG) has signed three new hotels for Russia and the CIS region. The 145-room, new-build Holiday Inn Express Naberezhnye-Chelny is due to open in the second quarter of 2015 in northeast Russia, in the city of Naberzhnye Chelny on the Kama River. The hotel, which will be the first internationally branded hotel in the area, is part of the multiple franchise development agreement IHG signed with Regional Hotel Chain in March 2013, which will result in the construction of 15 new hotels across Russia by 2019. The 115-room Staybridge Suites Baku, in Azerbaijan, is the result of a franchise agreement with Asnaf Alkon Group. This new-build hotel will become the first branded extended stay property in Baku. The Holiday Inn Express Samara will open at the end of 2015 under a franchise agreement with Rosa Mira Group. An existing office building in Russia's sixth largest city is to be transformed into the 145-room hotel.
Mallorca's Sheraton Shines Once More
Starwood Hotels & Resorts has reopened its Sheraton hotel on the Spanish island of Mallorca. The 93-room Sheraton Mallorca Arabella Golf Hotel recently opened its doors once more after closing for a nine-month multimillion euro renovation and refurbishment, as part of a US$6 billion investment in refreshing the brand. Starwood operates six Sheraton hotels in Spain and 17 hotels in total across the country.
Could It Be A DoubleTree For Birmingham?
Hilton Worldwide is rumoured to have signed a deal that will see it open a 160-room DoubleTree hotel in Birmingham, in England's East Midlands region. The Grand Hotel, in the city's central business district, has lain derelict for 11 years after closing due to financial difficulties and a lack of investment to maintain the building. Back in April 2012, the owner of the 134-year-old Grade II-listed building, independent property firm Hortons' Estate Ltd, received planning permission for a £30 million refurbishment that will transform the property back to its former glory, including a £3.5 million restoration of the historic façade. Work started in October 2013 and the hotel is due to open next summer. Hilton currently has three hotels in Birmingham.
Shaza On Its Way To Jordan
Dubai-based Shaza Hotels is to make its debut in Jordan. The group has signed an agreement for the Shaza Amman, which is due to open in the second quarter of 2014. The 203-room hotel will be part of a mixed-use complex, including a shopping centre and an office tower. Shaza now has ten hotels either in operation or under development across the Middle East, Africa and Europe.
Rezidor Reports Its Half-Year Results
Rezidor Hotel Group achieved a marginal increase in revenue of 0.06% for the first nine months of 2013, to €683.5 million. The group's revenue was negatively affected by the exit of nine leased hotels at the end of 2012 and the strengthening of the euro against other currencies. Like-for-like RevPAR rose by 5.9% during the first half of the year, and EBITDA was €54.9 million and the EBITDA margin increased from 5.2% to 8.0%. From January to September, a total of 4,300 rooms were signed and 2,300 new rooms opened.
A Rise In Net Income For Starwood
Starwood Hotels & Resorts reported revenue of approximately US$1.19 billion for year-to-September 2013, a fall of 6.6% on the same period last year. Net income, however, rose by approximately 21.0% from US$420 million (US$2.14 per share) to US$507 million (US$2.61 per share). The group's systemwide and worldwide hotels achieved an increase in RevPAR of 4.2% for the first nine months of 2013, to US$118.86. Average rate and occupancy rose by 2.4% and 1.1%, respectively. Adjusted EBITDA was US$949 million, a rise of 6.0% on 2012. By year-end 2013, Adjusted EBITDA is expected to be around US$1.135 billion to US$1.140 billion.
Absolute Share Price Performance Over the Past Week – 17-24 October 2013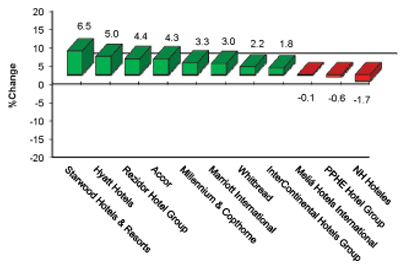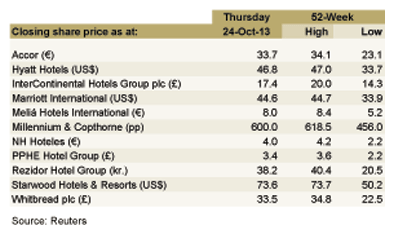 Whitbread – Given a "sell" rating by analysts at Pammure Gordon.
Meliá Hotels International – Traded at a 28-month high during the week.
NH Hoteles – Decreased 0.8% on weak volume.
---
For the latest in the hospitality industry, please visit: http://www.hvs.com. You are also welcome to contact the following personnel.