A Tale Of Sales In Ireland…
Switzerland-based privately owned investment house BSQ Investments has purchased the Citywest Hotel in Dublin, Ireland, from receivers for approximately €30 million. The four-star hotel, which also includes a conference and event centre, is to be managed by London-based asset managers Michels & Taylor. With more than 774 guest rooms, the property is thought to be Ireland's largest hotel. Also in Dublin, two Clarion hotels that were put on the market by receivers in June have now been sold. The 165-room Clarion Hotel IFSC Dublin City was purchased by Patron Capital Partners, which teamed up with hotelier Paul Fitzpatrick for the €33 million deal, and the Dublin Airport Authority picked up the 247-room Clarion Hotel Dublin Airport for around €13 million.
…England…
Two hotels in the medieval city of York, northeast England, have recently undergone a change of ownership. Algonquin bought the 91-room Ibis York Centre, which was on the market with a guide price of £6 million, and the 200-room Park Inn York was sold to an undisclosed buyer from a guide price of £18 million. Additionally, in southeast England, Galleon Hotels acquired the 50-room Olde Belle in Berkshire from BDO off a guide price of £10 million, bringing Galleon's portfolio of owned hotels in southern England up to four.
…And Wales
It was reported this week that back in August, in the midst of this year's scorching summer, the 138-room Novotel Cardiff Centre in Wales was acquired by the Greater Manchester Pension Fund for £12.3 million, an initial yield of 6.3%. The four-star hotel, close to the Welsh capital's Millennium Stadium, is let to French group Accor.
Amazing Grace, Announced St Moritz
Grace Hotels has bought the La Margna hotel in the resort of St Moritz, Switzerland, from the Schweizer-Pistch family, who have owned and operated the 107-year-old hotel for the past 50 years, for an undisclosed sum. The hotel is to remain open and will trade as La Margna until the end of the 2013/14 ski season; Grace then plans undertake an extensive renovation of the property during 2014 and will reopen it near the end of next year as the 36-room Grace St Moritz. The privately owned luxury hotel group currently has two Grace hotels in operation in the EMEA region (in Greece) and now has a further three under development, including the St Moritz property and the group's first hotel in Africa, the 18-suite Grace Marrakech, in Morocco, which is expected to open in early 2014.
Sit Down And Relax At WTM
Those of you who are heading to London Docklands' ExCeL venue for the World Travel Mart (WTM) can take a breather from the wall-to-wall exhibition stands and round-the-clock networking to join in a seminar discussing "What initiatives should hotel investors and owners be undertaking now to stay ahead of the game?" HVS London's chairman, Russell Kett, will be grilling seasoned industry experts Michael Flaxman, Arthur de Haast and Sir David Michels. The seminar, free for those attending WTM, is organised by the Institute of Hospitality and takes place on Wednesday 6 November at 11am in the South Gallery, rooms 15 and 16. A great opportunity for you to get answers to your questions. For more information or to sign up for WTM visit www.wtmlondon.com.
From Jumeirah To Russia With Love
Dubai-based Jumeirah Group has signed a management agreement with IFG Basis Project LLC for its first hotel in Russia. A 74-room hotel is currently under construction in St Petersburg and it is expected to open as a Jumeirah property within the next three years. The hotel will be housed in Wavelberg House, an historic building in the city dating from 1912. Jumeirah also announced this week that it has raised a US$1.4 billion unsecured syndicated loan, which will be used to support the group's long-term expansion plans. "The pricing we have been able to achieve for this syndicated loan is a testament to the company's financial strength and future prospects", said Gerald Lawless, Jumeirah Group's president and chief executive officer. The loan, which is due in 2019, is priced at 2.75% above Libor and was lead arranged by Abu Dhabi Commercial Bank, Dubai Islamic Bank, Emirates NBD, HSBC, Mashreq and Standard Chartered.
Raag Hotels To Take A Tune To Canary Wharf
Raag Hotels Ltd, Tune Hotels' franchise partner for its properties in central London, has had a busy week, announcing the formation of a new joint venture and the acquisition of a site in one of London's major banking centres, Canary Wharf. The joint venture came about as the Wellcome Trust purchased a 50% stake in Raag from Mountgrange Real Estate Opportunity Fund (the remaining 50% is held by Francoli Ltd); the shareholders have committed to inject further equity into the group in order to increase Tune's London portfolio from 616 rooms to its target of 1,500. The site in Canary Wharf already has planning consent for a 130-room hotel, and the Tune Hotel Canary Wharf is scheduled to open at the beginning of 2015.
Adagio On Its Way To Dubai
Accor has signed a management agreement with API Hotels and Resorts for its first Adagio property in Dubai. The 201-unit Adagio Aparthotel Premium Dubai Al Barsha is expected to open during the first quarter of 2014. The hotel is part of a mixed-use complex that also houses the 465-room Novotel Al Barsha, due to open in December 2013. The serviced apartment brand is expected to further increase its portfolio in the UAE next year with the opening of the 279-unit Adagio Abu Dhabi Al Bustan in the first quarter and the 72-unit Adagio Fujairah Town Centre in the second quarter.
A Second Rotana For Saudi Arabia
Rotana will be opening its second hotel in Saudi Arabia at the beginning of next year. The 236-room Rosh Rayhaan by Rotana will mark the group's debut in Riyadh, joining its sister property, the 480-room Al Marwa Rayhaan by Rotana, in Mecca. Rotana is embarking on major expansion in Saudi Arabia, with plans to add more than 4,100 new rooms to its portfolio in the kingdom. Projects currently in the pipeline include four hotels under the Centro Hotels by Rotana brand in Riyadh, Al Khobar, Dammam and Jeddah.
Oberoi To Open In Ajman
Oberoi Group has reportedly signed an agreement with Al Zorah Development Company (a joint venture formed by the Government of Ajman and Dubai-based Solidere International) to operate a luxury resort on the north coast of Ajman, UAE. The Al Zorah Resort will have 113 rooms and suites; the hotel is expected to cover 100,000 m² with 290 of beachfront. Construction has already started on the resort and completion is expected by summer 2015.
Steigenberger Reaches Five In Egypt
Steigenberger Hotels and Resorts now has five hotels in operation in Egypt. A former Jaz hotel in the resort of Madinat Makadi in Hurghada, on Egypt's Red Sea coast, officially opens today as the Steigenberger Hotel Makadi. The 93-room hotel includes two golf courses and its own private beach on Makadi Bay.
Marriott's Third-Quarter Revenue Rise
Marriott International's net income reached US$160 million for the third quarter of 2013, a 12% increase on the same period last year. Revenue rose by around 18.5% to US$3.2 billion. Base management and franchise fees for the quarter increased by US$42 million on 2012 to US$325 million. The group added 44 new hotels (6,580 rooms) to its global portfolio over the third quarter of 2013. "We had a solid quarter with worldwide RevPAR up by nearly 5% year-over-year", commented Arne Sorenson, Marriott's president and chief executive officer.
A Third-Quarter Hike In Net Income For Hyatt
Hyatt Hotels recorded a third-quarter adjusted EBITDA of US$159 million, an increase of 3.2% on the third quarter of 2012. The group's revenue rose by 3.6% and net income increased by almost 140% to US$55 million (US$0.35 per share) from US$23 million (US$0.14 per share). Hyatt opened 11 hotels during the third quarter of 2013.
Absolute Share Price Performance Over the Past Week – 24-31 October 2013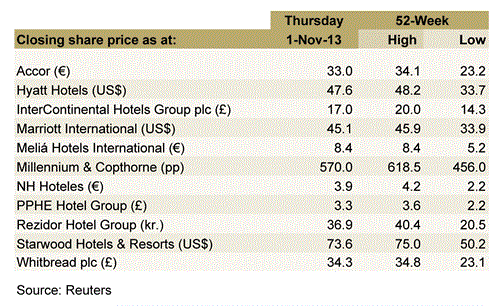 InterContinental Hotels Group – Panmure Gordon reiterated its "hold" rating.
Hyatt – RW Baird maintained its "outperform" rating and upped the share price target to US$50.
Starwood Hotels & Resorts – Goldman Sachs increased the 12-month share price target from US$71 to US$80.
---
For the latest in the hospitality industry, please visit: http://www.hvs.com. You are also welcome to contact the following personnel.