Marriott To Take On Protea Portfolio
Marriott International has signed a letter of intent with South African-based Protea Hospitality Holdings that will see it take on Protea Hotels' brands and hotel management business, which would see Marriott jump from being the 13th-largest hotel group on the continent to the largest by number of hotels. Protea currently operates or franchises 116 assets under three brands (African Pride, Protea Hotels, and Protea Hotel Fire & Ice!) across seven countries (South Africa, Malawi, Namibia, Nigeria, Tanzania, Uganda and Zambia). Marriott currently has ten hotels in North Africa, but this deal will see it expand into the Sub-Saharan region. Definitive agreements are expected to be signed before the end of the year, and the transaction, which has been reported to represent more than US$200 million, could close during the first quarter of 2014. Under the deal, Protea will retain ownership of those properties in its portfolio that it currently owns.
Louvre Sheds 40 Assets In France
Starwood Capital-owned Louvre Hotels has reportedly sold 40 hotels across France to a range of small investors for an undisclosed sum. The hotels are to be operated under franchise agreements and will continue to trade under the Louvre Hotels banner. "This sale will enable us to reduce debt, improve our financial structure and profitability, and speed up the renovation of our own hotels and our international expansion," said Pierre-Frédéric Roulot, Louvre's chairman and chief executive officer.
IHG's Suite New Hotel For London
InterContinental Hotels Group (IHG) has announced plans to open its second Staybridge Suites property in London. The Staybridge Suites London Vauxhall is due to open at the beginning of 2015, as part of a mixed-use development on the city's Albert Embankment, and is the result of a franchise agreement with the hotel's owner Spring Mews Ltd. Cycas Hospitality will manage the new-build hotel; Cycas already operates the existing Staybridge Suites in London and Liverpool. "We're seeing increasing demand for extended stay properties in a market driven by corporate business," said IHG's chief development officer for Europe, Robert Shepherd. Once open, the 93-unit hotel will become the brand's fourth hotel overall in the UK.
An Almaty Debut For Ritz-Carlton
Almost a year after it announced plans to enter the Kazakhstan market, The Ritz-Carlton Hotel Company has made its debut in the country with a hotel in Almaty, the former capital and Kazakhstan's largest city. The newly opened Ritz-Carlton, Almaty has a bird's eye view of the city from its perch at the top of the 37-storey Esentai Tower, part of Capital Partners' Esentai Park mixed-use development. The 145-room hotel also includes residential apartments. This isn't the first time Ritz-Carlton has teamed up with the Kazakhstan-based real estate developers, as the pair worked together to open the Ritz-Carlton, Moscow in summer 2007.
Clapham To Get Some Serious Style
After securing a £4.45 million finance package with Santander Corporate & Commercial, London-based budget hotel company Euro Hotels Group is reported to be on the cusp of signing a franchise agreement with Accor for its hotel in Clapham, southwest London. The 58-room Euro Hotel Clapham will undergo an extensive refurbishment this month before being rebranded as an ibis Styles property in February 2014. Euro Hotels already has two franchise agreements in place with Accor for two other ibis properties in London.
The Matrix On Its Way To Becoming A Dorsett Hotel
Dorsett Hospitality International has been granted planning permission for its second hotel project in the UK. The Hong Kong-based group purchased the nine-storey Matrix House building, adjacent to Aldgate Underground Station, for £14 million back in 2012. With its scheme now approved by the local council, Dorsett plans to demolish the 1970s office block and build the 13-storey, 275-room Dorsett City, London. Dorsett's first hotel in the UK, the Dorsett Shepherds Bush, London, is currently under construction in the west of the city and is due to open during the first quarter of next year.
More RICS For HVS London
We are pleased to announce that another member of our London team, Arlett Oehmichen, has gained their Royal Institution of Chartered Surveyors' qualification (MRICS), adding to HVS's extensive pool of chartered surveyors. Arlett is a director with HVS London and we congratulate her on this achievement.
Best Western Sphinx Qatar Is A Great Place For Expansion
Best Western International has signed an area development agreement with Doha-based Sphinex Hotels & Resorts that will see the group open several new properties in Qatar. Best Western currently operates one hotel in Qatar, in Doha, and the first property under its agreement with Sphinex is expected to be a new-build, 75-room hotel, due to open in Doha by the middle of next year. Commenting on the agreement, Glenn de Souza, Best Western's vice president of international operations in Asia and the Middle East, said, "We are looking at developing quality three- and four-star brands here as we believe five-star product is quite saturated in this market…We believe in the next five years we can easily have ten hotels in Doha." Qatar is not the only destination on Best Western's expansion radar, as the group plans to increase its nine-asset portfolio in the Middle East region by a further 15 hotels by the end of 2016.
Hyatt To Make A Right Regal Debut In Iraq…
An affiliate of Hyatt Hotels Corporation has signed a management agreement with New York-based real estate developers Claremont Group for Hyatt's first hotel in Iraq. The Hyatt Regency Sulaymaniyah will be part of the 240-acre Hawary Shar Park, a mixed-use development in Iraq's Kurdistan region. The 210-room hotel is due to open in 2017. The park is currently under construction and will include a shopping centre, a golf course, zoological gardens and other leisure facilities as well as residential space.
…And Rayhaan by Rotana Rocks Up In Karbala
Rotana now has two properties in operation in Iraq. The 14-storey, 200-room Karbala Rayhaan by Rotana opened this week in the pilgrimage town of Karbala, in central Iraq. Rotana also has a further two properties under development in the country's capital, Baghdad. Other Rotana properties due to open in 2013 include the group's first hotel in Oman, the Salalah Rotana Resort, which is expected to welcome its first guests on Christmas Day. The Oman property will be Rotana's 50th hotel, representing the halfway mark in its expansion plan for 100 hotels by 2020.
Mövenpick Now Has Half A Dozen In Dubai
Mövenpick Hotels & Resorts opened its sixth hotel in Dubai this week. The Mövenpick Hotel Jumeirah Lakes Towers is housed in the emirate's newest commercial district, Jumeirah Lakes Towers, which comprises 64 high-rise towers along four man-made lakes. The 168-room hotel is owned by IFA Hotels & Resorts.
A New Radisson Blu For South Africa
Carlson Rezidor Hotel Group is to open a new hotel in South Africa, bringing its portfolio in the country up to five hotels in operation or under development. The Hotel Le Vendome, in Cape Town's Sea Point suburb, is currently undergoing a renovation and refurbishment and will reopen within the next six months as the 143-room Radisson Blu Le Vendome Hotel Cape Town. The hotel is owned by UAE business man Khalaf Bin Ahmed Al Otaiba.
PPHE's Third-Quarter Results
PPHE Hotel Group recorded a fall in third-quarter revenue of 2.1% on the same period in 2012, to £54.7 million. The group's RevPAR also decreased over the three months to 30 September 2013, by 1.8% to £93, owing to the weakening of the pound sterling, and average room rate dropped to £106.78. However, it is not all doom and gloom as Boris Ivesha, PPHE's president and chief executive, points out, "Notwithstanding the challenging prior year comparatives due to the positive impact of the 2012 Olympics, we have reported a 1.1% growth in revenue on a constant currency basis." Ivesha went on to say that, "Trading since the period end has continued to be encouraging and we expect the full-year results to be in line with expectations."
IHG's Third-Quarter Performance
InterContinental Hotels Group (IHG) achieved a 3.3% growth in RevPAR for the third quarter of 2013. For the group's hotels in Europe, RevPAR rose by 1.3% in quarter three. The UK put in a good performance with a RevPAR rise of 1.5%, although hotels in London were impacted by the comparison of performance in August this year with last year, when the city hosted the Olympic and Paralympic Games. RevPAR fell in Germany by 2.8%, mainly reflecting the strong trade fair schedule, particularly for Munich and Berlin, during the third quarter of 2012. "Despite the ongoing challenges in some of our markets, current trading trends give us confidence for the rest of the year," said IHG's chief executive, Richard Solomons.
Absolute Share Price Performance Over the Past Week – 31 October-7 November 2013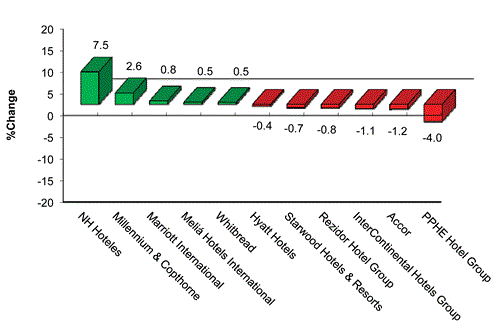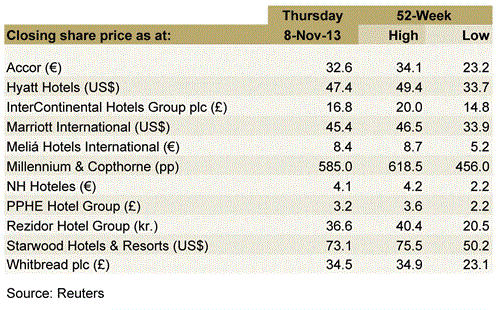 NH Hoteles – Lifted 2.1% on firm volume.
Meliá Hotels International – Hit a two-year high on firm volume.
Whitbread – Panmure raised the price target to 2,753p from 2,644p and gave a "sell" rating.
---
For the latest in the hospitality industry, please visit: http://www.hvs.com. You are also welcome to contact the following personnel.