InterHotels Deal Almost Done
A joint venture between Starwood Capital and Canadian real estate developers Brookfield Property is reportedly in the process of closing a deal to buy the portfolio of Blackstone's former Deutsche Interhotel (DIH) group out of insolvency for around €500 million. The DIH portfolio consists of ten hotels across Germany, including the Park Inn and Grand Hotel in Berlin; the Westin Bellevue, ibis and Mercure hotels in Dresden; a Westin and a Radisson hotel in Leipzig; a Radisson in Erfurt; and two Mercure hotels in Potzdam and Chemnitz.
Accor Redefines Its Business Model
Accor has announced that it is splitting its business model into two divisions: HotelServices and HotelInvest. Accor currently owns 300 hotels and leases a further 1,100 (around 460,000 rooms). These properties will form the core of HotelInvest, which will be Accor's owning and investment arm. The aim is to expand the group's portfolio of owned hotels, particularly in the economy and midscale sectors, increasing the division's share of total operating profit from 50% to 75%. HotelServices will act as a management and franchise division, operating all of Accor's owned hotels through management agreements. The restructuring came as a surprise to Accor's investors, who expected the group to continue with an asset-light strategy. Accor's chief executive officer, Sébastien Bazin, said that the group would only sell assets if they were underperforming. "With this new strategy, our aim is to unlock Accor's full potential through its two core activities and maximize value creation for shareholders," he commented.
The Jury's In For Hilton
Hilton Worldwide has signed a franchise agreement with Dublin-based group Jurys Inn to rebrand three of Jury's hotels in London. The 229-room Jurys Inn London Islington and the 172-room Jurys Inn London Chelsea will both become DoubleTree by Hilton hotels in spring/summer 2014. In December 2014, the 364-room Jurys Inn London Heathrow will trade as the Hilton Garden Inn London Heathrow. Jurys Inn will retain ownership of the three properties and will invest around £20 million in the hotels to refurbish them and bring them in line with Hilton's brand standards. The Islington property will also undergo an expansion, increasing its room count by a further 143 units to 372.
A Lively Week For Manchester
It has been reported that Yotel's first non-airport based UK hotel is to be built in Manchester. New York has the only other Yotel not related to an airport. The Grade-II listed former Union Bank building, once home to Barclays bank but has lain empty since 2006, will be converted and a new 20-storey building constructed to house the 258-room hotel. Elsewhere in the city, the Bespoke Hotel Group is developing the Hotel Gotham in another historic building which also used to serve as a bank. Work will begin on the 60-bedroom luxury hotel in March 2014 with a view to it opening its doors in early spring 2015. Bespoke Hotels chairman Robin Sheppard said, "Hotel Gotham promises to be a fun, witty destination and a little bit naughty. We want it to be the sexiest hotel in Europe. Working with the skills of the Marshall Construction Group team as our partners we hope to open up the character of this majestic building and present it to the Manchester public as a hotel they can be truly proud of."
A New Park Plaza For Croatia
PPHE Hotel Group is planning to open its fourth Park Plaza hotel in Croatia. The Hotel Belvedere, in the town of Medulin on Croatia's Istrian Peninsula, is to undergo a €17 million renovation and will reopen in June 2014 as the 428-room Park Plaza Belvedere Medulin. PPHE is carrying out this project in collaboration with Croatian company Arenaturist, which it part owns after purchasing shares in Bora in 2008.
Dominvs Soars Into Aberdeen
Dominvs Hospitality has acquired a four-acre site adjacent to and just 100m from Aberdeen International Airport in Scotland. The group plans to construct two adjoining hotels, a 139-bedroom four-star and a 112-bedroom three-star, due to launch in late 2016. This marks Dominv's fifth hotel acquisition since it started up in 2011. Director of Dominvs Hospitality, Preet Ahluwalia, said, "The Aberdeen market has been in our sights since our company's inception. The location, size and potential of this site could not be more ideal. We as a company cannot wait to begin work on this project."
More Motel Ones For Scotland
German budget group Motel One has secured planning permission from Glasgow City Council for a hotel next to Glasgow Central railway station. Motel One purchased the site from investment and development company Buccleuch Property, and work is due to start on the new-build, 374-room hotel at the beginning of 2014. A total of £18 million is being invested in the hotel, which will become Scotland's third Motel One when it opens in summer 2015 (a second Motel One is due to open in Edinburgh early next year).
Rayhaan By Rotana Opens In Karbala
Rotana doubled its portfolio in Iraq this week. The 185-room Karbala Rayhaan by Rotana opened in the city of Karbala, in central Iraq, 100 km southwest of the capital, Baghdad. The 14-storey hotel, which is the first five-star hotel in the city, joins its sister property the 201-room Erbil Iraq, in the country's third-largest city. Rotana now has five Rayhaan by Rotana hotels across the Middle East with more than 2,000 rooms in total. The group is planning further expansion in Iraq with the opening of another hotel next year.
A Second Staybridge Suites For Jeddah
Six months after it announced plans for the 200-unit Staybridge Suites Hira Street in Jeddah, its first Staybridge Suites hotel in Saudi Arabia, InterContinental Hotels Group has signed a 15-year management agreement with Al Andalus Property for the Staybridge Suites Al Andalus Mall. Construction has already started on the 164-unit property, which is part of the 197,000 m² mixed-use Al Andalus Square master plan, and includes five towers of residential, office and hotel space in Jeddah city centre.
Marriott Makes Its Debut In Jazan
Marriott International has opened its second hotel in Saudi Arabia, and its first property in the city of Jazan, on the kingdom's southwestern Red Sea coast. The Courtyard by Marriott Jazan is directly connected to the Al Rashid Mall. The 129-room hotel is owned by Abdulrahman bin Saad Al Rashid.
Take Two For The World's Tallest Hotel
It has been announced that the second tower of the world's tallest hotel, the JW Marriott Hotel Marquis Dubai Tower, is to open early next year doubling the hotel's room count to 1,608. Having been open for less than a year, the first tower is said to be performing well with occupancy close to market levels. General manager of the hotel, Rupprecht Queitsch, commented, "It's a success story since the opening of the hotel as the market accepted the property very well. Our goal is to establish a good reputation in the market and so far we have succeeded. We will open the second tower in the first quarter of next year and it will be done in phases." With a strong presence in the Middle East already in place, Marriott plans to have 21 new properties join their portfolio in the region by 2018.
Absolute Share Price Performance Over the Past Week – 21-28 November 2013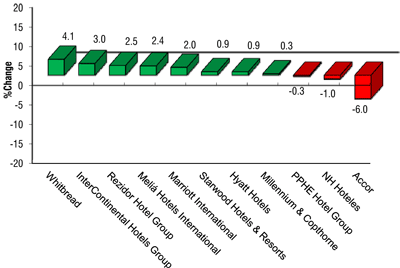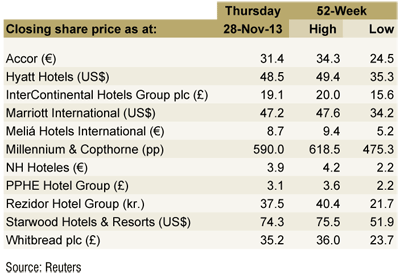 Meliá Hotels International – Meliá increases 1.2%, climbs 5.3% for week.
Accor – Accor increases 1.2%, 3 days' volume in a day.
NH Hoteles – NH Hoteles rises 0.6% from 14-day low.
---
For the latest in the hospitality industry, please visit: http://www.hvs.com. You are also welcome to contact the following personnel.
| | |
| --- | --- |
| Russell Kett, Chairman – HVS London (@russellkett) | rkett@hvs.com |
| Charles Human, CEO – HVS London/HVS Hodges Ward Elliott | chuman@hvshwe.com |
| Chris Martin, Director – HVS Hodges Ward Elliott | cmartin@hvshwe.com |
| Tim Smith, Director – HVS London | tsmith@hvs.com |
| Arlett Oehmichen, Director – HVS London | aoehmichen@hvs.com |
| Sophie Perret, Director – HVS London | sperret@hvs.com |
| Demetris Spanos, Managing Director – HVS Athens | dspanos@hvs.com |
| Hala Matar Choufany, Managing Director – HVS Dubai | hchoufany@hvs.com |
| Louise Fury, Senior Editor and EMEA Hospitality Newsletter Author – HVS London | lfury@hvs.com |
| Lesley Parrott, Junior Editor and EMEA Hospitality Newsletter Author – HVS London | lparrott@hvs.com |