Radisson Blu Balmoral Sold
HVS Hodges Ward Elliott (HVS HWE) is pleased to announce that acting on behalf of Balmoral Capital it has successfully arranged the sale of the 106-room Radisson Blu Balmoral in Spa, Belgium, to a private buyer. This is the eighth hotel transacted by HVS HWE in Benelux in 2013. Also in Benelux, HVS HWE has started marketing the iconic 253-room Kurhaus Hotel in The Hague, as well as the 210-room Ramada Plaza in Antwerp. Interested parties please contact Puneet Kanuga, associate director with HVS HWE, on +44 (20) 7878-7776 or email pkanuga@hvshwe.com.
Algonquin's Purchase In Poland
Algonquin SA has completed its first transaction in Central Europe, acquiring the 232-room Sheraton Krakow in southern Poland for €38 million, the first Starwood property in its portfolio. The seven-storey hotel is housed in Cracow's Stare Miasto area, on the banks of the River Vistula. Starwood Hotels & Resorts will continue to operate the hotel under its Sheraton brand. "This new acquisition is a milestone in the history of our group as it signals our ability to structure complex transactions away from our original geographical area," said Jean-Philippe Chomette, Algonquin's founder and president.
Topland Acquires A Dozen Menzies
International investor Topland Group has bought a portfolio of 12 Menzies hotels in the UK (just over 1,200 rooms) in a deal said to be around £85 million. The 15-strong Menzies Hotels portfolio came onto the market in July 2013 after parent company, Cordial Hotels, fell into administration. Topland acquired the portfolio's 12 freehold properties, but sadly three assets operating under shorter-term leases have closed. Topland has already built up a pool of owned hotels in the UK, including a former von Essen property and a Thistle portfolio, and its latest purchase brings its room stock up to 3,120. The group has selected Bespoke Hotels to operate its new assets. Additionally, according to The Times, Topland could be in the running to acquire the 201-room Grand Brighton on England's south coast.
It's Just A Jump To The Left...And Then A Sale To The Right
The Oakley Court Hotel in Windsor has been sold to Lake Opportunities Ltd for an undisclosed sum. The hotel was put up for sale in July after it went into administration. Located next to the famous Bray Studios, the gothic-style property was once a film set for several Hammer House of Horror films, including Dracula, and the Rocky Horror Picture Show. Prior to that, the property was a private residence having been built in 1859 for Sir Richard Hall Say, who was later to become the High Sheriff of Berkshire. More recently, several Team GB members used Oakley Court as home during the London 2012 Olympic Games.
W Slides Into Switzerland
Starwood Hotels & Resorts' lifestyle brand W Hotels Worldwide has opened its first ski resort and its first hotel in Switzerland, the 123-room W Verbier. Set across four chalets on the Place Blanche in the Swiss Alps, the hotel marks W's 45th hotel since the brand made its debut appearance 15 years ago. W plans to have 60 hotels in operation by 2017. Starwood's chief executive officer and president, Frits van Paasschen, said, "The lasting impact W Hotels has made on the hotel industry cannot be overstated. Over the past 15 years, W has turned the staid hospitality landscape on its head and demonstrated that a hotel is more than a place to check in and checkout as it continues to reinvent the category it created with each new hotel opening around the world."
Indigo Arrives In Düsseldorf
InterContinental Hotels Group (IHG) turned it dynamic duo of Hotel Indigos in Germany (in Berlin) into a timeless trio this week with the opening of the Hotel Indigo Düsseldorf – Victoriaplatz in the capital of the country's North Rhine-Westphalia state and its seventh most populous city. The 126-room hotel is operating under a franchise agreement with LFPI Hotels Management Germany. IHG now has 11 Hotel Indigo properties in operation across Europe and a further 14 in the pipeline due to open over the next three to five years.
A Rosy Tint On The Horizon For Hôtel de Crillon
US-based group Rosewood Hotels & Resorts has been chosen to manage the legendary Hôtel de Crillon in Paris when it reopens in 2015 after a two-year restoration. "We were seduced by Rosewood's tailor-made approach, its A Sense of Place philosophy and its understanding of true luxury," said representatives of the hotel's owner. The 147-room hotel, which overlooks Place de la Concorde, was originally constructed in 1758, commissioned by King Louis XV. Rosewood currently operates 18 luxury properties in nine countries across Europe, the Middle East and the Americas. As well as the Crillon, the group also has a further ten hotels in the pipeline for the Middle East, Asia and the Bahamas.
Two More Boscolos To Get Marriott's Special Signature
Boscolo Hotels has announced that two more of its properties will join Marriott International's Autograph Collection this year. First to sign up will be the 154-room Boscolo Milano, followed closely by the 238-room Boscolo Exedra Roma. These hotels will join Boscolo's other four properties in Marriott's collection of independent luxury hotels: the Boscolo Palace in Rome, the Boscolo Venezia in Venice, the Boscolo Prague in Czech Republic and the Boscolo Budapest in Hungary. Boscolo has nine hotels across Europe in total.
Shiva To Serve Up A New London Hotel
After purchasing the 200,000 ft² Millennium Bridge House office building in London this month from Carlyle Group for £87.6 million, Shiva Hotels plans to develop the property, which lies on the north bank of the River Thames in the shadow of St Paul's Cathedral, into a luxury 348-room hotel. Planning permission has already been secured for the site.
HVS Goes On The Hunt For A Bargain In Europe
HVS recently released a new article comparing the luxury hotel markets in Berlin, Prague and Warsaw, Bargain Hunting for Luxury Hotels – Which Capital City Provides the Best Value for Money? Co-authored by HVS London associate Christof Bertschi and director Arlett Oehmichen, the article examines the hotel market dynamics of these three capitals to discover which one provides the best value for money to guests, and how attractive these cities are to hoteliers. To read/download the report, visit www.hvs.com.
A New Owner For Dubai's Atlantis
Dubai World has sold Atlantis, The Palm in Dubai, UAE, to holding company Investment Corporation of Dubai (ICD) for an undisclosed sum. Operated by Kerzner International, the 1,539-room ocean-themed hotel is on the crescent of the emirate's man-made Palm Jumeirah development. Khalifa Al Daboos, deputy chief executive officer of ICD, said the acquisition is, "in line with our overall strategy to support long-term, sustainable growth for Dubai."
Rezidor To Expand In Saudi Arabia
Carlson Rezidor Hotel Group has announced the development of two new hotels in Saudi Arabia. An existing hotel in the Saudi capital is to undergo a renovation and will reopen as the 168-room Park Inn by Radisson Riyadh Olaya in the first quarter of 2014. The 160-room Radisson Blu Resort Jizan is expected to open in the Red Sea port of Jizan in the first quarter of 2015, marking Rezidor's debut in this market. Both hotels are owned by Al Hokair Group. Rezidor currently has a presence in five cities across the kingdom.
Whitbread's Second Premier In Abu Dhabi
Whitbread's Premier Inn brand has opened its second hotel in Abu Dhabi in the UAE. The 300-room Premier Inn Abu Dhabi International Airport is linked directly by a sky bridge to terminals one and three at Abu Dhabi airport. Premier Inn now operates five hotels across the UAE overall (two in Abu Dhabi and three in Dubai).
Absolute Share Price Performance Over the Past Week – 28 November-5 December 2013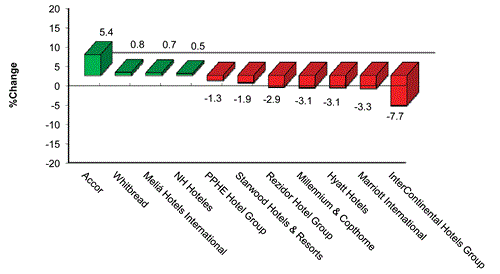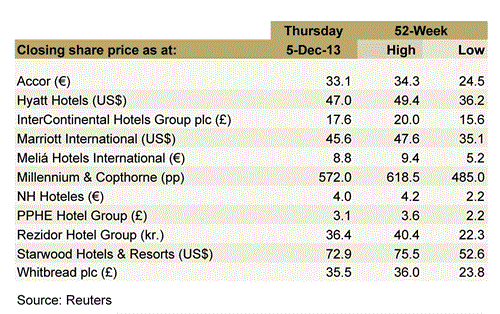 Accor – Cut to "neutral" From "overweight" by JP Morgan Cazenove.
Whitbread – Increased 0.8% on weak volume.
Meliá Hotels International – Continues significant uptrend.
---
For the latest in the hospitality industry, please visit: http://www.hvs.com. You are also welcome to contact the following personnel.
| | |
| --- | --- |
| Russell Kett, Chairman – HVS London (@russellkett) | rkett@hvs.com |
| Charles Human, CEO – HVS London/HVS Hodges Ward Elliott | chuman@hvshwe.com |
| Chris Martin, Director – HVS Hodges Ward Elliott | cmartin@hvshwe.com |
| Tim Smith, Director – HVS London | tsmith@hvs.com |
| Arlett Oehmichen, Director – HVS London | aoehmichen@hvs.com |
| Sophie Perret, Director – HVS London | sperret@hvs.com |
| Demetris Spanos, Managing Director – HVS Athens | dspanos@hvs.com |
| Hala Matar Choufany, Managing Director – HVS Dubai | hchoufany@hvs.com |
| Louise Fury, Senior Editor and EMEA Hospitality Newsletter Author – HVS London | lfury@hvs.com |
| Lesley Parrott, Junior Editor and EMEA Hospitality Newsletter Author – HVS London | lparrott@hvs.com |