HVS Hodges Ward Elliott Acts For Marriott On The Sale Of A Trio Of Editions
HVS Hodges Ward Elliott represented Marriott International in the sale of three Edition hotels (in the UK and the USA) for approximately US$815 million. The transaction includes the London Edition, which opened in September last year, and two Editions currently under construction in Miami Beach, Florida, and Manhattan, New York, due to open during the second half of 2014 and the first half of 2015, respectively. All three hotels will be operated by Marriott under management agreements with the new owners. Arne Sorenson, Marriott's president and chief executive officer, commented, "We look forward to managing these hotels for many years."
New Owner For The Wyndham Grand
Millennium & Copthorne (M&C) announced recently that it has agreed to purchase the Wyndham Grand London Chelsea Harbour for £65 million from Dublin-based Harcourt Developments. The sale of the 158-room hotel, in London's up-market, mixed-use Chelsea Harbour development, will increase M&C's portfolio in the UK capital to eight properties. "The Chelsea Harbour is one of the few hotels in the city to offer all-suite guest accommodation and is situated in a prestigious riverside area that will be going through further transformation and improvement in the near future," said Kwek Leng Beng, M&C's chairman.
Deka Picks Up A Gem Of A Hotel In Hamburg
Frankfurt-based investment firm Deka Immobilien has bought the Arcotel Onyx Hamburg, in northwest Germany, from Strabag Real Estate for €40 million, for the WestInvest Target Select Hotel fund. The four-star, 215-room hotel opened in summer 2012 in one of Hamburg's lively nightlife districts, St Pauli. The hotel is leased to Austrian hotel operator, Arcotel.
Stardon Sells Holiday Inn Quartet To Kew Green
Stardon Capital has sold four Holiday Inn hotels in the UK (in Brighton, Norwich, Leeds and East Kilbride) to Kew Green Hotels for an undisclosed sum. The hotels, which are all expected to undergo refurbishment, will continue to be operated under InterContinental Hotels Group's Holiday Inn brand by Kew Green, which now operates 31 hotels across the UK under six brands. "This acquisition is part of our strategy to expand our UK portfolio to in excess of 60 hotels through a mix of single asset and portfolio acquisitions," said Kew Green's chief executive officer, Paul Johnson.
Motel One Invests In Barcelona
German budget group Motel One has reportedly purchased a hotel development in Barcelona, Spain, for around €14 million. On Passig Pujades, near Barcelona's iconic Las Ramblas, the new-build development is expected to open in 2016 as the Motel One Barcelona, the group's first property in the Spanish market.
Autograph Collection Makes Its Debut In Germany
After an extensive renovation, the Hotel Am Steinplatz in west Berlin has reopened this week as part of Marriott International's Autograph Collection, marking the debut of the collection in Germany. The 87-room hotel, a local landmark which celebrated its 100th anniversary last year, is owned by DG Steinplatz 4 GmbH.
Starwood Points Its Compass In The Direction Of Slovenia
Starwood Hotels & Resorts has signed an agreement with Kranjska Investicijska Druzba that will see it make its first appearance in the Slovenian hotel market. Following a renovation, the Mons Hotel in the city of Ljubljana is to be rebranded as the 114-room Four Points by Sheraton Ljubljana Mons on 30 June 2014. Commenting on the news, Michael Wale, Starwood's president for Europe, Africa and the Middle East, said that "with a steady increase in international arrivals over the last few years and its strategic location at the crossroads of main European cultural and trade routes, the time is right to enter Slovenia."
Sunborn Sets Sail For Gibraltar And The UK
Finland-based Sunborn, a privately owned hotel and real estate company, is expanding its superyacht hotel concept to two new locations in early 2014. This month the group arrives at the tip of Spain, on the Rock of Gibraltar. The Sunborn Gibraltar is a new-build superyacht hotel; at 144 metres long, the yacht has seven storeys, 180 guest rooms and leisure and conference facilities. The Sunborn Princess, which is currently moored at Naantali Spa in Finland, is to be remodeled and refurbished before heading out into the open ocean to make its way to its new home, the Royal Victoria Dock in London. Due to open in March 2014, with a prime location next to the ExCel London conference venue, the 120-metre-long Sunborn London will have 138 guest rooms over five floors.
Holiday Inn To Make Its Second Appearance in Bulgaria and Poland
InterContinental Hotels Group (IHG) signed franchise agreements for two new Holiday Inn properties in Europe this week – the Holiday Inn Plovdiv International Fair is expected to open in 2015 in Bulgaria's second-largest city, Plovdiv, which is situated in the south of the country on the Maritsa River. An existing office building in the city centre, near to Plovdiv's fair grounds, is to be converted into the 68-room hotel. The hotel, which is owned by Petrov Commerce Ltd, will be IHG's second property in Bulgaria. The new-build Dabrowa Gornicza Katowice, owned by Hotel Commercial Investment, is also due to open in 2015 in Katowice, an industrial city in the south of Poland. The 160-room hotel will be the group's second Holiday Inn in the country; IHG's current Polish portfolio consists of three hotels in Warsaw.
Hilton Celebrates A New Opening In Istanbul…
Hilton Worldwide opened its newest property in Turkey this week, and, with 829 rooms, it is the biggest hotel in Istanbul. Overlooking the Bosphorus on the city's European side, the 34-storey Hilton Istanbul Bomonti Hotel & Conference Center is adjacent to the site of the former Bomonti brewery, which is currently being turned into a mixed-use entertainment destination. The newly built hotel is currently the one and only hotel in Turkey with an eforea: spa at Hilton facility. Hilton Worldwide now has ten hotels in operation overall across Istanbul.
…Brings Barcelona Its First DoubleTree…
After undergoing a renovation, the Alexandra Hotel in Barcelona, Spain, has reopened as the Alexandra Barcelona, A DoubleTree by Hilton, the first of its brand in the Catalan capital. The 116-room hotel is operated by Diagonal Hotels. Hilton now has four DoubleTree hotels in Spain overall, and number five is on its way with a hotel due to open in Girona in the next few months.
…Reaches Four In Ras Al Khaimah and Whips Up Waldorf Astoria Number Two For The UAE
Ras Al Khaimah in the UAE received its fourth Hilton hotel this week with the opening of the DoubleTree by Hilton Resort & Spa Marjan Island. With its very own 650-metre private beach, the 485-room hotel is three miles off the southwest coast of Ras Al Khaimah on Marjan Island, one of five man-made offshore tourism developments in the emirate. Additionally, Hilton Worldwide's luxury Waldorf Astoria brand opened its second hotel in the UAE: the 319-room Waldorf Astoria Dubai Palm Jumeirah, which graces the east crescent of Dubai's Palm Jumeirah development.
Best Western Dreams Of Zanzibar And Dar es Salaam
After opening its second hotel in Kenya near the end of 2012 (the 100-room Best Western Plus Creekside Hotel in the port of Mombasa), Best Western is furthering its African expansion with two hotels in Tanzania in the first quarter of 2014. A 90-room hotel has been planned for Dar es Salaam and the other property will be on the island of Zanzibar.
Steigenberger's New Resort Is A Kinda Magic
Steigenberger made a splash on Egypt's Red Sea Coast on 1 January when it opened the Steigenberger Aqua Magic resort in Hurghada. With 707 guest rooms and suites, the resort also has its own water-slide park and a private beach. Aqua Magic is the group's second resort in Hurghada and its fourth property in Egypt overall.
Absolute Share Price Performance Over the Past Week – 2-9 January 2014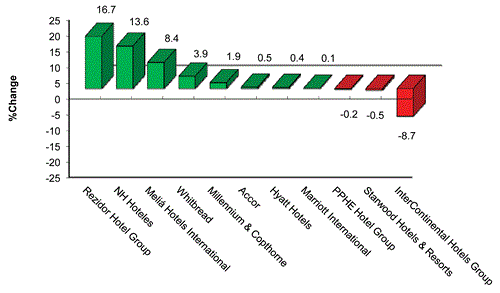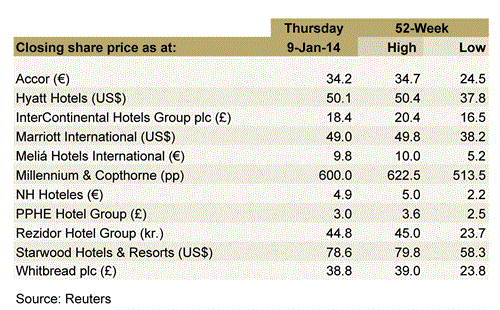 Marriott International – Goldman Sachs upped the 12-month price target by 13%.
NH Hoteles – Hit a three-month high on firm volume.
InterContinental Hotels Group – Credit Suisse retained its "neutral" rating.
---
For the latest in the hospitality industry, please visit: http://www.hvs.com. You are also welcome to contact the following personnel.