Starwood Capital Picks Up Four Pillars In The UK
US-based investors Starwood Capital Group has purchased UK hotel chain Four Pillars Hotels for an estimated £90 million. Four Pillars fell into administration in 2009, and was reportedly sold this week by HSBC, Allied Irish Bank and Bank of Ireland. The chain consists of five owned and leased assets and one managed hotel across southern England: the Cotswold Water Park Four Pillars Hotel (255 guest rooms and 63 self catering apartments), the Grade II-listed 189-room Tortworth Court Four Pillars Hotel, the 170-room Oxford Spires Four Pillars Hotel, the 84-room Oxford Thames Four Pillars Hotel, the 87-room Oxford Witney Four Pillars Hotel and the 66-room Oxford Abingdon Four Pillars Hotel. "Four Pillars offers high-quality, full-service, four-star hotels in superb locations," said Starwood Capital's senior vice president, Kevin Colket. "We look forward to building on the company's operational excellence and its longstanding client focus," he added.
California Dreaming For Dublin Hotel
It was reported this week that Californian real estate and investment firm Kennedy Wilson is to pay Irish Bank Resolution Corporation and Bank of Ireland US$151 million for loans secured against a hotel in Dublin city centre, Ireland. The hotel in question, the 265-room The Shelbourne Dublin, A Renaissance Hotel, has hosted many a famous face during its 190 years of operation, including John Wayne, Charlie Chaplin, John F. Kennedy and, more recently, America's first lady, Michelle Obama, and her daughters. The historic property was also the location for the drafting of the Irish Constitution in 1922.
A Joint Venture For PPHE And Nakash
After purchasing the freehold of two hotels in Berlin in April 2013 via a group of subsidiary companies (for €17.5 million), PPHE Hotel Group has entered into a 50:50 joint venture for the properties with New York-based conglomerate Nakash. PPHE has sold Nakash 50% of the shares in the group of companies that own the freeholds of and operate the 109-room art'otel Berlin Mitte and the 133-room art'otel Berlin Kudamm. Additionally, Nakash has also been assigned 50% of the shareholder loans made by PPHE to these owning and operating companies. Under the deal, both PPHE and Nakash are to invest €1 million in renovating the hotels. PPHE will continue to operate both properties under long-term agreements.
Hampton By Hilton's Gateway To Gatwick
Hilton Worldwide has opened its 13th Hampton by Hilton hotel in the UK at London's Gatwick Airport. The Hampton by Hilton London Gatwick Airport North Terminal has 192 guest rooms, a complimentary 24/7 fitness facility and a 24/7 snack area, amongst other facilities. The hotel is the brand's first London airport property.
IHG Hits High Altitude With Its Newest Hotel
After five years in the planning, the InterContiental Davos opened this week as the second InterContinental Hotels & Resorts property in Switzerland. The new-build, 216-room hotel graces the mountain slopes above Lake Davos, in the Swiss Alps. At almost 1,600 metres above sea level, Davos is the highest municipality in Europe. InterContinental Hotels Group now operates six hotels in Switzerland overall.
Room Mate Docks In Amsterdam
Madrid-based chain Room Mate Hotels has made its debut appearance in the Netherlands. The design-led budget hotel group recently opened the Room Mate Aitana in Amsterdam. The 13-storey, 284-room hotel was developed on IJ Dock, a manmade island in the city's IJ waterfront. Room Mate now has a presence in 12 locations across Europe and North and South America. The group has plans to expand with ten more properties worldwide over the next two years.
Wyndham Hits The Ski Slopes Of Slovenia
Wyndham Worldwide recently signed a 20-year agreement that resulted in the rebranding of two hotels in the Slovenian alpine resort of Kranjska Gora under its Ramada brand. The 118-room Hotel Larix and the 110-room Grand Hotel Prisank are now operating as the Ramada Resort Kranjska Gora and the Ramada Hotel and Suites Kranjska Gora, respectively – the group's first properties in Slovenia.
Two New Marriotts For Dubai
Marriott International plans to open two new properties in Dubai this April: the 352-room Dubai Marriott Hotel Al Jaddaf and the 128-unit Marriott Executive Apartments Dubai Al Jaddaf, which are both located on Oud Metha Road. Once open, Marriott will have ten hotels in operation in the emirate. The Marriott Executive Apartments Dubai Al Jaddaf is the group's sixth Executive Apartments property in the Middle East.
A DoubleTree Debut In Saudi Arabia
Hilton Worldwide has opened its first DoubleTree by Hilton hotel in Saudi Arabia: the DoubleTree by Hilton Dhahran. The 152-room hotel is in the port of Dhahran, in Al Khobar, in the kingdom's Eastern Province. "With 21 properties in our KSA pipeline, we now have the largest development programme in the region," commented Rudi Jagersbacher, president for Hilton Worldwide Middle East & Africa.
Starwood Bringing Luxury Collection To Ajman
At the beginning of February 2014, Starwood Hotels & Resorts will make its first appearance in the emirate of Ajman, UAE, with the opening of the Ajman Saray, A Luxury Collection Resort, Ajman. The 205-room beachfront resort will be the fourth Luxury Collection hotel to open in the Middle East.
EWA Serviced Apartments For Sudan
Dubai-based Hospitality Management Holdings (HMH) has plans to expand its portfolio in Sudan, northeast Africa, this year. For the past five years, HMH has managed the 114-room Coral Port Sudan and the 272-room Coral Khartoum, but in the second half of 2013 this duo is set to double with the opening of two hotels under HMH's EWA serviced apartments brand: the 60-room EWA Port Sudan and the 64-room EWA Nile Tower (in Khartoum).
One To One Making Its Way To Morocco
Abu Dhabi group One to One Hotels is to make its first foray into Morocco this May. The Tarifa Hotel in the town of Ksar Sghir on Morocco's Mediterranean coast, just 18 km from Tangier, is to become the 83-suite Tarifa One to One Resort. Further expansion in the country is also on the cards, as One to One has already signed an agreement to operate the Marina Beach Resort & Spa in Tetouan in northern Morocco. The resort will include two properties: a 100-unit aparthotel, due to open in June 2014, and a 100-key hotel, expected to open in June 2015.
Accor Releases Its Full-Year Results
Accor reported its full-year results for 2013 this week, citing strong growth in all of its key markets with a like-for-like rise in total group revenue of 2.7% to €5.5 billion. Despite a negative currency effect, particularly in the second half of 2013, gross revenue increased by 2.8% to €11.5 billion. Revenue from owned and leased hotels increased by 1.5% and revenue from management and franchise fees rose by 14.7%. Accor has raised its full-year EBIT target to €530 million. Accor opened 170 hotels in 2013 (22,637 rooms), 41% of which were in Europe and 9% in the Middle East and Africa. Sébastien Bazin, Accor's chairman and chief executive officer, commented that the results of the past year reflected Accor's strengths, which he said included "its recognized brands covering every segment of the hospitality market, a global footprint with leadership positions in the most promising growth regions and enthusiastic teams dedicated to driving the group's development."
Absolute Share Price Performance Over the Past Week – 9-16 January 2014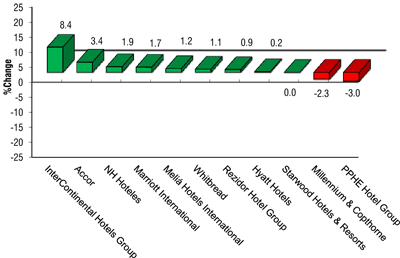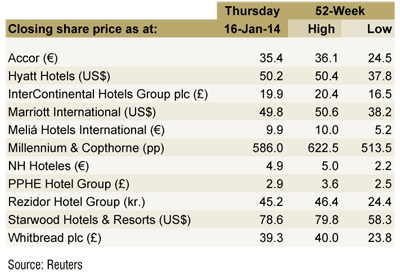 Marriott International – Upgraded to "overweight" by JP Morgan.
Accor – Upgraded to "buy" from "hold" by Jefferies with a price target of €41.
InterContinental Hotels Group – Downgraded to "underperform" from "hold" by Jefferies.
---
For the latest in the hospitality industry, please visit: http://www.hvs.com. You are also welcome to contact the following personnel.