Featured in this HVS EMEA Hospitality Newsletter – Week Ending 24 January 2014
Clarion Hotel Sold
Patron Capital has purchased the Clarion Hotel Dublin City for a reported €33 million (€225,000 per room). Fitzpatrick Lifestyle Hotels have been appointed by Patron Capital to operate the 147-room hotel. Rumours suggest that Fitzpatrick also provided equity for the deal.
Crowne Plaza's Barcelona Debut
Following the signing of a franchise agreement with Hotel Fira SAU, it has been announced that InterContinental Hotels Group (IHG) is to open its first Crowne Plaza hotel in Barcelona: the Crowne Plaza Fira Center. Due to open in the first quarter of this year, the 276-room hotel will be converted from an existing building and will boast the brand's largest meeting and conference facilities throughout Europe with 3,000 m² of meeting space. IHG's development director for Spain and Portugal, Hylko Versteeg, said, "Barcelona is a key city for us in Europe and our Crowne Plaza brand is absolutely the right fit for this area. The property's fantastic facilities and central location will provide the hotel with a competitive advantage and Hotel Fira SAU is the perfect partner to help IHG continue to grow in Spain."
Zürich's Second Sheraton
Starwood Hotels & Resorts has announced the opening of its second Sheraton hotel in Zürich. Owned by ZUFA Immobilien AG and the product of an agreement between Starwood and Arabella Hospitality SE, the 197-room Sheraton Zürich Hotel has joined the 55-room Sheraton Zürich Neues Schloss Hotel in Switzerland's financial capital. Michael Wale, president, Starwood Hotels & Resorts, Europe, Africa and Middle East, said, "I would like to thank our longtime partner, Schörghuber Corporate Group, for once again putting their trust in Starwood as we introduce the new Sheraton Zürich Hotel. The opening of Sheraton Zürich allows us to meet the growing demand for internationally branded hotel accommodations in the city while offering a new gathering place for the local community and global travellers."
A First For Foremost
Foremost Hospitality is set to add two new hotels to the German city of Hamburg. Working alongside Munich-based developer, Investa Immobiliengruppe, Foremost plans to construct the hotels side by side. Furthermore, one of the hotels, a 161-room Hampton by Hilton, is the brand's debut in the city. It will stand alongside a 104-room Holiday Inn Express. This is not the first project of its kind for Foremost as the group has signed a multiple development agreement with Hilton Worldwide to develop the Hampton brand in Germany. An 80-room Hampton by Hilton and 124-room Holiday Inn Express will open together in Nuremberg this autumn. Hubert van de Loo, managing director of Foremost Hospitality, said, "We are very pleased to be moving forward so quickly with both brands. We believe that both brands will thrive in Germany's cities and we hope to announce many more developments in due course."
A Second Hampton Debut
It seems that Germany is not the only country that Hilton Worldwide is keen to develop its Hampton by Hilton brand in. The group announced this week that it plans to open its first Hampton-branded hotel in Scotland; more specifically, Glasgow. A former office building is set to undergo an £11 million refurbishment to transform it into an 88-room hotel which will operate under a franchise agreement with developer SCOT Sheridan and Curo West Campbell. The new hotel will join other Hilton hotels in the city. Patrick Fitzgibbon, senior vice president, development, Europe & Africa, commented, "Hilton Worldwide has a strong presence in Glasgow, led by our flagship Hilton Glasgow which last year celebrated its 20th anniversary. Visitor numbers to the city are expected to grow by up to one million a year until 2016 so the time is right to go on to expand our portfolio here. Having successfully opened Hilton Garden Inn Glasgow City Centre two years ago we are delighted to be providing further choice for guests seeking affordable, quality, centrally located accommodation with our debut Hampton by Hilton."
Premier Inn Kirkham Sold
The Villa Group has acquired the Premier Inn Kirkham in Lancashire from Whitbread for an undisclosed sum. The 28-room hotel is set to undergo refurbishment and be rebranded The Villa Express. The hotel group also owns the nearby 31-room luxury The Villa Hotel and plans to open another hotel this spring: The Villa Levens in the Lake District. David Hill, commercial property partner at Napthens law firm, commented, "The last 12 months have brought major changes to The Villa Group, with significant investment in The Villa Hotel to become a flagship venue for the area. This latest acquisition will offer a major expansion and cement the group's place as one of the leading hotel groups in the area."
New Renaissance For France
Marriott International has opened its latest Renaissance hotel in the French region of Provence: the five-star, 133-room Renaissance Aix-en-Provence Hotel. The hotel is the brand's sixth hotel to open in France, joining the Renaissance Paris Arc de Triomphe Hotel, the Renaissance Paris Le Parc Trocadero Hotel, the Renaissance Paris Vendôme Hotel, the Renaissance Paris La Defense Hotel and the Renaissance Paris Hippodrome de St. Cloud Hotel.
Westin Comes To Doha
Starwood Hotels & Resorts has announced plans to introduce its Westin Hotels & Resorts brand to Qatar this year. The 365-room Westin Doha Hotel & Spa is owned by Ghanem Al Thani Holdings. It will join Starwood's three other hotels in Doha, the 371-room Sheraton Doha Resort & Convention Hotel, the 442-room W Doha Hotel & Residences and the 336-room St. Regis Doha. President, Starwood Hotels & Resorts, Europe, Africa and Middle East, Michael Wale, commented, "I would like to thank Ghanem Al Thani Holdings for putting their trust in Starwood as we debut the Westin brand in Qatar. In recent years, Qatar has increasingly positioned itself as a business, transit and diplomatic hub on the global tourism map, with a rising number of trade events, exhibitions and upcoming sporting events fueling its growth."
Fifth Anantara For Abu Dhabi
Minor Hotel Group has opened its fifth Anantara property in Abu Dhabi, bringing its total in the emirate to five. The Anantara Sir Bani Yas Island Al Sahel Villa Resort has 30 private villas and is located on the natural island of Sir Bani Yas. Dillip Rajakarier, chief executive officer, Minor Hotel Group, commented, "We are very pleased to open our fifth Anantara in Abu Dhabi and our third on Sir Bani Yas Island, with Al Sahel being the perfect complement to Desert Islands and Al Yamm, the two existing Anantara resorts on the island. Combined with our resort in the Liwa Desert – Qasr Al Sarab Desert Resort by Anantara – and Eastern Mangroves Hotel & Spa by Anantara in Abu Dhabi City, we now have a unique portfolio of five leading properties in the Emirate and a wide offering for our guests."
Absolute Share Price Performance Over the Past Week – 16-23 January 2014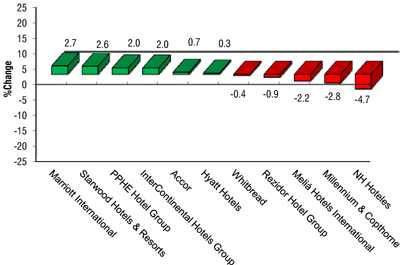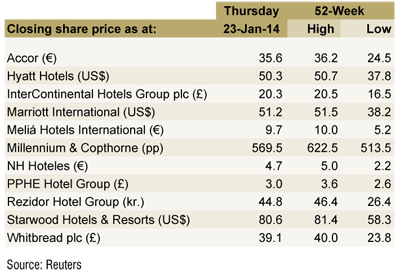 Marriott International – Upgraded to "overweight" from "equal weight" by Barclays Capital.
Accor – Hit year-high for sixth time in a month.
Meliá Hotels International – Dropped 1.7% on high volatility.
---
For the latest in the hospitality industry, please visit: http://www.hvs.com. You are also welcome to contact the following personnel.