Hilton Dublin Sold
The Hilton Dublin in Ireland has reportedly been bought by a US businessman, John Malone, for €30 million. The 193-room hotel comes with a management contract with Hilton Worldwide in place. Overlooking the city's historic Grand Canal, the hotel opened in 1997 as a Stakis property and became a Hilton in 2000. Mr Malone, who is said to be the largest private landowner in the USA with 2.2 million acres, previously purchased the Trinity Capital hotel in Dublin in summer 2013 for €35 million.
An Artistic Investment In Bad Homburg
Cologne-based Art-Invest Real Estate has acquired the 169-room Steigenberger Hotel Bad Homburg in central Germany from open-ended fund AXA Immoselect for approximately €20 million. The five-star property first opened in 1883 in the town of Bad Homburg, 17 km from Frankfurt city centre. Art-Invest, which completed the purchase on behalf of its Hotel-Manage to Core-Fund, now plans to carry out a major refurbishment of the hotel's guest rooms and public areas, and Steignberger Hotel Group will continue to operate the property.
Venetian Mansion To Become A Luxury Hotel
LDC Hotels & Resorts has purchased its third property in Italy. After acquiring the 25-room Relais Villa de Monte Solare and the 41-room Relais Sant'Uffiazia Wellness & Spa Hotel last year in July, the Taiwanese firm has bought a 100-year-old mansion in Venice for an undisclosed sum and intends to convert it into a luxury 30-room hotel. The hotel, which will be called the Grand Canal Palace Hotel, is scheduled to open in the first quarter of 2015. LDC is also pursuing further expansion in Europe – it has signed a memorandum of intent to acquire a hotel in Rome, and currently has three more investments under consideration.
Umi London Looks To A Residential Future
New York-based private equity group Angelo, Gordon & Co. has acquired the Umi London hotel from London-based Lowy Group for a price reported to be in the region of £30 million. The Grade II-listed, 116-room hotel is expected to be converted back to its original use as residential space. Angelo has appointed residential property developer Alchemi Group to manage the conversion of the building into 15 to 20 luxury flats. Alchemi plans to lodge planning permission for the project this May and, if approved, work on the scheme could start by the end of 2013.
City Lodge Gains Full Ownership Of Two Nairobi Hotels
As it continues with its expansion across Africa, South African hotel company City Lodge Hotel Group announced that it has gained full ownership of the 127-room Fairview Hotel and the 84-room Country Lodge in Nairobi, Kenya, by acquiring the remaining 50% interest in the two hotels. City Lodge formed a joint venture with Fairview Hotel Ltd when it purchased a 50% stake in the two properties in July 2012 for an estimated KES1.2 billion (US$13.17 million). Both hotels are to be rebranded under the group's Town Lodge chain.
Britannia's Lands Inn Manchester Airport And Crieff Hydro Picks Up A Couple Of Peebles
After picking up the 125-room Best Western Gatwick Moat House (now the Airport Inn Gatwick) in December last year from QMH Ltd for an undisclosed sum, Britannia Hotels has purchased another QMH hotel, the Holiday Inn Manchester Airport. The 126-room hotel is now operating as the Airport Inn Manchester. QMH is owned by Goldman Sachs. Also in the UK this week, Scottish hotel company Crieff Hydro has agreed to purchase two hotels in the town of Peebles, in Scotland's Borders region, from McMillan Hotels: the four-star, 132-room Peebles Hydro and the 24-room Park Hotel. Privately owned Crieff Hydro now plans to renovate both properties.
Oh, Vienna…You Mean A lot To Meliá
Meliá Hotels International will make its debut in Austria this month when it opens the Meliá Vienna. The 253-room hotel is part of DC Tower 1, which at 820 feet high is the highest building in the Austrian capital. Overlooking the New Danube River, the hotel will take up residence in 17 of the tower's 58 floors. DC Tower 1 is one of two towers designed by French architect Dominique Perrault being developed in Vienna's Donau City district.
W Gives A Dam About Amsterdam…
Starwood Hotels & Resorts is bringing its W brand to the Netherlands. The W Amsterdam is expected to open on Dam Square in Amsterdam's canal district in autumn 2015. The 169-room development is owned and being developed by real estate company STAG Europe (Grafenau) BV. The hotel will be housed in a restored and refurbished former telephone exchange building and will become Starwood's seventh W in Europe.
…And InterCity And Nhow To Move Into Rotterdam
Steigenberger Hotel Group plans to introduce its InterCityHotel brand to the Netherland's second largest city, Rotterdam. The new-build, 180-room InterCityHotel Rotterdam is due to be completed in 2017. Owned by Weena Boulevard CV, the hotel is being developed in proximity to Rotterdam Central Station. NH Hoteles' lifestyle brand, nhow, is to officially open its hotel in Rotterdam in March 2014. The 23-storey, 278-room nhow Rotterdam is the third of its brand to open worldwide.
Waterloo Sunset For Hilton
Following the recent take-off of the Hampton by Hilton London Gatwick Airport North Terminal, Hilton Worldwide has now opened the brand's first hotel in central London. The Hampton by Hilton London Waterloo is close to the city's Waterloo Station. With 297 guest rooms, it is now the largest Hampton by Hilton outside of the USA and the brand's 14th property in the UK.
Rezidor Reaches Six In Sochi
Carson Rezidor Hotel Group has opened its sixth hotel in the Russian city of Sochi, which is currently busy hosting the Winter Olympic Games. The Park Inn by Radisson City Center has 153 guest rooms and brings Rezidor's portfolio in Russia up to 26 hotels (7,900 rooms).
Hilton Al Hamra Now Open
Hilton Hotels & Resorts has officially opened the Hilton Al Hamra Beach & Golf Resort, its sixth hotel in the emirate of Ras Al Khaimah in the UAE. Hilton signed a deal to take over the operation of the hotel (then known as the Al Hamra Fort Hotel) back in June 2011, and in 2012 the group launched a US$27.2 million renovation of the property. With access to an 18-hole championship golf course, the hotel has 181 villas and suites, 75 guest rooms and nine luxury suites.
Meliá Mixes It Up In Morocco
Meliá Hotels International has signed an agreement with Société de Développement Saidia to manage three hotels in the resort of Saidia Med in Morocco, North Africa. The three hotels will all operate in the five-star category and will comprise a 396-room beachfront hotel, which is expected to open in 2016 and will cost an estimated €39.2 million to develop; a 150-room family oriented property, which, after an investment of €17.8 million, is also scheduled to open in 2016; and a 190-unit aparthotel, which is due to open in 2017 at a cost of €26.7 million.
Azalai To Expand In West Africa
Mali-based group Azalai Hotels plans to invest up to US$165 million over the next four years to expand its portfolio in West Africa in order to capture the growing demand from the business travel segment. The group's chief executive officer, Mossadeck Bally, said that hotels will be developed in Ivory Coast, Senegal, Guinea and Niger, with the first scheduled to open in Abidjan at the beginning of 2015. "Business tourism is rising in Africa", commented Mr Bally. Azalai currently operates seven hotels across Mali, Burkina Faso, Guinea Bissau and Benin.
Rezidor Releases Its Year-End Report
For the full-year 2013, Rezidor Hotel Group achieved a like-for-like revenue increase of 3.2% to €919.5 million. EBITDA was €80.7 million, and the EBITDA margin increased to 8.8% from 5.5% in 2012. During the fourth quarter of 2013, like-for-like RevPAR, occupancy and room rates grew in Western and Eastern Europe, but like-for-like occupancy in the Middle East, Africa and other regions fell slightly by 1.3%. During the last quarter of 2013, Rezidor opened around 950 rooms and added around 2,150 rooms to its pipeline. "Our Route 2015 turnaround plan generated significant margin improvements in 2013", said Wolfgang Neumann, Rezidor's president and chief executive officer. "The Board of Directors intends to propose a rights issue of approximately €60 million to accelerate strategy and profitability initiatives," he added.
Absolute Share Price Performance Over the Past Week – 30 January-6 February 2014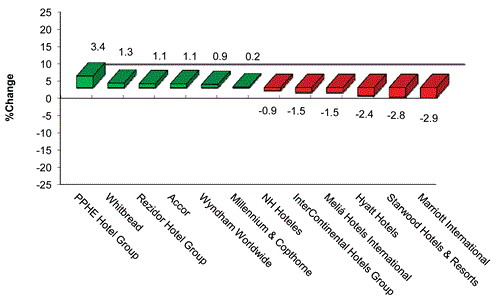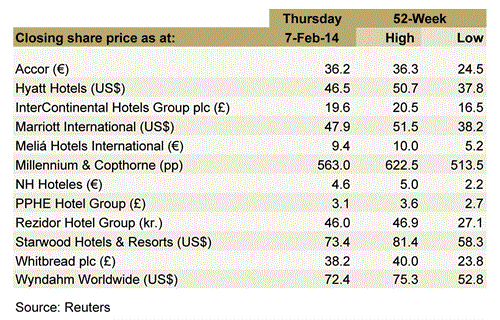 Accor – Raised to "neutral" from "underweight" by HSBC.
Starwood Hotels & Resorts – RW Baird remained positive.
InterContinental Hotels Group – HSBC retained its "neutral" stance and raised the share price target from 1,900p to 2,000p.
---
For the latest in the hospitality industry, please visit: http://www.hvs.com. You are also welcome to contact the following personnel.