Featured in this HVS EMEA Hospitality Newsletter – Week Ending 14 February 2014
A Match Made In Norway
Scandic has acquired 72 Rica hotels after entering an agreement with the hotel group. All located in the Nordic region, the vast majority of the hotels (65 of them to be exact) are in Norway, thus securing Scandic's position as a nationwide chain. Frank Fiskers, president and chief executive officer of Scandic, commented, "With the acquisition of Rica, we will rise to a new level in the Nordic hotel sector. We will strengthen our portfolio with 72 highly regarded Rica hotels in attractive locations, and our guests will soon be able to choose from 223 hotels throughout the Nordic region." The current owners of Rica Hotels, the Rivelslud family, will keep their hand in with the hotel sector through the company Rica Eiendom Holding, which retains ownership of 20 of the properties in the Rica portfolio. These hotels will continue to be operated with Scandic as leaseholder.
Fair Value REIT Sells Crowne Plaza
Fair Value REIT has sold the 201-room Hotel Crowne Plaza Schweizerhof in Hanover for a reported €18.1 million. The 33-year old hotel was purchased for €17 million by an unnamed hotel operator. The sale price, according to Fair Value, was around 13% below its most recently determined market value.
Roses Are Red, Radisson Is Blu
The 150-room Radisson Blu Biarritz in France has been sold by Amercian investor, Damson, to JMA Hotellerie for an undisclosed sum. According to reports, the four-star hotel will continue to operate under the Radisson Blu brand.
Hub Is In The Air
Whitbread's new city centre budget brand, Hub by Premier Inn, has confirmed that it currently has seven properties under development, five in London and two in Edinburgh. This news comes as it has been announced that property developer McAleer & Rushe has been appointed to build a second Hub by Premier Inn in London. The 185-room property, owned by investor Endurance Land, will join the 164-room Hub in St Martin's Lane already being worked on by McAleer & Rushe. The other London Hubs are thought to consist of a 179-room property in Goodge Street, a 119-room property in Great Tower Street and a 408-room property in King's Cross. Meanwhile, the Edinburgh properties will be a 157-room hotel in Rose Street and a 131-room property in Carltongate.
Holiday Inn Express Heidelberg City Centre Opens
Eighteen months after construction began, the 152-room, four-storey, Holiday Inn Express Heidelberg City Centre has opened its doors. The hotel marks the eighth opening for Foremost Hospitality in Germany, keeping them on track for their target of 20 hotels in the country by 2016. Foremost is currently developing hotels in Frankfurt, Düsseldorf and Nuremberg. Hubert van de Loo, managing director of Foremost, commented, "Due to the perfect location this new hotel will be very interesting for the constant rising number of visitors in this city. After Frankfurt, Hamburg, Munich, Berlin, Dresden and Essen this is the eighth Hotel we are adding to our portfolio. The next step for us will be the Holiday Inn Express and Hampton by Hilton Hotels in Nuremberg."
No Change Of Name For The Fairview
Since last week's Enews instalment, it has come to light that the Fairview Hotel in Nairobi will in fact continue to operate under its current name rather than being rebranded as a Town Lodge hotel. Of the two Nairobi hotels that City Lodge Hotel Group has gained full ownership of, only the Country Lodge will adopt the group's Town Lodge brand.
Like A Staybridge Over Troubled Water
InterContinental Hotels Group (IHG) and Al Khorayef & Sons Co have signed a 20-year management agreement for the former to operate the 189-room Staybridge Suites Al Khobar in Saudi Arabia. Once completed, the hotel, which will be part of a mixed-use development, will be the first Staybridge Suites-branded hotel in the Al Khobar region and the third in the kingdom overall. Pascal Gauvin, IHG's chief operating officer for the Middle East, India and Africa, said, "With five properties currently in Al Khobar, we have a strong presence and in-depth knowledge of the area. Through the years we have observed its growth potential as a hub for both business and leisure travellers. This is our third Staybridge Suites to be announced in the Kingdom of Saudi Arabia, in response to a growing demand for extended stay properties and we predict a strong future for the brand across the Kingdom."
Aloft Of Love To Give
A new 172-room Aloft hotel is set to open in 2016 in Al Ain, Abu Dhabi, following Starwood Hotels & Resorts signing an agreement with the Al Ain Club Investment Company. Opening as part of a 500,000 m² mixed-use development, the Aloft Al Ain will be the first Starwood hotel to open in the city of Al Ain and the second of its brand to open in the UAE, joining the 408-room Aloft Abu Dhabi. Michael Wale, Starwood Hotels & Resorts EMEA president, said, "I would like to thank Al Ain Club Investment Company for putting their trust in Starwood as we bring the Aloft brand to Al Ain, furthering the brand's footprint in the UAE. Starwood recently celebrated the opening of its 75th Aloft hotel and we see huge potential for this stylish, affordable mid-market brand to grow in the UAE and throughout the Middle East."
Wyndham Publishes 2013 Results
Wyndham Worldwide has reported that its fourth quarter revenue for 2013 was US$1.2 billion, a 9% increase on the same period the previous year. Adjusted net income was US$96 million (US$0.73 per diluted share) compared to US$89 million (US$0.63 per diluted share) in quarter four of 2012. Revenue for the full year was US$5 billion, a 10% increase on 2012. Adjusted net income for 2013 was US$515 million (US$3.83 per diluted share) compared to US$469 million (US$3.23 per diluted share) the previous year. These increases reflect stronger operating results across all of Wyndham's businesses. Adjusted EBITDA for the fourth quarter of 2013 was US$64 million, a 3% increase compared to the fourth quarter of 2012. As of the end of 2013, Wyndham's hotel portfolio consisted of approximately 7,490 properties and 645,400 rooms. This equates to a 2.9% room increase compared to quarter four of 2012. The company also has more than 970 hotels and roughly 114,000 rooms in the pipeline.
Absolute Share Price Performance Over the Past Week – 6 February to 13 February 2014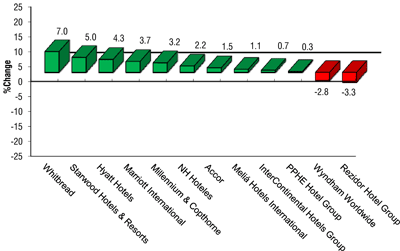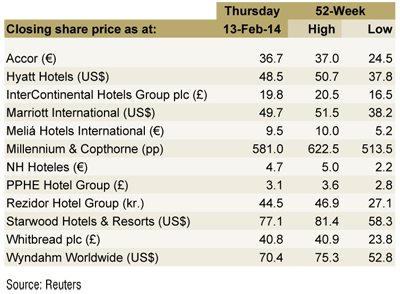 Hilton Worldwide – Susquehanna initiated coverage on Hilton Worldwide with a Positive rating.
Meliá Hotels International – Rose on high volatility.
NH Hoteles – Dropped 1.3% on high volatility.
---
For the latest in the hospitality industry, please visit: http://www.hvs.com. You are also welcome to contact the following personnel.