Millennium Moves Into Rome
Millennium & Copthorne is to purchase its first hotel in Italy via a wholly owned subsidiary. The group announced this week that Millennium Hotels Hotel Palace Holdings has signed a conditional purchase and sale agreement with Grand Hotel Palace to acquire the freehold of the 87-room Boscolo Palace Roma (part of Marriott International's Autograph Collection) for €65.5 million. The sale of the hotel, which was constructed in 1927 in central Rome and recently underwent a renovation in 2010, is expected to complete during the second quarter of 2014.
Blackstone Sells In Paris
New York-based private equity group Blackstone has sold the Trianon Palace de Versailles, A Waldorf Astoria Hotel to French firm Financiére Immobiliére Bordelaise. The transaction price has not been disclosed but reports have estimated the deal at between €130 million and €150 million. Hilton Worldwide will continue to operate the 199-room hotel under the Waldorf Astoria flag.
Chatteris Purchases London's Enterprise
Chatteris Developments, an 80:20 joint venture between Singapore-based Heeton Holdings and Ryobi Kiso Holdings, has purchased the 100-room Enterprise Hotel at London Earl's Court exhibition venue from Woodley Hotels (Kensington) for a reported SGD48 million (€27.7 million). Chatteris now plans to refurbish its newest asset and extend it with an extra 20 guest rooms.
Marriott Buys Four Sites For Its Moxy Brand In The UK
Marriott International and Ikea Group have purchased four sites in the UK for Marriott's new budget brand Moxy Hotels. A site near London's Heathrow Airport has approval in place already for a 422-room hotel – once open this property will become Marriott's first Moxy in the UK. Two of the other sites are also in London – at Stratford City shopping centre (a 250-room hotel is already planned for this site to open in 2015) and the Royal Docks – and one is in the northwest city of Liverpool.
Pandox Sells Its London Riverside Property
Swedish group Pandox has signed an agreement to sell the Hilton London Docklands Riverside, in east London, to private investment firm H.I.G. Capital for an undisclosed sum. The deal is expected to close at the end of March. The 378-room hotel is close to the city's Canary Wharf business district.
HVS London Releases Two Major Annual Reports
It's that time of year again, when everyone who is anyone is preparing to meet in Berlin next week for the International Hotel Investment Forum (followed by ITB). To put you in the right mood, we are pleased to present our annual review of European hotel values, the 2014 European Hotel Valuation Index, click here to download a copy. Look out for the 2013 European Hotel Transactions report, which is due to be released on Monday 3 March. Charles Human, Russell Kett, Tim Smith, Chris Martin, Arlett Oehmichen, Sophie Perret and Puneet Kanuga – along with Peter Malone our new colleagues from the London office of HVS Executive Search – look forward to seeing you in Berlin.
Radisson Blu On Its Way To Crete…
Carlson Rezidor Hotel Group has announced its first hotel on the Greek island of Crete. An existing property, owned by the Geniatakis family, is to be renovated and will reopen as the 318-room Radisson Blu Beach Resort, Crete Milatos in the second quarter of 2016. The resort is in the east of Crete, the largest of the Greek islands and the fifth largest island in the Mediterranean Sea. This is Rezidor's second development in Greece overall, as the group already operates the Radisson Blu Hotel Athens in the country's capital.
…And Radisson Red And Quorvus Collection Coming Soon
Carlson Rezidor Hotel Group announced recently that it plans to launch two new hotel brands onto the scene. Providing a new shade for its palette of global chains will be "lifestyle select" brand Radisson Red, while the Quorvus Collection will be an "expertly curated collection of luxury hotels". The Quorvus Collection is expected to announce details of its first member hotels this year and Radisson Red is to be launched in 2015 in the Americas, Europe, the Middle East, Africa and Asia Pacific. The group aims to have 60 Radisson Red properties and 20 hotels in its Quorvus Collection by 2020.
Want To Know More About Hotel Operating Agreements?
With just over three weeks to go until Henry Stewart's Hotel Operating Agreements briefing, now is the time to book your ticket if you haven't already done so. The conference takes place on Tuesday 25 March at Le Méridien Piccadilly in London. A series of panels and presentations from industry experts will discuss how the most professional operators, owners and financiers are playing the 'pressure points' of hotel operating agreements, providing an opportunity to learn from their experience. Among the many industry professionals at the event will be HVS London's director of valuations, Tim Smith. Tim will be discussing the impact of fees and centralised services' costs on the bottom line and value. Henry Stewart is offering HVS subscribers a 50% discount on the registration fee, which reduces the cost per delegate to £249.50 plus VAT. To book online by credit card, click here and insert the discount code HVS50 when prompted to receive your 50% discount. If you would like to be invoiced, please email dawnb@henrystewart.co.uk and provide the following information: the full name, position and email address for all delegates; the title of the conference; your company's full name and address for the invoice; the name of the person making the booking, if different from the delegate(s); and don't forget to include the HVS50 discount code. For more information and a full agenda, visit www.henrystewartconferences.com.
First And Foremost In Frankfurt
Hilton Worldwide's Hampton by Hilton brand is to be introduced to Frankfurt, Germany. A 158-room Hampton by Hilton is currently under construction on Europa-Allee in the city's Europaviertel district. The hotel is being developed by GBI AG and when it opens in late summer 2015 it will be operated by Foremost Hospitality, which has signed a multiple development agreement with Hilton to develop the Hampton brand across Germany. The Frankfurt property is Foremost's third Hampton by Hilton hotel in Germany and its 12th hotel overall. "We are confident that the Hampton by Hilton brand will thrive throughout Germany and will be announcing more developments within this year," commented Hubert van de Loo, Foremost's managing director.
IHG's Turkey Triple
InterContinental Hotels Group (IHG) has signed franchise agreements for three Holiday Inn hotels in Turkey. The first hotel, which is expected to open in the second quarter of this year, is the 140-room Holiday Inn Ankara Cukurambar. Opening under an agreement with Aska Otomotiv ve Petrol Urunleri Tic A.S, it will be the first IHG-branded hotel in Ankara's business district, Cukurambar. The second of the three, and also due to open in 2014, is the newly built 127-room Holiday Inn Istanbul Kadikoy, which will operate under an agreement with Defne Otelcilik ve Turizm A.S. Last but not least is the 140-room Holiday Inn Tuzla Bay. Also newly built, the hotel will be the first internationally branded hotel in the Tuzla Bay area. It is due to open in 2016. Director of development in Turkey for IHG, Yalin Yaltirakli, said, "The Holiday Inn brand is continuing to expand across Europe in both capital cities and regional areas as it appeals to investors and owners whilst meeting the needs of both corporate and leisure travellers. We look forward to establishing many more IHG hotels in Turkey."
German Debut For Andaz
Hyatt Hotels Corporation has announced that an affiliate of the group has entered into a contract with Munich-based Jost Hurler Beteiligungs Verwaltungsgesellschaft mbH & Co. KG for the first Andaz hotel in Germany. Part of a mixed-use development and expected to open in 2017, the 274-room Andaz Munich will become the brand's third hotel in Europe, joining the 267-room Andaz Liverpool Street London and the 122-room Andaz Amsterdam Prinsengracht. Peter Norman, Hyatt's senior vice president of acquisitions and development for Europe, Africa and the Middle East, said, "We are eager to expand the Andaz brand presence in Europe, and especially in Germany. Andaz Munich will bring to life the brand's mission of creating inspiring, indigenous experiences and immersing guests into the destination's local culture with an array of unique activities. We continue to see a positive response from our Andaz guests across in Europe…and we believe Andaz Munich will continue to bring excitement to Europe's travellers."
New Name For Orient-Express
As of 10 March 2014, Orient-Express Hotels is rebranding as Belmond. The change of name is designed to bring the luxury travel group's collection of hotels, trains, safaris and river cruises under one banner. John M Scott, president and chief executive officer of Orient-Express Hotels, commented, "We are excited that we are entering the next chapter in our journey with a name that celebrates our character, resonates with our guests and encompasses the broad scope of our celebrated collection of hotels, river cruises and trains."
ibis Lands In Edinburgh
Accor has opened its second ibis hotel in Scotland's capital, Edinburgh: the 259-room ibis Edinburgh Centre South Bridge in the city's Old Town, which joins the 99-room ibis Edinburgh Centre Royal Mile. "Edinburgh is one of Europe's most popular tourist destinations, attracting visitors from across the globe, and this is the first of three hotels which we will open in the city this year," said Thomas Dubaere, chief operating officer for Accor UK and Ireland.
More Action For Premier Inn
Whitbread's Premier Inn brand has teamed up with Dubai-based Action Hotels Company to expand its portfolio in the Middle East. The UK-based group has announced that it will operate four new properties owned by Action Hotels under long-term management contracts: the 166-room Premier Inn Sharjah King Faisal Road, due to open in the emirate of Sharjah in late 2014; the 100-room Premier Inn Jeddah, which will open in 2015 in Saudi Arabia's second largest city; a 119-room Premier Inn in Bahrain's diplomatic district, expected to open in 2015; and the 245-room Premier Inn Dubai Healthcare City, which will open in 2016. Action Hotels is to invest AED378 million (US$102.9 million) in developing the hotels. Whitbread currently has five hotels in operation in the region, across Dubai and Abu Dhabi.
Westin To Debut In Egypt
Starwood Hotels & Resorts is bringing its Westin brand to Egypt for the first time. The Westin Cairo Golf Resort & Spa Katameya Dunes is expected to open in early 2015 within the Katameya Dunes development, a 1.8 million m² gated residential community in Cairo. The 128-room Westin resort, owned by New Cairo for Real Estate Development Company, will include a 27-hole championship golf course among other leisure facilities. Starwood currently operates 11 hotels across Egypt under its Sheraton and Le Méridien brands.
Absolute Share Price Performance Over the Past Week – 20-27 February 2014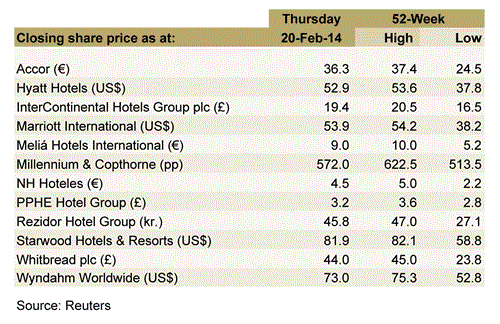 Marriott International – Deutsche Bank maintained its "hold" rating and upped the share price target to US$56 from US$47.
Millennium & Copthorne – Credit Suisse reiterated its "neutral" rating and cut the share price target to 550p from 570p.
InterContinental Hotels Group – Cut to "underperform" from "neutral" by Credit Suisse.
---
For the latest in the hospitality industry, please visit: http://www.hvs.com. You are also welcome to contact the following personnel.
| | |
| --- | --- |
| Russell Kett, Chairman – HVS London (@russellkett) | rkett@hvs.com |
| Charles Human, CEO – HVS London/HVS Hodges Ward Elliott | chuman@hvshwe.com |
| Chris Martin, Director – HVS Hodges Ward Elliott | cmartin@hvshwe.com |
| Tim Smith, Director – HVS London | tsmith@hvs.com |
| Arlett Oehmichen, Director – HVS London | aoehmichen@hvs.com |
| Sophie Perret, Director – HVS London | sperret@hvs.com |
| Demetris Spanos, Managing Director – HVS Athens | dspanos@hvs.com |
| Hala Matar Choufany, Managing Director – HVS Dubai | hchoufany@hvs.com |
| Louise Fury, Senior Editor and EMEA Hospitality Newsletter Author – HVS London | lfury@hvs.com |
| Lesley Parrott, Junior Editor and EMEA Hospitality Newsletter Author – HVS London | lparrott@hvs.com |