Invesco Buys Portfolio On Behalf Of UK Client
Invesco Real Estate (IRE) has purchased a portfolio of four InterCityHotel properties in Germany on behalf of one of its clients, a new UK institutional mandate, for approximately €80 million. IRE and Steigenberger Hotels have signed 30-year hybrid leases for the hotels, which are the 140-room InterCityHotel Darmstadt, the 174-room InterCityHotel Rostock, the 194-room InterCityHotel Mainz and the 360-room InterCityHotel Frankfurt Airport. The deal also includes an agreement to refurbish the hotels in Frankfurt and Rostock.
Viveris Acquires 25-Hotel Portfolio
French asset manager and real estate fund Viveris REIM has signed an agreement that will see it acquire a portfolio of 25 budget hotels across France operated by Louvre Hotels Group for an undisclosed sum. The deal, which is expected to close at the end of May 2014, is being made through an OPCI fund. Viveris aims to make further acquisitions for the fund and increase its value to €150 million.
Don't Miss Out!
Calling all hotel owners, operators, financiers, investors, franchisors, lawyers, agents, consultants and advisors – Henry Stewart's Hotel Operating Agreements briefing is nearly upon us! Taking place in just over two weeks on Tuesday 25 March at Le Méridien Piccadilly in London, the conference will provide a chance to mingle with like-minded professionals and an opportunity to learn from industry experts. Don't forget to say hello to Tim Smith, HVS London's director of valuations, who will be there to discuss the impact of fees and centralised services costs on the bottom line and value. Henry Stewart is offering HVS subscribers a 50% discount on the registration fee, which reduces the cost per delegate to £249.50 plus VAT. To book online by credit card, click here and insert the discount code HVS50 when prompted to receive your 50% discount. If you would like to be invoiced, please email dawnb@henrystewart.co.uk and provide the following information: the full name, position and email address for all delegates; the title of the conference; your company's full name and address for the invoice; the name of the person making the booking, if different from the delegate(s); and don't forget to include the HVS50 discount code. For more information and a full agenda, visit www.henrystewartconferences.com.
Wyndham's Ankara Debut
Wyndham Worldwide has signed a deal with Ös Insaat Sanayi Ve Ticaret to open its fourth hotel in Turkey and its first in the capital, Ankara. An existing hotel in the city will undergo renovation to bring it in line with Wyndham standards and will reopen this summer as the 138-room Wyndham Ankara. Starwood Hotels & Resorts also announced a new hotel for Turkey this week. The group has signed an agreement with Cevahir Yapi Sanayi Turizm ve Ticaret for the Sheraton Istanbul Atasehir Hotel. The 160-room, new-build hotel is expected to open in 2015 as part of a mixed-use development in Istanbul's Atasehir district, in the Asian side of the city.
Two German Additions For IHG...
InterContinental Hotels Group (IHG) is to introduce two new hotels to Germany, under two existing multiple development agreements with Tristar Hotel & Management GmbH and Arcadia Hotelbetriebs GmbH. IHG has signed a franchise agreement with Tristar for the new-build Holiday Inn Express Siegen, in northwest Germany. This 120-room hotel is slated to open at the end of 2015 and will be the first IHG hotel in Siegen. The 213-room, new-build Holiday Inn Düsseldorf is due to open in 2016 and is the product of a franchise agreement with Arcadia Hotelbetriebs. "Tristar and Arcadia are among the most reputable and successful hotel operators in Germany and we are delighted to see our Holiday Inn brand family continue to expand in this priority market," said Robert Shepherd, chief development officer for IHG in Europe. "Our multiple development agreements are proving very effective in accelerating the pace of development growth for our owner partners and for IHG," he added.
...And An InterContinental For Georgia
InterContinental Hotels Group (IHG) has signed a management agreement with Adjara Group (which also owns the Holiday Inn Tbilisi) for the InterContinental Tbilisi, the first of its brand in Georgia. The 200-room hotel is to be developed in a former warehouse in Tbilisi city centre and is due to open in 2016. "We are on track to have 100 hotels open or in the development pipeline in Russia and the CIS by 2020 and look forward to further expanding our presence in this region," commented Angela Brav, IHG's chief executive office for Europe.
One More For Rezidor In Russia
Carlson Rezidor Hotel Group has announced the pending arrival of the Radisson Resort & Spa, Gelendzhik. The 174-room hotel is due to open in the second quarter of 2014 in the Black Sea resort of Gelendzhik, in southern Russia. An existing property, the resort will undergo renovation over the next few months, and during the next three years Rezidor plans to add an additional 100 rooms, an all-day-dining outlet and a ballroom. The resort is Rezidor's fifth Black Sea coast property.
Hilton Flies Into Munich
Hilton has signed an agreement with Allresto Flughafen München Hotel und Gaststätten GmbH to manage a hotel at Munich Airport. The 389-room Kempinski Munich Airport Hotel, which is the only hotel with a direct link to the airport's main terminal building, is to undergo extensive renovation and will be rebranded as the Hilton Munich Airport in January 2015. In 2017, the hotel will be extended with an extra 160 guest rooms.
A Touch Of Portugal In Amsterdam
Portuguese-based Pestana Group is to open its first hotel in the Netherlands, increasing its worldwide presence to 16 countries. The Pestana Amsterdam is due to open at the beginning of 2016 in central Amsterdam. A total of €35 million will be invested in the hotel, which will have 157 guest rooms, including 32 apartments.
A Second Sheraton For Zürich
Starwood Hotels & Resorts has opened its sixth hotel in Switzerland: the 197-room Sheraton Zürich Hotel is the second Sheraton-branded property to open in Zürich, Switzerland's largest city and its financial capital. The hotel is owned by ZUFA Immobilien and is operated under an agreement between Starwood and Arabella Hospitality SE.
Lasi Makes It A Dozen For Hilton
Hilton Worldwide is to bring its Hampton by Hilton brand to the city of Lasi, in northeastern Romania. The former Europa Hotel is to undergo an extensive refurbishment and will reopen during the second half of 2014 as the 123-room Hampton by Hilton Lasi. The 15-storey hotel brings Hilton's portfolio in the country to 12 hotels in operation or under development.
Eric Danziger Steps Down
Wyndham Worldwide announced this week that Eric Danziger, president and chief executive officer of the group's hotel division, is to step down from his post on 28 March 2014. "During the past five years, and through some very challenging global economic conditions, Eric provided leadership that strengthened Wyndham Hotel Group's service to its franchisees, expanded its hotel management offerings, and significantly grew its global footprint," commented Stephen P Holmes, chairman and chief executive officer of Wyndham Worldwide. Geoff Ballotti, currently president and chief executive officer of Wyndham's timeshare exchange and vacation rental division, will take on Danziger's role. Ballotti has worked at Wyndham since 2008 and before this spent 20 years with Starwood Hotels & Resorts.
Steigenberger Moves Into The Middle East
Steigenberger Hotels & Resorts is moving into the Middle East for the first time. Work on the InterCityHotel Culture Village in Dubai, UAE, is due to begin this June, and the hotel is expected to open by November 2016. The 150-room hotel, which will also include 65 serviced apartments, will be part of Dubai's new Cultural Village quarter on Dubai Creek. "The Middle East represents the next stage in our expansion strategy. The hotel we are planning in Dubai will establish us in a new market and enable us to pursue ongoing global growth," said Steigenberger's chief executive officer, Puneet Chhatwal.
Hilton's Busy There Too
Hilton Worldwide has signed an agreement with Al Jazeera Group for a new hotel: the 180-room Hilton Al Ahsa in eastern Saudi Arabia, which is due to open in 2016, marking the group's debut in the city. Hilton also signed a management agreement this week with First Qatar Real Estate Development Company for the Hilton Doha The Pearl Residences, Qatar. The 41-storey, 445-room hotel is to be developed on Qatar's man-made island, Pearl Qatar, and is due to open in early 2017.
Ivory Coast's First Sofitel
After signing a management contract in July 2012, and following a renovation to Sofitel standards, Accor has opened the 209-room Sofitel Abidjan Hôtel Ivoire in the Ivory Coast, West Africa. Accor now has five hotels in operation in the Ivory Coast (all of which are in Abidjan) across four brands: ibis, Pullman, Novotel and, of course, Sofitel.
Absolute Share Price Performance Over the Past Week – 27 February-6 March 2014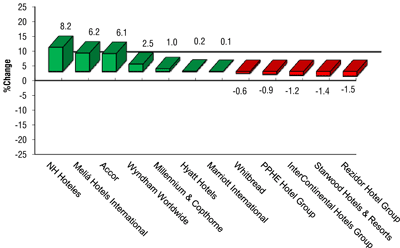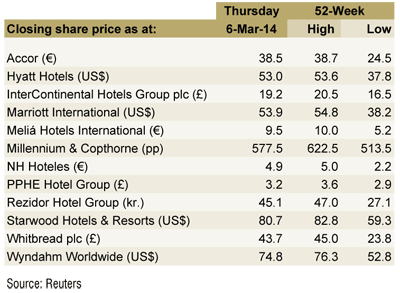 Hilton Worldwide – Goldman Sachs upped its rating on Hilton to 'buy' from 'neutral'.
Starwood Hotels & Resorts – Lowered to 'neutral' from 'buy' by Goldman Sachs
Marriott International – Goldman Sachs upped its price target on Marriott to US$56 from US$52 but maintained its neutral rating.
---
For the latest in the hospitality industry, please visit: http://www.hvs.com. You are also welcome to contact the following personnel.