Featured in this HVS EMEA Hospitality Newsletter – Week Ending 4 April 2014
Asian Treasure In London
A Hong Kong-based private equity firm, Joint Treasure, has acquired the leasehold of the Marriott Hotel Grosvenor Square in London from Strategic Hotels & Resorts for £125.1 million (£530,000 per room). The 237-room hotel, in the city's exclusive Mayfair district, has been sold with a long-term management agreement with Marriott International in place and remains subject to a ground lease with 43 years remaining on the term. The deal marks Strategic's departure from the European hotel market.
Jurys Inn Buys Three Of Its Hotels In The UK
Jurys Inn Hotel Group has purchased the freeholds of three of its hotels across the UK, bringing its number of owned hotels up to 16 (out of a portfolio of 31). The group acquired the 229-room Jurys Inn Swindon, the 198-room Jurys Inn Bradford and the 259-room Jurys Inn Sheffield from Northern Ireland-based developer McAller & Rushe for reportedly more than €10 million.
Redefine Acquires Remaining Shares In Earls Court Hotel
After one of its subsidiaries acquired 60% of the shares in BNRI Earls Court Ltd (the owning company of the 150-room Holiday Inn Express London – Earls Court) back in November 2012, Redefine International has now signed a deal to purchase the remaining 40% of the shares from Camden Lock and Earls Court Ltd for £6.3 million, reflecting a net initial yield of 7.0%.
Shangri-La Reaches New Heights
Hong Kong based Shangri-La Hotels and Resorts has announced that the opening date of the long-awaited Shangri-La Hotel At The Shard will be 6 May 2014. The 202-room hotel occupies levels 34 to 52 of the 72-storey high-rise building making it the tallest hotel in Western Europe. With reservations now being accepted, guests will have the opportunity to enjoy a tipple at dizzying new heights at London's highest champagne and cocktail bar, located on level 52 of what is currently the city's tallest building. There are currently 80 hotels being operated under the Shangri-La brand with several more in the pipeline including hotels in Qatar and more for the UK.
Full House For IHG
InterContinental Hotels Group (IHG) has signed two new hotels in the London area: the Hotel Indigo London – Barbican and the Holiday Inn – Watford Junction. These two new signings mean that over a nine-month period all six of IHG's European brands have been signed into its London pipeline. The new hotels will join the InterContinental London – The O2, the Crowne Plaza London – Albert Embankment, Staybridge Suites London – Vauxhall and Holiday Inn Express London – Ealing. With plans to open this summer, the 92-room Holiday Inn – Watford Junction will operate under a franchise agreement with Nine Hospitality Ltd. Meanwhile, the Hotel Indigo – London Barbican is set to open in 2016 and will be a newly-built 101-room property operated under a franchise agreement with hotel management company, Sanguine, which currently has six IHG hotels open in the UK and two under construction. Angela Brav, chief executive officer Europe, IHG, commented, "IHG already has a significant presence in Europe. Signing all six of our current European brands in Greater London is just fantastic and demonstrates the continued momentum in the market. We see plenty of room to grow here and these signings demonstrate the ability of our brands to penetrate markets across Europe both old and new. IHG's relationship with our owners is absolutely key in maintaining long-term sustainable development and I'm thrilled to see us all growing together."
Hotel Du Vin Opens In St Andrews
Following the first phase of refurbishment (including the bedrooms, bar and restaurant), the former St Andrews Golf Hotel has reopened as Hotel du Vin St Andrews. A new accommodation block to increase the room count from 22 to 40 is expected to be ready by August. It is reported that chief executive officer, Gary Davis, plans to expand the Malmaison and Hotel du Vin brands in Europe and take them to the USA. He is also said to be looking at opening a new Hotel du Vin in Aberdeen alongside the existing Malmaison site.
Omran Announces The Arrival Of Atana
Omran, the tourism arm of the government of Oman, has launched a new brand. The four-star Atana brand aims to blend local tradition with contemporary culture. "Since Omran's inception, we have been guided by ambition and always wanted to establish an autonomous hospitality operating brand that is distinctly Omani in style, spirit and character," commented Omran's chief executive officer, Wael Al Lawati. The group plans to reflag several of its current and forthcoming assets under its new brand. The 60-room Golden Tulip Resort Khasab has already been renamed as the Atana Khasab, marking the brand's debut in the sultanate.
Centara Coming To Oman
Thailand-based Centara Hotels & Resorts has signed another hotel for the Middle East. The 154-room Centara Muscat Hotel is due to open in Oman in 2015, marking the group's debut in the region. Owned by Irfan International Hotel Limited Liability Company, the hotel will be operated under a management agreement. The group announced its first move into the Middle East in February, with the signing of a management contract with Al Bandary Hotel Management LLC for the Centara Grand West Bay Hotel, which is expected to open in 2016 in Doha, Qatar, with 264 guest rooms and 96 residences.
Absolute Share Price Performance Over the Past Week – 27 March-3 April 2014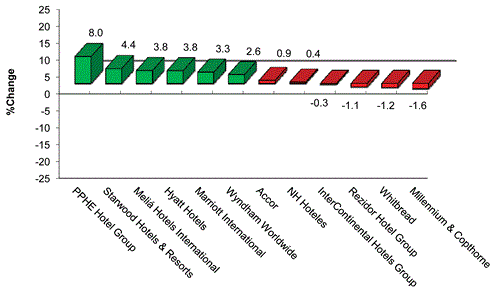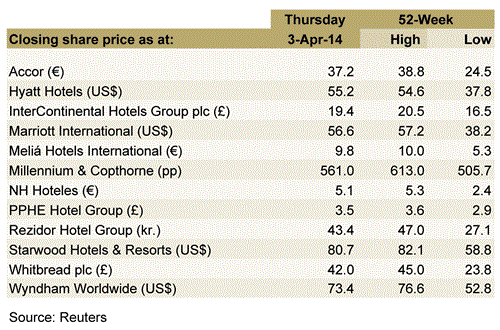 Meliá Hotels International – Lifted 2.6% on thin volume.
NH Hoteles – Decreased 1.0% on firm volume.
PPHE Hotel Group – Finncap started with 465p target price.
---
For the latest in the hospitality industry, please visit: http://www.hvs.com. You are also welcome to contact the following personnel.
| | |
| --- | --- |
| Russell Kett, Chairman – HVS London (@russellkett) | rkett@hvs.com |
| Charles Human, CEO – HVS London/HVS Hodges Ward Elliott | chuman@hvshwe.com |
| Chris Martin, Director – HVS Hodges Ward Elliott | cmartin@hvshwe.com |
| Tim Smith, Director – HVS London | tsmith@hvs.com |
| Arlett Oehmichen, Director – HVS London | aoehmichen@hvs.com |
| Sophie Perret, Director – HVS London | sperret@hvs.com |
| Peter Malone, CEO – HVS Executive Search, EMEA & Asia | pmalone@hvs.com |
| Demetris Spanos, Managing Director – HVS Athens | dspanos@hvs.com |
| Hala Matar Choufany, Managing Director – HVS Dubai | hchoufany@hvs.com |
| Louise Fury, Senior Editor and EMEA Hospitality Newsletter Author – HVS London | lfury@hvs.com |
| Lesley Parrott, Junior Editor and EMEA Hospitality Newsletter Author – HVS London | lparrott@hvs.com |