Holiday Inn Express Site In Düsseldorf Sold
A Holiday Inn Express development in Düsseldorf city centre, West Germany, has been purchased by Cologne-based Dereco for €18 million from a subsidiary of Munich-based Investa. The six-storey, 164-room hotel is due to open in summer 2015 and is to be leased to Foremost Hospitality for 20 years.
The Tide Is Turning In Devon
After its parent company, the Rigby Group, acquired the 35-room Tides Reach hotel in Devon, southwest England, from the Edwards family in January, the Eden Hotel Collection has announced that it is to apply for planning permission to demolish the existing building and create a £12 million 50-room luxury hotel on the site. A planning application is to be submitted this summer, and if successful the new hotel could open in 2016, becoming the first new-build property for the group. Plans for the property include a spa, a private beach and a terrace with sea views.
Ferrari To Make A Pit Stop In Spain
Those with a need for speed should start planning a trip to Spain! The PortAventura theme park, near Barcelona, is to become home to the world's second Ferrari adventure park (Ferrari World Abu Dhabi opened on 4 November 2010) and the first ever Ferrari-themed hotel. PortAventura Entertainment has signed a license agreement with Ferrari S.p.A. for the 75,000-m² Ferrari Land project, which is expected to open in 2016. A total of €100 million is to be invested in the development, which will include a 250-room, five-star hotel; restaurants; shops; and Europe's highest and fastest vertical accelerator ride.
Signature Living Serves Liverpool Its Newest Hotel
Serviced apartment operator Signature Living has opened its latest property in the city of Liverpool, northwest England. 30 James Street was developed in Albion House, a Grade-II listed building that once housed the offices of shipping company White Star Line, which launched the ill-fated Titanic in 1911. The 11-storey hotel is now operating with 20 suites and a further 45 are due to open by the end of this summer. "This is by far the most exciting project we have worked on so far and it's been thrilling to see the building transform from its dilapidated state into the luxury hotel we have now. Every single room tells a different part of the building's history, so every guest will have an experience which is unique to them," commented Lawrence Kenwright, Signature Living's director.
Two's Company In Oslo
Carlson Rezidor Hotel Group has become the first company to open a dual-branded hotel in the Nordics. As well as being nestled together under the same roof in the Alna district of Norway's capital, the 142-room Radisson Blu Hotel, Oslo Alna and the 206-room Park Inn by Radisson Hotel & Conference Centre Oslo Alna also share food and beverage facilities, a reception and 2,000 m² of meeting space.
Le Méridien And Westin To Make An Appearance In Bahrain
Starwood Hotels & Resorts has signed an agreement with Majid Al Futtaim Properties that will see it debut its Westin and Le Méridien brands in Bahrain, in addition to the existing Sheraton Bahrain Hotel. The 200-room Bahrain City Centre and the 260-room Le Méridien Bahrain City Centre will open in July 2014 in Manama in the two hotel towers currently occupied by the 460-room Kempinski Grand & Ixir Hotel Bahrain City Centre. It was recently announced that Kempinski Hotels and Majid have agreed to terminate their management agreement as of 30 June 2014, as Majid wants to adopt a two-brand strategy for the property. The hotel towers are directly linked to Majid's mixed-use Bahrain City Centre development.
A Pearl To Pop Out Of Kempinski's Oyster In Doha
Kempinski Hotels has teamed up with Alfardan Hopsitality once more to develop its second hotel in Qatar. The pair have signed an agreement for the Marsa Malaz Kempinski – The Pearl, Doha, which is reportedly scheduled to open in the fourth quarter of 2014 on Qatar's man-made island development, the Pearl. Construction has already started on the 250-room, waterfront hotel, which will cover 500,000 ft².
Sheraton Dubai Creek Reopens
Starwood Hotels & Resorts has reopened the Sheraton Dubai Creek Hotel & Towers in Dubai after carrying out a ten-month US$50 million renovation and refurbishment at the hotel. The 268-room hotel opened in 1978 as Starwood's first hotel in the United Arab Emirates. The group now has 33 hotels in operation or under development in the country.
A Minor Trio In Mozambique
Through a joint venture, Dubai-based Rani Investment and Thailand-based Minor Hotel Group have acquired a 99.99% stake in Cabo Delgado Hotels & Resorts, which owns three hotels in Mozambique, southeast Africa. The deal saw Minor invest US$17.5 million for a 25% share. The three properties are to be rebranded by the end of 2014. The 13-chalet Medjumbe Private Island resort and the 24-villa Matemo Island will be reflagged as Anantara properties and the Pemba Beach Hotel & Spa, which has 186 rooms and apartments, will operate under the Avani brand. This latest acquisition by Minor brings its portfolio in Africa up to 12 properties.
Absolute Share Price Performance Over the Past Week – 3-10 April 2014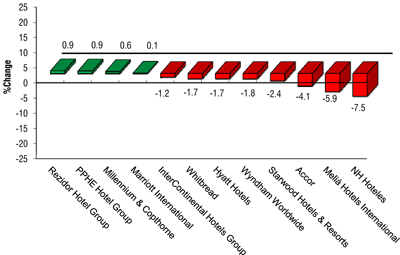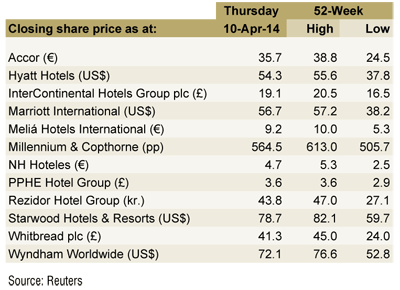 Meliá Hotels International – Has had its sixth daily fall, nearing a two-month low.
InterContinental Hotels Group – Has fallen 0.6% in weak trading.
NH Hoteles – Has continued to slide down 7.6% in four days.
---
For the latest in the hospitality industry, please visit: http://www.hvs.com. You are also welcome to contact the following personnel.
| | |
| --- | --- |
| Russell Kett, Chairman – HVS London (@russellkett) | rkett@hvs.com |
| Charles Human, CEO – HVS London/HVS Hodges Ward Elliott | chuman@hvshwe.com |
| Chris Martin, Director – HVS Hodges Ward Elliott | cmartin@hvshwe.com |
| Tim Smith, Director – HVS London | tsmith@hvs.com |
| Arlett Oehmichen, Director – HVS London | aoehmichen@hvs.com |
| Sophie Perret, Director – HVS London | sperret@hvs.com |
| Peter Malone, CEO – HVS Executive Search, EMEA & Asia | pmalone@hvs.com |
| Demetris Spanos, Managing Director – HVS Athens | dspanos@hvs.com |
| Hala Matar Choufany, Managing Director – HVS Dubai | hchoufany@hvs.com |
| Louise Fury, Senior Editor and EMEA Hospitality Newsletter Author – HVS London | lfury@hvs.com |