Pandox Sells 14 Hotels In Sweden
Fastighets AB Balder has acquired a portfolio of 14 hotels (2,430 rooms) across Sweden from Stockholm-based hotel property company Pandox for SEK2.2 billion (US$333.4 million), SEK905,349 per room. The deal is expected to close during the second quarter of 2014 and comprises the 159-room Best Western Royal Corner Växjö, the 131-room Clarion Hotel Plaza Karlstad, the 247-room Park Inn by Radisson Solna, the 137-room Quality Hotel Grand Kristianstad, the 164-room Quality Hotel Nacka, the 200-room Scandic Gävle Väst, the 225-room Scandic Skogshöjd Södertälje, the 196-room Scandic Star Lund, the 201-room Scandic Swania Trolhättan, the 133-room, Scandic Uplandia Uppsala, the 156-room Scandic Uplands Väsby, the 184-room Scandic Uppsala Nord, the 174-room Scandic Västerås and the 123-room Scandic Växjö. The transaction reduces Pandox's hotel portfolio to 105; the group also owns one congress centre and 16 hotel operating companies.
Westmont And Bestford Motor Into Brooklands
Westmont Hospitality Group and Singapore-based Bestford Capital have purchased the Brooklands Hotel in Surrey, southern England, out of administration. The sale price was not disclosed but the 120-room hotel, on the site of the historic Brooklands racing circuit (which opened in 1907 as the world's first purpose-built motor racing track), was on the market with a guide price of offers in excess of £20 million.
Moscow's Belgrade Hotel Sold
Alexander Klyachin, the owner of Russian chain Azimut Hotels, has acquired the three-star, 232-room Belgrade Hotel in Moscow for an undisclosed sum. Klyachin now intends to undertake a refurbishment and extension of the 20-storey skyscraper, which was constructed in 1973, and the hotel is expected to reopen in 2016.
Virgin Bringing Limited Edition To Cape Town
Sir Richard Branson's luxury hotel collection, Virgin Limited Edition, has signed an agreement to buy the Mont Rochelle Hotel and Mountain Vineyard, less than an hour's drive from Cape Town in South Africa, for an undisclosed sum. Once the transaction is complete, the group will close the 22-room hotel and reopen it in August 2014 after a renovation.
Philip Hotels Picks Up A Park Inn By Radisson In Cork
Philip Hotels has completed the purchase of the Park Inn by Radisson Cork Airport, in Ireland, from CG Hotels for an unknown sum. The 80-room hotel will continue to operate under Rezidor Hotel Group's Park Inn by Radisson brand. CG will now concentrate on developing the remaining hotels in its portfolio: the 229-room Radisson Blu Hotel Dublin Airport and the 114-room Park Inn by Radisson Shannon Airport.
Hispania The New Owner Of The Hotel Guadalmina
Hispania has purchased the Hotel Guadalmina Spa & Golf Resort in Marbella, on the coast of southern Spain, for €21.5 million. The four-star, 178-room beachfront hotel includes two golf courses and is currently run by an independent hotel operator.
Stuttgart Hotel Sold To Patrizia
Investment fund manager Patrizia Immobilien, has bought the ARCOTEL Camino in the city of Stuttgart, western Germany, on behalf of a special real estate fund for an undisclosed sum. The 168-room hotel, which opened in January 2008, has a further 18 years remaining on its lease to Austrian group ARCOTEL Hotel AG.
HVS Goes Platinum For The Boutique And Lifestyle Hotel Summit
HVS is pleased to be Platinum Sponsor for the Boutique and Lifestyle Hotel Summit on May 12-13 at The Montcalm Marble Arch, in London. Russell Kett, chairman at HVS London, will be hosting the Meet the Owners/Investors panel at 15:50 on 13 May. Russell's panelists include Sanjay Tanna, senior director, Commercial and Investments, ADNEC; Stephen Brandman, co-owner, Sixty Collective and Sixty Hotels; Saar Sharon, vp asset management, PPHE Hotel Group; and Huw Zachariah, senior corporate banking manager, HSBC Bank. Other speakers and confirmed attendees include John Quilter aka the Food Busker, who will be delivering the keynote speech, and many chief executive officers, hotel investors and hotel general managers. We're delighted to be able to offer a 10% discount on delegate places using HVS14 as the promotional code. Book via the website www.boutiquehotelsummit.com, or contact info@boutiquehotelsummit.com +44 (0)20 8340 7989. See you there!
More MGallery Collection And A Makeover For Six Mercures In The UK
As part of its long-term agreement with UK private equity fund manager Moorfield Group, Accor has announced that it plans to upgrade three Mercure hotels in Windsor, Cheltenham and Aberdeen and reflag them as MGallery Collection properties. Once rebranded, these hotels will join the 98-room Francis Hotel – MGallery Collection in Bath, bringing the brand's presence in the UK up to four hotels. Additionally, the group plans to renovate six existing Mercure properties and establish them as flagship hotels for the brand. Work on the 275-room Mercure Bristol Holland House Hotel and Spa, the 165-room Mercure Cardiff Holland House Hotel and Spa, the 64-room Mercure Oxford Eastgate Hotel, the 163-room Mercure Sheffield St Paul's Hotel and Spa, the 154-room Mercure Exeter Southgate Hotel and the 57-room Mercure Box Hill Burford Bridge Hotel is due to begin this year and is expected to be finished by 2015.
Holiday Inn To Become The First International Brand In Stavropol
InterContinental Hotels Group (IHG) has signed an agreement with Metropolia 26 LLC to manage the Holiday Inn Stavropol in southwest Russia. The new build 242-room hotel is due to open in 2017 as part of a mixed-use project in Stavropol. Commenting on the new addition to the Holiday Inn family, Robert Shepherd, IHG's chief development officer for Europe, said, "We're excited and particularly proud to be the first international hotel chain to develop in Stavropol. We're also delighted to be working with Metropolia for the first time. Russia is a priority market for us and this signing is another step forward for the Holiday Inn brand there".
Langham To Pop Up On A Palm Frond
Hong-Kong-based Langham Hospitality Group has announced its first project in the Middle East. The group has signed an agreement with DAS Real Estate to manage the Langham, Palm Jumeirah in Dubai. The 323-room waterfront resort is expected to open in 2015 on the emirate's man-made Palm Jumeirah development.
Accor To Enter The Dragon
Accor has signed an agreement with developer Nakheel to manage a 250-room hotel at Nakheel's Dragon Mart shopping complex in Dubai under its ibis Styles brand. Construction is almost complete and once open the hotel will be part of a 177,000 m² expansion of the complex, which will also include a second shopping centre and a multi-storey car park.
Radisson Blu To Set Up Home In Sousse
Carlson Rezidor Hotel Group has announced that it has signed agreements for two new hotels in Tunisa. Two adjacent, existing properties in Sousse, Tunisia's third-largest city, are to be renovated before repopening in the second quarter of 2016 as the 217-room Radisson Blu Resort & Spa, Sousse and the 130-room Radisson Blu Pearl Resort, Sousse. "We are delighted to further strengthen our portfolio in Tunisia where we are already present in Djerba and Mammamet. At the same time, these signings underline our commitment to the African continent where we now operate and develop 50 hotels," said Wolfgang M. Neumann, Rezidor's president and chief executive officer.
Absolute Share Price Performance Over the Past Week – 17-24 April 2014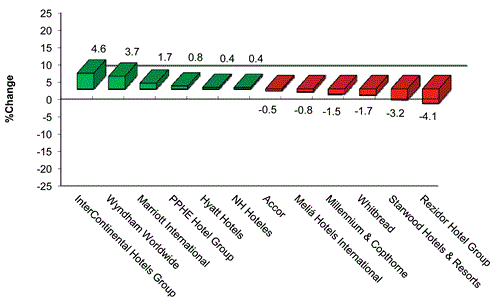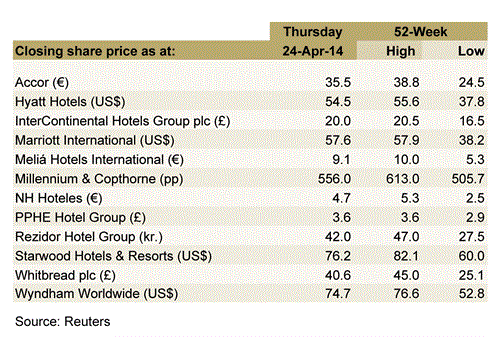 NH Hoteles – Climbed 4.3% on weak volume.
Accor – Dropped on high volatility.
Rezidor Hotel Group – Decreased 1.4% on low volume.
---
For the latest in the hospitality industry, please visit: http://www.hvs.com. You are also welcome to contact the following personnel.
| | |
| --- | --- |
| Russell Kett, Chairman – HVS London (@russellkett) | rkett@hvs.com |
| Charles Human, CEO – HVS London/HVS Hodges Ward Elliott | chuman@hvshwe.com |
| Chris Martin, Director – HVS Hodges Ward Elliott | cmartin@hvshwe.com |
| Tim Smith, Director – HVS London | tsmith@hvs.com |
| Arlett Oehmichen, Director – HVS London | aoehmichen@hvs.com |
| Sophie Perret, Director – HVS London | sperret@hvs.com |
| Peter Malone, CEO – HVS Executive Search, EMEA & Asia | pmalone@hvs.com |
| Demetris Spanos, Managing Director – HVS Athens | dspanos@hvs.com |
| Hala Matar Choufany, Managing Director – HVS Dubai | hchoufany@hvs.com |
| Louise Fury, Senior Editor and EMEA Hospitality Newsletter Author – HVS London | lfury@hvs.com |