Starwood Sells Leasehold Interest In Park Lane Hotel
Starwood Hotels & Resorts has sold its leasehold interest in the Park Lane Hotel in London, UK, to Sir Richard Sutton's Settled Estates for an undisclosed sum. Starwood is to continue to operate the eight-storey, 303-room Art Deco property under a new long-term management agreement under its Sheraton Hotels & Resorts brand. The Grade II-listed hotel, which is within walking distance of Buckingham Palace, was built in the 1920s by businessman and hotel investor Sir Bracewell Smith. HVS advised on the transaction.
Dalata Picks Up The Pearse In Dublin
Dalata Hotel Group is to purchase the Pearse Hotel in Dublin city centre, Ireland, along with two adjoining commercial buildings, for more than €13 million from Citywide Leisure. The 101-room hotel was on the market for €9 million and the commercial investments for €1.5 million. The four-storey hotel was built in 1997 and currently operates under a franchise with InterContinental Hotels Group's Holiday Inn brand.
Kämp Buys The Klaus K In Finland
Helsinki-based luxury hotel company Kämp Group has acquired the Klaus K Hotel in Helsinki, Finland, for an undisclosed sum. The 139-room hotel is said to have been the first design hotel to open in the Finnish capital and is a member of the Design Hotels consortium. The deal brings Kämp's portfolio in the city up to five properties.
Mercure Arrives In Riga And Hilton On Its Way
Earlier this month, Accor's Mercure chain made its debut in Latvia with the opening of the 143-room Mercure Riga Centre in the country's capital city. The hotel, housed in an early 1900s Art Nouveau building, is operated by Warsaw-based Orbis Hotel Group, Accor's master franchisor for the Baltic region. Additionally, Hilton Worldwide has announced its first hotel for the Latvian market. The 139-room Hilton Garden Inn Riga Valdermara is due to open at the beginning of 2016 in Riga. The nine-storey, new-build hotel will be operated by SIA D.N.H. The hotel will be just on the other side of the Daugava River from Riga's historic Old Town, a UNESCO World Heritage Site. "Riga has really been put on the map globally, having earned the title of European Capital of Culture this year so this news could not have come at a better time," said Adrian Kurre, global head of Hilton Garden Inn.
Nobu Hotel For London
Nobu Hospitality, the hotel arm of high-end Japanese restaurant chain, Nobu, has chosen the UK's capital to be home to its first hotel in Europe. The group has signed a long-term management agreement with Willow Corp Sarl for the Nobu Hotel Shoreditch London. The 156-room hotel is currently under construction and is expected to open in the first quarter of 2016. Nobu currently has hotels in operation across the Americas, the Middle East and Asia.
Hyatt King Of The Castle In Germany
An affiliate of Hyatt Hotels Corporation has signed an agreement with Badriah Investments BV for a new Hyatt hotel in Germany. The Neues Schloss Baden-Baden, a Hyatt Hotel is to be developed in a 16th-century castle in the spa town of Baden-Baden in southwestern Germany. The 146-room hotel is expected to open in 2018 and will be the seventh Hyatt-branded hotel in the country.
Luxury Collection To Reach Seven In Italy
Starwood Hotels & Resorts is to open its seventh Luxury Collection hotel in Italy and the collection's first property in Milan. The Excelsior Hotel Gallia in Milan, which is owned by Katara Hospitality, is currently undergoing an extensive renovation and will reopen in November 2014 as the Excelsior Hotel Gallia, a Luxury Collection Hotel, Milan. The 235-room hotel originally opened on Piazza Duca d'Aosta, in central Milan, in 1932. Starwood currently operates 21 hotels in Italy under five brands.
Hilton's New Hotel Made In Chelsea
After having recently emerged from a six-month refurbishment, the Jurys Inn Chelsea in London has been rebranded and reopened this week as the DoubleTree by Hilton London – Chelsea. The 172-room hotel is operating under a franchise agreement with Hilton Worldwide and is still owned and operated by Jurys Inn. Commenting on the new addition to the Hilton family, John Greenleaf, global head of DoubleTree by Hilton, said "It is immensely exciting to witness a hotel of this quality join our burgeoning central London portfolio, which now includes nine hotels in the capital."
Holiday Inn Grows In Germany
InterContinental Hotels Group (IHG) has announced the addition of two new Holiday Inn hotels to its German portfolio. The Holiday Inn Dresden – Am Zwinger is to open at the end of 2014 in southwest Germany under a franchise agreement. An office building in Dresden city centre is to be converted into the 144-room hotel. The Holiday Inn Hamburg – HafenCity is due to open in spring 2017 within Hamburg's HafenCity development. This new-build 265-room hotel will operate under a franchise agreement with IHG's long-standing development agreement partner, Tristar Hotel und Management GmbH.
A Radisson Blu For Moldova
Carlson Rezidor Hotel Group is to make its debut in Moldova, in southeastern Europe. The Leogrand Hotel & Convention Center, in the business area of Moldova's capital city, Chisinau, is to undergo a renovation and conversion, with investment from Summa International Construction, and will reopen at the end of 2015 as the 140-room Radisson Blu Leogrand Hotel, Chisinau. "We are delighted to announce our partnership and to arrive in Moldova to open the first five-star internationally branded chain hotel in Chisanau," commented Wolfgang M. Neumann, Rezidor's president and chief executive officer.
Scandic's Fifth Hotel In Bergen Due To Land In 2017
Scandic has signed an agreement for the development of a hotel at Bergen Airport Flesland near the city of Bergen, on the west coast of Norway. The Scandic Flesland Airport is due to open in 2017 next to the airport's new terminal and a planned business centre. The 300-room, 23,650 m² hotel will be Scandic's fifth hotel in Bergen, the second largest city in Norway.
Adagio Announced For Edinburgh
Accor's Adagio aparthotel brand is to open its second property in the UK in Scotland. The 146-unit hotel is expected to open in 2017 in Edinburgh's £150 million new city centre district, New Waverly. Using an existing building, which will keep its original façade, facing the city's Royal Mile, the hotel will be at the heart of the new five-acre district, which is being developed by Artisan Real Estate Investors.
StayWell Teams Up With Mantis Collection For African Hotels
Australian firm StayWell Hospitality Group has entered into a joint venture with South African-based Mantis Collection to form a management company that will operate StayWell-branded hotels in sub-Saharan Africa. Prime properties will be procured in key cities by Mantis for StayWell's Park Regis and Leisure Inn brands.
Wyndham Worldwide To Expand Into Kenya
Continuing with its expansion across the African continent, Wyndham Worldwide has announced its first property for Kenya, in East Africa. The group has signed a franchise agreement with Global Hotels Management Africa Ltd for the Ramada Nairobi. The 89-room, four-star hotel is due to open by the end of the year in Nairobi's Westlands area, 19 km from Jomo Kenyatta Airport. Wyndham currently has a presence in Ghana, Nigeria, Morocco and Tunisia.
Jumeirah To Move Into Mauritius
Jumeirah Group has signed a management agreement for its first property on the island of Mauritius, off the southeast coast of Africa. The luxury resort hotel, which is currently under development, will be set on 68.5 hectares of land and is due to open in 2018.
Absolute Share Price Performance Over the Past Week – 15-22 May 2014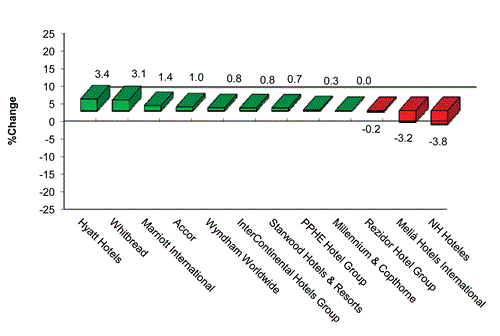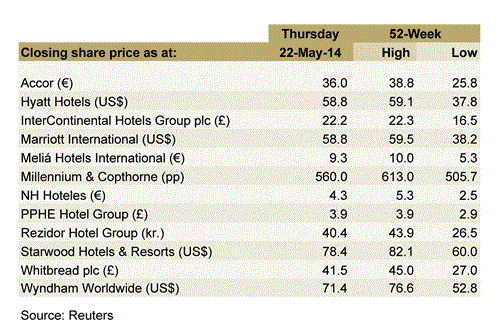 Meliá Hotels International – Dropped 3.2% on high volatility.
NH Hoteles – Continued significant downtrend.
Whitbread – Achieved a three-day rise of 3.7%.
---
For the latest in the hospitality industry, please visit: http://www.hvs.com. You are also welcome to contact the following personnel.
| | |
| --- | --- |
| Russell Kett, Chairman – HVS London (@russellkett) | rkett@hvs.com |
| Charles Human, CEO – HVS London/HVS Hodges Ward Elliott | chuman@hvshwe.com |
| Chris Martin, Director – HVS Hodges Ward Elliott | cmartin@hvshwe.com |
| Tim Smith, Director – HVS London | tsmith@hvs.com |
| Arlett Oehmichen, Director – HVS London | aoehmichen@hvs.com |
| Sophie Perret, Director – HVS London | sperret@hvs.com |
| Peter Malone, CEO – HVS Executive Search, EMEA & Asia | pmalone@hvs.com |
| Demetris Spanos, Managing Director – HVS Athens | dspanos@hvs.com |
| Hala Matar Choufany, Managing Director – HVS Dubai | hchoufany@hvs.com |
| Louise Fury, Senior Editor and EMEA Hospitality Newsletter Author – HVS London | lfury@hvs.com |