Starwood Signs A Dual-Branded Aloft And Element Property For London
Starwood Hotels & Resorts has signed an agreement with Fawzia Mubarak Al-Hassawi Group for a dual-branded property at Tobacco Dock in east London. The 251-room Aloft London Tobacco Dock will be Starwood's second Aloft-branded hotel in London and its third in the UK overall. The Element London Tobacco Dock, the first Element property in the UK, will be directly connected to its Aloft neighbour and will have 77 studios and one- and two-bed suites. The hotels are scheduled to open at the beginning of 2017. Starwood currently operates ten hotels across the UK, eight of which are in London.
Hilton's New Boutique Brand
Hilton Worldwide has announced that it plans to launch a new boutique brand aimed at attracting travellers in the upscale segment. Curio will be a collection of four- and five-star independently operated upscale boutique hotels in mature markets, mainly across the USA and Europe. Chris Nassetta, Hilton's president and chief executive officer, commented that "these are rare, statement hotels that have their own following". Five hotels in the USA have already signed agreements for the brand and two deals in Doha, Qatar, and Dubai, UAE, are expected to go through in the next few days. Additionally, Hilton also intends to launch a "lifestyle" brand later this year. Both brands are to be expanded using an asset-light business model.
Meridia And Patron Get Together To Invest In Iberia
Meridia Capital Partners and Patron Capital Partners have launched a new private equity fund with the aim of investing in real estate projects in Spain's Iberian region. The pair have signed a partnership agreement to invest more than €400 million of capital; Meridia will provide up to €150 million through its Meridia Iberian Real Estate Fund and Patron will contribute around €250 million to the venture. "This partnership will reinforce our position in Spain, helping us benefit from the recovery of the Spanish economy and the new cycle in the Spanish real estate investment market," commented Pedro Barceló, managing director of Patron Capital Partners Iberia.
Tsogo Sun Acquires A Quarter Of Redefine BDL Hotels
African group Tsogo Sun has recently acquired a 25% interest in London-based hotel management company Redefine BDL Hotels for a reported £8.1 million. Tsogo Sun currently owns and manages around 91 hotels across Africa. Commenting on its new partnership with Redefine, Marcel von Aulock, Tsogo Sun's chief executive officer, said, "There is the potential for opportunities to deploy capital in attractive investments in the European market and the investment in Redefine BDL Hotels gives an ideal platform to achieve this."
HSBC Hits The Slopes In Italy
HSBC Assurances Vie has purchased a Club Med mountain resort in Italy for approximately €50 million. The Club Med Pregelato opened in 2012 in the commune of Pregelato in Italy's Piedmont region, at an altitude of 1,600 metres. The resort, which is connected by its own gondola to the Via Lattea (Milky Way) ski region, comprises 234 guest units housed across 20 chalets.
Art-Invest Buys Mercure In Leipzig
Cologne-based real estate investment company Art-Invest Real Estate has recently acquired the Mercure Hotel Leipzig am Johannisplatz in the east German city of Leipzig from a private seller for an undisclosed sum. Art-Invest purchased the four-star, 174-room hotel on behalf of its Hotel-Manage to Core-Fund. The hotel was built in 1994 and has been operated by Accor Hospitality Germany GmbH since 2007; the lease contract is due to expire in 2026. "Leipzig is one of the top ten hotel markets in Germany and has shown excellent growth in hotel demand in recent years – thanks to the prospering economy of the city," said Dr Peter Ebertz, head of hotels at Art-Invest.
Kennedy Wilson Europe Real Estate Picks Ireland For Its First Hotel…
Kennedy Wilson Europe Real Estate, a subsidiary of New York-based Kennedy Wilson, has bought the 138-room Portmarnock Hotel & Golf Links, in the seaside town of Portmarnock in Ireland, for €30 million from receivers Mazars (acting on behalf of Ireland's National Asset Management Agency). The 138-room seafront hotel, approximately nine miles northeast of Dublin, is the group's first hotel acquisition. The deal is expected to complete at the beginning of July.
…The Neville Group Holds Court In Kilkenny…
The Kilkenny River Court Hotel, in the medieval city of Kilkenny in southeast Ireland, has been acquired by Irish hoteliers and construction group William Neville & Company for €9 million from administrators KPMG. The 90-room hotel, on the banks of the River Nore, fell into liquidation in 2012. The hotel's new owners now plan to refurbish it over the next 18 months.
…And Dalata Makes It A Double In Dublin
As well as acquiring the Pearse Hotel in Dublin earlier this month, Dalata Hotel Group has announced that it has also entered into an agreement to purchase the freehold interest in the Maldron Hotel Parnell Square in the Irish capital for €15.3 million. The 126-room, three-star Maldron, in Dublin city centre, has been operated by Dalata since August 2007. Dalata also announced that it now plans to carry out an extensive refurbishment of the Pearse Hotel to bring it up to four-star standards and rebrand it as the Maldron Hotel Pearse Street.
Eden Collection Gets A Castle
Eden Hotel Collection has bought the 64-room Bovey Castle hotel in Dartmoor National Park, southwest England, for an undisclosed sum. The group now plans to spend £2 million on restoring the early 20th-century estate to its former glory. The estate also includes an 18-hotel championship golf course, a spa, an outdoor pursuits centre and 14 self-catering lodges, amongst other facilities. "Restoring this iconic hotel and its estate is an exciting project for our team," said Mark Chambers, Eden Hotel's managing director. "This famous property has a national and international reputation for excellence and we are very much looking forward to cementing its place as the jewel in the crown of the leisure industry in the south west," he added.
Bravo Bringing Quarters To Watford
Bravo Hotels Group has purchased a former Park Inn by Radisson hotel in Watford from Jefferson Hotels (Watford) Ltd for an undisclosed sum. The 100-room, three-star hotel, close to Watford Junction railway station, 17 miles northwest of London, has now been renamed as the Quarters by Bravo Watford.
Hyatt Makes A Regal Debut In Austria
Hyatt Hotels Corporation has made its debut in Austria with the opening of its first hotel in the country: the 143-room Park Hyatt Vienna. In order to transform the hotel's 100-year-old building, which formerly housed the headquarters of the Austrian Hungarian Monarchy Bank, into a luxury Park Hyatt property, the site underwent a two-year transformation and was renovated and redesigned by Dutch designers FJStjl. The hotel is in Vienna's First District, a UNESCO World Heritage Site.
Another Best Western For Aalborg
A hotel in Aalborg in northern Denmark has become the newest member of the Best Western International family and the group's second hotel in the city. The 25-room, three-star Best Western Prinsen Hotel is in Aalborg city centre, opposite the railway station. Best Western now has 23 hotels across Denmark.
A Grand Hyatt For Abu Dhabi
An affiliate of Hyatt Hotels Corporation has entered into a management agreement with Emirates Pearl for Development & Investment for a Grand Hyatt hotel in Abu Dhabi in the United Arab Emirates. The 47-storey hotel, in Abu Dhabi's Ras Al Akhdar district, is expected to open in 2015. Hyatt currently has two hotels in operation in Abu Dhabi but this will be its first Grand Hyatt-branded hotel in the emirate.
Radisson Blu To Open In Dhahran
Later this month, Carlson Rezidor Hotel Group will open its first hotel in the city of Dhahran on the shores of the Persian Gulf, in eastern Saudi Arabia. The 74-suite Radisson Blu Hotel, Dhahran is at the heart of the city, on Zaid Ibn Al Khattab Street. The new opening brings Rezidor's Radisson Blu portfolio in the kingdom up to six.
A First For Fattal In Ashkelon
Fattal Hotel Management Ltd has opened the 131-room Leonardo Ashkelon, its first hotel in the coastal city of Ashkelon in Israel. A total of NIS15 million (US$4.3 million) was invested in developing the hotel in an abandoned building close to the marina. The group's Israeli portfolio now comprises 31 hotels.
Absolute Share Price Performance Over the Past Week – 26 May-5 June 2014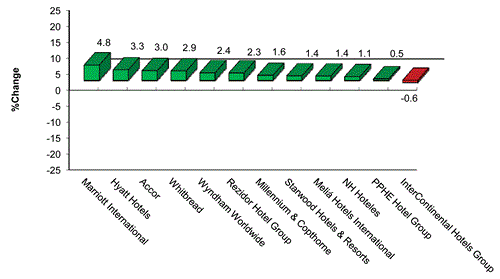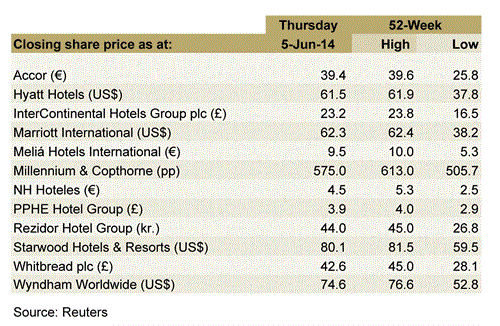 InterContinental Hotels Group – Société Générale downgraded to "hold" from "buy".
Accor – In the past week, shares jumped 6.0%, the biggest trailing week gain since 6 March.
Whitbread – SocGen upgraded to "buy" from "sell".
---
For the latest in the hospitality industry, please visit: http://www.hvs.com. You are also welcome to contact the following personnel.
| | |
| --- | --- |
| Russell Kett, Chairman – HVS London (@russellkett) | rkett@hvs.com |
| Charles Human, CEO – HVS London/HVS Hodges Ward Elliott | chuman@hvshwe.com |
| Chris Martin, Director – HVS Hodges Ward Elliott | cmartin@hvshwe.com |
| Tim Smith, Director – HVS London | tsmith@hvs.com |
| Arlett Oehmichen, Director – HVS London | aoehmichen@hvs.com |
| Sophie Perret, Director – HVS London | sperret@hvs.com |
| Peter Malone, CEO – HVS Executive Search, EMEA & Asia | pmalone@hvs.com |
| Demetris Spanos, Managing Director – HVS Athens | dspanos@hvs.com |
| Hala Matar Choufany, Managing Director – HVS Dubai | hchoufany@hvs.com |
| Ezio Poinelli, Director – HVS Milan | epoinelli@hvs.com |
| Louise Fury, Senior Editor and EMEA Hospitality Newsletter Author – HVS London | lfury@hvs.com |