Mount Kellett Purchases Le Méridien Etoile, Paris
It was reported this week that private equity firm Mount Kellett Capital Management has purchased the 1,025-room Le Méridien Etoile in Paris, France, from Starwood Capital and collapsed bank Lehman Brothers for €280 million (€273,000 per room). This is the second hotel Mount Kellett has acquired in the French capital over the last 18 months; it bought the Sofitel Paris Le Faubourg from Accor for €113 million (€769,000 per room) in February 2013.
Internos Buys Hotels In Berlin And Dresden
Internos Global Investors has acquired two hotels in Germany for a total of €75 million. The pan-European investment manager purchased the 328-room Maritim Hotel & Internationales Congress Center Dresden from Axa Investment Managers and the 245-room Mercure Hotel Berlin City from ActivumSG, on behalf of its Hotel Real Estate Fund 1, bringing the number of properties in the fund up to 11.
NH Amsterdam Centre Sold
Foncière des Murs has bought the NH Amsterdam Centre in the Netherlands from NH Hoteles for €52.4 million (€160,000 per room) in a sale-and-leaseback transaction. NH will gain a capital sum of €3.9 million from the deal and will operate the four-star hotel under a 20-year lease with a ten-year extension option.
Northwood Buys Four Seasons In Prague
Real estate investment firm Northwood has acquired the Four Seasons Hotel Prague, in the Czech Republic, from private equity group Avestus Capital Partners for an undisclosed sum. The 161-room hotel can be found in Prague's Old Town, on the Vltava River.
Holiday Inn Express At Channel Tunnel Changes Hands
Investment companies Cannock Investments and Hetherley Capital Partners have bought the 100-room Holiday Inn Express Folkestone, adjacent to the Channel Tunnel on England's south coast, for an undisclosed sum. The four-storey purpose-built hotel opened in 2008 and is the closest hotel to the Eurotunnel Terminal. Interstate Hotels & Resorts has been appointed to run the hotel under a management agreement. The property will continue to operate as a Holiday Inn Express. This is the third hotel acquisition carried out by the pair in the last 12 months.
Two Eastern European Debuts For IHG
InterContinental Hotels Group (IHG) has announced its first hotel for the resort town of Borjomi, in south-central Georgia. An existing property at the heart of the town, known for its natural springs, is to be converted into the Crowne Plaza Borjomi, becoming the first internationally branded hotel in the town. The 84-room hotel, which is scheduled to open in 2015, will operate under a franchise agreement with Park Hotel LLC and will be managed by T&T Consulting. IHG has also signed a franchise agreement with Hospitality Group LLC for its first Holiday Inn hotel in Belarus. The 205-room Holiday Inn Minsk will be a new-build property and is due to open in 2016.
Mercures For London And Bucharest
Accor has announced that it is to open a new Mercure hotel in the UK capital. The Quality Crown Hotel Hyde Park London is currently undergoing renovation to bring it up to boutique four-star standards. The 78-room hotel will be rebranded as the Mercure London Hyde Park Hotel and will operate under a franchise agreement with the property's owner, London Town Hotels Group. Additionally, Accor's Mercure brand is due to make its debut in Romania later this year. More than €10 million has been invested in the 114-room Mercure Bucharest City Center, which is expected to open in November 2014.
Six Senses Coming To Europe
Thai group Six Senses Hotels Resorts Spas has announced its debut in the European hotel market. The Six Senses Douro Valley is due to open in mid-2015 in the Douro Valley, a winegrowing region in northern Portugal and a UNESCO World Heritage Site. The 19-acre resort will have 71 guest rooms and suites, a 24,000 m² spa and many other facilities.
IHG, Wyndham And Rezidor All Expanding In Turkey
InterContinental Hotels Group (IHG) has signed a franchise agreement with Liv Yapi Gayrimenkul Yatirim for a Holiday Inn Express hotel near to Istanbul International Airport. The 110-room Holiday Inn Express Istanbul – Halkali is expected to open in 2014. Also in Turkey, Wyndham Hotel Group has recently opened three new properties in the country: the 265-room Wyndham Istanbul Old City, the 124-room Ramada Usak and the 364-room Ramada Resort Akbuk. The new additions bring the group's Turkish portfolio up to 30 hotels. Additionally, Carlson Rezidor Hotel Group has announced a new hotel for Istanbul: the 260-room Radisson Blu Hotel Topkapi is expected to open in the third quarter of 2016 and brings Rezidor's portfolio of Radisson Blu hotels in operation or under development in the city up to seven.
Tender Process Opened For Amsterdam RAI Hotel
The Municipality of Amsterdam and the Amsterdam RAI Exhibition and Convention Centre have officially opened the tendering process for the construction of a new hotel at the RAI. It is hoped that the tender will be finalised and plans can be drawn up at the beginning of 2015. Construction of the hotel is scheduled to begin mid-2016; it is expected to be a four-star property with at least 650 rooms.
Talbot Takes On The Only Hotel In Ballincollig
Talbot Hotel Group has completed the purchase of the Oriel House Hotel in the town of Ballincollig, nine kilometres west of Cork, Ireland, out of receivership for an undisclosed sum. The 78-room hotel is housed in a 19th-century building on more than two acres of grounds. The four-star property, which is the only hotel in Ballincollig, fell into administration in 2012 and was put on the market in January 2014 with an asking price of €6 million. The deal brings Talbot's portfolio of hotels across Ireland up to five.
Riga Getting Its First Ibis As The Brand Expands In Saudi Arabia
On 1 September 2014 an existing hotel in Riga, Latvia, is to join Orbis Hotel Group and will be rebranded as the ibis Styles Riga, the first ibis-branded hotel in the Latvian capital. Other ibis news this week includes the development of a new property in Saudi Arabia. Accor Hotel Services Middle East signed a management agreement with Al Ahlam Holding for the ibis Madinah Road in Jeddah. The 300-room hotel is expected to open in 2018 and will join 16 ibis properties already in operation across the kingdom.
Jumeirah Picked For Saadiyat Island Resort
Jumeirah Group has reportedly been asked to operate a US$234 million resort currently under construction on Saadiyat Island in Abu Dhabi. The resort will include a 295-room hotel, a spa and 11 two-storey villas and is expected to be completed in 2017.
Shangri-La To Pop Up On The Palm
Shangri-La Hotels and Resorts announced the development of its third property in Dubai, UAE. The Hong Kong-based group has signed a letter of intent with Nakheel for a 290-room Shangri-La hotel in the Palm Tower complex on the emirate's man-made Palm Jumeirah development. A management agreement is expected to be signed in the next couple of weeks. Construction of Palm Tower, which will also include a shopping centre, is set to begin later this year and the hotel is expected to open in 2016, occupying the first 18 floors of the 52-storey tower. Shangri-La currently operates four hotels across the UAE.
Steigenberger To Open A Hotel In Doha
Steigenberger Hotel Group has announced its first hotel for Qatar with the signing of a hotel in Doha. Work on the Steigenberger Hotel Doha Airport Road is due to begin this autumn and the five-star, 200-room hotel is due to open in 2016. "Following the signing of agreements for projects in China and Dubai, Doha is an ideal addition to our portfolio of hotels at attractive locations," said Puneet Chhatwal, chief executive officer at Steigenberger.
A New Hilton For Qatar And The First Curio Signed
Hilton Worldwide has signed an agreement with Al-Rayyan Hospitality for a Hilton-branded resort in Qatar. Slated to be the biggest resort hotel of its kind in the region, the 362-room Hilton Salwa Beach Resort & Villas is to be developed over 104 hectares in southwest Qatar, 97 km from Doha. Hilton currently operates two properties in Qatar, in Doha. After recently announcing its new brand, Curio, Hilton has signed an agreement with Al Jaryan Trading & Contracting for a 207-room Curio property at the Mall of Qatar in Doha. The mall will become the biggest shopping centre in the country when it opens in the second half of 2015. The hotel is expected to open in 2016.
Southern Sun On Its Way To The Middle East
South African group Tsogo Sun has made its debut in the Middle East with the opening of the Southern Sun Abu Dhabi. The 353-room hotel is at the heart of Abu Dhabi's business district, 35 km from the airport.
Absolute Share Price Performance Over the Past Week – 5-12 June 2014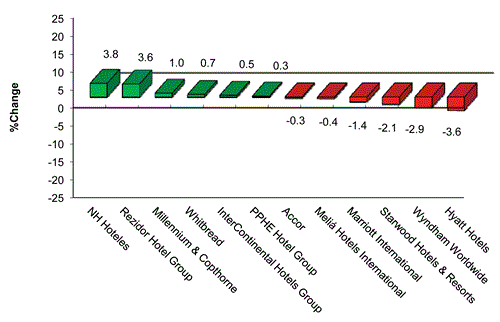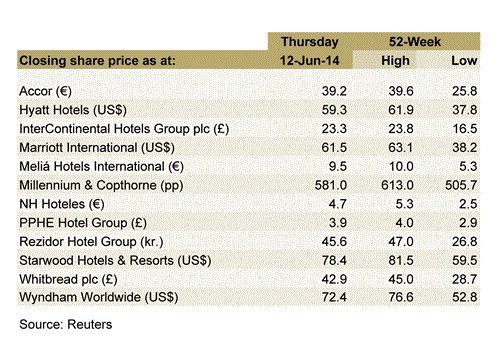 Meliá Hotels International – Dropped on high volatility.
NH Hoteles – Its biggest trailing week gain for two months.
Rezidor Hotel Group – Climbs 4.5% on strong volume.
---
For the latest in the hospitality industry, please visit: http://www.hvs.com. You are also welcome to contact the following personnel.
| | |
| --- | --- |
| Russell Kett, Chairman – HVS London (@russellkett) | rkett@hvs.com |
| Charles Human, CEO – HVS London/HVS Hodges Ward Elliott | chuman@hvshwe.com |
| Chris Martin, Director – HVS Hodges Ward Elliott | cmartin@hvshwe.com |
| Tim Smith, Director – HVS London | tsmith@hvs.com |
| Arlett Oehmichen, Director – HVS London | aoehmichen@hvs.com |
| Sophie Perret, Director – HVS London | sperret@hvs.com |
| Peter Malone, CEO – HVS Executive Search, EMEA & Asia | pmalone@hvs.com |
| Demetris Spanos, Managing Director – HVS Athens | dspanos@hvs.com |
| Hala Matar Choufany, Managing Director – HVS Dubai | hchoufany@hvs.com |
| Ezio Poinelli, Director – HVS Milan | epoinelli@hvs.com |
| Louise Fury, Senior Editor and EMEA Hospitality Newsletter Author – HVS London | lfury@hvs.com |